370 STEEM + 60 Bonuses ~ Sponsored Writing Contest: Fusion
Welcome to the Fusion sponsored @OriginalWorks writing contest! Status: CLOSED. Accepted Languages:
Start Time: ~10 PM ET, Friday
End Time: ~10 PM ET, Monday
This is a call to all great Steemit writers! Fusion has sponsored a Steemit writing contest!
Please make sure to read the contest topic carefully. Good luck!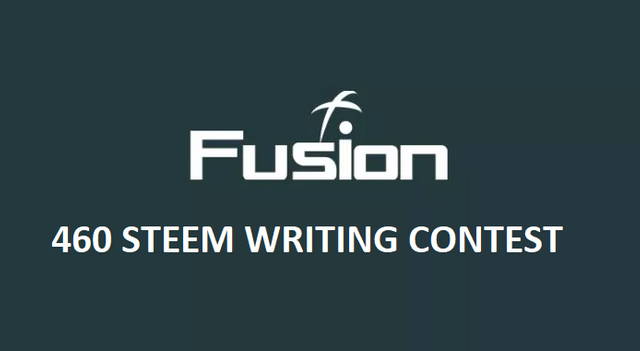 Prize Pool Total: 460 STEEM Prizes: 370 STEEM + 60 Bonuses (1.5 Steem each)

1st Place: 56 STEEM
2nd Place: 47 STEEM
3rd Place: 37 STEEM
4th Place: 30 STEEM
5th Place: 28 STEEM
6th Place: 26 STEEM
7th Place: 23 STEEM
8th Place: 19 STEEM
9th Place: 17 STEEM
10th Place: 14 STEEM
11th Place: 12 STEEM
12th Place: 11 STEEM
13th Place: 10 STEEM
14th Place: 8 STEEM
15th Place: 7 STEEM
16th - 20th: 5 STEEM
21st - 80th: 1.5 STEEM Bonus

Deadline: 72 Hours
All articles must be submitted within 72 hours of this post to be considered!
Changes in submission rules below
Fusion - The Future of Finance
Fusion will establish a new platform for cryptofinance. Fusion intends will be solving the divide between cross platform compatibility on the blockchain in the new world of "Internet of Values".
An analogy is drawn in the whitepaper, to how the old postal system was replaced by the email system. Fusion does not aim to improve the old, but rather to create a new system that can recreate all of the functions of a traditional financial system, but with greater efficiency and interoperability.

Table 1: Comparison with the Internet of Information, Fusion WhitePaper, Page 5
Cryptocurrencies carry a value, but current solutions at solving the issue of cross platform compatibility are costly and often inefficient. By solving this problem, Fusion hopes to be at the forefront the era of "Internet of Values".
---
---
Check out the summary here for a quick introduction!
IOT(Internet of Things) has become a commonplace term.
The Internet of Values is a newly coined term that defines the ability to instantly transfer value the same way that we are able to instantly transmit data and information through the Internet.
The application of "Internet of Values" goes beyond traditional financial transactions. Every digital asset, token and cryptocurrency has a certain value as determined by the market.
The Fusion blockchain will enable blockchain developers to build applications for the new world of cryptofinance that allow multi-token smart contracts.
Current Blockchain Issues & Limitations
While the blockchain is an amazing technology that has innumerable applications, it has developed certain shortcomings as many new projects enter the sphere.
There is a lack of direct methods of operation and exchange of value between different chains as well as platforms. This restricts blockchain technology to operating within a sphere of their separate ecosystems. While this may work perfectly fine for their intended purposes, it restricts the number of financial tools that can be applied to such a disconnected market.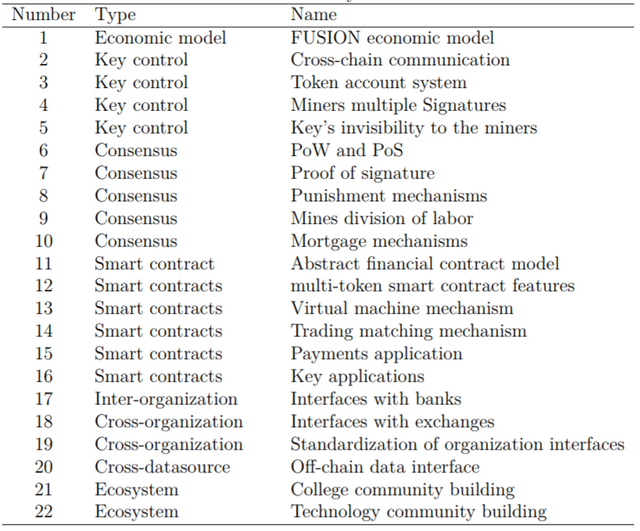 Table 3: List of Key Problems, Fusion WhitePaper, Page 14
To tackle these issues, Fusion will map multiple currencies as well as their transaction logic.
Interoperability
Interchangeability lies at the heart of Fusion.
Through the development of various blockchains and tokens, a divide is forming which results in a cost and an inefficiency for the end-user. This limits the scope of each "value" to their respective environment.
By breaking the barrier between chains and organizations, Fusion aims to completely bridge the costly gap that has been formed in the world of cryptofinance.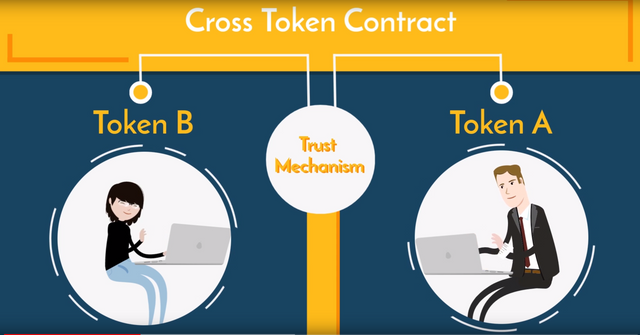 As an example, a token developed in ERC-20 and a token powered by NEO require exchanges and multiple steps that incur considerable fees along the way in order to be exchanged between one another. Due to current limitations, an exchange of the "value" alone is a tedious task.
Fusion
envisions a platform that will not only make it inexpensive to trade between the two, but also allow the two to directly work together as it relates to finance, lending, derivatives etc. This will improve the amount of value that can be retained and utilized by the end-user of cryptocurrencies.
Distributed Control Rights Management
One of Fusion's key core technologies is DCRM(Distributed Control Rights Management).
In order to enable the mapping of cross chain cryptocurrencies, Fusion will use DCRM to control the private keys. The private keys would be distributed in a decentralized manner ("distributed storage") to ensure no single node has any private key in its entirety ("key sharding").
Separate tokens will be generated on the Fusion platform to represent those assets. This process is called "cryptoasset mapping".
This mechanism allows financial transactions of multiple currencies to occur within one platform in a secure and efficient manner, while maintaining the security integrity of the blockchain.
Fusion Cryptofinance Tools
Fusion will enable a wide array of cross chain financial tools to be developed.
The Fusion videos page outlines three use cases through videos.
FUSION Use Case 1: Risk-free Token Loan
FUSION Use Case 2: Risk free contracts market
FUSION Use Case 3: Mortgage smart contract
The use cases depicted in the videos are great possibilities of how Fusion can be implemented.
As an example, the third video - FUSION Use Case 3: Mortgage smart contract, depicts a mortgage smart contract. Investors are connected directly with the borrower, allowing them to purchase a home that is secured by a smart contract. The smart contract ensures that all parties involved are completely covered in the case that the borrower cannot make payment on time. By utilizing Fusion, the investors get a higher return, while the borrower gets a reduced interest rate. This is achieved by replacing the third party, traditionally the bank, by the smart contract.
The team at Fusion consists of industry veterans with years of experience to ensure the project meets its goals.
CEO & Founder
Dejun Qian is the CEO and Founder of Fusion. He also founded VeChain, a cryptocurrency with a marketcap of over 2 billion USD at the time of this writing.
Check out this video with Dejun Qian:

More Information & Resources: Rules & Submission

Write an article about Fusion and how it will change the world of cryptofinance! What are the benefits of having a cross chain financial platform? How will Fusion help propel forward the "Internet of Values"? What are some use-cases for Fusion? How does the ability to map chains and transaction logic improve interoperability? What are the benefits of being able to use traditionally bank-operated financial tools in a decentralized manner between cross chain users? As always, the contest is open-ended! Just be creative, original and have fun!

Feel free to use images and media from their website. You can even make your own video and have it in your submission! Videos have a chance of winning a separate bonus based on quality. Videos should be uploaded to YouTube. DTube or IPFS. Please do not remove the videos, or it might impact future eligibility. Feel free to make a new YouTube account for these. We really wanted to use DTube, but sometimes the videos were not view-able at all. We may change this in again in the future. For the time being please ensure whatever service you choose to use is working.

The article must be at least 250 words in length and it is recommended(not mandatory) that the length is under ~1500 words.

At least 70% of the submission must be original. Using "article spinners", and other word substitution tools is also not permitted.

All copied text must be in quotes.

Please keep discussions relevant to the contest topic. We would like to encourage a good vibe in the comments!

To submit please do the following:

Add the word "fusion2018" (without the quotes) at the very end of your article.
Link this post in your submission.
Post the link to your article as a reply to this post.
Resteem this contest post.

How the winners are decided
The submissions will be passed along to the team at Fusion, and they will decide the best method for picking winners and the winning articles.
More information & recommendations:

Pay attention to spelling and grammar!
Feel free to use informal language such as "I would, etc"
Use information and resources above to learn more about Fusion!
If you copy something, use quotes. This is an @OriginalWorks contest after all :)
Link the company's website: Fusion so that your readers can do research for themselves.
Articles can be edited up until the deadline.

After writing an article, within a few minutes you should get one of these as a response to your article post:

If you don't get one, let me know by adding a quick message after you submit your link as a reply here and it will be done manually. Sometimes it can take some time, so don't worry if it isn't instant! Rest assured, as long as your link is shared as a reply here, everything is double checked at contest close to ensure that all articles are submitted!
60 submissions will get 1.5 STEEM each. The article must meet the contest conditions such as word length and a level of quality.
Disclaimer: @OriginalWorks makes no claims as to the legitimacy or operating procedures of contest topics. @OriginalWorks does not offer any sort of investment advice. This is a writing contest. @OriginalWorks only guarantees prize payout. The contest topic company may choose to share the winning contest submissions.
Good luck to all the contestants!