370 STEEM + 60 Bonuses ~ Sponsored Writing Contest: DAOstack
Welcome to the DAOstack sponsored @OriginalWorks writing contest! Status: CLOSED. Winners will be announced soon! Accepted Languages:
Start Time: ~10 PM ET, Friday
End Time: ~10 PM ET, Monday
This is a call to all great Steemit writers! DAOstack has sponsored a Steemit writing contest!
Please make sure to read the contest topic carefully. Good luck!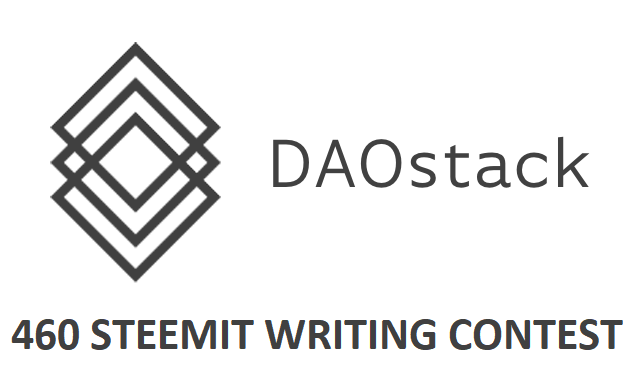 Prize Pool Total: 460 STEEM Prizes: 370 STEEM + 60 Bonuses (1.5 Steem each)

1st Place: 56 STEEM
2nd Place: 47 STEEM
3rd Place: 37 STEEM
4th Place: 30 STEEM
5th Place: 28 STEEM
6th Place: 26 STEEM
7th Place: 23 STEEM
8th Place: 19 STEEM
9th Place: 17 STEEM
10th Place: 14 STEEM
11th Place: 12 STEEM
12th Place: 11 STEEM
13th Place: 10 STEEM
14th Place: 8 STEEM
15th Place: 7 STEEM
16th - 20th: 5 STEEM
21st - 80th: 1.5 STEEM Bonus

Deadline: 72 Hours
All articles must be submitted within 72 hours of this post to be considered!
Changes in submission rules below
DAO stands for Decentralized Autonomous Organizations.
DAOstack is the operating system atop of which DApps can be built.
DAOstack aims to change the entire concept of governance. DAOstack enables developers to apply blockchain governance to various systems that are traditionally organized and run by a centralized authority or a group of individuals. DAOs enable this by allowing the users to put their protocols onto the blockchain and using smart contracts to vote on decisions that will impact that continued operation of said DAO.
---
---
Check out the summary here for a quick introduction!

DAOstack Summary

---

---

Decentralized Autonomous Organizations
DAOs are blockchain implemented designs that enable a systematic governance without intermediaries that create inefficiencies in typical organizations.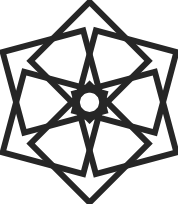 Just as blockchain has been able to scale so quickly due to its decentralized foundation, it can do the same for corporations and other types of organizations. DAOs are programmed with predefined parameters just like any other application. This means that DAOs can have pre-programmed processes that enable it to evolve, such as predefined voting conditions, to optimize its own functioning while growing and evolving along with the organization.
DAOs have inherent advantages over regular companies.
DAOstack is designed to make DAO implementation and creation easy. Towards that goal, there are a variety of tools and "layers". All of these tools are designed for seamless DAO integration.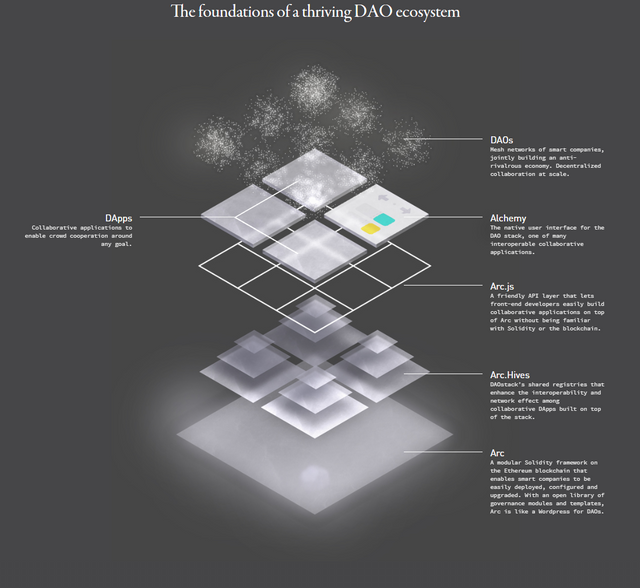 ARC
The ARC is dubbed "the Wordpress of DAOs." It is a framework that allows the application of DAO to companies and organizations. The reason it is compared to Wordpress is due to its modular nature, allowing easy deployment of DAOs.
Arc.Hives
Arc.Hives is a registry that will contain data on all DApps and DAOs built atop of the DAOstack. It will allow for easy communication and networking between the individual components of the DAOstack economy.
Arc.js
Most well known websites and application have APIs. These APIs allow for more efficient integration of other applications. For DAOstack, Arc.js will allow developers easy of access to develop applications without having to know the native smart contract language - Solidity.
Alchemy
Alchemy is the user interface. This is what the users and developers will interact with on DAOstack.
DApps & DAOs
These are the final outputs of the platform. Utilizing all the tools mentioned above will allow the DAOstack to be an entire ecosystem of DApps and DAOs
DAOstack enables the development of entire organizations in a way that enables them to scale effectively. This is done by decentralized decision making processes and streamlining growth.
The possibilities are endless. One of the key components that separates DAOs from any other organizational method is its incorruptibility.
We are all too familiar with corrupt corporations that act in a way that serves a few key figures while costing the rest of the parties involved. With DAOs, this kind of corruption can be completely eliminated.
As an example, let us imagine "The International Film Greatness Award". A fictitious organization that is tasked with providing annual awards to the greatest feats in film.
In a typical structure, there would be individuals involved within the organization who are corruptible. Whether by money or influence, certain films would rank higher than others on merits that have nothing to do with the actual quality or "greatness" of the film.
To resolve this issue, the organization could be run as a DAO. Protocols could be put in place using DAOstack which would ensure that the award is rewarded by an incorruptible protocol where no individual or sets of individuals would have overwhelming sway that produce inconsistent judging criteria.
Evolution
The impact of technology such as DAOstack is limitless in nature. With its ability to evolve from within, there are no technical bounds. This is because the technology behind DAOstack is designed to allow evolution of the platform. As new blockchain solutions are introduced, they can be implemented to the benefit of all DAOs and DApps on DAOstack. In order to have a timeless technology, there is a need to adjust and update with the times. DAOstack is the first viable solution to offer the benefits of incorruptible decentralization while still allowing for changes in the core technology.
The GEN tokens are the DAOstack economy works on GEN tokens.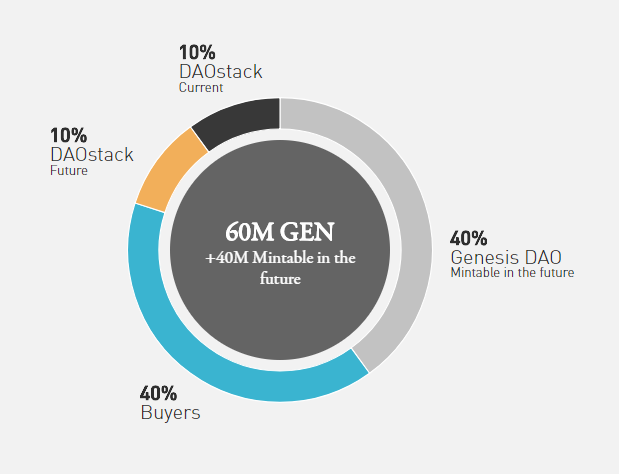 GEN allows users to place a "stake" in a given project proposal to be built atop the DAOstack. To avoid the corruption of the network by a few holding the majority of the wealth, the projects have to be approved by "reputation" holders as well. Reputation cannot be bought or sold, but is earned by actively participating and contributing to the network.
Check out their the DAOstack intro video:

More Information & Resources: Rules & Submission

Write an article about DAOstack and how it will change the way corporations and organizations are run! How can DAOs improve the cost, efficiency and structure of organizations? What are some potential use cases? How does DAOstack's method of vote power distribution promote incorruptibility? What advantages does a DAO have over traditional organizations? What are the benefits of being able to evolve the DAO or DApp from within (through balanced and fair voting)? As always, the contest is open-ended! Just be creative, original and have fun!

Feel free to use images and media from their website. You can even make your own video and have it in your submission! Videos have a chance of winning a separate bonus based on quality. Videos should be uploaded to YouTube. DTube or IPFS. Please do not remove the videos, or it might impact future eligibility. Feel free to make a new YouTube account for these. We really wanted to use DTube, but sometimes the videos were not view-able at all. We may change this in again in the future. For the time being please ensure whatever service you choose to use is working.

The article must be at least 250 words in length and it is recommended(not mandatory) that the length is under ~1500 words.

At least 70% of the submission must be original. Using "article spinners", and other word substitution tools is also not permitted.

All copied text must be in quotes.

Please keep discussions relevant to the contest topic. We would like to encourage a good vibe in the comments!

To submit please do the following:

Add the word "daostack2018" (without the quotes) at the very end of your article.
Link this post in your submission.
Post the link to your article as a reply to this post.
Resteem this contest post.

How the winners are decided
The submissions will be passed along to the team at DAOstack, and they will decide the best method for picking winners and the winning articles.
More information & recommendations:

Pay attention to spelling and grammar!
Feel free to use informal language such as "I would, etc"
Use information and resources above to learn more about DAOstack!
If you copy something, use quotes. This is an @OriginalWorks contest after all :)
Link the company's website: DAOstack so that your readers can do research for themselves.
Articles can be edited up until the deadline.

After writing an article, within a few minutes you should get one of these as a response to your article post:

If you don't get one, let me know by adding a quick message after you submit your link as a reply here and it will be done manually. Sometimes it can take some time, so don't worry if it isn't instant! Rest assured, as long as your link is shared as a reply here, everything is double checked at contest close to ensure that all articles are submitted!
60 submissions will get 1.5 STEEM each. The article must meet the contest conditions such as word length and a level of quality.
Disclaimer: @OriginalWorks makes no claims as to the legitimacy or operating procedures of contest topics. @OriginalWorks does not offer any sort of investment advice. This is a writing contest. @OriginalWorks only guarantees prize payout. The contest topic company may choose to share the winning contest submissions.
Good luck to all the contestants!