Another Busy Week!
A lot of exciting updates this week for OnePageX.com! Let's get to it.
Full Ethereum Integration
OnePageX.com has now fully integrated Ethereum!
This means that users can now quickly swap ETH for over 140 cryptocurrencies currently listed on
OnePageX.com
!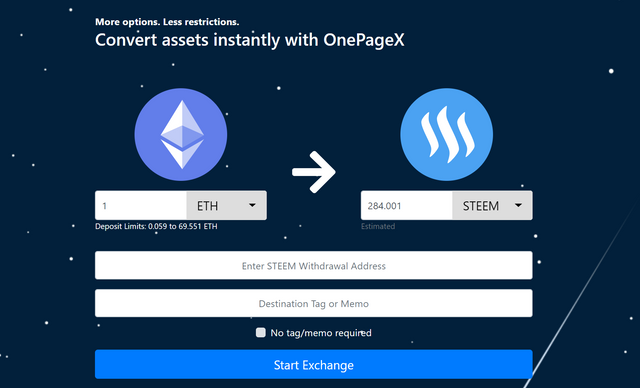 This brings out list of fully integrated incoming assets to:
STEEM
ETH
DASH
BTC
BCHABC
BTG
XMR
LTC
GRS
For outgoing, we have over 140 cryptocurrencies, including the ones listed above for incoming!
Transaction Tracking
By user request, OnePageX.com has implemented a transaction tracking function. This means that users can track their transactions using the small link button near the status (indicated in the graphic below)!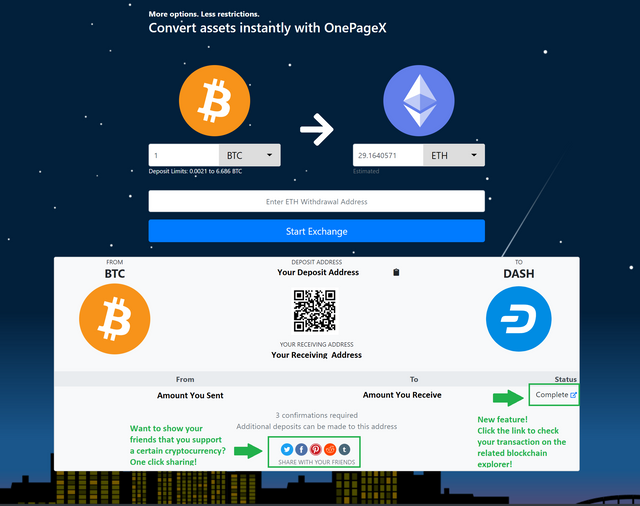 We also want to remind everyone about the social media sharing buttons! It's a fun way to show your friends what you are getting. No personal information is revealed, it is just a fun way to show support for your favorite crypto!
Thank You STEEM Community!
OnePageX.com is extremely pleased with this community and are actively participating in it, as well as looking forward to growing together with all of you!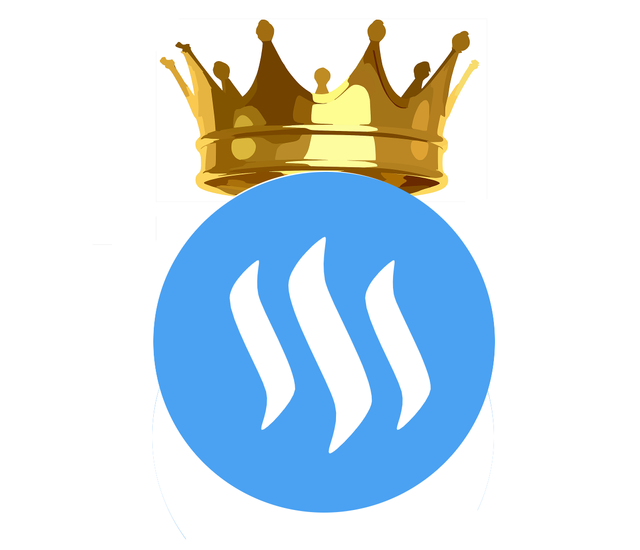 More Coming Soon!
We are extremely active. New functions and features are always being integrated. We are extremely feedback driven, so when you have an idea about what we can do better, just let us know!
Also want to say a quick thanks to @surpassinggoogle (from the renowned Steemgigs.org) for his recent feedback regarding seeing the transaction status!
Have a great week everyone and thank you for reading!
Keep Up With OnePageX.com!
OnePageX.com Website
OnePageX.com OneBox Widget
OnePageX.com Medium
OnePageX.com Twitter (EN)
OnePageX.com Twitter (ES)
OnePageX.com Twitter (RU)
OnePageX.com Reddit
OnePageX.com Telegram
OnePageX.com Instagram