Gath3r :- A platform that gives pecuniary advantage to writers, publishers, and bloggers
"Cryptocurrency is the tool for strategic growth in modern economical society"
With the advent of basis networking platforms such as Google, Facebook, and Twitter etc one must ascertain that the world is gradually taking a reshape which comes in crucial to our everyday live. This applications are inherently considered as one of the basic applications that aids the movement of different individuals around the globe as series of activities are usually carried out using such networking platform.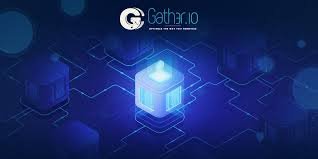 Activities such as communication, information and advertisement are the real meat-and-potatoes when it comes to engaging such networking application. Broadly speaking, the benefits other than socializing can't be totally overemphasized. Truth is ample of users on various networking platforms are either don't know or are particularly callow. Most individuals often mooted the benefits comes regarding the usage of this platforms.
With torrent of activities individuals engaged themselves on a daily basis, it is noteworthy to cite that social networking decidedly become an in thing in modern lives. But the big question is how do we get pecuniary advantage for every article and post we share? Is it prudent to get involved in such initiative having judiciously understood that such platform might turn out to becoming a ponzi? It doesn't seem percolated to millions of users around the globe to benefit from such platform, how do we sensitize them?
We have seen in time past it can be deduce that publishers, writers and bloggers do not benefit from sharing their contents using any medium, this made their efforts rather vain and tedious as they go through rigorous complications to earn passably amounts for their works. This situation brought about tremendous idea for visionaries to seek out for ingenious ideas for a progressive change. This innovative is called Gath3r.
JUSTIFICATION
It is pertinent to note that several initiative have been established for a global transmutation regarding benefits that comes along every creativity put down to various enterprise, however, none has ostensibly been able to propagate such innovation that permeates the mind of every individual using the app Gath3r.
What brings about the special feature in the application is that users now have plenary control of their efforts alongside pecuniary advantages that comes as realizable assets which can further be trade in form of liquidated cash.
Gath3r tends to change the global mindset for writers, publishers and bloggers to strive in a community where they earn substantial amount for their posts, stories and content. What makes Gath3r platform unique is based on the fact that is can be used by both small and large websites and it plays into evolution that users can now strive in the event of accruing realizable assets by monetizing their contents.
AIMS AND OBJECTIVES
The aim of the project is to sensitize writers, publishers and bloggers that they can monetize their content through browser mining.
What is Gath3r?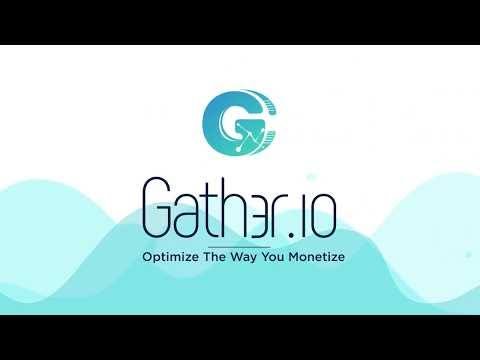 Gath3r is a project ingeniously designed to focus on helping publishers, bloggers, writers and websites monetize through in browser mining. Gath3r also enables other blockchain projects to Gath3r's hashrate. It is a solution that improves the end-user experience and the websites owner's ability to earn while enhancing security for smaller blockchain project.
In-browser Mining
An in-browser miner works by utilizing the computing resources of the website visitor to mine for cryptocurrencies. With Gath3r, website owners can easily integrate this revenue sources or may even allow the website owner to completely forego using advertisements and paywalls.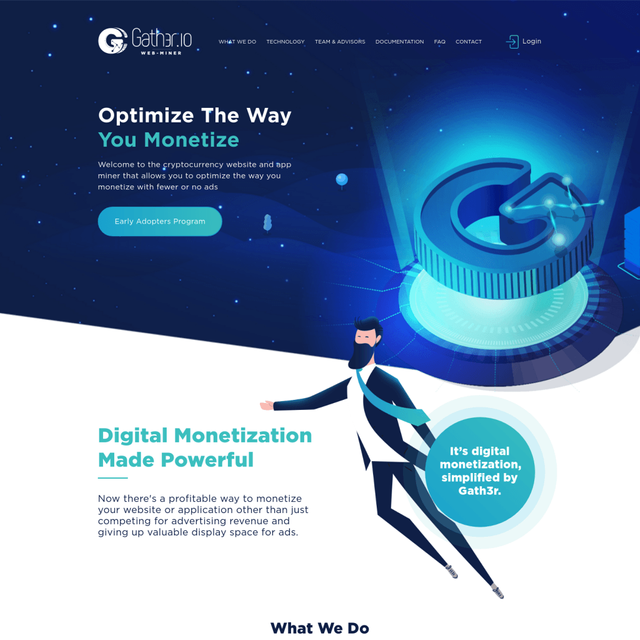 Merged Mining
As new blockchain projects come online they require a network that can handle theor application requirements and are safe from things such as 51% attack. This can be difficult without a userbase that has nodes set up and willing to mine the new asset.
Gath3r has come up with a brilliant solution to these issues with merged mining. Merged mining enables users to mine two assets with similar algorithms simultaneously. This means that newer projects can utilize Gath3r's hashpower access to secure their own projects.