Learn about 1inch Exchange, Earn $1INCH Tokens Live Now!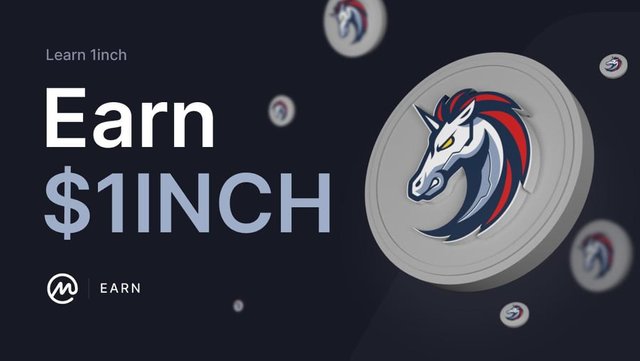 ‍
CoinMarketCap Earn, a program created to teach users about cryptocurrencies in exchange for crypto rewards, is launching their next Earn campaign with 1inch.
Users of CoinMarkeCap can watch educational videos about 1inch, and then test their knowledge with a small short. If a user successfully completes the quiz, they will be rewarded for their newfound knowledge with 1inch.
This CoinMarketCap Earn campaign has a reward pool of 50,000 1INCH tokens. Successful users will receive 3 1INCH (about $5) per user until the rewards pool runs out. To join the Campaign click here - https://coinmarketcap.com/earn/project/1inch
What's New With CoinMarketCap Earn?
In order to facilitate a smooth distribution process, CoinMarketCap users must also have Binance Know-Your-Customer verified accounts to participate in the CoinMarketCap Earn campaign. This may be revisited for future campaigns, but for the 1inch campaign, you must have a Binance KYC account to receive 1inch rewards.
What Is 1inch?
1inch is a decentralized exchange (DEX) aggregator, which means that it connects multiple DEXs into one platform to allow users to discover the most efficient swapping routes. DEX aggregators eliminate the need for manually checking the best price for a swap across every exchange, by gathering all the data needed in one place. 1inch also protects its users from price impact and the probability of failed transactions.
Read more about the use of DEX aggregators in the crypto space (as described by 1inch themselves!) on CMC Alexandria here - https://coinmarketcap.com/alexandria/article/what-are-dex-aggregators-a-deep-dive-by-1inch.
What Is Earn?
CoinMarketCap Earn enables crypto enthusiasts to learn more about a particular cryptocurrency. Each user watches a series of educational videos about an asset, completes a quiz and is rewarded for their correct answers with crypto. With CoinMarketCap Earn, CMC can increase the breadth of knowledge about the crypto industry as part of its goal of showcasing the cryptocurrency revolution each step of the way.
A CoinMarketCap account is required for users to participate in the educational CoinMarketCap Earn campaigns. Please remember that not all jurisdictions are supported at this time, so confirm that your jurisdiction is supported by checking out our FAQ section.
To get started and get your stake in our 1INCH pool click here - https://coinmarketcap.com/earn/project/1inch
Also, you can take part in our Twitter Campaign, where you have the chance to be one of 10 people who earn $300 worth of 1INCH. To find out more look at our Tweet here - https://twitter.com/CoinMarketCap/status/1351471400075276289