How Neironix Сan Help to Avoid Scam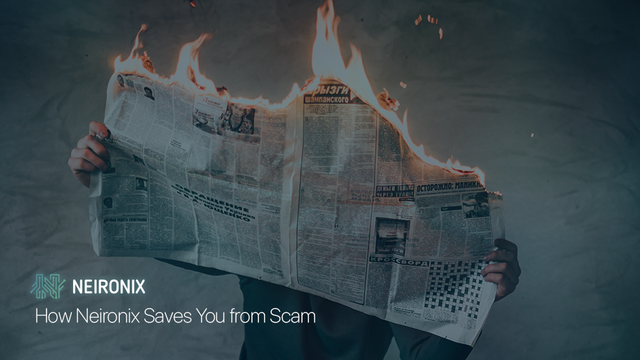 In 2018 the market of cryptocurrency and ICO fell sharply, and it became as difficult to get income as it was easy, when the market grew rapidly in 2017. Taking into account the statistics of ICO for 2018, it shows that more than 90% ICO come to an end without results, and investors either stay at zero or go into minus.
Besides, the market is full of projects which offer a blockchain platform for air travel or to tokenize football fields, i.e something absolutely absurd and no one but the organizers of the project needed. And with considering that ICO projects still mushroom up, despite the market decline, it's getting extremely difficult to find something worthwhile among all this outrageous burlesque. To solve this problem Neironix rating agency was created. The project Neironix aims to simplify the selection of worthwhile ICO-projects for investors and protect investors from scam-ICO. The assessment of projects is based on the system of mathematical algorism, which assesses ICO for 75 parameters, evaluating the risks and vitality of the project. Here are some parameters for estimating:
Assessment of the founder of the project: his achievements, experience in blockchain sphere;
Advisors of the project;
Team: competency level in the sphere corresponding to the project;
Competitiveness of the project industry;
Competitive ability;
Team location;
Project binding to the region;
Investment attractiveness of the region;
Investment attractiveness of the region;
White paper analysis;
Comparison with competitors;
Analysis of project reviews;
Analysis of critics' reviews;
Analysis of the project in social networks.
The advantage of the system is a unified scoring procedure for all projects. You may doubt that the system can evaluate the project adequately only with the help of algorithmic assessment. Nevertheless it can and here's why. The system, in addition to the project evaluation from initial data and from team productivity, evaluates its popularity in the Internet and mass media.
Thus while the final scoring of the project, among other things, the opinion of the target audience is taken into account, including the opinion of critics and experts. That is, the system takes into account people's opinion. All this helps Neironix to define which ICO-projects are initially scams, and which have a chance to succeed or at least carry out the plan.
In Neironix rating of ICO-projects there is a separate section named "scam", where fraudulent ICO will fall into. As a result it'll be much easier for investors to avoid investing in such projects.