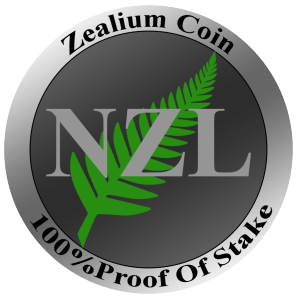 Zealium Coin is a new POS based coin to hit the exchanges (Cryptobrodge and Crex24 to date). Here is a brief synopsis of how it works, what its aims are and what its roadmap looks like.
Zealium is a full-privacy, New Zealand-based Proof of Stake decentralised cryptocurrency which uses peer-to-peer technology to operate with no central authority or banks. Managing transactions and the issuing of Zealium is carried out collectively by the network. Zealium is open-source; its design is public, nobody owns or controls Zealium and, the good thing is, everyone can take part!
Zealium's goal is eventual mass adoption as a currency for people's every day payments. Payments that they can make in a secure and quick way. It has been designed to be within the reach of the average Joe (as it were) and to be easy to use. You can get returns from keeping your wallet open for staking (returns are received after about 6 hours), or even more (2.5 times as many) from investing in 4000 NZL and getting yourself a masternode.
WHAT ARE ZEALIUM'S BENEFITS?
ECO-FRIENDLY
Zealium is proudly energy efficient – Our coin uses Proof of Stake, which only consumes a fraction of the energy used to mine using Proof of Work. So no wasted resources and energy, plus no associated hardware risk! Hurrah!!


SOCIAL
We're sick of scam coins. We are an honest bunch, who want to create a real community - A community based around an anonymous peer-to-peer currency. We've started a great social presence, and our dev team is highly engaged and responsive. Rest assured, we're in this for all the right reasons.


FLEXIBLE AND FAIR
We want choice. We want people to be able to choose how much other's know; to be able to choose their level of involvement; to be able to choose when they join and when they leave the community. Zealium, at its core, is people-oriented. It's Fair.


FAST AND RELIABLE
It super quick. Zealium Coin's transactions complete almost instantly. Your transaction is guaranteed by a network of masternodes so there's no need to wait for numerous confirmations to enable contracts.


SIMPLE
Zealium is simple to understand. Our community shuns complicated rules and conditions. We want to be easy to work with. Our efficient web wallet is easy to set up, and we're always developing – increasing the user-friendliness of our interface and seeking new opportunities.


LOW COST
We're about bringing down the barriers to adoption. Zealium offers incredibly low transaction fees. Our aim is for mass adoption in New Zealand, and beyond!


SECURE
Security is one of the most important principles of the Zealium ethos, and will always influence all aspects of our development.




ROADMAP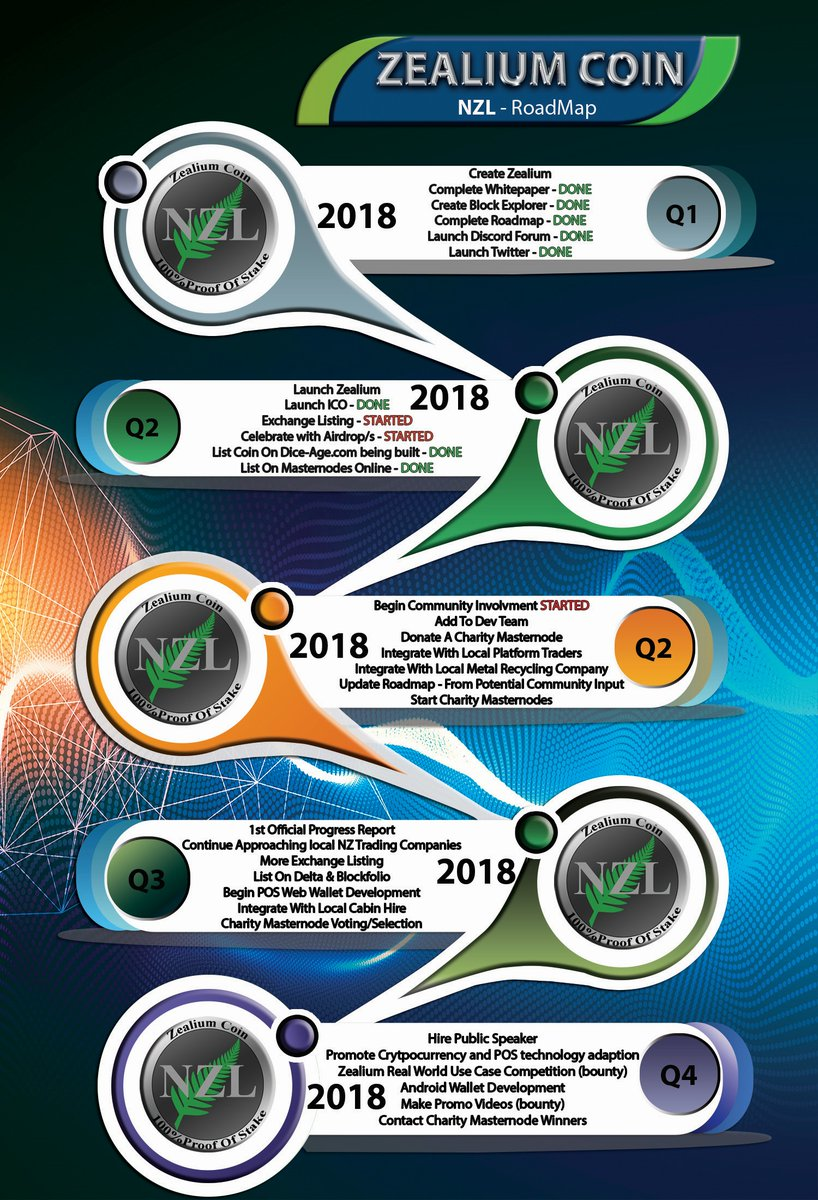 Q1 2018:
Create Zealium
Complete Whitepaper- DONE
Create Block Explorer DONE
Complete Roadmap
Launch Discord Forum- DONE
Launch Twitter- DONE
Launch Facebook- DONE
Create Website- DONE
Q2 2018: Launch Zealium
Launch ICO DONE
Exchange Listing
Celebrate with Airdrop/s STARTED
List Coin On Dice-Age.com being built- ALREADY APPROVED
List On Masternodes Online DONE
Begin Community Involvment STARTED
Add To Dev Team
Donate A Charity Masternode
Integrate With Local Platform Traders
Integrate With Local Metal Recycling Company
Update Roadmap - From Potential Community Input
Start Charity Masternodes
Q3 2018: 1st Official Progress Report
Continue Approaching local NZ Trading Companies
More Exchange Listings
List On Delta & Blockfolio
Begin POS Web Wallet Development
Integrate With Local Cabin Hire
Charity Masternode Voting/Selection
Q4 2018: Hire Public Speaker
Promote Crytpocurrency and POS technology adaption
Zealium Real World Use Case Competition (bounty)
Android Wallet Development
Make Promo Videos (bounty)
Contact Charity Masternode Winners
Q1 2019: Release Charity Masternodes And Earnings To Winners
Update On Online POS Wallet Progress
Add Zealium To Current New Zealand ATM Machines
Purchase 1 Bitcoin/Zealium ATM Machine
Q2 2019: Install Bitcoin/Zealium ATM Machine
Begin Development Of Crypto Currencey Auction Site
Q3 2019: To Be Announced



Zealium is just in the middle of updating their website and whitepaper. So exciting things await.....