XAYA PROJECT "xaya2018"
Writing in relation to games is somewhat complex, due to the great diversity of disciplines that man has adopted that, in addition to sharing moments of relaxation and recreation, is largely used to generate income through betting.
Project XAYA already known previously as "CHIMAERA" has the purpose of managing the world of games ensuring and simplifying exchanges by guaranteeing ownership and negotiation of assets. Usually when there are commercial transactions, exchange of assets and mostly when there are betting games there is always the possibility of discord between the bettors, which is why the funds are always entrusted to a third party that guarantees the payment of the bet or the change of the chips that were acquired.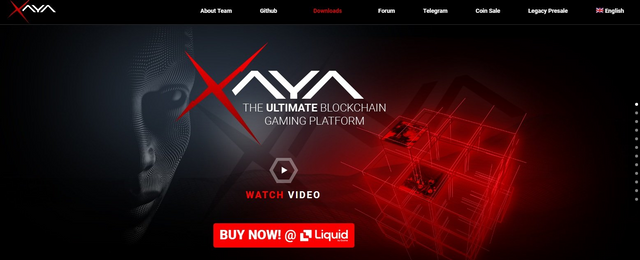 XAYA guarantees the transaction fees of the game ensuring that they are not lost, this at the same time eliminate or minimize disputes for transactions in the gaming channel with an innovative project to run games without a server in which millions of players can interact With a wide variety of games, the exchange is guaranteed with its cryptocurrency "CHI" (CHIMAERA) which can make it effective in real time.
Why is the team working at HUNTERCOIN perfectly positioned to execute your vision?
Although XAYA is starting with a new project, it has been working for several years under the name of "CHIMAERA" with a qualified group of professionals, who with the work experience have made the necessary adjustments to make these innovations of the characters, in this way create more dynamic and simple high-range games.
Why is security and fairness an integral aspect of decentralized games, especially when assets within the game have value?
When there are bets of assets in the game, the investor seeks to ensure that they do not lose their assets and obtain payment if they become a winner and that the guarantor company as a judge is impartial when making the distribution of the profit obtained. The XAYA platform with its cryptocurrency "CHI" guarantees that it keeps player accounts and game data, uses blockchaim technology to avoid traps and demonstrate the gameplay and decentralized legality of the game, and ensure the swap of its assets in real time.
Why are alliances with games like SOCCER MANAGER and TREAT FIGTHER important to help XAYA become mainstream?
With the support of TRICKY FAST STUDIOS the group of XAYA or CHIMAERA has achieved a great advance, due to the high quality of the products they have created, the experience accumulated by the CHIMAERA group today XAYA has been complemented with TRICKY FAST STUDIOS creating the best tools for developers, and high-quality games for players making XAYA grow voluminously with their project.
What are some of the possibilities of combining XAYA's blockchaim scaling solutions with virtual reality technology?
XAYA with years of work in the design of game systems has largely solved the problems of scalability of the use of blockchaim technology, to create virtual worlds, with the group of professionals that has will continue to advance to achieve total success.
How will you have hundreds of thousands of SOCCER MANAGER users using XAYA?
With XAYA project there is great speed offering more dynamic and simple high-level games, with SOCCER MANAGER the players have the ownership of their soccer credits any value can be transferred or sold this is innovative since no server can serve millions of players to world level.
What are some good uses cases?
With XAYA you will get a virtual trading platform of assets XAYA democratizes the development of the game with blockchaim technology this as attractive for players, the miners receive a percentage to incentivize them to process transactions. If you need a company with that profile, XAYA will offer you support.

WITH XAYA YOU CAN HAVE A RELAX TIME. IF YOU BET YOU CAN INCREASE YOUR ASSETS!