Hello, back again participating in this fun and interesting contest promoted by @originalworks, which every week brings us fabulous contests, which in addition to rewarding writers and designers give us information on fabulous projects, such is the case of a genius known as Medibloc, founded by Dr. Allen Wookyun Kho and Dr. Eunsol Lee who have great experience in the field of medicine and engineering.
Medibloc is a sensational platform that seeks to decentralize all information about patients' medical records, where patients are the owners of the information and they are the ones who authorize the sharing of the data.
The old methods of storing medical, digital and written records are very cumbersome, and their storage method makes medical diagnoses very complicated.
Medibloc brings this breakthrough to everyone, where the patient will be able to authorize his or her physician wherever he or she is to be given all the information, provided the patient so chooses.
Another great advantage of this platform is that it is being developed in blockchain, which gives it a level of security that only blockchain have.
Medibloc established a token known as MED, to encourage contributions to the Medibloc ecosystem, a fabulous idea.
Another advantage of using Medibloc is that all this information about our medical history becomes a liability, which can be very useful, since different research institutions can offer great MED rewards for your information, and only if you wish can you share it or not.
Create a graph with some of the main features of the platform.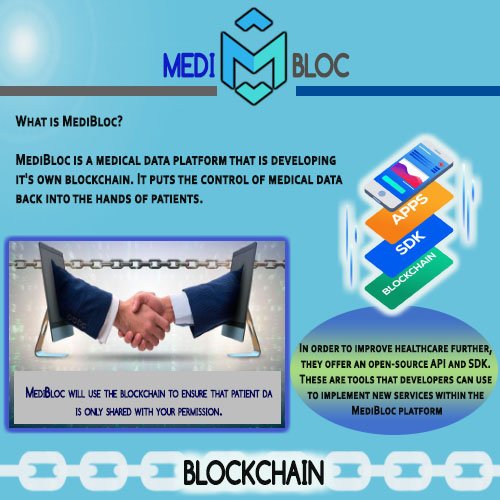 If you wish to participate in the competition, you can find the information in the following form link.
If you want to know more about this great project you can visit the Medibloc page in the following link.
More Information & Resources: medibloc2018