XAYA Is The New Adventure of Gaming and Blockchain Technology
---
XAYA Is The New Adventure of Gaming and Blockchain Technology
---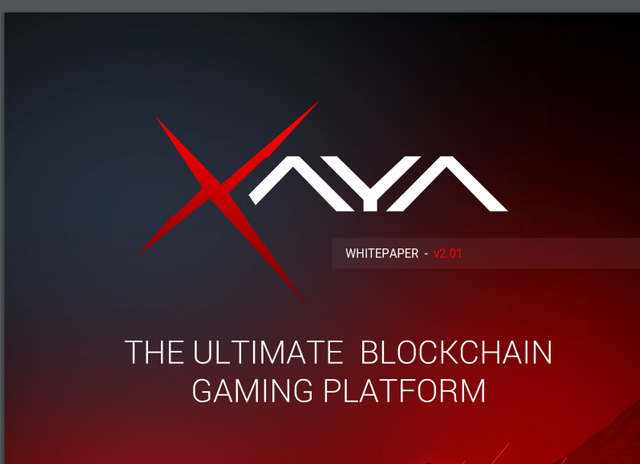 Source
Introduction
---
The decentralized world of cryptocurrencies and blockchains continues to evolve and grow, reaching a high level of participation of people every day more; and currently, in addition to the great benefits that it offers us as a whole, it makes its appearance a new platform that will provide a lot of distraction and fun combined with good profits.
Perhaps many of you will ask: what do I speak? I will tell you that my words are focused on the recent innovation that came to the blockchain world, with the Gaming Platform called XAYA Source, which is a blockchain platform, technological, digital, autonomous and decentralized that will give us many benefits in combination with video games.
---
Brief Relate
---
In the beginning, the XAYA team developed and successfully deployed the Huntercoin experimentally, as a proof of concept to develop solutions to the technical challenges related to the gaming world; which was very successful almost from the moment of its launch.
Taking as reference the success achieved by Huntercoin, now XAYA proposes, to play its games using the decentralized blockchain technology to provide a safe, reliable and fast system, in its own platform, autonomous, flexible and scalable, on which it can be built and played, a great variety of novel games.
---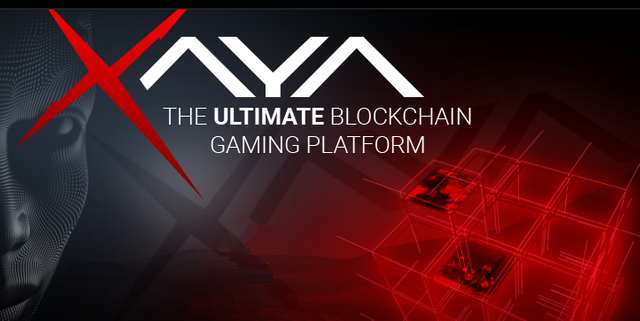 Source
What is XAYA?
---
XAYA Source is a decentralized Blockchain Gaming platform, completely new in this world of cryptocurrencies, and obviously based on video games; in fact, XAYA runs without a server, to be a very fast and stable system, regardless of the thousands of players who can simultaneously play, compete and cooperate in schemes similar to centralized virtual realities, but with a totally decentralized system.
That is, XAYA is a blockchain based on Namecoin, which it is not simply an asset platform like any other that currently exists; it also allows fun and entertainment without collapsing and based on the gaming world; with games that run completely autonomous so that players never lose their assets due to the negligence of third parties.
According to Wikipedia
Source
Namecoin is a cryptocurrency that was born as a first copy of the Bitcoin program based on its code and similar algorithm; using the same SHA-256 distribution algorithm. But, unlike Bitcoin, Namecoin can store data within its own chain of blocks,
---
Similarly, XAYA has been complemented with Huntercoin, which is a Peer to Peer cryptocurrency that incorporates the novelty of Human Mining based on the Proof of Work system (PoW); to become an alternate reality based totally on the Blockchain.
In this regard, it is recognized that Huntercoin was born as the first decentralized, interactive and massive multiplayer game, put into practice by the XAYA team in 2013.
---
Therefore, with its excellent features XAYA is aimed at both developers and players for a good scheme of harmonious operation and beneficial for both parties.
In fact, the XAYA team has been raised as one of its main objectives in this Blockchain, to encourage and empower a large proportion of new developers, with their innovations supported by video games, to support them to easily take their visions of the game to the competitive and challenging cryptocurrency market, but without problems.*
Also, at this point it is important to note that according to the XAYA Whitepaper Source it has among its objectives:
Build a wonderful and powerful ecosystem of autonomous and decentralized game, based on blockchain.
Allow, support and help developers to encourage them to create probably fair games in beneficial and profitable decentralized autonomous universes.
Provide the necessary tools to developers to facilitate the exchange of assets, both for new games and for existing ones.
-Provide a powerful, reliable, secure and stable trading platform for large-scale virtual assets.
In this order of ideas, it is noteworthy that Xaya has formed close links with the developers of two great games (Soccer Manager Cripto and Treat Fighter), which from my humble point of view are fundamental for the platform and for the users, because they reflect the main idea of the team, in terms of covering different categories to achieve the income and playful activities of many players,
---
With regard to SOCCER MANAGER CRIPTO, it must be indicated that it is a game completely aimed at all football lovers, which, in my simplistic opinion, I consider millions of people all over the world like this type of game and will be willing to play it in the Blockchain platform of XAYA.
With Cripto Soccer Manager, Xaya offers excellent features and revolutionary features for massive, decentralized and blockchain autonomous multiplayer, to provide players with the benefits of a PoW real-transfer cryptographic economy.
---
---
On the other hand, XAYA also has to offer to the millions of users the game Treat Fighter, which is based on the collection of assets as rewards, while gathering resources during the progress of the game, to later create small fighters that will be used later to compete with other players and seek to earn greater rewards, resources and advance.
That is to say, Treat Fighter is based on a phase of creation of the fighters and in another phase of struggle of the previously created fighters, to fight against other fighters of opposing users in a fun fight online.
---
---
As can be inferred from the brief details provided, these two very specific games are part of the keys to attract millions of users who wish to undermine PoW, with simple and fun video games, which will allow we to earn cryptocurrencies in an easy way, stable and safe.
Because both fun games, the first associated with sports (soccer), and the second related to sweets, character creation and fighting; they will be the initial instruments for mediation, exchange and profit with real money in the game on the Xaya platform, and they will quickly become a perfect combination of entertainment and good economic benefits, to fill the void that many have been waiting for, with games that have fun and at the same time provide real gains.
---
Xaya Use Case:
There are many role-playing games, strategies, combats and fantasies that exist in the world and are played by millions of users; in which the players are doing different missions and rising levels, depending on the fulfillment and success of the aforementioned missions.
However, in the aforementioned games, after investing so much time playing, you only get alleged gold coins that have no real value or armor, weapons or other objects without validity for exchanges for real money.
But, with XAYA that has changed forever, because it gives players real gains and all the advances, levels and in general objects obtained during the execution and enjoyment of the games, Xaya will has real values monetized with its CHI cryptocurrency, to be used in the blockchain and interchangeable with other digital currencies or the physical world.
---
TOKEN XAYA
---
The reserve currency within the XAYA platform is called CHI, which can be used to perform any transaction within the Blockchain XAYA platform.
It is noteworthy that the XAYA Ticket Exchange cycle (TEP) will allow exchanging them for BTC and in the same way it will possibly have the option of exchange for other cryptocurrencies, among the most important in the current market.
The TEP will be divided into two main blocks, which are: the public pre-sale of tokens and the main sale of tokens; considering that each of them takes into account its own maximum time limit, issuance and sale; but, which can easily be exchanged, and in the best case as the XAYA economy grows, so will its usefulness as applications and new dapps, to obtain and win more CHI rewards and cryptocurrencies.
---
Distribution of Cryptocurrencies of XAYA
---
As detailed in the XAYA Whitepaper Source we have:
Total CHI Tokens for sale: 40.5% (maximum limit of 150,000,000).
Work test coins (PoW exploitable by mining): 40%.
Reserved for the Company: 10% of the total supply.
Advisors, marketing rewards, additional costs: 5% of the total supply.
Huntercoin capture: 4.5%.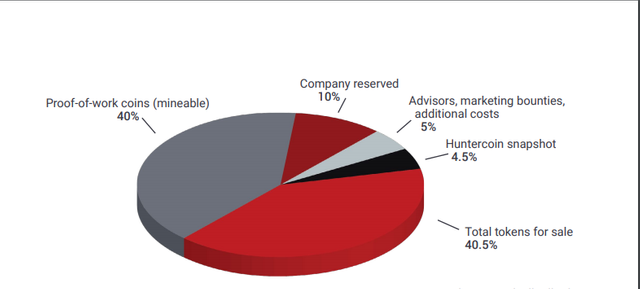 Source
---
Conclusion:
---
In summary, Xaya Source is the new joint adventure of videogames, blockchain and cryptocurrencies, because it offers us the best features, diversions and real benefits of both digital worlds.
Xaya provides everything necessary for developers and gamers to build totally decentralized and autonomous games on the XAYA platform, acquiring cryptocurrencies for PoW mining, which can be exchanged for other cryptocurrencies within the Blockchain or by FIAT coins; thanks to the use and gain of your valuable CHI token,
In this aspect, it is emphasized that the increase of the players, the frequent use of the games and the CHI cryptocurrency, will lead to tangible benefits for the users, increasing both the utility and value of CHI, as well as the direct benefits for all participants.
In general, the effect of XAYA in the digital world is very positive for all involved, since it will provide many sources of employment, countless entertainment schemes and potential real gains for all.
In short, the ecosystem of XAYA aims to establish a harmonious and beneficial environment for all those interested in participating, because it is designed to promote virtuous circles of win/win.
For more information please see the following video:
Source
---
XAYA TEAM
---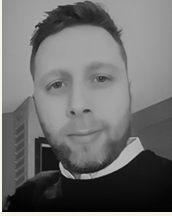 Andrew Colosimo (CEO - Co-Founder):
He has more than 20 years of experience in IT, computing and computer games. He was one of the first pioneers to capitalize on the sale of virtual items in massive online multiplayer (MMO) games,
---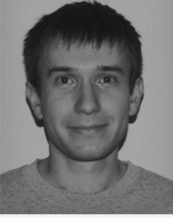 Daniel Kraft (CTO – Co-Founder):
He studied mathematics and physics at the University of Graz, Austria, where he obtained two master's degrees in Applied Mathematics and Theoretical Physics.
---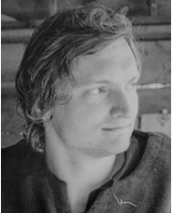 Konstantin Gorskov (Lead Game, web developer - co-founder):
He has 10 years of experience in IT and game development. He has worked as an independent game developer for several years on various projects and has acquired a set of skills. Konstantin follows the development cycles of all major gaming engines and game development software to help you manage technical solutions of various magnitudes.
---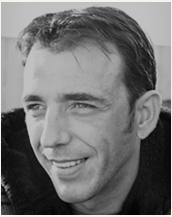 Bas de Gruiter (Business Development, Branding - Co Founder):
He has more than 17 years of experience in commercial development, marketing and design. The Bas' venture has traveled through a variety of markets, ranging from games and software to the retail market, and is a pioneer in the industrial field of hydrogen gas and thermoelectric applications in the durable energy sector.
---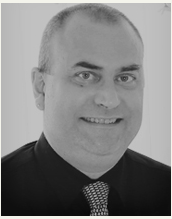 Ryan Smyth (Advertising Copywriter and Community Management):
He is an award-winning software author, entrepreneur, marketer, merchant and recipient of the Medal of Valor of the Australian Governor-General. Its audio software for musicians has received multiple awards, but most of its software has been custom utilities, such as the N-ary cartesian product software for the creation of mobile AI corpora.
---
Patrique Burgersdijk (Project Management):
He has more than 10 years of experience in IT, from ICT and systems administration to systems and project management. Patrique has
helped companies reduce operating costs significantly through greater efficiency and better technical specifications. Beyond his high positions in IT, Patrique's passion lies in personal and business development. His unique combination of technical experience, project management and human relations management makes Patrique ideal for guiding XAYA and the XAYA Team.
---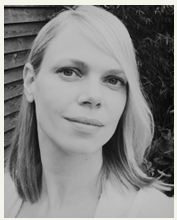 Ayalies Korenberg (Marketing Manager):
He is a marketing expert with a history of success in the B2C and B2B sectors. Expert in digital strategy, electronic commerce, social networks and, in general, connects people, now is venturing into the crypto community and games. After a short career as a model, Ayalies obtained a degree in Graphic Design and later obtained a Master's Degree in Media Psychology, which she graduated with honors. Growing up with two brothers players, he has been playing games all his life. Combined with a great affinity for IT and a female perspective, Ayalies is a perfect complement for the team
---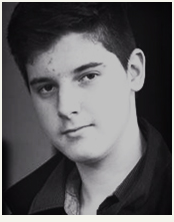 Kyle Serbov (Community Management):
Currently studying Computer Science at the University of Queensland in Australia. He has been involved in the cryptocurrency community since 2014 and started making cryptocurrency tutorials in 2015 for his YouTube channel. Kyle hopes to pursue a career in game development or blockchain technology. Preferably both.
---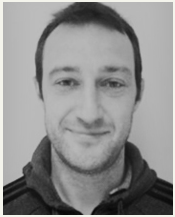 Andrew Gore:
CEO and co-founder of Soccer ManagerTM that has more than 20 million downloads. He is a great connoisseur of the game scene and the development, and has been a professional game developer for more than 15 years. He is an avid soccer fan and runs a game development studio in the United Kingdom that specializes in soccer manager games for Android, iOS and browsers. The vast amount of knowledge and experience of Andrew is very well received by the XAYA team.
---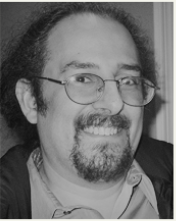 Mike Handverger:
He has 20 years of experience as a software engineer and manager. Mike has had his hands on many large-scale projects both in the gaming world and outside of it. He is currently president of Tricky Fast Studios, a game studio that helps companies create incredible games through their team of industry experts. In Tricky Fast, he has worked in AAA mobile games on big IPs such as Star Trek TM, The Walking Dead TM, Transformers TM and Wheel of Fortune TM.
---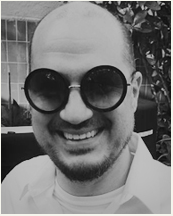 Jonathan Soucy:
He is a game designer and administrator who has been in the video game industry for 15 years. He began his career in designing games under the tutelage of Louis Castle, the mind behind Westwood Studios and the father of the genre RTS, at Electronic Arts in Los Angeles.
---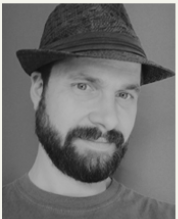 Roy Crombleholme
He studied Physics with Space Science and Technology at the University of Leicester in the United Kingdom. After completing his undergraduate degree, Roy moved quickly into the IT world, where he gained more than 15 years of experience in systems management, engineering and architecture.
Roy brings his vast experience in the execution of distributed systems to scale to the team of XAYA, including a deep knowledge of the security landscape in constant change.
---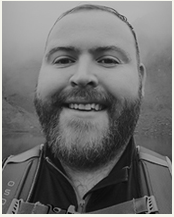 Scott Raisbeck:
He graduated in Computer Science from the University of Huddersfield in the United Kingdom. After graduating, Scott began his professional career as a software engineer, where he spent 7 years gaining industry experience in software development. From there, he went on to work as a Technical Analyst for a Human Resources and Payroll organization before finally becoming a Solutions Architect. Scott now brings a wealth of knowledge of his time in the industry in the areas of software solution and strategy application
---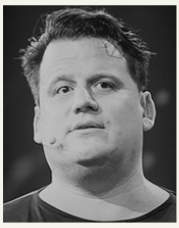 Richard Kastelein:
He is the founder of the industry publication Blockchain News, a member of the ICO CryptoAsset Design Group, a manager of the educational company Blockchain Partners (Oracle Partner), ICO event organizer and award-winning editor and entrepreneur. He is a member of the advisory boards of half a dozen Blockchain startups (ICO), has written more than 1400 articles on Blockchain technology in Blockchain News and has also published on ICO in the Harvard Business Review and VentureBeat.
---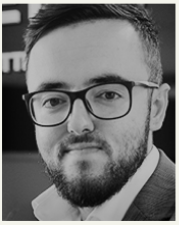 Jonathan Galea:
He has considerable experience in the block chain sector for more than four years, from a detailed study on the regulation in development in the area until the practical experience in the technical and economic aspects of cryptocurrencies. Jonathan LL.D. (Doctorate in Law) the thesis was titled "The effect of Bitcoin in the Money Laundering Law", which was completed in May 2015. He has also participated as a keynote speaker at several international conferences, covering the legal, technical and economic aspects from the same.
---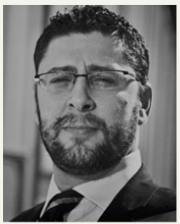 Prof. Nick Colosimo:
He has more than 27 years of experience in research, development, innovation and commercial development, taking ideas from the back of an envelope for his successful demonstration and the acquisition of income over $ 100 million. It has successfully delivered some of the most innovative programs in the world, from the unmanned aircraft to the world's most advanced "mixed reality" system, first demonstrated in 2013
---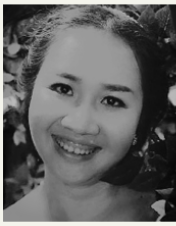 Dr. Yen Nyugen:
He received his PhD in Finance from Monash University in Melbourne, Australia. His research interests cover financial development, corporate finance, corporate governance, market microstructure, state-of-the-art technology and cryptocurrencies. She teaches finance as an assistant professor at St. Francis Xavier University, Canada. He has 6 years of work experience in various roles in auditing, insurance and fund management in Vietnam. Yen first became involved with the cryptocurrency community in 2013 and was one of the first Huntercoin players.
---
Jon Neverdie Jacobs:
Inside Entropia Universe, he created the iconic avatar NEVERDIE and became the first player to win a million dollars in a virtual world. Jon's Club NEVERDIE made the Guinness Book of World Records 2008 the most valuable virtual object. Jon founded NEVERDIE Studios and has worked with Michael Jackson, Lemmy and Universal Studios bringing KING KONG, ZOMBIE KONG and The THING to Virtual Reality.
---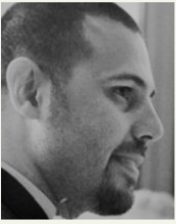 Rudy Koch:
He is the main producer of World of Warcraft, Blizzard. He is a veteran of the gaming industry with 10 years of experience in game development. He has played a key role in sending some of the most prolific games in the industry to Disney, Activision and, most recently, Blizzard.
More Information & Resources:
Xaya Website: https://xaya.io/
Xaya WhitePaper: https://xaya.io/downloads/XAYA_White_Paper.pdf
Xaya Medium: https://medium.com/@XAYA
Xaya Bitcointalk: https://bitcointalk.org/index.php?topic=1784048.0
Xaya Reddit: https://www.reddit.com/r/chimaera/
Xaya Facebook: https://www.facebook.com/XAYAtech/
Xaya Twitter: https://twitter.com/XAYA_tech
Xaya Linkedin: https://www.linkedin.com/company/xaya-platform/
xaya 2018