Market Report: 3rd June 2019 — Subscribe to our newsletter.
OUR TWO SATOSHIS
The daily view from our desk
Whilst the sporting world experienced a massive shock in New York, the biggest surprise of the weekend came from Google, when they experienced downtime causing havoc on the internet and IRL. In news from the mobility industry, pogo fans will soon be able to travel to work alongside their scooting friends with this new startup.
SUMMER IS COMING
"PEOPLE DON'T NOTICE WHETHER IT'S WINTER OR SUMMER WHEN THEY'RE HAPPY"
The monthly close has seen less volatility than expected, but bitcoin and ether are trending downwards this Monday — and both have fallen a maximum of 5% since midnight BST. This means today will provide further clarity on whether June will finally see a major retrace — which can go up to 50% of May's top — or if bitcoin manages to either consolidate at the current level or, alternatively, tries to break $10k and then stay sideways while letting alts breathe and inflate.
Mr. Chief is running a poll to gather sentiment on which scenario is more likely and the corrective one is winning. The proven trader Salsa shows the two BTC levels you must keep an eye on to inform the next few days: the weekly open at $8.7k and yesterday's low at $8.3k. And Flood, an iconic permabull, is now bearish for the short-term. But, if everyone is feeling blue, does it mean we will see green?
BUT REMEMBER SUMMER IS NOT THE OPPOSITE OF WINTER
THE SUMMER CAN BE TOO WARM FOR ALT SEASON
Not necessarily, as the masses are still learning how to buy BTC and how to mine TurtleCoin. This euphoria is prompting some to look at other market bubbles recovery processes and claim we're seeing a bull trap. But the analogy is flawed as this market has been moving much faster than traditional ones. Additionally, 2018's Q1 and Q2 presented plenty of bull traps already.
However, Josh Rager also notes that, despite crypto's relative speed, at least the length of bull markets is increasing with each cycle — as shown below. We only have three data points, so take it with a grain of salt. But the message that one shouldn't FOMO stands. However, it's very important to note that the bottom is now 99% in, as Willy Woo shows. We just need to overcome this indecision.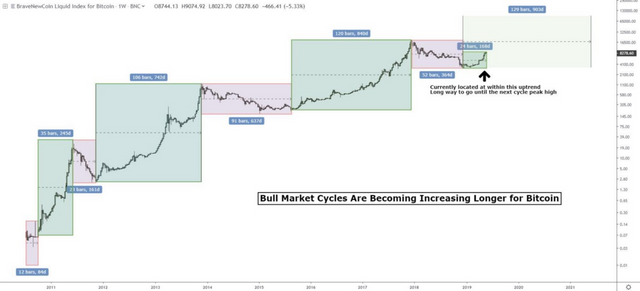 WHAT YOU CAN'T MISS TODAY
DON'T LEAVE FOR THE WEEKEND WHAT YOU SHOULD READ TODAY
▪ Crypto-related conferences are still a thing. And Amsterdam will see two this week. Breaking Bitcoin and Money20/20. Follow them on Twitter!
▪ SIM-swaps are still a thing. At least 15 people were hacked that way last week. Andrew Kang shares some tips on how to protect yourself here.
▪ Sovereign currencies are still a thing. But Nic Carter argues the state will lose its minting monopoly because they optimise purchasing power and not wealth.
▪ Petty fights are still a thing. And last week's Bitcoin Twitter feud did some damage. Fortunately, Michael J. Casey explains why these culture wars matter.
▪ The "institutional investors are coming" meme is still a thing. But Noelle Acheson analysed this sector and argues it's kind of a chicken vs. egg dilemma.
QUOTE OF THE DAY
WHEN WILL BNB DETHRONE XRP?
"In the early days of personal computing, it seemed Apple & Microsoft were destined to be enemies locked in a 0 sum struggle. With mobile/cloud, it turned out the pie was big enough for both to flourish & actually complement each other.
Bitcoin & Ethereum could play out this way"