YUMERIUM-DECENTRALIZED GAMING PLATFORM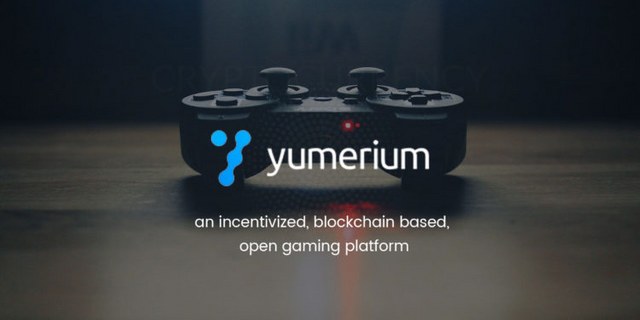 The industry of games grow up year by year,The game industry has grown to an astounding $USD 108.9 billion in revenues in 2017, and conform estimation maked by Newzoon , We forecast that 2.3 billion gamers across the globe will spend $137.9 billion on games in 2018. Digital game revenues will take 91% of the global market with $125.3 billion.
But the game industry have a lot of issue such us: gamers need to pay more for the games , huge fee what a develop need to pay,they spend around 5o% on the profit to centralized game distribution games and online ads platform, some small game developers abandon their project as a result of this.
Yumerium will build a platform on blockchain tehnology to solve this issue.
On the Yumerium platform players can earn token by play, review and share the games that they love,and creates a cheap alternative that does not currently exist in the market today, gamers can sell old games who dont want anymore . By giving developers the tools to run their own decentralized prize campaign, they can reduce their marketing costs and use these savings towards the development of the game.
Other benefit using the platform are:Reduce middlemen in the marketing process and give the tools directly to developers.Game revenues are shared appropriately all parties receive the appropriate compensation simultaneously, automatically, and cheaply. Receive referral codes to buy games at a discount and compensate influencers,compensate reviewers that readers deem helpful.
The Yum token are used on the Yumerium platform ,Yumerium (YUM) is a gaming token that can be earned by playing, sharing and reviewing games and can be spent in any game that supports it. YUM integrates marketing tools such as referral bonuses or bounty campaigns to attract and engage users.
The Yumerium token is a utility token with real value designed for all gameplay and game development processes. Thus, games based on Yumerium can attract gamers by providing earning ("mining") opportunities of Yumerium token, which can be used to purchase games or items in all games that support Yumerium. It will also be a game publishing platform for game developers to reach the Yumerium community with promotion tools and incentives associated with Yumerium, including but not limited to:
Allocation of "Seeding Fund" that will be open for earning ("mining") by players.
"Marketing budget" that incentivize players to play and share with their friends, and to speculate and review games for fellow gamers for Yumerium rewards.
Crowdfunding opportunity that gives game developers the opportunity to test their games with the Yumerium community and get funding for their game if the campaign is successful.
Yumerium platform will also provide Cryptocurrency based payment solution that offers a lower fee and instant payment. This is done by removing intermediaries and using blockchain for transparent transaction record which can be audited by anyone any time.

Detail Yumerium Token Sale
Token: YUM
Platform: Ethereum
Type: ERC20
Price in ICO: 1 YUM = 0.1 USD
Accepting: ETH,BTC, Fiat
Distributed in ICO 50%
Hard cap: 500,000,000
Road Map
03-2018
Yumerium Private sale starts.
04-2018
Yumerium Public Token Sales starts.
06-2018
Launch for all Subdream games & Native Token launch.
Q3-2018
Launch CryptoMine with Yumerium support.
Q4-2018
Launch strategic partner games and start 3rd party support (select partners only).
Q1-2019
Broad adoption with 3rd party games.
Author: juv3ntus11
Website : http://yumerium.com/
Whitepaper : http://www.yumerium.com/whitepaper.pdf
Facebook : https://www.facebook.com/Yumeriumtoken/
Twitter : https://twitter.com/yumeriumtoken
Telegram: https://t.me/joinchat/H5o7EE7ncnHvSXJJYWSLYg
Ann Thread : https://bitcointalk.org/index.php?topic=3272290
Bitcointalk Profile : https://bitcointalk.org/index.php?action=profile;u=2039680