The landscape for bitcoin and crypto may improve quite a bit in 2019.
According to research published by Fundstrat Global Advisors, bitcoin and crypto are likely to see 9 key areas where the environment could/should be improving throughout 2019.
Bitcoin and crypto experienced manly negative issues throughout 2018, but improvements in many areas should be coming in 2019.
According to Fundstrat, these improvements will likely lead to higher prices as well.
What areas do they see as improving?
According to Fundstart there are 12 key areas surrounding bitcoin and crypto.
Of those 12, they think that roughly 9 of them will be improving in 2019 from where they were in 2018.
Their chart can be seen here: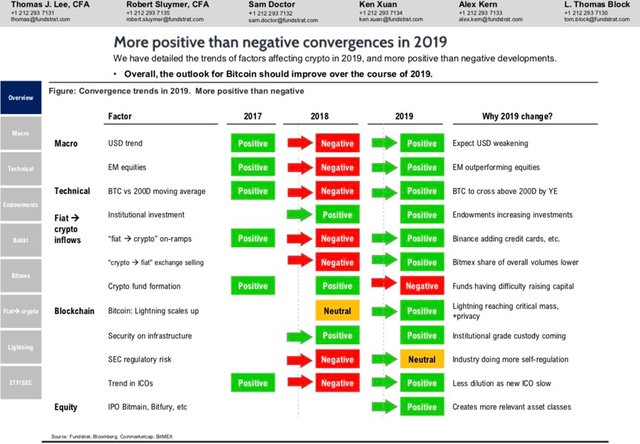 (Source: https://twitter.com/fundstrat/status/1093998016166531072)
Interestingly enough we only had 5 of these areas as a positive in 2017, yet we are able to have a substantial rally.
Will they be right?
Whether Fundstrat ends up ultimately being right or not about all 9 remains to be seen, but I think they are going to be right on at least a handful of them for sure.
I think by the end of 2019 we are going to have a much better crypto landscape than we have had over the past 14 months or so.
Hopefully that translates to better prices for many of the coins as well.
Stay informed my friends.
Follow me: @jrcornel