📊📈Ontology (ONT)-Nice bullish divergence📉📊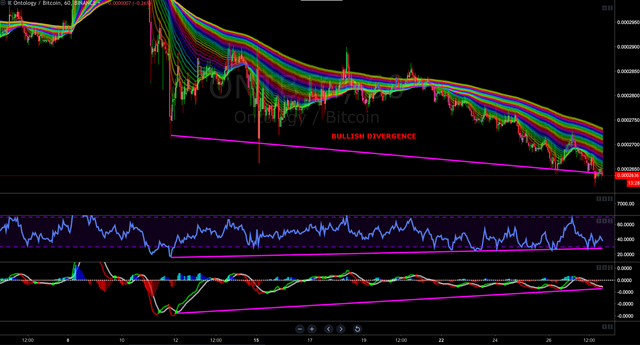 We have some class A bullish divergence on the RSI & Macd. Also volume is in the same area it was before the last pop up of around 100%
This is no guarantee we are going top the moon but definitely noteworthy
bullish divergence - https://www.investopedia.com/articles/trading/04/012804.asp
"Class A bullish divergences occur when prices reach a new low but an oscillator reaches a higher bottom than it reached during its previous decline. Class A bullish divergences are often the best signals of an impending sharp rally".
Fundamentals seem strong.
I hold no position in ONT but may take advantage of their next big run when it comes.
ONT is ranked 28 on CMC - https://coinmarketcap.com/currencies/ontology/
Price has been as high as 0.00115634 satsoshis and $8.87
Possible bottom 0.0001783
I will start to get more excited when the 50-100-200 day moving averages get under the price on the daily.
Chart - Binance
Great luck and please like the post if you found this insightful! Please share ideas if you see holes in my TA, it will help me and the people reading this. Thanks!
I'm no pro and I will make mistakes so its always great to get 2nd and 3rd opinions after mine.
Joey Rocket

DLIVE Videos
Charlie Lee WEG Bank announcement!! Partnerships, TokenPay-Litecoin eFin DEX news
What is a Bitcoin ETF & Why should you care? Let's talk about it.
Breaking!! - Litecoin TokenPay Partnership is here!! Update on the latest clue and backstory
Bancor hack, - Sbi Holdings - Ethereum Fees up 159% - Banks are coming & more crypto talk!
My Social Media Links
Click to learn more about The Minnow Support Project
Click to join the Minnow Support Project P.A.L.Net Discord server
Follow me on steemit here - 🚀@JoeyRocketFilms🚀
Who the hell is Joey Rocket? - steemit intro 🎥