English

One of the problems that crypto investors still face is the often somewhat cumbersome conversion of Fiat money into crypto currencies and vice versa. Most crypto exchanges that allow conversion of bitcoins to euros, such as Bitstamp, don't offer many altcoins, while exchanges with a wider range of altcoins, such as Bittrex, don't offer the possibility to convert digital currencies into euros.
Joint venture between Binance and LCX to simplify fiat-to-crypto trading.

The largest crypto currency exchange in terms of trading volume, Binance, is now preparing to solve this problem through a joint venture with LCX: As announced at a press conference on August 16th, the crypto exchange "Binance LCX" will be founded together in Liechtenstein with the aim to enable trading between Euro and Swiss Franc with the most important crypto currencies, whereby little by little further trading pairs are to be added (of course I was immediately thinking of 'our' STEEM ...).
While Binance will provide and maintain the platform, customer support, compliance with legal requirements and communications with the regulatory authorities are LCX's responsibilities.
CEO and founder of Binance, Changpeng Zhao, promises to set new standards in blockchain usability and compliance for professional investors with this reliable fiat-to-crypto Gateway.
Liechtenstein's policy advocates blockchain technology.

At the press conference, Liechtenstein's Prime Minister Adrian Hasler welcomed his support for the joint venture and expressed his positive attitude towards block chain technology and crypto currencies: "We welcome Binance LCX to Liechtenstein. Blockchain technologies are laying the basis for an entirely new industry."
What would I give for hearing similar words from German politicians ...!
When exactly the new Exchange will go online is not yet certain. Changpeng Zhao already announced that he would make fiat-to-crypto trading possible this year, but it remained unclear whether this statement related to the new project with LCX.
This and many other projects offer hope for an ever closer interdependence between the fiat and crypto currency universes, which would lead both to the spread and stronger use of digital currencies in everyday life and to a considerable increase in the value of virtual money.
---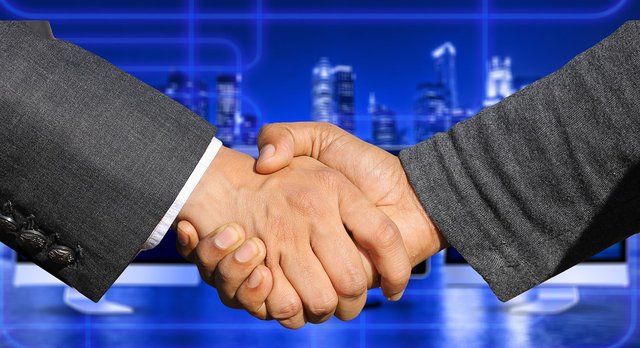 Source/Quelle: pixabay.
---
Deutsch

Eines der Probleme, mit dem Kryptoinvestoren immer noch zu kämpfen haben, ist der oft etwas umständliche Umtausch von Fiatgeld in Kryptowährungen und umgekehrt. Die meisten Krypto-Börsen, welche beispielsweise die Konvertierung von Bitcoins in Euro ermöglichen, wie z. B. Bitstamp, führen nicht besonders viele Altcoins, während man auf Exchanges mit breiterer Altcoin-Palette, wie z. B. Bittrex, seine Coins nicht in Euro umtauschen kann.
Joint Venture zwischen Binance und LCX soll Fiat-zu-Krypto-Handel vereinfachen.

Die vom Handelsvolumen her größte Kryptowährungsbörse, Binance, schickt sich nun an, dieses Problem durch ein Joint Venture mit LCX zu lösen: Wie auf einer Pressekonferenz am 16.08. verkündet, wird gemeinsam in Liechtenstein die Kryptowährungsbörse "Binance LCX" mit dem Ziel gegründet, Handel zwischen Euro und Schweizer Franken mit den wichtigsten Kryptowährungen zu ermöglichen, wobei nach und nach dann weitere Handelspaare hinzugefügt werden sollen (natürlich denke ich da sofort auch an 'unseren' STEEM ...).
Während Binance die Plattform zur Verfügung stellen und pflegen wird, fallen Kundensupport, die Einhaltung gesetzlicher Bestimmungen sowie die Kommunikation mit den Regulierungsbehörden in den Aufgabenbereich von LCX.
CEO und Gründer von Binance, Changpeng Zhao verspricht, mittels dieses zuverlässigen Fiat-to-Crypto-Gateways für professionelle Investoren neue Maßstäbe hinsichtlich Benutzerfreundlichkeit und Compliance im Blockchain-Bereich zu setzen.
Liechtensteins Politik befürwortet Blockchaintechnologie.

Liechtensteins Premierminister, Adrian Hasler, begrüßte auf der Pressekonferenz seine Unterstützung für das Joint Venture und brachte seine positive Einstellung gegenüber Blockchaintechnologie und Kryptowährungen zum Ausdruck: "Wir freuen uns über den Zugang von Binance LCX nach Liechtenstein. Blockchain-Technologien schaffen die Grundlage für eine völlig neue Branche."
Was gäbe ich dafür, ähnliche Worte einmal von deutschen Politikern zu vernehmen ...!
Wann genau die neue Exchange online geht, ist noch nicht sicher. Changpeng Zhao kündigte zwar bereits an, noch in diesem Jahr Fiat-to-Crypto-Handel zu ermöglichen, wobei jedoch unklar blieb, ob sich diese Äußerung auf das neue Projekt mit LCX bezog.
Dieses und zahlreiche weitere Projekte bieten Anlass zur Hoffnung auf eine immer enger werdende Verflechtung zwischen Fiat- und Kryptowährungsuniversum, was sowohl zur Verbreitung und stärkeren Nutzung von digitalen Währungen im Alltag als auch zu erheblicher Wertsteigerung des virtuellen Geldes führen würde.