CRYPTO NEWS : TRON (TRX) Update 21 05 2018
TRON (TRX) Update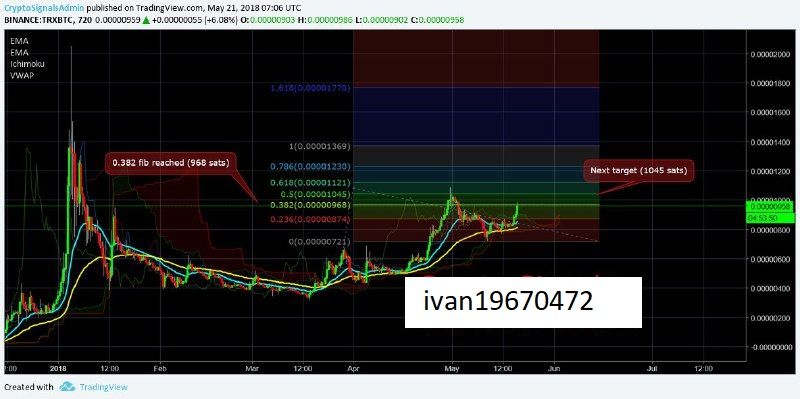 As you can see on the photo below, TRX reached 968, the target by 0.382 fibonacci extension. I have strong reason to use this tool because TRX was following these levels before so next target is at 0.500 (1045 sats)
TRON Upcoming events:
Partnership with 100 millions user coming (rumors)
TronVM Launch on 25th May
Mainnet Launch on 31st May
Coin Migration (Coinswap) on 21st to 25th June
Super Representative Election 26th June
Coin with great potential and hype started finally. After mainnet we will see what will happen. The potential of TRON will make them one of the leaders in crypto or it will show us that it was nothing but overhyped project.
Most of people are too bullish when coin has mainnet or something like that and that's why price is going up and it is great for us to make profit because it is not so hard to predict the opinion of the masses. But, you have to think and act before them in order to make great profit. They will start buying now, I was buying in our buy area and below it. Shared TRON here few times and I didn't share in last 10 days because you would think that I want to pump it to make profit of you. So, we accumulated on time, it is time to think of seling on time before masses start dumping. So, once I find reasons for selling, I will warn you. The mainnet will be the crucial!
At the moment it is suggsted to hold position on TRON because it has a lot of space to grow and realistic target is at 1.00 fib extension and potential at 1.618.