CRYPTO NEWS : BTC UPDATE 27 05 2018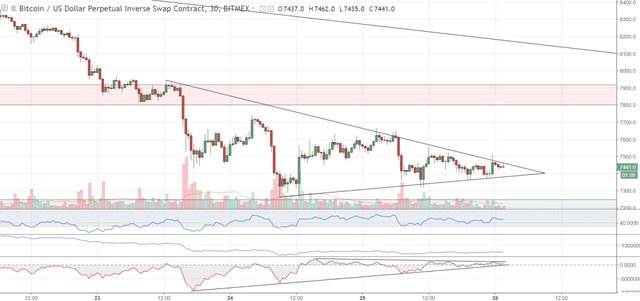 I was looking into BTC - USD quite a bit right now. Since the yearly low and it's bounce back we are in channel between 5900$ and 12000$. In this channel the fibs lines are almost a law how much they are respected. As well as the over all uptrend line, which many people would set a little higher I see no real confirmation to do so. Therefore, the trend line I see would be confirmed now at 6800$ not 7200$ as many people say. The 7200$ is a part of the 23.6% fibs line, which is on 7400$ but has a range of 2-300 in each direction. If this trend line t 6800 does not have a big bounce back, we will come shortly in the previous regions of 6000-5900$ where it is again STRONGLY OVERSOLD, so from there a huge bounce back will come.
ANYHOW, it is very likely that we will stay at the displayed 23.6% fibs line at 7400$ with a range of 2-300$ for a few days or even a week, and start the next upwards movement from there.
There is right now real reason to go back to the very bottom. The news are mostly neutral and we have touched the space of 10k just a few days ago so it is easier to break the 10k the next time we come near it, what in my opinion will be very soon. We have been long enough in this channel and it is time to leave it and start testing new highs.