ICOVO - Decentralized DAICO based Platform for ICO


The blockchain, the most trending subject since the year 2017. In a very small amount of time, the blockchain gained enormous popularity. The technology itself is brilliant and can be used in many ways and in different ways. The blockchain has led to many great ideas and innovation. To make these ideas into a reality, ICOs are a crucial part. It helps not only make the idea of the project come in life but also necessary to properly function. Since 2017 there has been thousand of ICOs that have successfully completed their campaign and started working on them.
As the demand of the ICO itself increased, many problems started to emerge and investors are the victim of them also it hinders the progress of a project at different times. Some platforms were released for this inconvenience but none were able to solve it completely. This time we are talking about a project targeting to solve that. It's called ICOVO.
What is ICOVO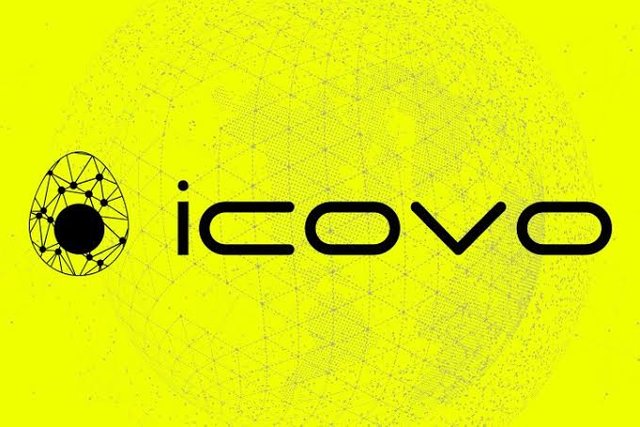 ICOVO is not your normal platform for holding ICOs. ICOVO is creating a platform where projects can hold their ICOs in a healthy, transparent, secure way and provide them with all the necessary services. Blockchain is the future and ICOs are just the starts. Believing in that, ICOVO will work with healthy ICOs and creating an ecosystem where they can fundraise without any inconveniences. ICOVO is not only for holding ICO, fundraising an distributing. It's so much more than that.
The amount of ICOs that were held in the past years and comparing them with now, the differences would be huge. People are trying to utilize the blockchain to the fullest. ICO is the most important part of a project. This determines the future of the project itself. In this huge bulk, there are often cases where good and brilliant projects don't get enough attention and gets lost. ICOVO here can not only make sure that the project gets a proper fundraising campaign but also give them the proper services such as token management, transparency and much more until the end. They want to bring out the full potential of a project, nurture them, help them make the project a reality.
Market Condition
Over a year the market of ICO has shown a significant growth. The difference between 2016 and 2017 is too great. In 2016 the market was just about $96m worth. But in 2017 a drastic growth of 3800% happened and the market value reached more than $3.7b. After that in 2018, the value is more than $200b now. This huge growth is bound to increase more in the future. By 2020 it is predicted that the market will reach more than a trillion dollar.



There is also the crowdfunding system. But the ICO has left their average long ago. An average crowdfunding is about $20,000 where ICO has raised more than $15n in a project.
It can be seen easily that ICO has much more potential than anyone can imagine. As the rate of ICO and the market increases, if there's a not a proper platform for them, many new problems can emerge and potentially hurt many great projects.
Problem Faced by ICOs
There are quite a few problems that are hanging around for a quite a while now and needs to be solved as soon as possible.
Frauds
The case of frauds in ICO has increased and many scam ICO was able to scam millions from the users. Not having any effective method to detect fake teams or fake ICO, it has led many investors to be devastated. It is also the reason why many people refuse to enter and invest in ICOs.
Fund Distribution
There are some cases where the project launched an ICO and in the midway, for unfortunate events, the ICO was stopped. The people who invested in the projects, their funds are stuck to the project people and they can't do anything unless the team responds.
Whitepaper
A Whitepaper is a crucial object of a project that describes the project in details, what it can do and much more. But sadly, the whitepaper can be altered anytime the team wants and at the later stage, it can lead to confusion and misunderstanding. After that, one ICO can be an upgraded version of a previous project. Whitepaper in different formats can also lead to confusion and hard to understand as when comparing with other ICOs, it can be difficult.
KYC/AML
KYC or AML for an ICO project team is very important as it helps people judge the project and help them take decision-based on it. Currently, there's a lack of a proper platform to do KYC and completely detect any kind of cheating or editing. It makes it harder for the investors to trust in the projects.
Barrier
For an investor to invest in an ICO, in the traditional system, there are many cases where one faces a huge entry barrier. Especially for small investors can't invest in ICO for the huge entry barrier.
The problems shown above are faced by investors on a daily basis. The problems faced by the ICO itself are below.
Complexities
Whenever starting a new ICO, there are many things to know and understand. Before starting the ICO, many projects struggle with the token issuing system.
Trust Gaining
For an ICO to succeed, investors are needed and they need to trust the ICO. Even with the existing KYC and AML platform, many investors don't trust them as alerting the document is not a difficult job. Not having a good platform for KYC/AML, it's hard for a project to gain trust easily.
Advisors
A single man can't know everything and thus ICOs rely on many advisors to execute many things properly. Being said that, finding trusted and good advisors are no easy task.
Funds
Starting an ICO requires a lot of funds and hard work. In many cases, the planner of the ICO lacks that huge amount of fund to start off the ICO.
Core Elements of ICOVO
ICOVO core is built on 2 system. These two combined is what makes ICOVO unique, different from other platforms.
DAICO
DAICO is a model that was proposed for preventing dishonesty among ICO planners by Ethereum founder. DAICO uses the decentralized method to keep the founder from dishonesty. It can limit the amount of fund that can be raised, how much can be withdrawn at once by the founder and so on. If the project fails, a consensus is reached by the investor, the funds will be returned.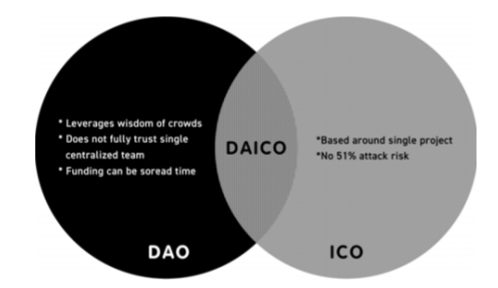 Network
ICOVO networking system will be based on IPFS or InterPlanetary File system. It is a P2P distributed file system that connects multiple computing devices in the same file system to achieve distributed storage of files.


Find out details here: https://icovo.co
What ICOVO Can Offer
Previously there was some problem were introduced and current existing. ICOVO mostly covers all of them. Here's how
Refunding
ICOVO will use DAICO as already described. This will help investors to get back their funds if the project is frozen or stopped for some reason.
Scam Detecting
ICOVO will introduce a very strict rule for the ICO that want to be listed to complete KYC/AML. As for document changing or alerting, there will be an app for KYC/AML with strict security that will prevent any document altering. One extra service is ICOVO will perform the document checking from the investor side to reduce the workload of the ICO team.
Whitepaper Altering
Being based on the blockchain, every data is recorded. What's more, by using the IPFS and the blockchain combined, it will be impossible to tamper with the whitepaper. So after ICO starts, the whitepaper cannot be tampered with.
Entry Barrier
With the help of the ICOVO, It will be possible to participate in different ICOs and make it more convenient and manage tokens.
Voting
ICOVO will allow investors to vote for different decision for such as deciding usage of the fund after ICO, next decision, future plan and so on.
Complexity and Transparency
First of all, with the help of ICOVO, ICO planner won't be needing any token issuing system. After that, ICO will have to report their progress every now and then to keep the investors update about everything thus showing more transparency.
Fund and Advisor
Starting an ICO requires a huge amount of fund. With ICOVO, that amount can be reduced by several folds. Not only that, ICOVO will provide free advisors to the project for better guidance. Everything for a small initial charge to enter their platform.
Platforms of ICOVO
ICOVO will have three different platforms for different usage.
DAICOVO
This platform is specially made for creating smart contracts for fair distribution and proper managing of fund powered by DAICO. It is made to specially match ICO token, fund managing.
ICOVO APP
This platform is specially designed to make the experience of founders of ICOs much better and convenient. ICOVO Android or iOS app will have an in-built wallet to store assets. This will allow founders to manage their funds. Also, it's compatible with DAICOVO and allows the founder to conduct voting and such. This is also dedicated to doing KYC or AML for the founder.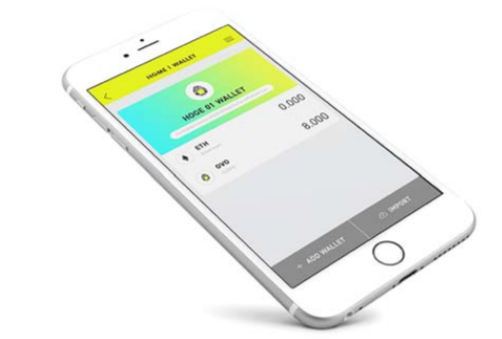 ICOVO WEB
This is a listing site of different ICOs and allows investors to find projects. ICO listing won't be taken lightly and will list ICO only who met all the requirements such as KYC/AML.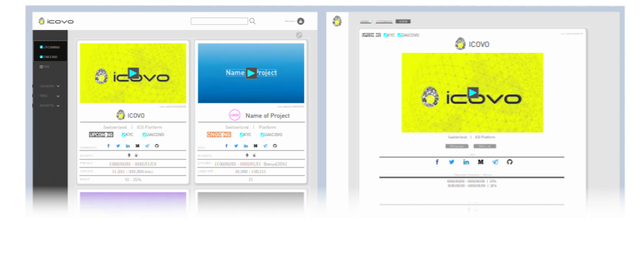 Find out more here: https://icovo.co
Roadmap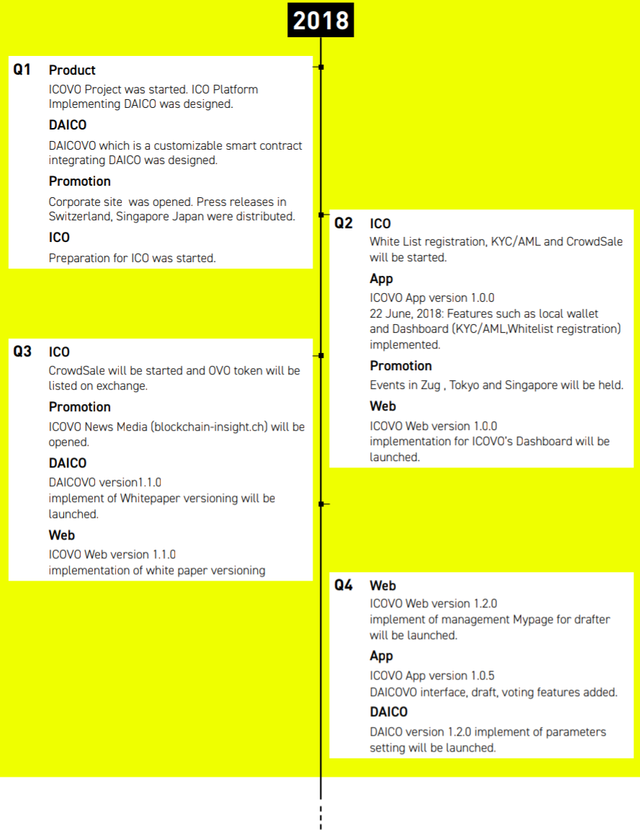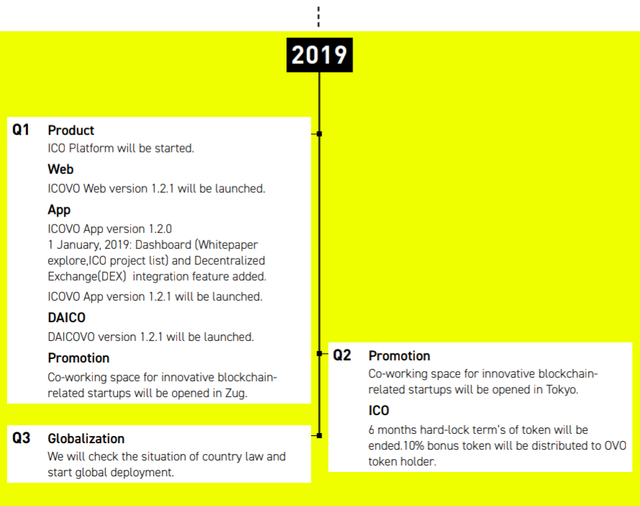 Team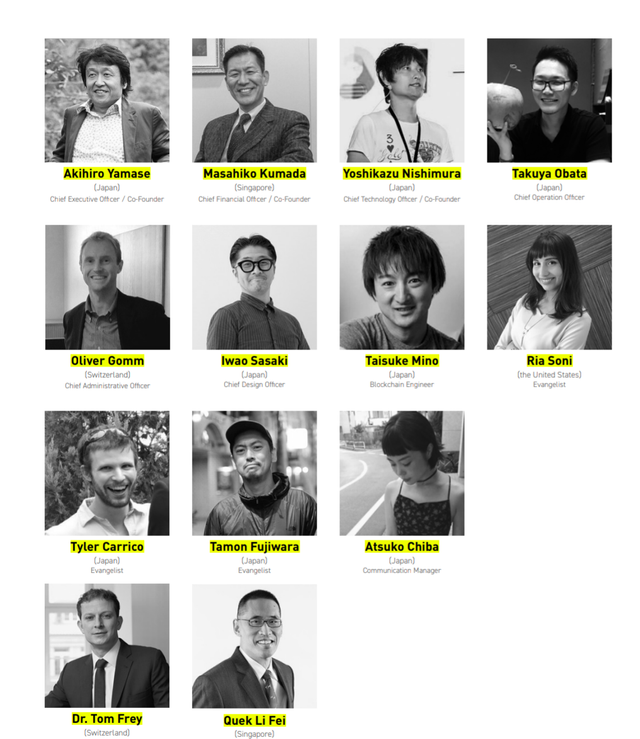 ICO Details
• Token Symbol: OVO
• Token Protocol: ERC20
• Token Supply: 200,000,000 OVO
• Token Price: $0.3
• Soft Cap: 5868 ETH
• Hard Cap: 60,360 ETH
• Target Fund: 33,533 ETH
Conclusion
There are currently who such platform that exists and has taken such deep and powerful measures. This can change the whole idea of ICO and reduce the amount of fraud significantly. The potential is skyrocket.
Find out more about ICOVO in these links
Website: https://icovo.co
Facebook: https://www.facebook.com/icovoco/
Twitter: https://twitter.com/ICOVOCO
Telegram: https://t.me/icovoco
ANN Thread: https://bitcointalk.org/index.php?topic=4468796.msg40076110#msg40076110
Whitepaper: https://icovo.co/whitepaper/wp_service_en.pdf
My Profile
BTT Username: Sakib0194
BTT Profile: https://bitcointalk.org/index.php?action=profile;u=1841935;sa=summary
Telegram Profile: https://t.me/Sakib0194
ETH Address: 0x8c26fD54c42B06593258b86b9D0F91CC9e5E64e5