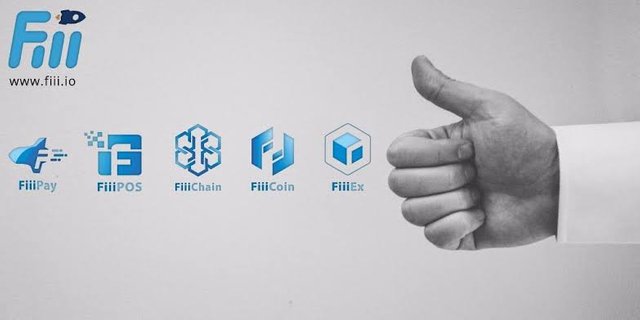 The blockchain, it's truly a fascinating technology. It can be implemented in many places and can be used in different ways. Significant financial improvements have been done in the past year thanks to the blockchain. Many great companies exist now because of the blockchain. Being said that, if one doesn't have much knowledge about the blockchain, not everyone can take the opportunity to utilize the blockchain, the financial usage in their daily life. It's complex for new people.
From this very problem, a great idea of a project was born. And today, we are discussing the project. It's called Fiii.
What is this Fiii project?
Fiii is a blockchain based project trying to solve our everyday financial problem and the vision is to implement the blockchain into our daily life. First of all, cryptocurrencies are complicated. Everyone will agree on it. After that, the world is still not yet fully adapt to the cryptocurrencies thus one just cannot spend their crypto in wherever they want. This makes everything much more complex and makes people discouraged from using crypto. This is where Fiii comes. Fiii will develop a series of platforms where anyone can take the full advantages of the crypto, spend their crypto and much more without any knowledge of the blockchain at all.
Fiii wants to make our lives easier, make crypto a part of our daily life with their products. Right now, there are hardly any places where normal people can use their crypto and making crypto a part of their daily life is something unimaginable right now. This is exactly the problem Fiii is targeting and plan on solving.
Targeted Problems
Some problems that are being targeted by Fiii specifically are below
Blockchain
The blockchain is complicated, any normal people would agree on that. The usage of crypto in real life, without any knowledge about crypto it is hard. Currently, there is no easy way or a not complicated way to transact for normal people. Most people think the blockchain is not for them or only for high-end users. There is no existing user-friendly, easy to use platform for everyone to use.
Crypto
For crypto users, there are also no places or platform where one can use, spend their crypto in return for something in a convenient way. The world is still adapting to the blockchain. There are only very few places which accept crypto as payment. Crypto is known for its volatility. Many investors take this risk to get something in return. Other than this, there are not much real-life usage or other usages at all at the moment.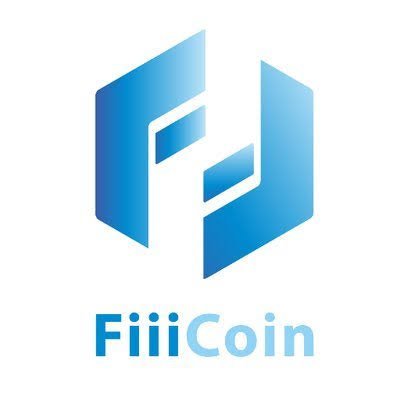 Currency
Travelers have it hard in this world. Especially for the people who always travel around the world. They have to constantly convert their currencies. There is no existing solution that can solve this completely and reduce the hassle of a traveler.
Commercial
The blockchain technology can be used in many ways, however, implanting the system into something is the real challenge. Many companies are working on how to make a good use of the blockchain in the commercial side. There's not a perfect solution available just yet.
Elements of Fiii
Fiii is offering us a product with several services included inside the system. Fiii's unique ecosystem will ensure the best services. Combining them, it is a perfect platform of their vision.
FiiiPOS
FiiiPOS is an all in one payment terminal. It will support more than 1500 different types of cryptocurrencies and of course, it includes all the popular crypto. With this terminal, it will be possible to easily transact at lightning speed with the minimum cost and also with just a few clicks. With this terminal, one can easily tap into new markets, reach new consumers and so on. This device will be based on the Android system and it will have several models. It will also have other features such as GPS, NFC.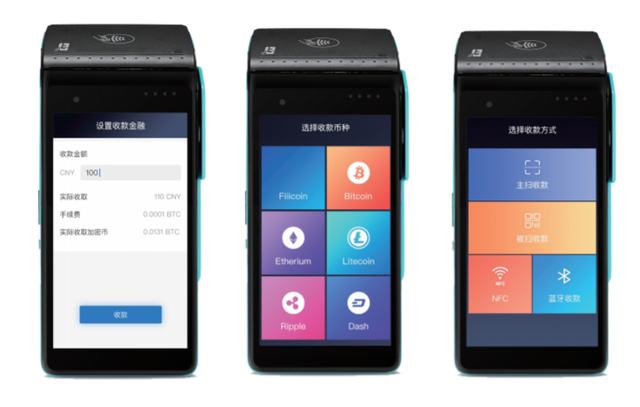 FiiiPay
FiiiPay is an advanced wallet system by Fiii. It is not just an e-wallet. It makes the whole concept of wallet more simplified and easy to understand. FiiiPay shows a convenient way to transfer money online or offline both. It will support more than 1500 currencies and also the future currencies. The best part of this is the support of NFC system for payment. This technology is used by Google Pay, Samsung Pay, and other popular platforms. This will allow offline transaction in the most secure way but also in a speedy way.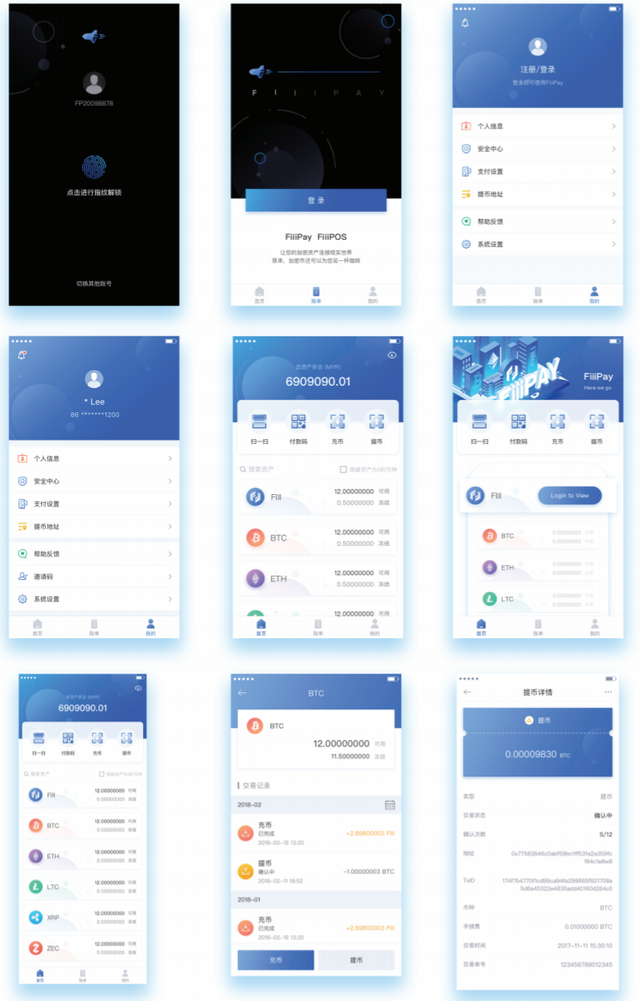 FiiiEx
FiiiEx is another essential part of the Fiii ecosystem. It is all digital currency exchange. Like already existing exchanges, it also works like that but it is subsidiary to the Fiiigroup. FiiiEx will list the major currencies such as bitcoin and ethereum and along with FiiiCoin to trade with alternative currencies. The FiiiEx will be integrated into the FiiiPay. This will allow anyone to trade anytime they desire.
FiiiChain
Everything, every product of Fiii is based on the blockchain. By creating all the products, they are creating a unique ecosystem. That whole ecosystem is the Fiiichain. FiiiChain is basically the outer layer of the Fiii ecosystem, ensuring everything runs perfectly.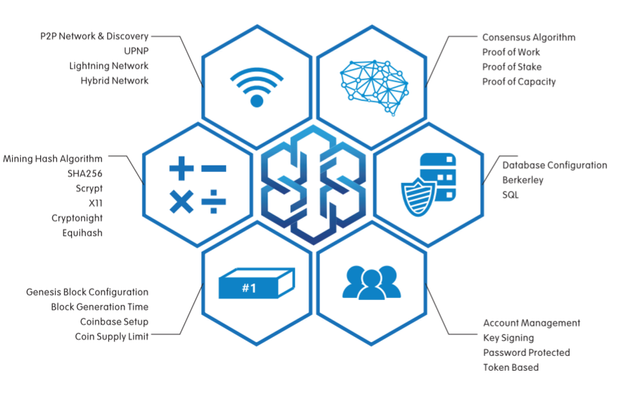 Why You Should Choose Fiii and their Ecosystem
I can several reasons why one should choose and use the Fiii and its ecosystem. The places where it can be used, how it can be used, it is literally disrupting the world. Here is why you should choose Fiii.
Easy to Use
Rather than making everything complicated, Fiii chooses to go the easy path. Put everything in one place, do everything with just a few clicks.
Use in Daily Life
Fiii is creating an ecosystem where everyone can use crypto in their daily life to buy thing which is not available right now. FiiiCoin will be a universal currency in many places hence one doesn't need to change or convert their currency once they travel around the world.
Worldwide
Fiii's services will be available to the whole world. Allowing anyone to do borderless transactions with minimal fees. Not to mention Fiii will have several partnerships with big commercial companies. This widens the use cases.
Transaction
Fiii offers a lightning fast transaction system with minimal transaction fees. Allowing anyone to buy anything with crypto in just a few seconds.
Security
Security of Fiii will be top notch and very secured. The NFC technology will allow transactions with the utmost security and the blockchain will make sure everything is going securely and smoothly. Blockchain will also prevent any kind of hacking attempt.
Use Cases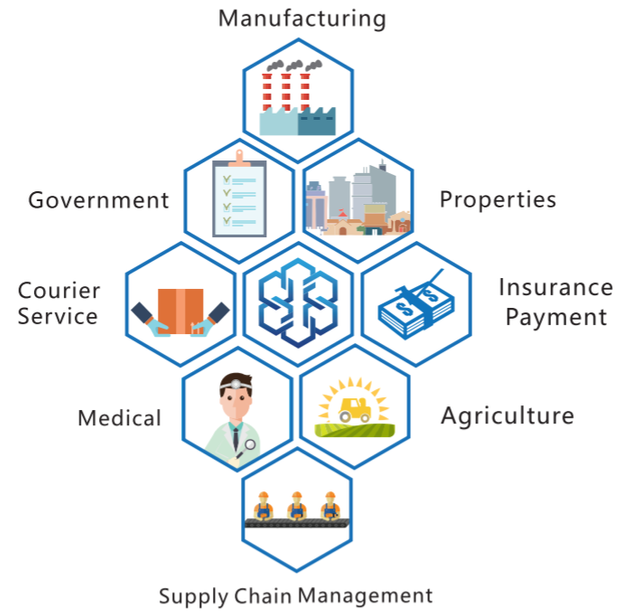 ICO Details
• Token Symbol: FII
• Token Protocol: Ethereum
• Total Supply: 5,000,000,000 FII
• Token Price: $0.12
• Soft Cap: $15M
• Hard Cap: $40M
Distribution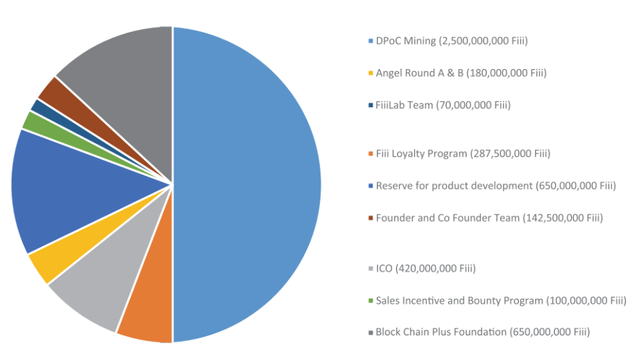 Conclusion
Fiii is really bringing something new and innovative to the world. Blockchain is already quite popular but doesn't have much use cases. Fiii Will completely change that. They can actually make crypto a daily part of our life.
Find out more about Fiii in these links
Website: https://fiii.io/
Facebook: https://www.facebook.com/fiii.io/
Twitter: https://twitter.com/FiiiLab
Telegram: https://t.me/fiiicommunity
ANN Thread: https://bitcointalk.org/index.php?topic=5027077.0
Whitepaper: https://www.fiii.io/images/doc/whitepaper.pdf
My Profile
BTT Username: Sakib0194
BTT Profile: https://bitcointalk.org/index.php?action=profile;u=1841935;sa=summary
Telegram Profile: https://t.me/Sakib0194
ETH Address: 0x8c26fD54c42B06593258b86b9D0F91CC9e5E64e5