1.0 Masternodes
A Masternode is any computer device that is utilized in processing transactions on a blockchain and minting new coins for a particular cryptocurrency. Masternodes are an effective means of investment in cryptocurrencies as most masternodes offer high rewards system, hence they are a good means of growing passive income.
Also owners of masternodes, asides from being rewarded for their work in hosting nodes and processing transactions, they also enjoy the benefits of having an easy way to earn as Masternodes requires only an initial investment and minimal management expenditures to run them.


2.0 Gaming Industry
The gaming industry entails everything from a simple tetris game running through our mobile devices, to the high-end improved graphics, HD online videos games, it also includes the long lists of designers, producers and developers that put things in place to ensure that games are released, moreover the marketers and advertiser of gaming platforms are not neglected in this fold as they form largely a great percentage of movers to the success of the gaming industry.
The major challenge in the gaming industry is the challenge of value. In the 21st century people see money as value,asides the adrenaline rush, and the display of skills and expertise and taste for adventure, another basic means of value is monetary rewards.
However, this has not been made effective as games accrue point to users as a camouflage for monetary incentive. One would ask, what if there is a way to incorporate monetary value and incentives into games, making these games more valuable?


3.0 Coin2Play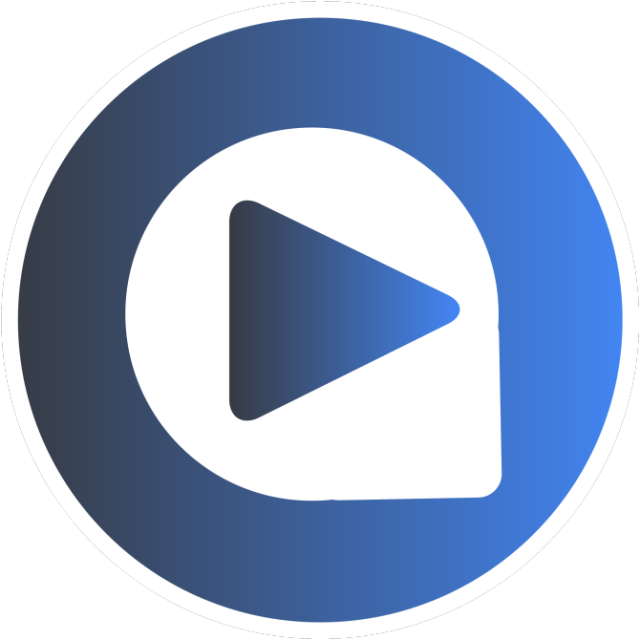 Coin2Play is a cryptocurrency project with a the main goal of creating a decentralized fully secure and anonymous network to run applications which do not need a central authority.
Coin2play is an innovative approach to link the gaming industry with monetary incentives by using Blockchain technology, POS and Masternode Algorithms, running applications in a faster, better and safer means.
With a decentralized network of nodes, Coin2play team plans to enforce efficiency into the gaming and applications ecosystem, ensuring that games would have no single point of failure as seen in the centralized system, here nodes will be distributed to several parts of the world for effective decentralization.


Coin2Play is a hybrid POS and Masternode system, which makes it possible for staking of coins for any portfolios such as online games,especially casino and poker games, with easy to integrate APIs, Coin2play will deliver a new ecosystem in the gaming industry.
Coin2play Masternode holders earn 65% rewards from minting which is really high for a Masternode, making it a good means of earning passive income too, while stakers earn an impressive 35% ,meanwhile the collateral requirement of owning a masternode is 10000C2P

Coin Specifications:
Name: Coin2Play
Ticker: C2P
Premine: 500.000 C2P
Max. Supply: 50,000,000 C2P
Algo: Quark
Block Time: 60sec
Min.Stake Age: 15 Min
MN Collateral: 10.000 C2P
Rate: Masternode 65% / Stake 35%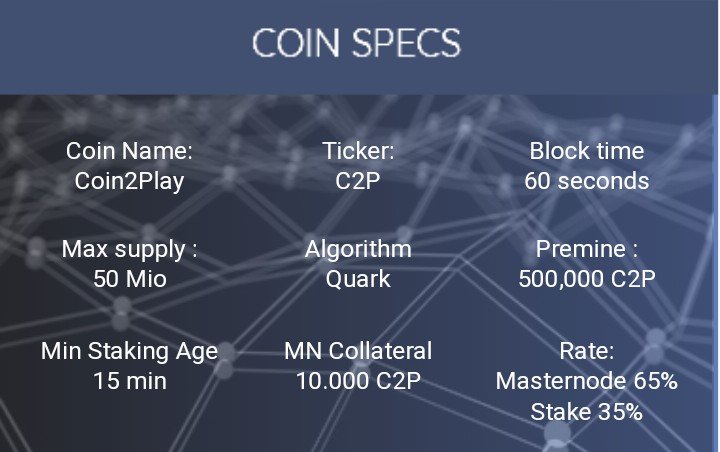 Introductory Video:

Mobile Application walk-through video:


Join The Discussion on Discord:
Coin2Play is Listed on MasternodePro
https://masternodes.pro/stats/c2p/statistics
Daily income
$30.8681
0.00429088 BTC
214.6512 C2P



For More Information use the links below:
EXCHANGE: https://www.coinexchange.io/market/C2P/BTC
Also listed on MNO -
https://masternodes.online/currencies/C2P/
WEBSITE : https://coin2play.io
BITCOINTALK : https://bitcointalk.org/index.php?topic=4849316
EXPLORER : http://explorer.coin2play.io
GITHUB : https://github.com/Coin2Play/c2pcore/releases
TWITTER : https://twitter.com/coin2play
TELEGRAM: https://t.me/coin2play
WIN WALLET: https://github.com/Coin2Play/c2pcore/releases
LINUX WALLET: https://github.com/Coin2Play/c2pcore/releases
MAC WALLET: https://github.com/Coin2Play/c2pcore/releases
MASTERNODE SETUP GUIDE: https://github.com/Coin2Play/Coin2Play-Script
MNCN.online: https://mncn.online/coins/C2P
CONTACT US: support@coin2play.io