Crypto Trading Experiment - A Noob´s experiences - part 1
Namaste friends!
It has been a while since my last blog post. I moved places from Kathmandu back to Berlin. Quite a contrast! It took me a while to get back into my german life. I am finally ready to proceed with my Steemit career ;)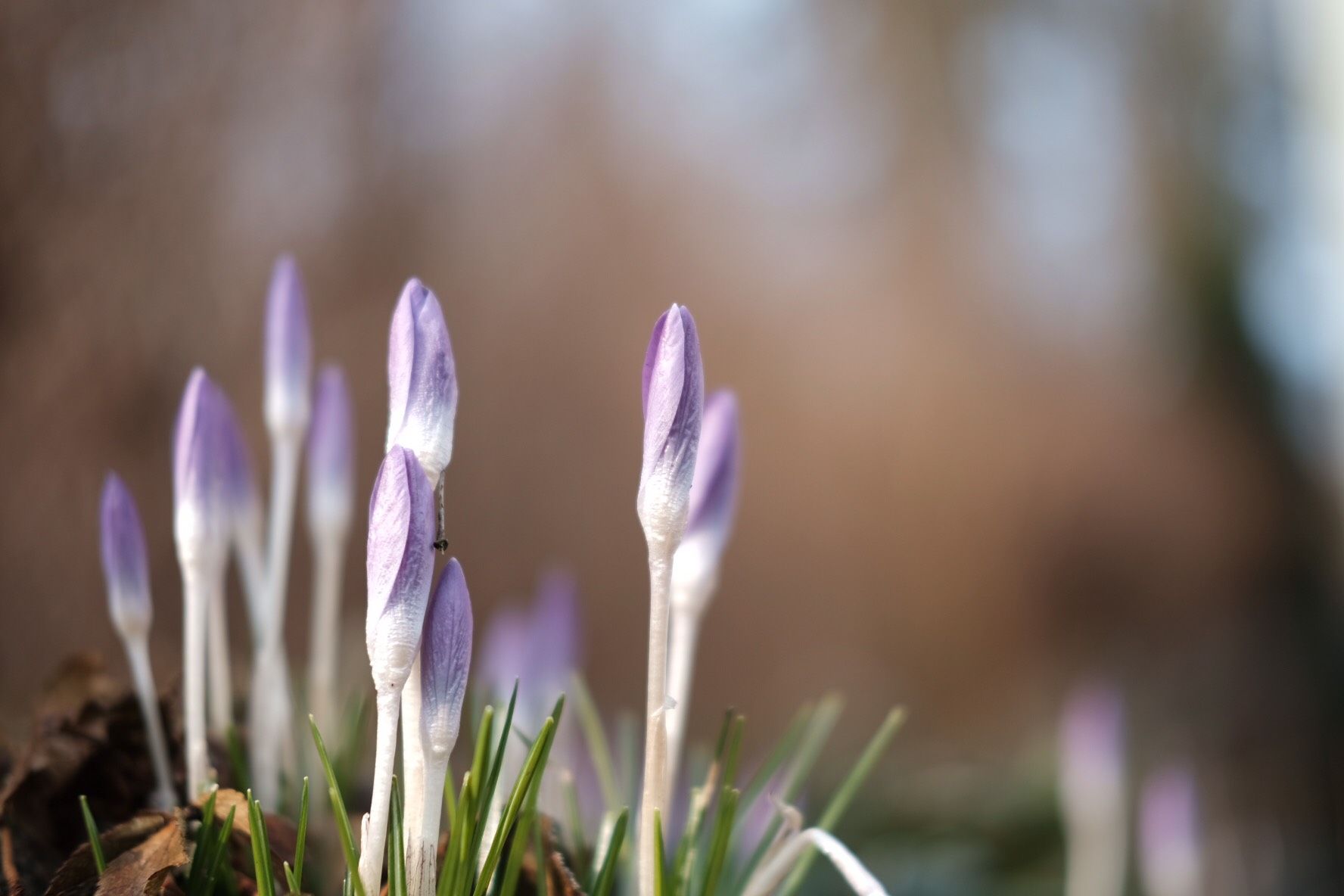 crocus in our backyard - spring is here and brings in some fresh energy
I started investing in crypto a year ago and it has been an exciting journey so far. I always considered myself as a long time buyer/hodler. It never came to my mind that I could try out things like daytrading. Until recently when I talked to a good friend of mine who made quite some profits with crypto trading. This inspired me to try it out myself and I would like to share my experiences in this series.
So I decided to take 1000$ out of my crypto assets and dedicated it to this project. Since I have no idea how to do a proper technical analysis and not enough time on my hands to read all the news, I thought it would be wise to listen to other peoples opinions. There are thousands of self-proclaimed crypto experts out there and let´s be honest, most of it is bullshit.
So how do you find the right signals to trade along? You pay for it.
There are a few Telegram/Discord groups with a monthly subscription fee which will provide you with well-researched and funded analytical knowledge. Of course it is still gambling, but especially as a beginner, you can drastically improve your chances.
So will I be able to take 1000$, pay for a signal group, trade for a month and make significant profits?
Let´s find out!
Where to find the signal groups?
I found this very well researched article by smartoptions.io
--> https://smartoptions.io/telegram-crypto-signals/
As it turns out, most groups will cost more than 300$/month, so I decided to go with the cheapest option which is infocrypto with 99$.
I just signed up at their page but already did my first trade for this project, according to another singal group.
I joined https://cosmictrading.com/ on their discord channel. It is a paid service but from time to time, they will post free trading signals.
When I joined their channel and got a free signal for a STEEM trade, I could not resist but start with that trade.
This is what the signal looked like: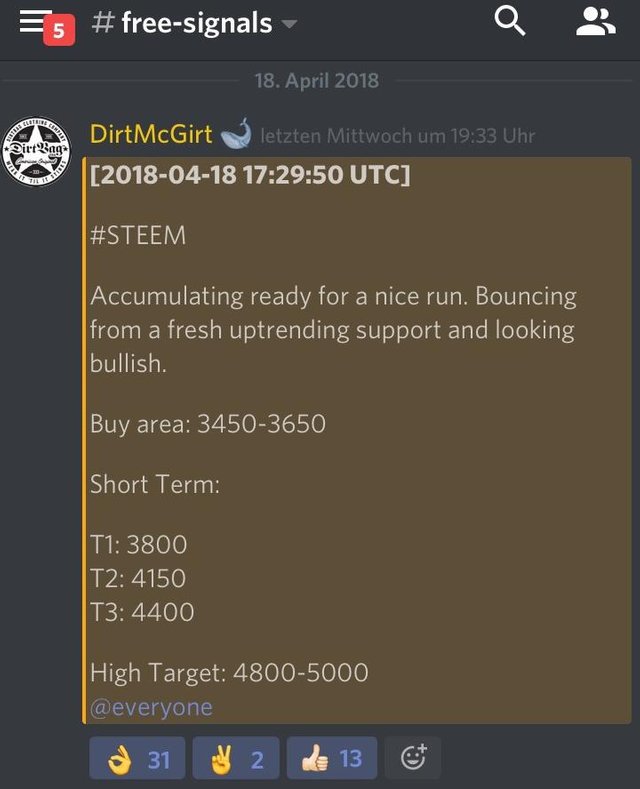 So the first trade:
| BTC | STEEM |
| --- | --- |
| 0.12184224 | 364 |
| 0.000334731 | 1 |
I bought in at 3350 and found out later on that this was the wrong decision. You should only invest when the buy area is reached, they tell you about it for a reason.
So according to CoinCap, Steem is trading for 0.00035148 BTC at the moment of writing. I decided to sell at 3900 and put in a sell order. I will trade back to BTC and accumulate as many BTC as I can. Let´s see how it plays out!
I will be more active on Steemit in the coming weeks and got a lot of exciting stuff incoming! I will be talking about the crypto project, documenting the building process of some design pieces for a german music festival and my progress in building plastic recycling machines.
Aaaaand go.