XAYA: COMPENSATION FOR THE PASSION OF VIDEO GAMING ON THE BLOCKCHAIN ECOSYSTEM
INTRODUCTION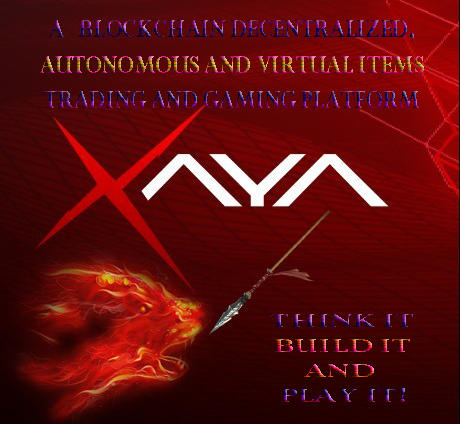 USE CASES
Perez loves playing his soccer manager video game. He enjoyed it that he feels like he is a real time football manager. Sometimes, he talk to himself and exclaimed on victories his virtual soccer team has won. He strategized on how he will buy new players from other teams that wants to sell and he is really good with this game.He became part of his gaming. With trophies he won with the team he manages, he won a lot of virtual money of which are all lost if Perez should uninstalled his gaming appliation. Perez passion for coaching can be a means of earning for him if there is a platform that can actually help Perez to convert his won prices to real time money that he can spent. This will turn Perez's passion to profit.
In addition, the time and effort expended by the gamer could be rewarded beyond simple enjoyment alone and through the exchange of in-game virtual items for real world value or for virtual items available in another game.
on the other hand, Jimmy is a game developer. He had developed a lot of beautiful online games that can be play by different gamers across the world. But his problem is that he has no autonomous power over his application and the high prices he has to pay the internet server in order for his internet-based game to be played by gamers is so high that he sometimes regret even being a developer.
Time and cost from concept to market for many new and independent developers is often prohibitive.
This are but few problem faced by Players and Developers alike. Insecurity, intellectual rights, ownership, monetisation and maintenance of games are other dilemma face by developers.

What if developers could provide autonomous, decentralised worlds, rich in tradable virtual items for gamers? What if developers could go from concept to game release in less time and for less money without worrying about infrastructure costs (such as servers) and recurring costs (such as account administration)? What if we could offer true ownership, simple and safe trading methods for gamers to convert virtual items into real world value through an entirely flexible system? What if both gamers and developers could share in a win-win outcome with both able to capitalise on new revenue streams and participate in thriving new economies? What if we could realise a substantial and growing demand for a cryptocurrency, increasing its utility and value for users?
No more worries, XAYA gaming platform is here to solve the issue that has plague the gaming industries and it users by employing the decentralize nature of the blockchain.

WHAT IS XAYA?
XAYA is a gaming platform built on the blockchain and trading of virtual assets for cryptocurrencies as passion for players and developers. It is built on the blockchain to manage the increasingly complexity of game development and securing, sharing and trading of virtual assets. XAYA gives every game developer absolute permission to bring to reality the ideas they may have and also reduce the cost to manage such ideas when they are deployed as virtual assets into the XAYA platform. Most importantly, developers can create their own token to trade virtual assets with other cryptocurrencies such as the XAYA "CHI" which is the platform token. Also, developers can create an absolute decentralized and autonomous games where players can "expect 100% uptime and have provably fair game play with true ownership of their in-game items".
XAYA will achieve this by developing a single blockchain-based platform that do not necessarily requires a server for users and developer to access their virtual assets.
HOW WILL XAYA ACHIEVE THIS?
Chip of the old block
The XAYA team did not just wake up now to work on this project. This is a new development in the blockchain industry and cryptocurrencies yet, it has been functional since 2013 as Huntercoin which achieve a couple of success that paved way for this new gaming ideas.
The Huntercoin was recongnised as the first decentralized massively multiplayer played game, the world's first game totally built on tne blockchain and the first cryptocurrencies mining platform for gamers and developers alike.
Huntercoin was a proof of concept to develop solutions to the technical challenges and to test the market.
The XAYA gaming and trading platform build on this foundation that has been set and provide tools that can be used by developers to bring to life their inner most ideas with lesser cost. On the XAYA platform, developers can mint their own cryptocurrencies that can be traded with other developers minted cryptocurrencies and the XAYA token called the "CHI".
Summarilly, XAYA aimed at creating a decentralized and autonomous platform for developers where virtual assets can be traded for real time cryptocurrencies that are transferable to fiat currencies and can be spent by developers and gamers themselves.
I guess Perez would be more happy now!

XAYA MODEL CHARATERISTICS
FOR GAMERS
Gamers will be able to have a provably fair gameplay in a reliable and stable platform (maximum uptime for all time); having not to worry of losing their virtual assets they've acuired, easy trading or sharing of virtual assets that are transferable to real world value and a user friendly game app launcher.
FOR DEVELOPERS
On the other hand, developers will be able to operate an autonomous (non-decentralized) and democratised game development. They will be able to have their own virtual currencies that can be tradeable for real time value, have access to trending gaming markets, and also possesses other game development utilities.
They can fully leverage the XAYA technology to build decentralised games and issue their own game currency that can be traded for CHI or other XAYA game coins/assets secured by the XAYA blockchain.
XAYA will provide a complete library of codes that can be used by developers and offer a free hosting platform for developers to launch their developed game and also exposed their products to the right audience that are willingly to exchange and buy the developers' virtual assets which can be eventually traded for real time value.
FOR SUPPORTERS
For it supporters, XAYA has put in a place "a cryptocurrency with high utility value, access to large existing gaming markets, access to untapped gaming markets (e.g. virtual asset trading) and creation of new gaming genres (e.g. blockchain-based gaming and Human Mining)"

XAYA KEY TECHNOLOGIES
XAYA is a proof of Work technology that will allow gamers and developers to trade their virtual assets. Developing on the set protocol of the Namecoin and Huntercoin, it will implement the following core technologies on it platform.
ATOMIC TRANSACTIONS
XAYA will allow easy and trustless trading or transaction of virtual assets or properties to be sold on it platform by exchanging them with the "CHI" which will improve the demand of the "CHI" token and hence, a perfect economy can be achieved.
GAME CHANNELS
XAYA has developed a payment channel in Bitcoin blockchain that can trustlessly used by users for secured gaming and attained a global size.
EPHEMERAL TIMESTAMPS
This XAYA feature will enable a fair settlement between players if a dispute arises when a game is being played. Probably a player who is losing in a game wants to quit the game without proper payment of the bet price on the game. The XAYA Ephemeral timestamps tech will ensure that the agreed transactions fees by two players can never be loss especially to a honest participant.

HOW IS TRADE DONE ON THE XAYA PLATFORM
Based on the proven technology of Namecoin, the XAYA blockchain will implement game accounts and tradable in-game items in a way similar to Colored Coins.
Transaction of virtual assets on the XAYAplatform are done on a trustless ground. Trading of virtual assets will be done on a single atomic transaction. For more understanding, let us look at the simple diagram of how virtual assets and transaction fees are traded on the XAYA platform.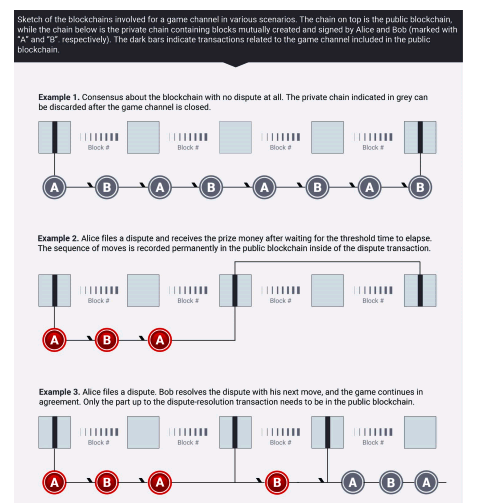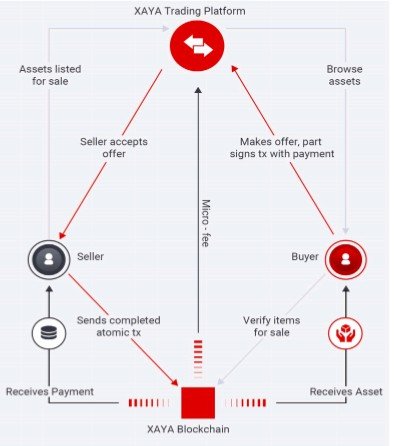 GAMES SUPPORTED ON THE XAYA PLATFORM
XAYA supports a varieties of games that can be played and developed on it platform. Such games include turn-based games, card collecting games, Real-time strategy games (RTS)/ multiplayer online battle arenas (MOBA) and a lot of other games.
UPCOMING GAMES
As XAYA launch it mainnet, popular games such as Soccer manager will partner with XAYA. This will encourage millions of Soccer manager such as Perez who will benefit from his virtual assets of managing his team as he can turn his passion to real time money.
Also, XAYA will launch a Treat Fighter game where players can brew their own fighters and compete with other players.

CONCLUSION
The experience gained from the development of Huntercoin and Namecoin is a major victory in actualizing the vision of XAYA gaming platform.
The idea of XAYA on the gaming industry can not be over emphasized. Just like Perez, gamers will be encourage to win as much trophies on the game knowing fully well that their effort is not just a mere mirrage on their gaming device. They will think more and strategize on how to play better for them to win more assets on the platform.
Due to the popularity of games such as the soccer manager, players will troop in to the XAYA platform knowing fully well that their efforts can be compensated and there would be more demand for the XAYA token (CHI); Giving it a value. Developers will also be interested in developing on the platform since the audience they seek to play their games are attracted to this platform.

ROAD MAP
The XAYA Road Map is as indicated in the diagram below: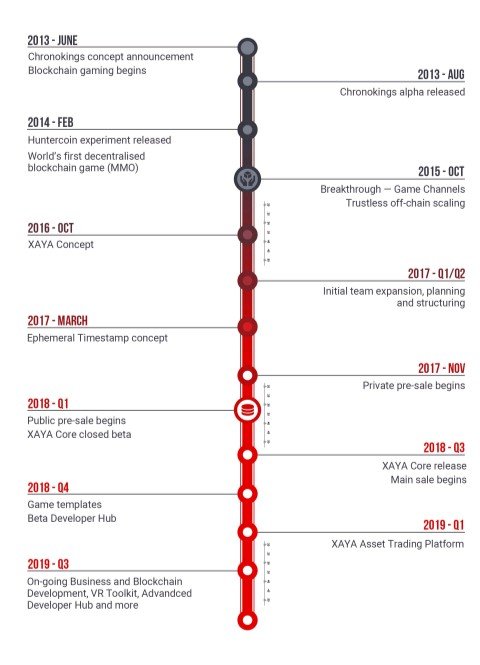 Source: Whitepaper

XAYA TOKEN SUPPLY
CHI is the XAYA currency of operation. Though, other minted tokens that are approve on the XAYA platform can be traded for the XAYA CHI, the CHI is used to fuel all transactions such as creation of account on the XAYA platform, Game transactions, other minted coins transactions, purchasing or renting of game or virtual assets/accounts, etcetera.
Below are the XAYA planned distribution and supply of the token.
CHI TOKEN DISTRIBUTION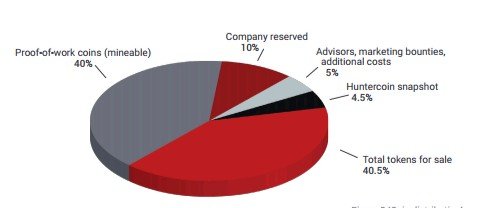 ALLOCATION OF FUNDS


MAIN SALE IS LIVE
The XAYA main sale main sale is live. User can purchase tokens as well as register for an account to earn tokens by completing some basic tasks.
The main sale will run for 5 weeks starting on September 7th. Hurray and be part of it!

TEAM
The team is headed by the CEO and co-founder Andrew Colosimo. Others of the team members include Daniel Kraft (Co-founder), Konstantin Gorskov (Lead Game, Web Developer - Co-Founder), Bas de Gruiter (Business Development, Branding - Co Founder), Ryan Smyth (Copywriter and Community Management), Patrique Burgersdijk (Project Management), Ayalies Korenberg (Marketing Manager), Kyle Serbov (Community Management) and whole lot of other team members, advisors and partners.
To learn more about the XAYA team, advisors and partners, visit XAYA Team and Advisors

ANNEXES
Watch the little intro video on the XAYA gaming platform:
To learn more about the XAYA ultimate gaming decentralized platfrom, visit their media below:
This is an @originalworks writing contents. You can follow this contest HERE

For my twitter entry, follow this link: https://twitter.com/TOmuabor/status/1044530648495652865
xayatwitter
xaya2018