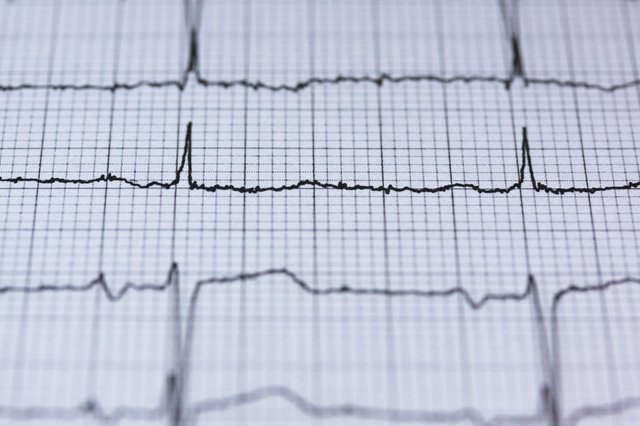 At Exodus, one of our most coveted responsibilities as a team is preparing the bi-weekly release notes that accompany each new build. Besides being our most popular blog series, it also gives the author a chance to dive deep into the latest batch of features and fixes to help relay this excitement to you - our customers.But as famed historian and superhero uncle Ben Parker once said - with great power, comes great responsibility. What he failedto mention is that this power and responsibility would fall on me- and I'd be tasked with maintaining the reputation for obscure references and undeniable wit our regular authors have injected into previous release notes.
Tidying Up the Portfolio 
The past few releases have brought a much-needed refresh to the beloved portfolio donut, as well as enhanced portfolio tracking features.
With this release, we take things a bit further, adding portfolio trendlines to help you better visualize asset performance. Whether or not this will actually allow you to predict a "trend" in the crypto markets is a bit of a different story- but hey- it's worth a shot!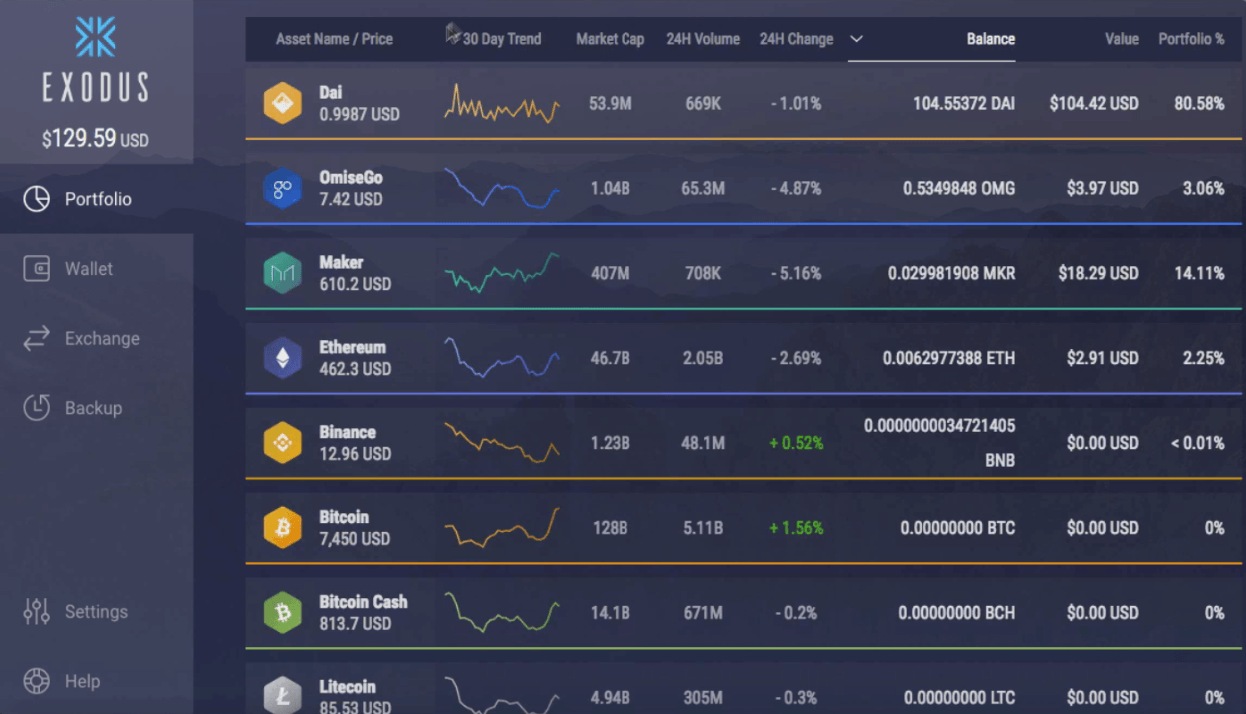 With all this shiny new data at your fingertips, there's a good chance you may want to sort your assets a bit differently to better visualize overall performance. To help with this, we now allow you to sort your portfolio by the metric of your choice. Want to see your assets in order of performance? No problem. Prefer to keep things alphabetical? You got it.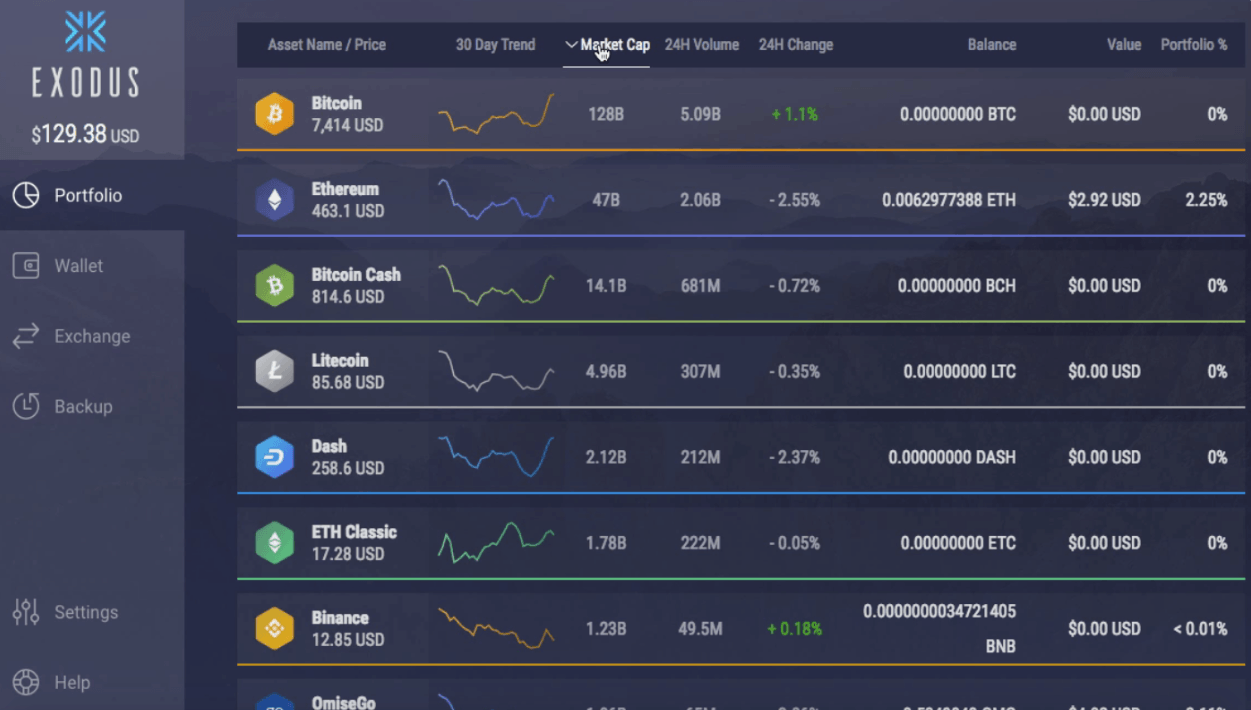 Adios EOS 👋
While EOS mainnet support is still a ways away, we've done our best to help you access your mainnet assets should you need to. For those that have chosen to go this route, the ERC20 EOS balance showing in Exodus has become more of a constant reminder of what once was rather than an accurate depiction of your portfolio balance.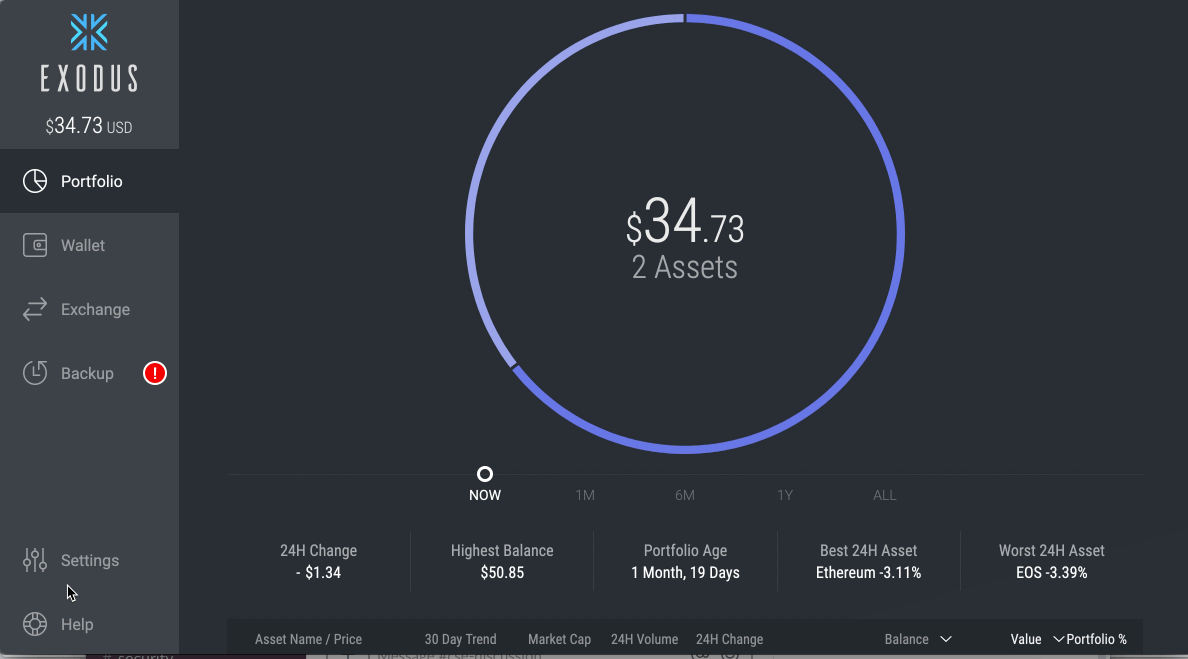 For this reason, we now allow you to disable your ERC20 EOS and therefore prevent it from displaying in your portfolio. You'll still have access to your mainnet keys if you need them, but this helps ensure that what shows in Exodus is actually in Exodus.
Understand the Rescan 
While we try and keep Exodus as error-free as possible, occasionally forces beyond our control can prevent your wallet from properly rescanning the blockchain. 

Perhaps the only thing worse than seeing an error message is seeing one that doesn't make sense, so we've simplified and clarified the language for rescan error messages with this release. We even link you right to our Knowledge Base article where you'll likely find a quick solution to whatever is behind the issue. 
Next Release: August 2nd, 2018
Our development team is already heads-down in preperation for our next release. Be sure to follow us on Twitter and Facebook to ensure you don't miss the latest!
Also, keep an eye on that releases pagefor any interim patches or security updates.