GOLDILOCK
Cryptocurrency wallets are 'secure' digital wallet used to store, send and receive cryptocurriences like Bitcoin, Etherum and Steem. Cryptocurrencies are not actually 'stored' in a wallet. Rather, a private key which is a secure digital code known to you alone is stored that shows your ownership of a public key. Funny thing is that we are advised not to save all of our cryptofunds in a single wallet because there is a high possibility we can lose them to hackers. If we are not not guaranteed 100% security, then why go through the whole process of generating several wallets in the first place?
So what if I tell you that you can be guaranteed 100% security of your cryptofunds without creating multiple wallets, distributing your tokens?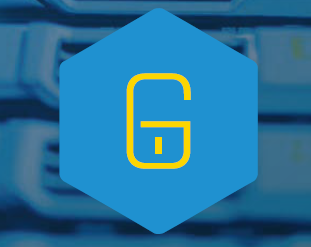 Goldilock is a storage system that is built on the blockchain, and takes advantage of the hot wallet and cold wallet to store sensitive digital assets.
Hot wallet: Describes a wallet that is connected to the internet.
Cold wallet: Describes a wallet that is not connected to the internet.
When cryptocurrencies are in 'cold storage' it means they are being held offline in a 'cold wallet'.
Some storage system make use of the cold storage solutions to store cryptocurrencies and other sensitive digital assets. It is however not efficient, as paper and USB keys can get stolen, misplaced or damaged. We definitely would want easy and fast access so as to trade with our cryptofunds, and this rules out storing them up in bank vaults, as it can take days just to get access to them, and the encrypted cold storage solutions offered by groups like Xapo and Coinbase have limited accessibility.
Hot storage systems however, provides us with speedy access, but has its cons. As described earlier, it is connected to the internet, and we know that there is a very high tendency for anything connected to the internet to get hacked.
Goldilock is smart, and avoids this by storing the sensitive digital assets in a physical device via a airgap mechanism. This ensures that these sensitive assets cannot be accessed by the internet, thus eliminating the threat of being hacked.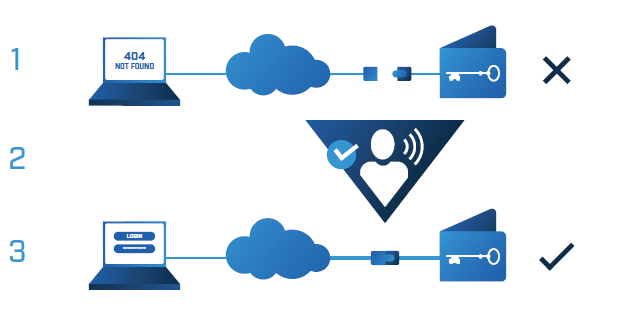 Using a non-IP mechanism that is encrypted, we can access our stored digital assets, as it connects it to the internet and we can then access these assets through a dedicated URL.
You may ask ''but it is still connected to the internet". Goldilock provides the us with a limited amount of time with which to access our stored up digital assets via non IP-technology. So when we are offline, our wallets and assets are offline. COOL!!!
The Goldilock security pack
Some services provided by the
Goldilock
security pack include:
Goldilock Wallet:
The Goldilock wallet that will be developed by the Goldilock Core Development Team with the aim of storing and trading NEO tokens promises to make NEO the most secured cryptocurrency in the world because of the following features:
-The
Goldilock
wallet will be run inside a web browser authenticated over Shell Security (SSL);
-the wallet will only be accessed online via a non-IP mechanism;
-the keys of the wallet will be stored in a physical storage that is not connected to the internet;
-the Goldilock wallet will have a personal and distinctive URL that has been assigned to it;
-the Goldilock wallet is online when the we are online, and offline when we are offline;
-Every transaction will require a two-way authentication.
The Goldilock API services :
Enables institutions that already have wallet solutions
to make use of Goldilocks cold storage to store sensitive assets.
The Goldilock Data Facility
Referred to as Goldilock Colocation, allows institution to rent physical vaults in this data Facility so as to run their servers while having total autonomy over it.
Now, Goldilock is working in conjunction with the NEO blockchain because it provides two important features.
1. Auditing of digital assets and transactions:
The NEO blockchain is building a digital identify mechanism that is capable of issuing and confirming digital identities via the Public Key infrastructure (PKI) X.509 standard. Digital identities will be known and verifiable. This is in a bid to lure large companies and governments to operate on the blockchain.
2. Delegated Byzantine Fault Tolerance (dBFT):
This is an improvement on Proof of Work and Proof of Stake. Holders of NEO tokens can vote for delegates, and the delegates must reach a consensus on acceptable transactions. Transactions are also processed faster with no charge what so ever.
BENEFITS OF GOLDILOCK
Banks, Credit agencies, Insurers, document storage, and data warehousing operators stand to benefit as Goldilock ensures that the personal information of individuals are offline and safe from hackers. Take for example, in the banking sector. The database of banks will be offline, and secure ensuring funds and valuable information are secure.
Hospitals stand to benefit as well, as data files of patients and other records are offline and safe from illegal access as it has been recorded that hackers have accessed the medical records of some hospitals which can be sold on the black market.
THE GOLDILOCK TOKEN (LOCK TOKEN):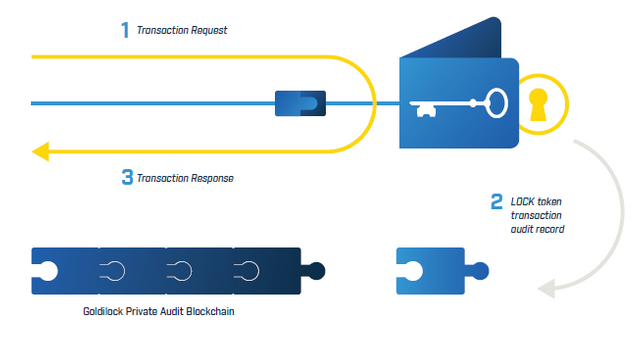 Registered as an NEP-5 asset on the NEO Blockchain, we will be able to access services like the Goldilock wallet via the LOCK token.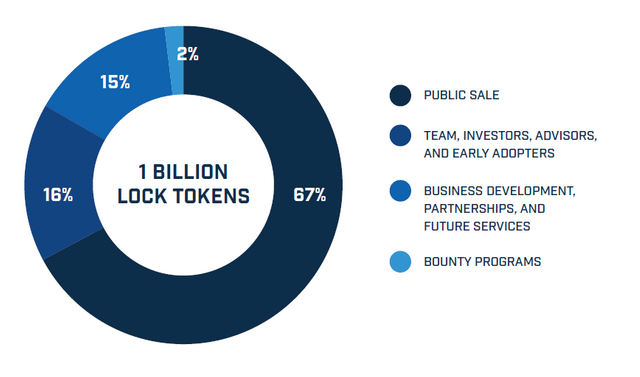 Lock Token allocation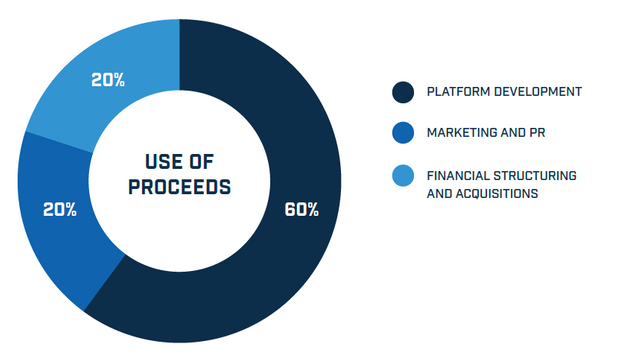 Lock Token sale
USE CASE 1
Mr. Ben has been dealing with cryptocurrencies. However, he has been at a disadvantage because he has had his wallet hacked not once, not twice, but thrice!
But since he started using Goldilock, he has never experienced such again, as the cryptofunds are safe and are easily accessible.
USE CASE 2
ShopTeejay is an insurance company that started barely a year ago, and is already one of the largest in the country. This is because it employs the services of Goldilock to safe keep the personal records of its customers, ensuring that these customers know that their records are safe and thereby making the company well known for its credibility.
CONCLUSION
Goldilock ensures the safe storage of cryptofunds and sensitive information as well as easy access to them. It is easy to use and provides fast access. Companies and individuals are advised to make use of Goldilock today.
For more information:
Goldilock Website| Goldilock WhitePaper| Goldilock Tokenomics | Goldilock Telegram | Goldilock Discord | Goldilock Linkedin | Goldilock Facebook | Goldilock Twitter | Goldilock Reddit | Goldilock Github
This is an originalworks sponsored contest
Twitter link:https://twitter.com/eghe0921/status/1026975427846463493?s=19
goldilocktwitter
goldilock2018