It's The End of The State As We Know It, And I Feel Fine [VIDEO]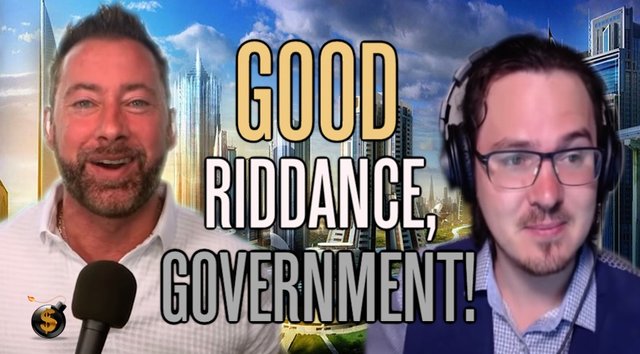 Decentralized networks have begun to disrupt politics, for the benefit of society at large.
Throughout human history, technology has always progressed.
The automobile made the horse and buggy archaic. Robotics made the human factory worker uncompetitive. And now, blockchain applications are making governments obsolete.
Because central banks have destroyed our money, it's imperative that we destroy their power over our money.
It's a matter of when, not if, and the spoils are for the taking for anyone who notices the ship sinking from the sidelines.
When we begin to see the state for what it truly is—a monopoly on violence, and a massive mechanism for human slavery—only then can we escape the farm.
I discussed this and much more during a recent interview with The Crypto Lark.
We also got a chance to chat about the real panic bottom, and why I believe we still need to see more Bitcoin bandwagoners' toxic "hopes and dreams" crushed---all in the name of restoring some market correction after last year's unsustainable boom.
You Can Watch The Full Interview Here:
While crypto newcomers thought everyone and their grandmother was about to get filthy rich and buy Lambos on the moon, we at TDV were much more cautious, advising our newsletter readers (subscribe HERE) to consider reinvesting some Bitcoin profits into gold and gold stocks.
The strategy ultimately proved to be a winning one. True success is about the long-term game---it always has been.
I just finished an exciting run at the WSOP (perhaps you follow my Facebook), but I'll be back in Las Vegas this week to debate voting with the founder of FreedomFest. Right after, I'll fly to the Infinite Man Summit in Lisbon.
Then, I'll also be speaking at Anarchaportugal in Porto, Portugal on July 19th and 20th. You can save 10% off the Anarchaportugal ticket price by using discount code ANARCHAST.