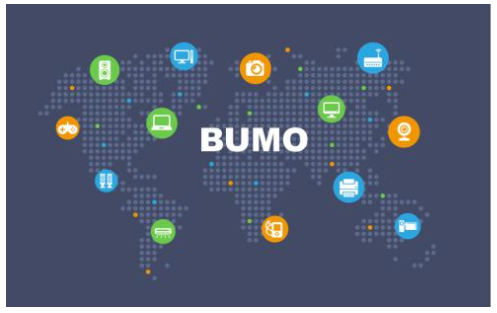 INTRODUCTION
It is said that Bumo s a new generation of public chain especially for companies, built under an Internet infrastructure that can move transfers of ubiquitous and reliable value, through central technologies such as BU Firework, BU Orbits, BU Canal and BU CodeMach. Talk about ubiquity without talking about training, education and socialization in this particular cycle that concerns us, the gift of ubiquity is given by new technologies.
Ubiquity is the connection between the real and the virtual at any time, from any device joining experiences, people, events, building trends and forming new innovative ideas, is what has modified the way we see the world, the social order established and how we develop in it. To get warm and take advantage of the technology offered by the block chain, we will talk a little about the concept of Bumo.

What is Bumo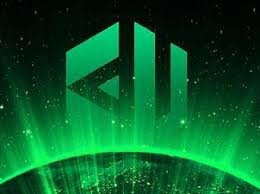 BUMO is a public block chain of future generation commercial hierarchy for the transfer of ubiquitous and reliable values, whose objective is to create a decentralized application ecosystem with a wide digital confidence, a value of free flow and applications to share in public.

Characteristics of Bumo
Flexible structure of multiple assets and multiple operators of accounts and transactions.
An improved consensus protocol of two stages and two layers based on DPoS + BFT, called "Firework".
A novel two-layer blockchain polymorphic multi-child architecture called "Orbits" will be supported.
An Inter-Chain of value of routing between Blockchains, called "Channel" will be admitted.
Smart contract perfect for Turing, with programming language of Javascript and WASM.
Signature algorithm types are supported, such as ED25519 and SM2.
Built-in joint accounts to achieve multi-sig control.
High performance of the transaction process with thousands of TPS.
Multiplatform support, such as Linux, MacOS, Windows and Android.

Bumo Tokenization Protocol
With just two APT and CTP token protocols, users can use the bumo blockchain in a quick and easy way.
Account-based Tokenization Protocol:The BUMO blockchain comes natively with token publishing and transaction functions. Users can issue tokens quickly and efficiently, even if they do not create intelligent contracts, by calling the corresponding operation interface of the BUMO block chain.
Contract-based Tokenization Protocol:For more complex applications, a contract-based token-issuing feature can be used. BUMO defines the contract token standard to meet the compatibility of different applications, such as wallet terminals and transaction markets.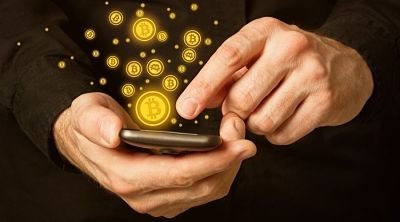 Bumo wallet
Bumo provides a practical and portable wallet customer. The synchronization of multiple node ledgers supports the management of aggregation of multiple assets, the signing of offline transactions and the joint signature account control, satisfying the demands of users in various scenarios and creating a blockchain wallet client Safe and easy to use.
Key pair generator: Provides open source development tools for users and directly creates blockchain account addresses.
Quick wallet: It is much faster because you do not need to store all the data of a complete node. Quick Wallet also provides extensible technical support.

Technological advantages of Bumo
BUMO
is a new generation of public chain for companies. Build an Internet infrastructure that can move value through central technologies such as BU Firework, BU Orbits, BU Canal and BU CodeMach: Improved two-layer consensus protocol, Two-layer polymorphic architecture for a multi-child block chain, Inter-Chain for the value of routing through blockchains, Smart contract for the developer, SDK. Below is a brief explanation of each of them:

Improved two-layer consensus protocol:The innovative DPoS + BFT consensus algorithm for multiple two-layer chains. A multi-child structure is supported and the selection of validators is dynamic. It will improve transaction processing and address diversified scenarios.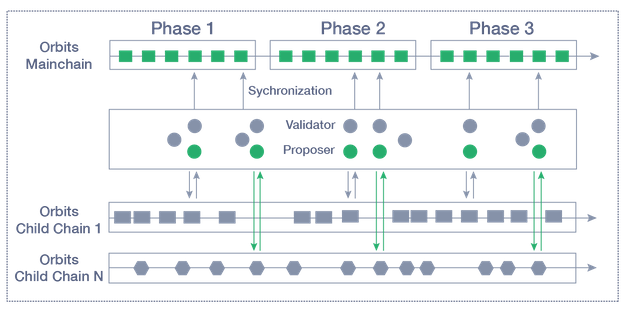 Two-layer polymorphic architecture for a multi-child block chain: The multi-child blockchain system is presented with a two-layer multiform structure, in which "two layers" means the main chain and the secondary chains, and "multiform" means the different technical characteristics between the main chains and the chains. secondary chains.
Diversified subchades are included. A whole book with hash and indexing. Easy to create a substring. Separate storage of the ledger for the child's chains. The sub-chains have different parameters. Transfer of value freely among all blockchains.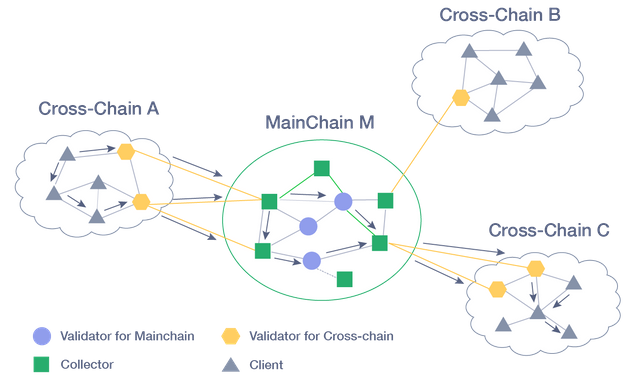 Inter-Chain for the value of routing through blockchains: Bridge of different main chains. Both homogeneous and heterogeneous Blockchains can be connected. The value can be routed between different main chains. InterChain links the main chains, just like the traditional Internet router.
Bridge the main chains separated, Both chains of homogeneous and heterogeneous blocks can be supported, Transfer of value freely through Blockchains, A joint consensus is needed in Inter-Chain, Like a traditional "router" on the Internet.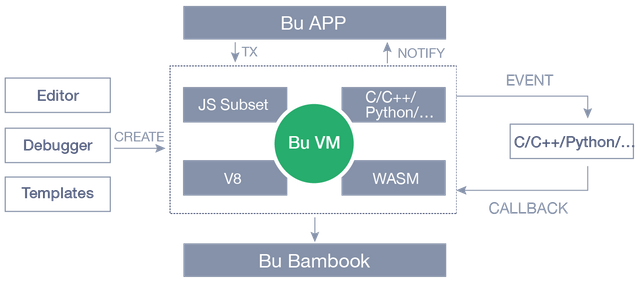 Smart contract for the developer: To facilitate the development of the intelligent contract, the popular programming languages ​​are extended, such as JavaScript, C / C ++, Python, etc. A reliable data source for the intelligent contract is proposed. The smart contract is also complete.
Smart contracts can be executed in an isolated, Turing-complete environment, The contract editor provides visual debugging for developers, standard contract templates with multiple contract examples, independent sandbox environment, provides contract interoperability mechanisms and exception handling.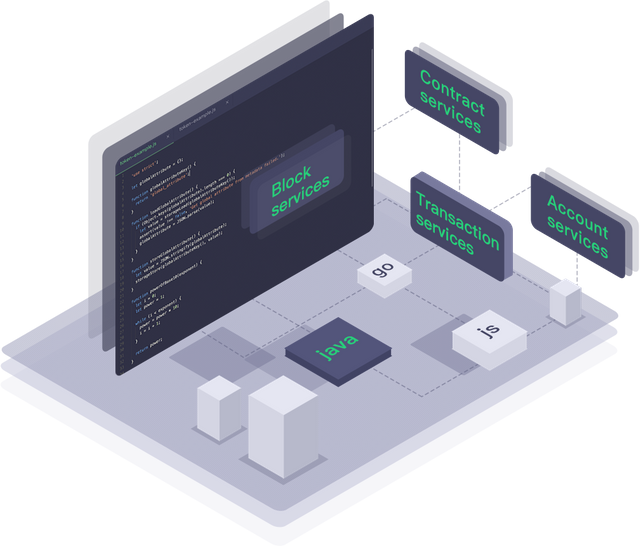 SKD:
It supports programming languages ​​such as Java, JavaScript and Go, and provides methods to operate and query the BUMO block chain. CTP 10Token services, Contract services, Account services, Asset services, Transaction services, Block services

CONCLUSION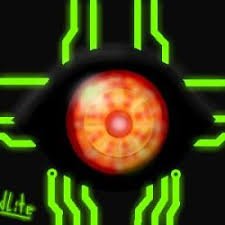 Join the global ecosystem of BUMO and become the cornerstone of the global expansion of the ecosystem. Global Ambassadors take the missions, make the contribution and get incentives. They enjoy the enormous benefits and in the rapid development; as the first level public network in the world. They will also have the opportunity to request the Global SuperNodes of BUMO in the near future.
BUMO has a strategic partnership with the SPIN protocol to build an ecosystem of more credible social influence with the Blockchain technology. BUMO is a next generation commercial category public block chain for ubiquitous and reliable value transfer, which aims to create a decentralized application ecosystem with broad digital confidence, free flow value and public sharing applications.

More information and resources:
BUMO Website
BUMO WhitePaper
BUMO TechnicalPaper
Telegrama BUMO
BUMO Weibo
BUMO Reddit
BUMO Facebook
BUMO Twitter
BUMO Github
Cartera BUMO


If you wish to participate in the contest, click on the following link:
https://steemit.com/crypto/@originalworks/1250-steem-sponsored-writing-contest-bumo
My twitter link:
https://twitter.com/DianoraAbreu/status/1051903559548190722
By
@dianaabreu
bumo2018
bumotwitter