Tutorial: How to find trade ideas on Binance + exclusive giveaway to steemit members
Hello steemians,
It's been a while from my last post here on steemit, can't believe how time is flying.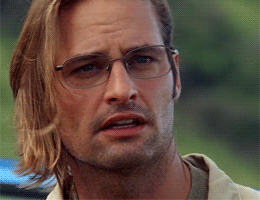 Anyway, in the past two years, behind the curtains I worked hard on a crypto trading signals related project which can help traders and investors to find interesting trade ideas.
We've created a service where our algorithms constantly scan the markets and when they detect any unusual activity (big buy or big sell on a specific pair) automatically sends a message on the website and on telegram via our bot who's also able to do lots of things like setting up alarms for coins, choosing what kind of signals you want to receive, sending notifications about listings, delistings on coins listed on Bittrex, Binance, Hitbtc and Poloniex.
Beside the volume signals and other things which we had on the website, we have a page where you can analyze any coin from Binance, Bittrex, Hitbtc and Poloniex in a very unique way.
Let's take walk into the analyze page what has to offer for you
If you want to what the project is doing, total supply, total market cap, coin website etc, just hit the Info about coin button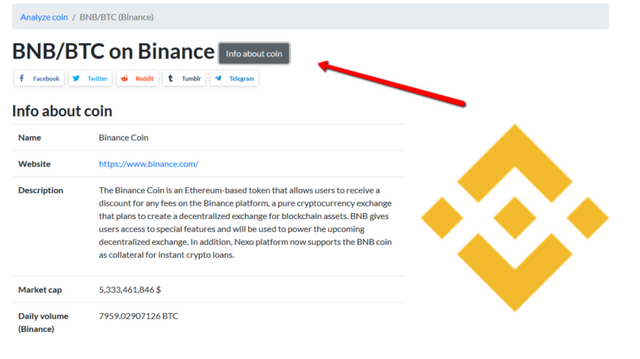 Then, as you see in the image below, we have 4 time frames to watch how the coin is doing, it's in his accumulation phase or in the distribution phase. Data is updating every minute and it speaks for itself! We use different techniques to store all the coins which are bought and sold on that specific.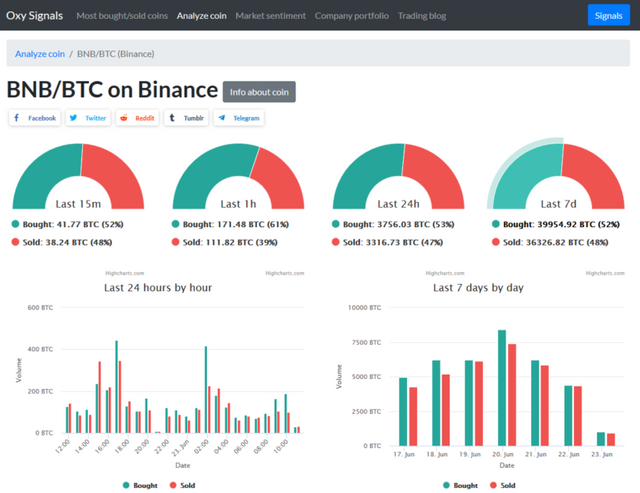 Now that you made an idea about accumulation/distribution of the coin you can take a look at the chart to search for any chart pattern to confirm what you see in the first image with accumulation distribution. We also have a tradingview widget who shows their perspective regarding the coin, it's a buy or a sell on different time frames.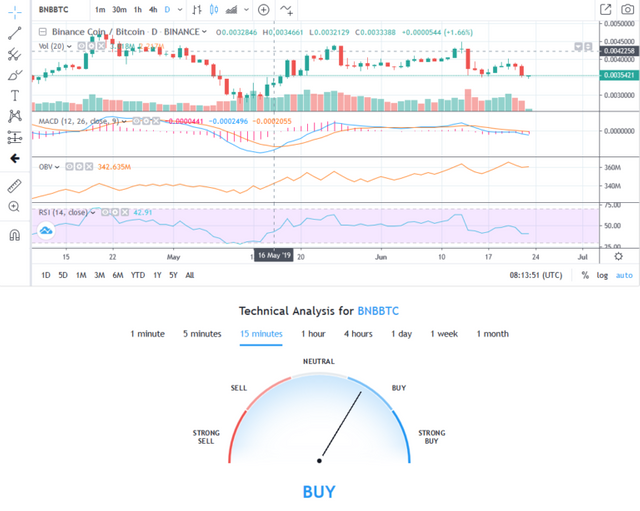 Moving forward, below the chart you can see any future event related to that coin (usually these events act like a fundamental driver aka buy the rumor sell the news and vice-versa) and past events, you can time the events on the charts to see how price action acted during that period.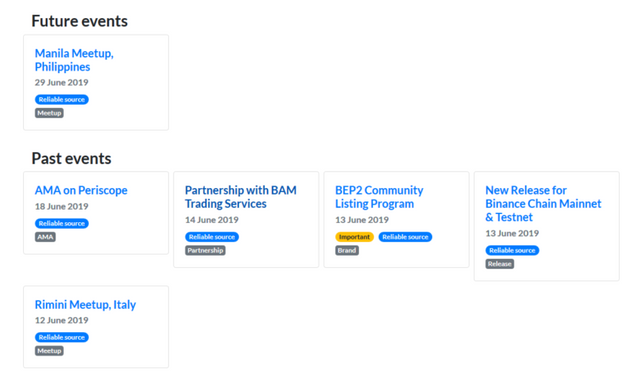 Then if you walk more below the events page you can see the latest signals related to the coin, generated by our service.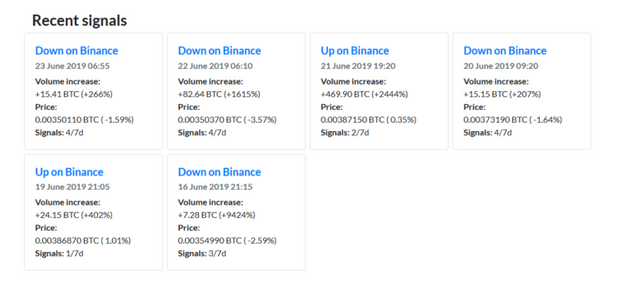 And last but not least, you can see the all the latest tweets from that specific coin, you can stay up to date with any news or other events released on their twitter account.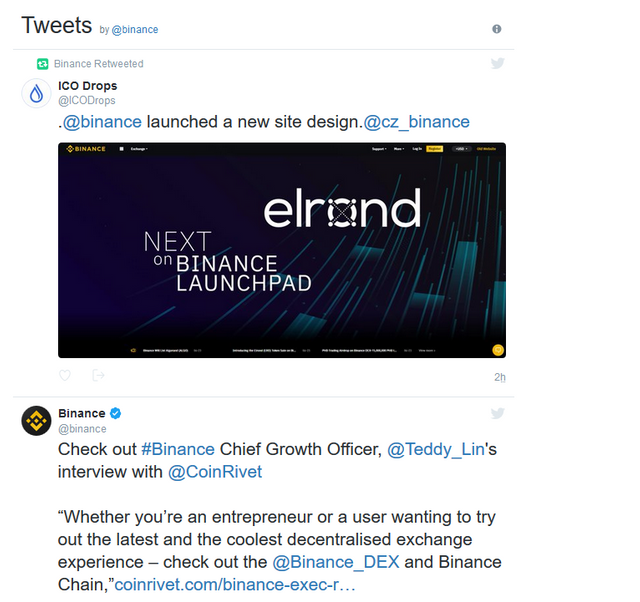 But wait, we have more to show!
This page will show you which coins are the most bought and the most sold across multiple exchanges. Let's say you don't know or you don't have any idea what to buy, we've got your back! Not financial advice of course, but you get the idea.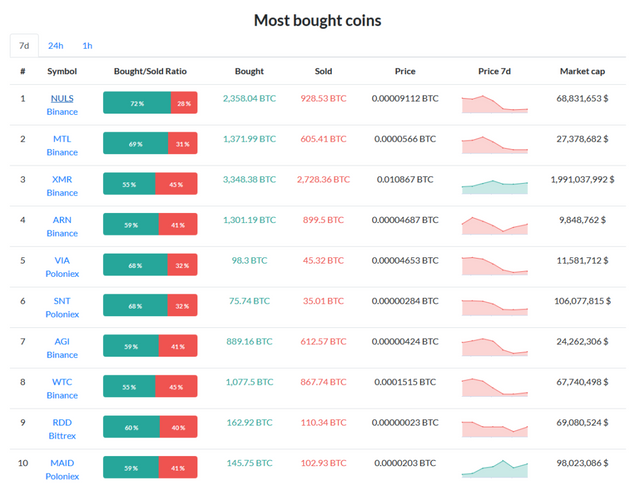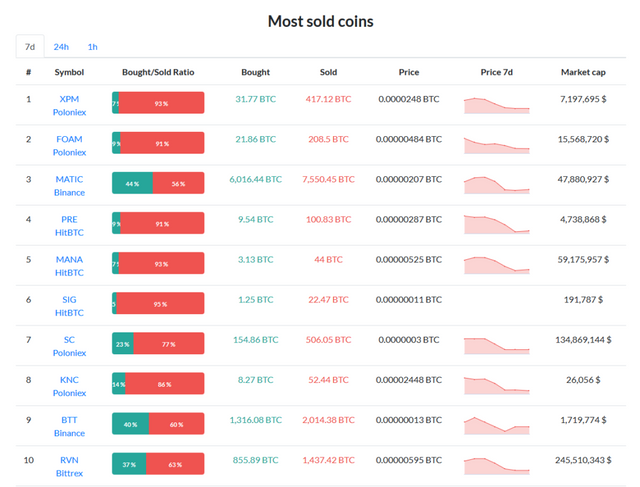 When you click on a coin you'll be redirected to our analyzer page for the specific coin where you can see all the info mentioned above on the analyze coin section. This page can bring you lots of trading ideas moving forward.
We also have a page where you can see the market sentiment overview, another page where you can see our portfolio which we run for the website and of course many other things which are in developing mode.
So maybe now you're thinking.. ok you show us so many things but..how much does cost the membership on the website ?
The project is still in beta mode right now and it's free for everyone but wait.. when you go out of beta there will be a subscription true ? Yes that's true buuuut.... because steemit was very generous with me in past I decided with my partner to give free lifetime access to all steemit users as a give back to the community!
So in order to qualify for the free lifetime membership exclusive to steemit members please resteem this post and comment below with your oxy.biz username/email or contact me on the website via livechat.
Register on our website : http://oxy.biz
Follow us on twitter : https://twitter.com/OxyBiz