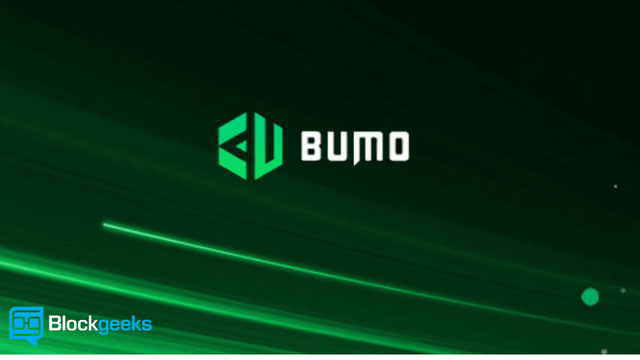 INTRODUCTION
With the onset of bitcoin a lot of things have changed in recent years and also it has affected the way people use money and invest with money, back in 2008 the basic concept of bitcoin was instigated by Pseudonymous Satoshi Nakamoto and also the idea and design of bitcoin.
"A purely peer-to-peer version of electronic cash [which] would allow online payments to be sent directly from one party to another without going through a financial institution."
So, basically this concept give rise to individuals operating with electronic cash in which one can be a bearer of asset as well and Bumo is one crypto currency which has efficient reliable and trusted blockchain which was founded by Steven Lee and he is popularly known for his activities on the internet and he is a great entrepreneur who have been practicing for several years.
What is Bumo?


In the crypto world the word cryptocurrencies and blockchains are one crucial terminologies known in the crypto communities and they have originated a lot of questions, hypes, promise, caution and confusion in the technology scene over some years now, blockchain has emerged immensely in this technological era as well as cryptocurrencies. Bumo has a great ecosystem of blockchain that has great structured plan which would help in breaking and flooding the crypto market place and the world, with the ecosystem of Bumo it will help in bringing meaningful solutions to a lot of financial institutions, non-profits, healthcare workers and individuals with like minds. Bumo has generated a great blockchain in its ecosystem which has brought about meaningful solution to influences muliti-chain technology due to the drastical increase in number of blockchain users and transactions carried out, The goal of Bumo is to advance these technology in order to improve the current blockchain, Bumo aim at building a trusted network which is dedicated to building a circulated business ecosystem of wide digital trust, free and communal sharing application. However the number of chain assets for several applications that are curtailed are: the first class virtual assets, the second group is the sharing of economic areas, e.g. 020, which involves the use of blockchain to connect ecological values; the 3rd group deals with asset digitization.
The Founder of Bumo


Image source
The co-founder of Bumo is Steven Lee he is one of china's early internet entrepreneurs and also an early practitioner of the blockchain. He has several experience which includes, serving as the COO of Jiayuan.com, working for Tencent, PPTV, and as the founder of Betterwood. Steven lee has had several talks with several developing communities in Atlanta Gorgia and in Berkeley califonia, the city of Atlanta. Georgia fell under an attack that paralyzed its computer-related infrastructure for several days. But how blockchain can mitigate this threat from occurring in the future remains to be seen. But is great that most leaders of this community are seeking solutions and remedy to strengthen their networks form rascal elements on the internet.


The main Features which Adds to their USP are:
• Orbit architecture which helps create Bumo's 2- layer multiform architecture
• Joint Account creation
• Using the Merkle-patricia trie which would help store data
• Multi-chain consensus system which has a 2-layer and it has a scale of up to 10,000 transactions per sec.
• The canal system
• A friendly tool called Developer friendly tools
• Giving developers the opportunity to develop and create apps without a smart contract.
BUMO blockchain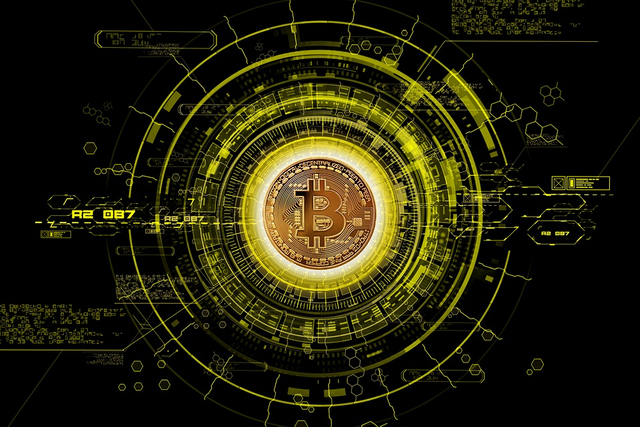 Image
Bumo unlike other cryptocurrencies has been greatly utilized through digital assets, Fairness, bond, commercial credit, security data, public electronic invoice, finance etc. it is working tirelessly on its mainstream financial institute of exchanges such as Banks etc. BUMO is strongly dedicated in bringing about a fresh generation of platform based system which would allow digital assets to flow with ease.
Challenges with the crypto ecosystem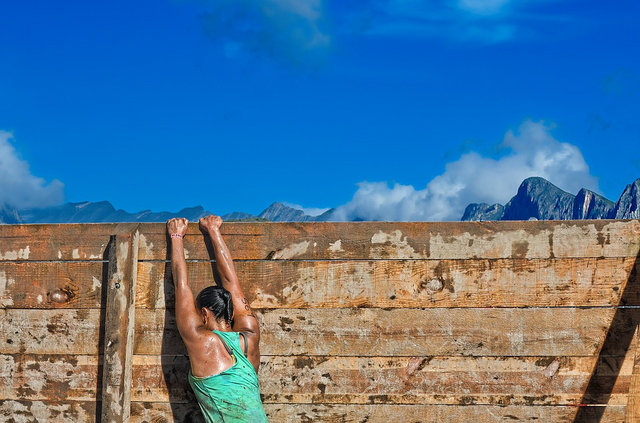 In every day of our lives we tend to encounter challenges which could either destroy or make us stronger, but only the strongest stands the test of time, the two greatest problem faced by the crypto environment is basically Scalability and interoperability, application complication is also a problem too.
Scalability
"Scalability is the capability of a system, network, or procees to handle a growing amount of work, or its potential to be enlarged to accommodate that growth"
Wikipedia
Cryptocurrencies like Ethereums and Bitcoin's were designed to handle high adoption and popularity. Basically there are two factors which hinder transactions. Transactions only functions when miners check confirmation and put the transaction details in the blocks that they mined and this creates a bottleneck because there are so many transactions a miner can compact with from time to time. The block in the blockchain has a limit of 1 MB, while Etherum may not have a good size limit, but they do have about 6.7 million gas limit per block,
• when a transaction is carried out you just have to wait for some time because of the queue
• Chances is that even before the miner even acknowledges your transaction the block might get filled up
• And this will make your transaction wait for about 15 seconds in ethereum and 10 mins in Bitcoin and you would have to wait for the next block
I feel there is a great need for scalability in the crypto community needs to be stable.
Interoperability
In terms of interoperability the problem lies based on the fact that it is highly difficult for individual entities to commune with each other. That's why the crypto exchanges, which provides a portal between different cryptos become so strong and valuable. Furthermore, exchanges are not a decentralized they are vulnerable.
• They can go under system upgrade and become blackout for certain long period of time, example was what happened to BINANCE in 2018 which hindered their services completely.
• They can get hacked at any point in time
And the interoperability is popularly known as the HOLY GRAIL OF BLOCKCHAIN
Application Complications
One other problem is application complications, in most blockchain projects there are several complications but the fact still remains that the complexity of operations in the ledger is proportional to how much it gets approved by big inventors.
However are basically are some of the problems on BUMO is willing to Fix.
How will BUMO solve issues in it blockchain development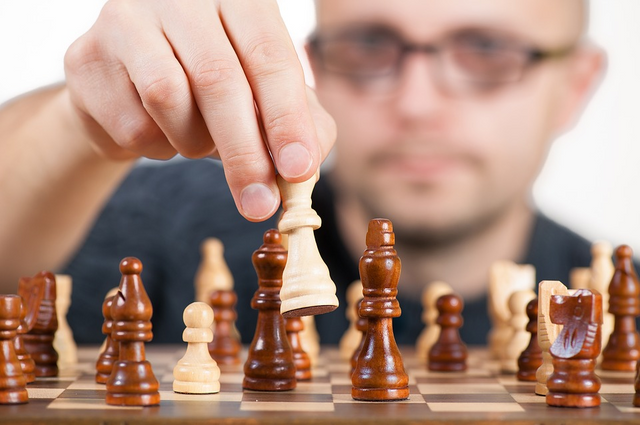 pixabay
• Circulation system with a credible value: The BUMO blockchain influences several tools which are used to digitally identity for agreement, decentralized transactions, pass value transfer and dapp built-in exchange so as to indorse the growth of its value circulation system.
• Ubiquitous trust Network of it Blockchain: The block chain consist of a well-organized structured technological development of features which are, innovative consensus mechanism, main chain-subchain, main chain-backlink, and multi-chain structure and developer friendly smart contracts.
• Ecology shared by the public: The blockchain can be compare to apps of mobile phones. The dapp for the blockchain tends to provide estim users with instinctive knowledge of the blockchain and also the support of the whole blockchain system. Bumo has an interior motive to attract several developers into it ecosystem by creating or rather providing an API interfaces and certain functions that's deals with transactions wallet and assets. With BUMO users or developers can make maximum use of the DAPP on its Network so as to build a more credible blockchain with Bumo's mature code base. BUMO has great hopes that its system via pre-existing work frame of interconnectivity will help a great deal in promoting and developing the blockchain technology.
Scalability features
• Merkle patricia trie
• 2 layer Multi chain consensus system
• Orbit architecture
• Multisig account
• Trailer system for large scale data
Merkle Patricia Trie
The merkle Patricia trie comprises of several ability of merkel tree and patricia tree which would help in accommodating several datas. This feature explains its functions inform of a tree.
In merkle tree it has non-leaf node and also child nodes. All block consist of so much transactions and it will be expedient to accommodate data in any of the block.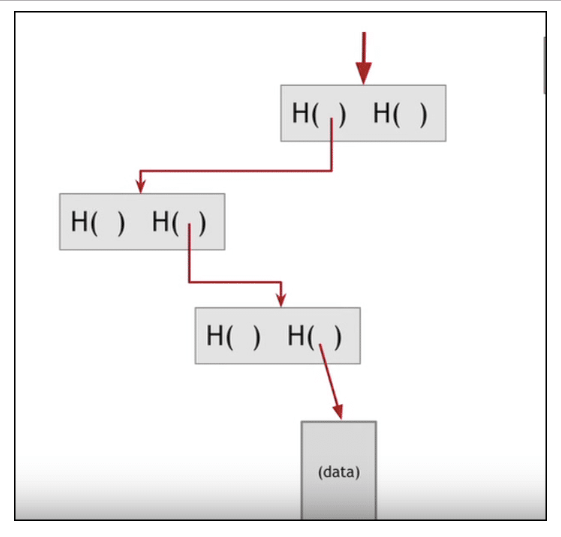 Image source
Trailer system for large scale data
off-chain data: Data which is warehoused off the blockchain
On-chain data: Data that is warehoused on the blockchain
2 layer Multi chain consensus system
Indeed bumo has chosen a well-defined path for developing two-layer multi-chain consensus algorithm, that will generate set of validated nodes, however the two-layer system where:
• Main-chain consensus which is the first layer while the
• Second layer is the Sub-chain Consensus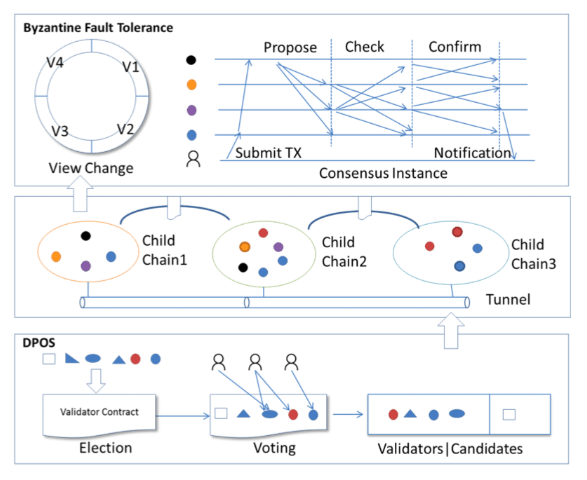 Image source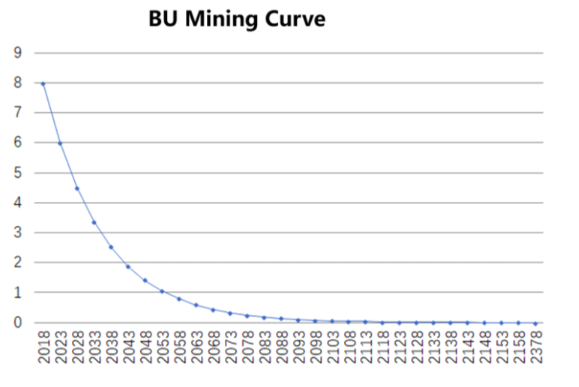 Image source
Orbit Architecture
In Orbit architecture, orbit is divided into:
Child chain
Main Chain
under interchain transaction key component we have Interchain contract, Light verification, Transaction, and Transaction Log and account Tree
The main participation of CIC are The client, Cross-chain validator, Mainchain Validator, and collector node
Multisig account
The multisig account consist of a feature which is known as Account weightage. this account can be controlled by many parties at same period of time, and this account weightage users really need to be aware of it.
Trailer system for large scale data
under trailer system we have:
Off-chain data: Data thats is stored off the blockchain
On-chain Data: Data which is accommodated in the Blockchain
Use cases


sarah is an entrepreneur who believe so much in using the internet in other to carryout her businesses, although sarah has been involved in several blockchain but due to the advent of BUMO she weighed the advantage Bumo has over other blockchain , so she decided to consider Bumo and she was so delighted to be a part of it .
TEAM
(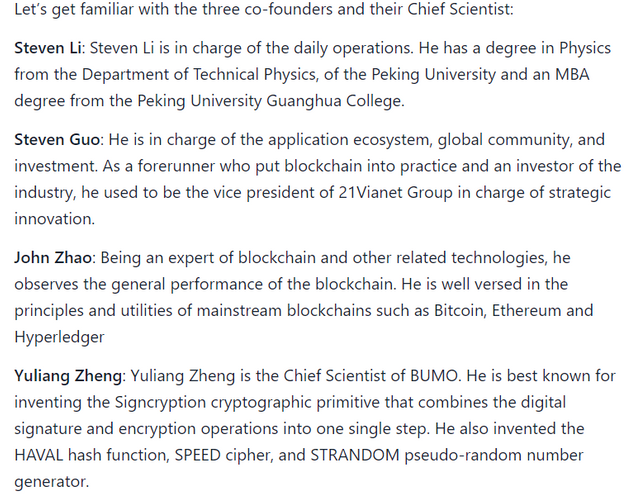 )
SUMMARY


BUMO has a lot of interesting features for us to tap into, the team of Bumo are well committed to providing relevant remedy to problems in the cryto community and also help in structuring a decentralized application ecosystem features with great digital trust.
For more information check
This is a writing contest which was organized by @originalworks @contestbot and then sponsored by BUMO, for more information check @originalworks or @contestbot
TWEET
Twitter link
https://twitter.com/guchidann/status/1052976670326616064
BUMO 2018............