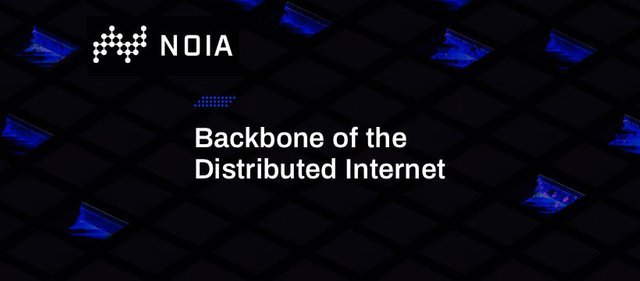 Introduction: Current state of internet infrastructure

In the early years of internet boom, web pages consisted of just lines of markup text and a few matching images. Surfing web pages was anything but difficult and slow, provided a certain level of signal strength could be met by your service provider.
Internet experience has transformed since then though. In more recent times,data intensive activities such as live content streaming, online gaming, video conferences etc have becoming an indelible aspect of our everyday internet surfing and one would think it commensurate for internet speed to be improved to match the ever increasing demands but unfortunately, that hasn't been the case.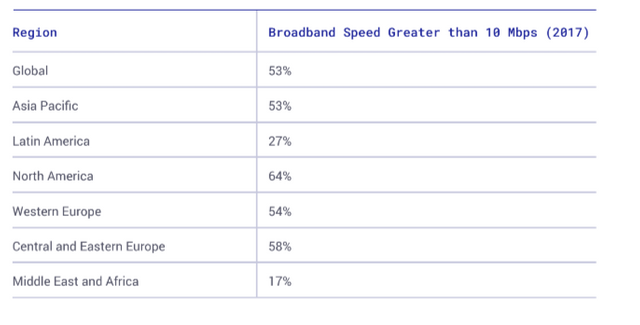 Source
Less than half of the world's regions enjoy internet speed in excess of 10mbps

Content Delivery Networks came into the picture and in all fairness, they've done much better in terms of speeding up load time. They're basically formed by distributing servers across different geographical locations, so that when a web page is requested, it is easily pulled out from the nearest server, instead of having to go all the way through the original host server. CDNs considerably saves time and has proven to be quite an interesting concept, as well as a solid solution but for a few bottlenecks which has almost totally overshadowed it's effectiveness.
Most CDN providers concentrate on or locate their servers in densely populated areas as a strategy to increase revenue. This means that such services are hardly available to people in sparsely or low populated regions.

The current CDN market is dominated by frontrunners, Akamai and Amazon. Infact, their combined shares is approximately 50% of the market's total, hence, customers are left to suffer the effects of a duopolistic market.

CDNs are centralised, and at such, have a point of failure. They possess centralised servers for functionality which in course of operation are prone to hacks, failure, and other similar bottlenecks associated with such systems. In such scenario, the entire network will be rendered dormant, and customers will not be able to use the services until it is rectified.
Extra costs are also incurred as a result of server maintenance, hardware upgrades etc.

Service costs of Content Delivery Networks are on the high side. Most CDNs charge an average of 0.085-0.16USD per GB, and this is very expensive to the average internet user.
NOIA provides a major improvement on the existing solutions by allowing unused bandwidth on computers,routers and data centres to form distributed/decentralised points of presence (PoP) capable of caching web content and delivering to users on request.
In this publication, we shall learn how NOIA will arrest the shortcomings of modern day CDN market by not only providing decentralized and fast internet, but also allowing us earn cryptocurrency in the process .
NOIA: A Viable Solution To Poor Internet Speed

The available bandwidth is sold to website owners so as to enable them cache their web content across the decentralised nodes.
When such webpage is requested, NOIA's artificial intelligence algorithm determines and selects the preferred node that will deliver the web content at the fastest load time possible to the user. This is very similar to the distance-vector routing protocol in data networks that determines the best route for data packets based on distance.

Source
Since it is a decentralised network, users and website owners can rest easy without having to bother about security concerns, server downtime, hardware upgrade, maintenance and other tailbacks associated with central servers .
Benefits of NOIA

Users
Content Delivery on NOIA is significantly cheaper than other alternatives. On reaching hard cap,it is expected to cost about 0.01USD per GB, which is about 8times cheaper than the average price of other CDN providers.

Load time and internet speed generally is greatly increased on NOIA network and is very suitable for virtually every data intensive requirement .

It is very efficient and reliable. Users are assured a 24/7 uptime since the decentralised network is devoid of server related issues.
Website operators
"Higher reach and increased efficiency in content delivery to a global audience of users using widely dispersed network of PoPs" | Source

NOIA helps website operators by delivering contents at reduced costs compared to prices charged by other centralised CDNs.
Bandwidth providers
On NOIA network, you can earn passive income simply by providing bandwidth through your unused PC storage and keeping it on for some hours. This will be discussed extensively in a later section of this article but if you can't wait to start earning, you can simply Join The Testnet!
NOIA's underlying architecture

NOIA combines two structural elements in order to provide an efficient and fully functional ecosystem. The first element, the Content Scaling Layer intertwines a peer to peer(P2P) file sharing protocol and artificial intelligence technologies to determine how content is scaled and delivered in the network .
P2P content scaling protocol "employs relevant parts of Peer Exchange (PEX), Bittorent, Distributed Hash Table (DHT) and Websocket wire protocols" in order to ensure seamless file sharing .
Smart Caching is another way artificial intelligence is applied in NOIA's operation. Since it is basically a decentralised network of nodes, Smart Caching makes it easier to cache web content by simply sharing the actual cache memory across all the network nodes.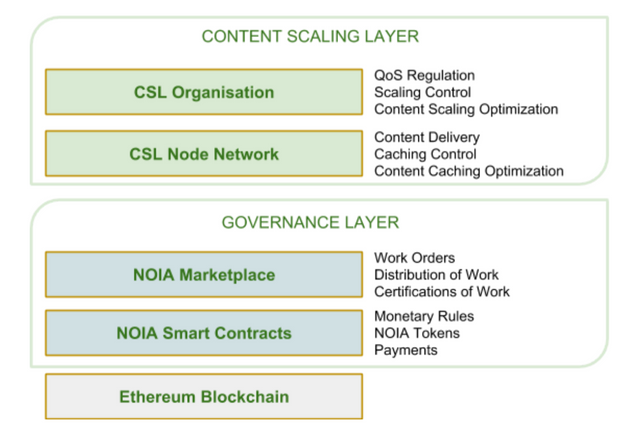 Source
The second structural element is the **Governance Layer** . For an incentive-driven ecosystem like NOIA where value (tokens) are constantly transferred between nodes and users, there is need to control the flow of value to maintain efficiency, transparency and to uphold customer confidence and this is made possible through smart contracts on the ethereum blockchain.
Basically, while the Content Scaling Layer is responsible for how content is delivered, the Governance Layer is solely charged with controlling value flow in the network.
The CSL Stack and it's operational model

Due to limitations in technology required to implement a decentralised organisation presently, NOIA will launch it's content scaling layer on a centralised point in the network, referred to as the CSL Cloud Controller model. This is to enable proper functionality and to reduce risk factors in the early, developmental stages .
With future technological advancement and consequent availability of decentralised infrastructures, NOIA will run a fully decentralised and autonomous system through the CSL DAO concept model.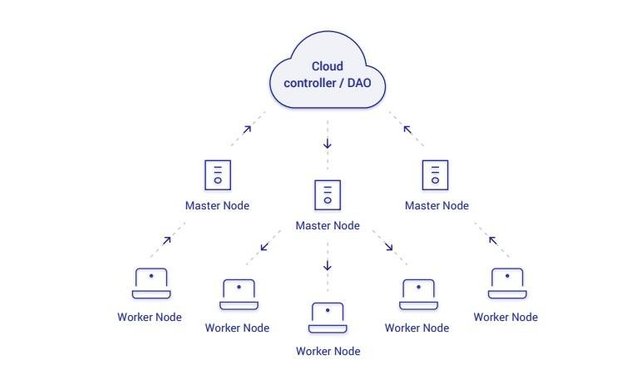 Source
Hierarchical structure of the CSL Stack
CSL Cloud Controller: The cloud controller is the major element in the CSL Stack. It communicates directly with the master nodes and is tasked with maintaining a desired Quality of Service (QoS). To attain this, it directs the master nodes on how to get the best possible result from the worker nodes in terms of caching and data delivery, it also reserves the right to detect and subsequently eliminate dysfunctional master nodes from the system .
CSL Master node client : The master node acts an as intermediary/middleman, linking the cloud controller to the worker nodes. They are saddled with the responsibility of balancing load across worker nodes, discovering fastest content delivery routes, handling user's request and implementing scaling commands.
CSL Worker node client: The worker client node allows virtually anyone to lease unused storage space on their computer, thereby becoming PoP for content delivery. The worker node client is ready for installation on Windows, Linux and Mac OS.
Join NOIA Testnet and earn passive income!!


NOIA presents an opportunity for you to earn passive income by simply allowing them utilise unused storage on your PC and ensuring your device is on for at least 72hours per week . Quite simple right ? Thought so too !
The first phase requires only 2000 people to deploy resources and earn 200 NOIA tokens weekly, so don't wait for tomorrow, be among the first to contribute your bandwidth and storage resources to NOIA Network.
Here's how you can easily start earning NOIA tokens by becoming a PoP on the network .
Create an account on the NOIA network dashboard and complete your KYC in a few steps. (Takes just a couple of hours or less to be reviewed and verified).

The NOIA Node Client is an open source software that allows users allocate their storage and run all the network activities . You can download, install and run the software on your PC.

Make sure you use the same ETH address used for KYC on the Node settings and have the 8058 UDP data port and 8048 TCP control port opened.

Finally, the Node Client on your PC must be left to run for at least 72hours per week to qualify for rewards. You can be sure it won't affect your other activities on the PC as the software runs pretty smoothly without lag, all that's required is to leave it running in the background.
You don't have to wait until your KYC is verified,you can start running your node and get rewarded for the recorded time. To increase earnings, share your unique referral link to your friends, inviting them to join the testnet.
How does NOIA fare against alternatives ?

The CDN market is a fast growing industry with a number of reputable players so definitely, customers have a wide range of options to explore. It is therefore important to observe how NOIA ranks amongst alternatives to give a picture of futuristic market acceptance. Here's a tabular overview .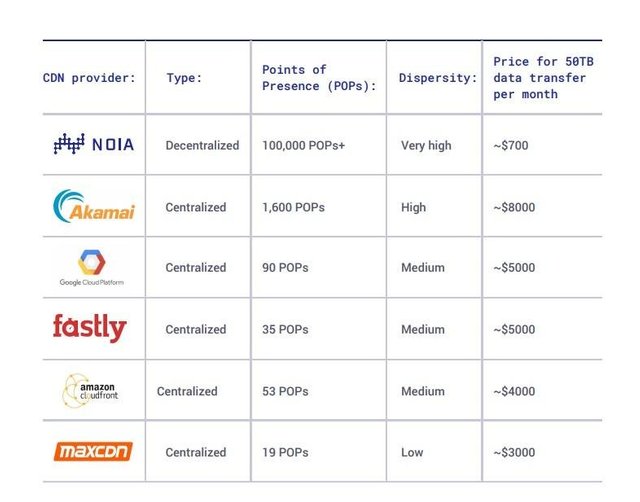 Source
Summary


CDNs proved to be a viable solution, but growth and generally acceptance has been curtailed by drawbacks such as high costs of services, probability of failure and low network coverage due to relatively few and sparsely located servers .
NOIA's emergence into the CDN market births a new era that unearths the possibility of caching and delivering web content through unused PC storage acting as PoP in the network. NOIA's concept will not just benefit users through cheaper and faster internet, but also presents healthy benefits to website operators as their content is able to reach a global audience in a highly efficient manner.
NOIA's Token Economy

NOIA's incentivized ecosystem will be fueled by its ERC223 (also ERC20 compatible) compliant NOIA tokens, which is the native token used for transactions on the network .
Asides being used by site operators to pay nodes for delivering their content to users, NOIA tokens are also used to reward individuals for acting as PoPs . Presently, 1NOIA token represents about 5Gb of data.
NOIA tokens are more than just a means of value transfer; they play a very vital role in network governance, maintaining transparency and optimum efficiency amongst worker nodes. On detection of fraudulent or malicious acts by nodes, they'll be made to forfeit payment and consequently, suffer reputation loss.
Here's a graphical overview of the token allocation: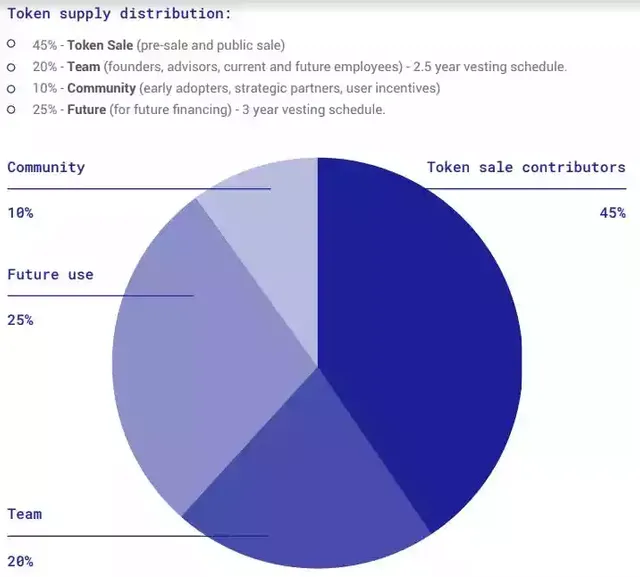 Source
Project Roadmap


Key Backers and Partners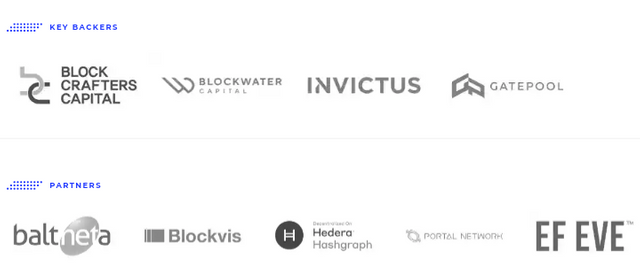 Project Team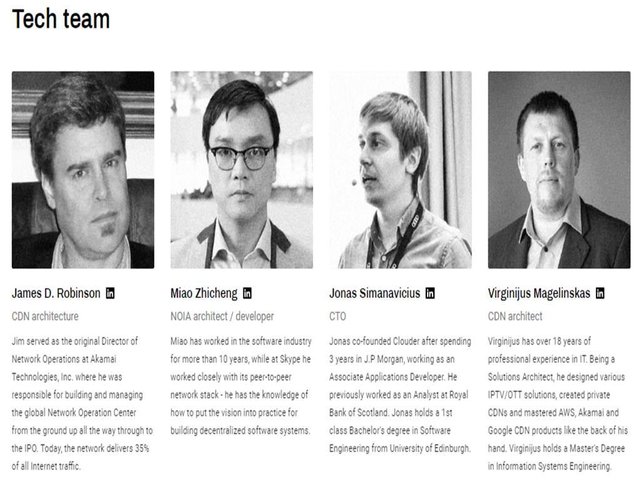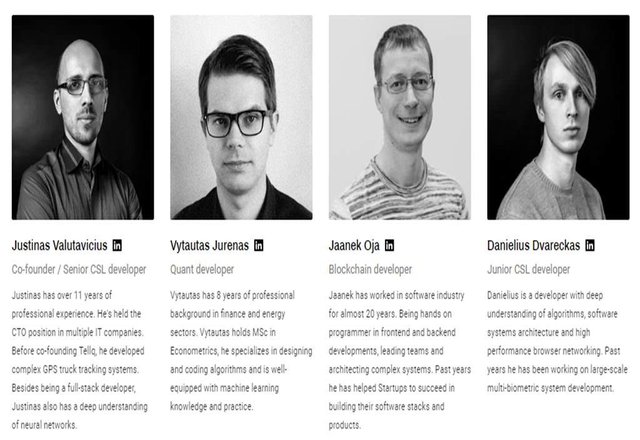 NOIA Introductory video

Information and Resources

NOIA Website
NOIA Whitepaper
NOIA Technical paper
NOIA YouTube
NOIA Telegram
NOIA Reddit
NOIA Facebook
Feel free to share your thoughts and ideas on this project in the comment section below .