What would a Government Shutdown do to the Crypto Market?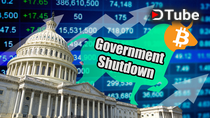 ---
Skip Locations
Government Shutdown Effect - 1:09
Coins to watch for the Shutdown - 6:13
D.Tube/ Steemit VS Youtube - 9:09
Kucoin update - 12:32
---
Discord channel: https://discord.gg/twrjtyK
New D.Tube Channel:
Steemit Blog: https://steemit.com/@cryptopotluck
---
▶️ DTube
▶️ IPFS
---
Honest mistake in recording the video at 1:09 when talking about the DJI my information was off. I was looking at the chart in 2014 not 2013 when the government shutdown really happened I included a picture of the real chart during the 2013 shutdown. The purple box indicated the rise & fall experienced during the shutdown.