PRESALE 🔥CONNECTY🔥The blockchain of knowledge and innovation

CONNECTY - The blockchain of knowledge and innovation
---
What is Connecty.io ?
Connecty.io is a 3.0 web platform focused on the Knowledge Economy. The goal of Connecty.io is to connect the world of knowledge (scientists, experts, etc…) with the innovative world (start-up, small or big companies…). The challenge is to promote, simplify and make faster trades between those two worlds to revitalise the knowledge economy, dramatically increasing its efficiency and performance.
Connecty.io desires to become one of the largest exchange places, a sort of a "B2B Quora", where people looking for answers can find and trade information with those owning skills and knowledge.
Our three main features are:
An ambitious A.I engine that will be able to automatically translate any request from common language with simple words to a complex and technical one. This means that the system will be able to simplify any scientific jargon into an easily readable and manageable language. We have as advisor one of the best experts in the field with Olivier Nerot
A list of experts and scientists gathering knowledge owners from every field: physical sciences, mathematics, biology, economic sciences, psychology…
A system that connects and secures transactions and allows the creation of a trustful environment between different people. This system will be based on blockchain technology, using smart contracts to manage "missions" and a reputation rate system.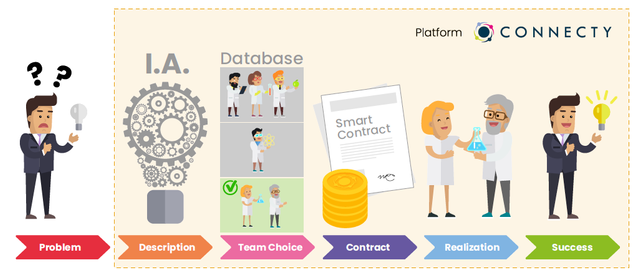 Who are we addressing?
Our first and main target is the world of research and development (R&D). In 2015, this market was estimated to be worth 1.9 trillion US$ worldwide. In extension, the portion of this market that represented research coming out of labs and used for corporate purposes was only of 7%, corresponding to 135 billions US$.
The percentage is low because in the current system, trades are limited by administrative difficulties that remain a hurdle for small trades (small trades that often consist of a few phone calls and a one-day mission).
This market is in fact connected to the three basic rules of the knowledge economy:
Positive sum exchange : Sharing a good is dividing it, sharing knowledge is multiplying it
1+1 = 3 : The fusion of 2 knowledge is greater than their simple addition
Knowledge is infinite : φ(k) ∝ AxT (The Flow of Knowledge is proportional to Attention multiplied by Time)
Why a dedicated token and the use of the blockchain ?
Now, we not only have an infinite market , but it also presents an opportunity for exponential growth once the efficiency of positive sum trades is realized, along with the creation of new knowledge by harnessing great minds and gathering ideas in one global place.
To guarantee the sustainability of our knowledge ecosystem, we create a dedicated currency, CTY (connecty) an ERC20 token.
The creation of this new currency is necessary for three main reasons:
Rating knowledge trades with currency. the world of science hates money. Most scientists and other kinds of knowledge owners aren't motivated by money. Their objective is to create knowledge and in general, they are fundamentally opposed to the financial model. Using a token allows us to overcome this hurdle. It will also have multiple use cases on our platform (purchase books, reviews, subscriptions to scientific and tech magazines, tickets for conferences and salons…). The knowledge owner will, in the end, never have to use FIAT currencies if they so desire. They can sell knowledge for CTY, purchase other knowledge for CTY, creating new knowledge in the process.

Setting up a circular knowledge economy. The challenge is to allow the free and unlimited trade of knowledge between people, without restrictions. But trades still have to be measured and quantified to be fair to those who share knowledge. Those sharing the most will be able to use their earned tokens and spend them through our knowledge store or convert them into the currency of their choice.

A reliable and secure trade option for this global scale project. ERC20 tokens bring all the positive features of the blockchain: Security, decentralization, confidentiality, very low operating cost. But it also brings aspects of the Smart Contracts technology (automatisation of processes, flexibility, trust and reliable environment...).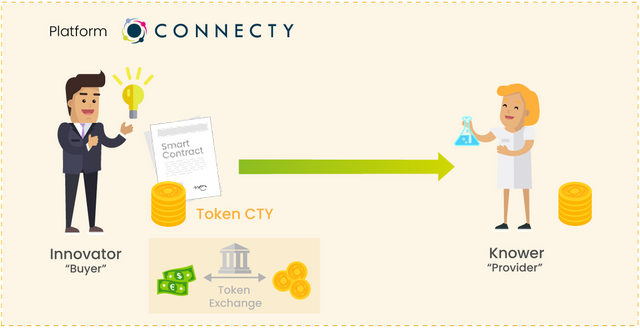 As mentioned earlier, the CTY token is a utility type token, namely intended to be used as knowledge currency on the Connecty.io platform, to take advantage of all the services offered on it.
The currency of Knowledge, CTY, will have different roles:
To purchase knowledge on the platform from those selling it (certified experts, reliable professionals, scientists, technicians, specialists…).
To purchase goods & services in our knowledge store, sponsored by professional companies of different kinds (editors, magazines, newspapers, event managers…).
To allow the easy conversion into FIAT currencies to spend as you wish. Or perhaps, to finance research or business related projects.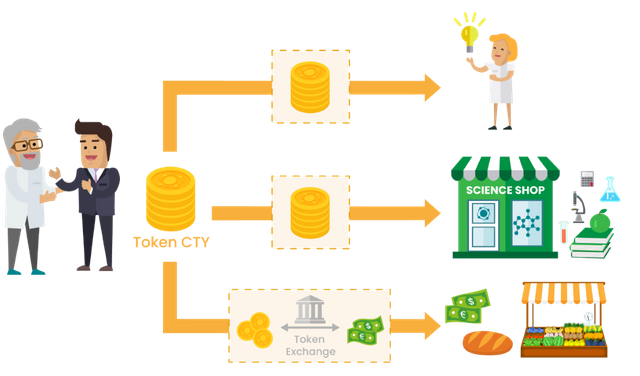 How Connecty.io can be used ?
Innovative entrepreneur specialized in high precision mechanical (www.expertisevision.fr) :
He develops a brand new machine to inspect mechanical pieces for the watch industry. He need for high precision, high performance and high quality.
He needs to enhance the algorithm that analyses images in order to gain accuracy and efficiency, and detect more complex shapes.
He wrote his request on Connecty.io and he now gets in touch with an NASA researcher.
He shows his last revolutionizing algorithm he published to our engineer. All he has to do now is to implement it in his new machine, making it the most competitive one on the market.
Investment: two days spent with a researcher and one month of development on his own.
Results: a leading market position
Contracts are automated with smart-contracts.Payments are made with CTY (connecty).
An additional system allows anyone to purchase directly CTY tokens at market price on our website. CTYs earned by someone for his/her services can be reused on Connecty.io or converted into FIAT currency.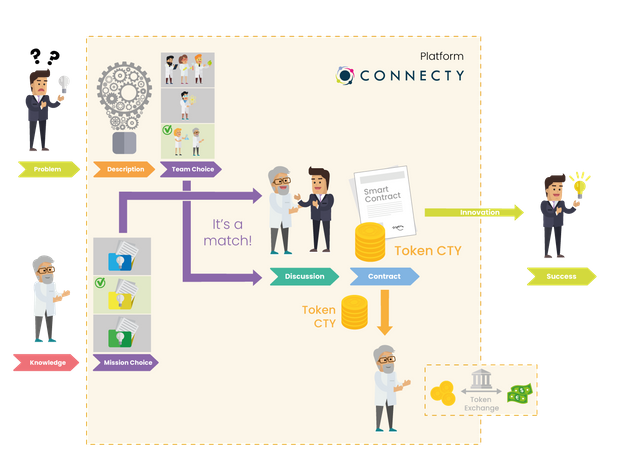 Leading team and advisors :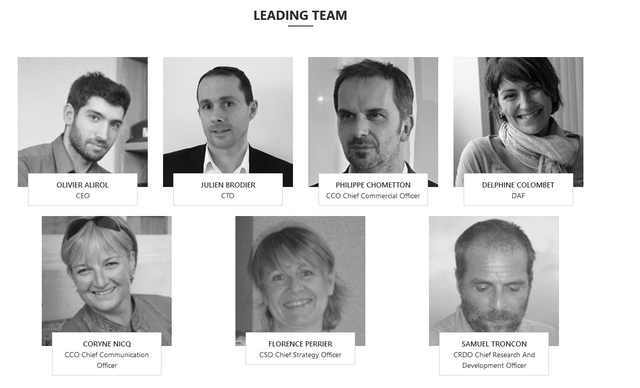 Connecty trailer :