10 Cryptocurrencies Greenlisted by New York State Department of Financial Services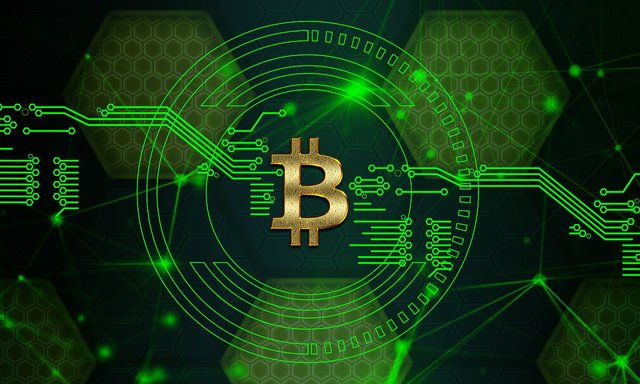 Image by Pete Linforth from Pixabay
The New York State Department of Financial Services (DFS) recently released a Greenlist of 10 pre-approved cryptocurrencies.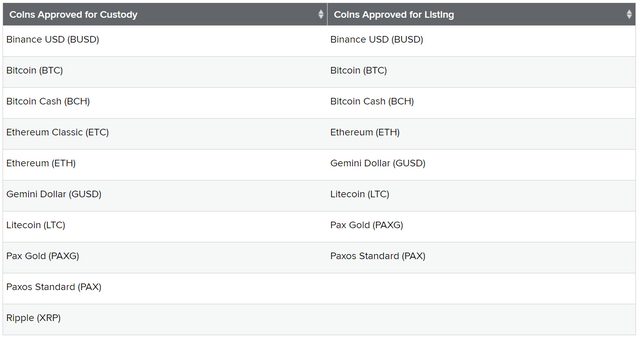 DFS Greenlist as of 3 August 2020
According to the DFS website, licensed entities can use cryptocurrencies on the Greenlist for their pre-approved purpose as long as they inform DFS of their intention beforehand.
Licensed entities will be able to offer storage and security solutions (i.e. wallets) for cryptocurrencies pre-approved for custody; and trading solutions for cryptocurrencies pre-approved for listing. Of the 10 cryptocurrencies on the Greenlist, only Ethereum Classic (ETC) and Ripple (XRP) are not pre-approved for listing.

Ranked 62 and 65 on CoinMarketCap and CoinGecko respectively, BUSD is an ERC-20 stablecoin launched by Binance (in partnership with Paxos Trust Company) on 5 September 2019. BUSD has a current market cap of USD179 million and is traded almost exclusively on the various Binance exchanges.

Known widely as the first cryptocurrency to be created, BTC requires little to no introduction. After reaching an all-time high (ATH) of nearly USD20,000 in December of 2017, the price of BTC dropped below USD3,500 in December 2018. BTC currently has a market cap of USD217 billion.

BCH is the result of the very first hard fork of BTC which occurred on 1 August 2017. Despite a rocky start, BCH managed to hit an ATH of nearly USD4,000 in December 2017. It is currently ranked number 5 on both CoinMarketCap and CoinGecko with a market cap of USD 5.6 billion. Recently, there are concerns that a chain split (hard fork) is inevitable due to divisions in the BCH community over a planned network upgrade on 15 November 2020.

ETC is the original ethereum network from which Ethereum (ETH) was forked. It has a market cap of USD811 million and is ranked 26 and 28 on CoinMarketCap and Coingecko respectively.In August 2020, ETC announced that it had been a victim of a 51% attack which resulted in the double-spending of 807,260 ETC worth approximately USD5.6 million. Despite concerns about the network's vulnerability to another attack, the price of ETC is holding relatively steady around USD7.

On 20 July 2016, the ethereum network underwent a hard fork to recover 3.6 million ether which had been lost as a result of the DAO hack. ETH adopted the hard fork while the original chain was rebranded to ETC. Ranked number 2 on both CoinMarketCap and CoinGecko, ETH has a market cap of USD44 billion. The growing popularity of decentralised finance (DeFi) and decentralised applications (DApps) on the ETH platform as well as increased usage of Tether (USDT) has caused a recent surge in transaction fees. The current proposed gas fee, according to Etherscan, is 76 gwei.

An ERC-20 stablecoin launched in September 2018 by Gemini Trust Company LLC, GUSD is backed by USD held in reserve at State Street Bank and Trust Company. With a market cap of USD12 million, GUSD is available for trading on a number of exchanges. It is ranked 424 and 323 on CoinMarketCap and CoinGecko respectively.

Created in 2011 as a lite-version of BTC, LTC has long been dubbed the silver to BTC's gold. It has a market cap of USD3.7 trillion and is ranked number 9 on both CoinMarketCap and CoinGecko. Like most cryptocurrencies, LTC achieved an ATH of USD360 in December 2017. In 2019, a lack of activity on the LTC Github account and a sharp drop in hashrate raised concerns that the coin had been abandoned. More recently, there have been speculations that Cardano (ADA) could be collaborating on a joint project with LTC.

Launched in September 2019, PAXG is an ERC-20 token backed by gold stored in vaults located in London. 1 PAXG is worth one fine troy ounce of a London Good Delivery gold bar (approx. 400 oz). PAXG holders can check the serial number of their physical gold by entering their Ethereum wallet address on the PAXG website. The token has a market cap of USD57 million and is currently trading at approximately USD2,000. It is ranked 135 and 143 on CoinMarketCap and CoinGecko respectively.

Another ERC-20 stablecoin offering by Paxos Trust Company, PAX was launched in September 2018. Ranked 50 and 49 on CoinMarketCap and CoinGecko respectively, it has a market cap of USD261 million. PAX is available on numerous exchanges but the majority of the trade volume can be found on TOKOK.

With a market cap of USD13 billion, XRP is ranked 3rd on both CoinMarketCap and CoinGecko. XRP was created as a digital currency for use in real time gross settlement, exchange and money transfer systems. In total, 100 billion XRP were created. 1 billion XRP were released for sale on 1 August 2020 and the current circulating supply is approximately 44.8 billion. There are a number of ongoing lawsuits regarding XRP.
Conclusion
While there may be arguments made for the addition of USDT due to its widespread usage, it is important to note that all stablecoins on the Greenlist are regulated by the DFS. USDT is not one of them and will probably never be unless a full audit of the company's USD reserves is conducted. The only surprises on the Greenlist would be ETC, due to the vulnerability of its network; and XRP, due to the ongoing lawsuits, but the DFS appears to have taken that into consideration since neither are pre-approved for listing.
Follow me on @cgrave