Centaure Update #1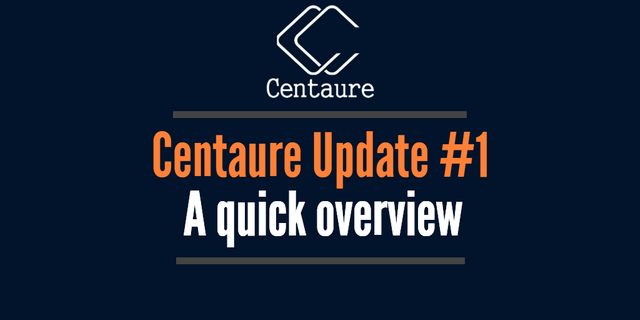 A QUICK OVERVIEW
Our model is a unique, never-before-seen cryptocurrency platform that makes it possible to book an appointment with professionals from all over the world and have a live streaming session as seamlessly possible.
OUR PURPOSE
The cumbersome and rigorous nature of booking an in-person appointment especially if it's with a highly qualified, very reputable and recommended professional, E.g a medical consultant, sometimes could really be frustrating.
Also, the cost many times, is beyond the reach of a vast amount of clients who require and desire such services.
Furthermore, there are professionals who probably get paid for less than they truly deserve, because of pay inequality (in some parts of the world), in other cases they may even be unemployed because the clients that need their services can't reach them, and they don't have the financial wherewithal to set up an online medium for reaching clients, plus the fact that, they may lack the technical know-how, in putting up such advanced online architecture.
This is why we've developed a very easy to use, yet topnotch model to address the above issues.
A major goal for us is to remove the idea of having an office (along with other expenses), such that you can easily provide advisory/consultancy services, from any location of your choice.
BENEFITS OF OUR MODEL
The flexibility needed to use our model is unparalleled; with few clicks, you're connected; no more tough hassles trying to book an appointment; you can literally get connected from anywhere you are because we are global.

Our model makes affordability a reality.

People who are in areas where substandard services are rendered can now enjoy qualitative services.

Those professionals who don't get good pay (or lack of jobs) based on their domicile can now get better remuneration for their knowledge and expertise.

Services can be rated and reviewed, that way, quality control is ensured and increase in the overall eminence of the platform's activities is guaranteed.

Also if there's (any) indication that services were not delivered as advertised, there's a proper channel already created to settle such disputes amicably.

Speed and security.
OUR CURRENCY
Centaure tokens will be used on our platform, (abbreviated CEN); it's an ERC20 token we've built on the Ethereum blockchain; soon they will be available for purchase from exchanges.
OUR SCOPE
Our model, houses services such as (but not limited to), medical consultation, health and nutrition consultation, psychiatric consultation, legal consultation, digital marketing consultation, teaching e.g. Programming.
OUR COMMUNITY
We currently have a twitter followership of 10k+ and an active telegram membership of over 6k.
It should be noted that we initially planned an ICO, but decided to gradually airdrop the tokens intended for the ICO since we got funded by Venture Capital (VC).
OUR CURRENT STATUS AND PROJECTIONS
The entire website has already been built; presently, we're working on the functionality and mobile app designs; by the end of the year, (December 2018) we'll be done with the apps and by January 2019, we'll be fully up and running.
For more information/enquiries, kindly visit https://centaure.io.