Hello everyone,
I would like to introduce Haejin's Sandbox. This is a new blog series that I will be attempting to post frequently (hopefully at least a few times a week, but the three kids will probably have something to say about that!!!).
I discovered @Haejin back in June, and was one of his first couple of hundred followers. Like many others, I have been impressed not only with his great technical skill and accuracy, but his fantastic attitude and wish to give to the crypto community. I was also lucky enough to have many of my requests taken and direct questions answered in the early days. I have found over time that my questions are answered less frequently, but this is completely understandable given the growth of his following and the flood of requests he receives.
However, I also feel like I am now past the point of simply requesting a new analysis. I have begun to practice with the tools Haejin has introduced me to, and my questions are now much more specific in relation to a particular chart, or I simply want to have some feedback on a count. I think there are many others out there like me, and I believe those numbers will only grow.
I believe it is time for the community of Haejin's followers to have a venue to practice their charting, to ask questions of others more experienced than them, and to receive feedback on their ideas. Maybe once in awhile the Master himself will check in on the community. We are all living in Haejin's world, so it's time we start to play in Haejin's Sandbox.
The purpose of the blog is for followers of Haejin (or anyone else of course) to post their charts in the comments section, and ask any questions related to those charts.
I hope that the community's collective knowledge will serve to help everyone become better at this craft.
The blog is NOT intended to serve as a collection of requests to Haejin.
Remember, this is definitely NOT investment advice, this is simply a place where I hope we can all learn a little more about Technical Analysis.
Here are some useful links:
Official Home of Haejin's Archives
Markdown Cheatsheet, which is really helpful for posting.
Based on the excitement of yesterday, I thought I would kick things off with my thoughts on Verge. I was out for most of the day, so I think I missed my chance to take some profits. However, I think that chance has now passed, and there is more up- than down-side ahead. Please comment, provide feedback, post your own charts on your coins of interest!
Biggish picture, $ Chart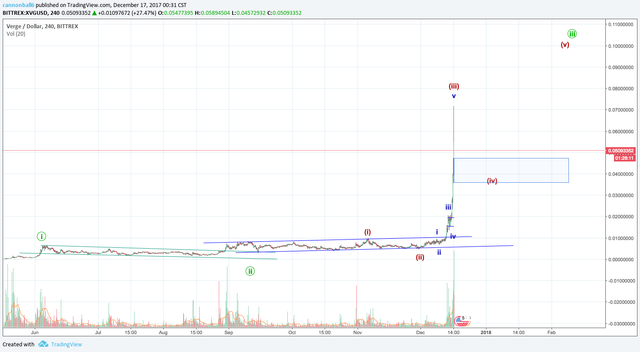 3 Minute Close up on the $ Chart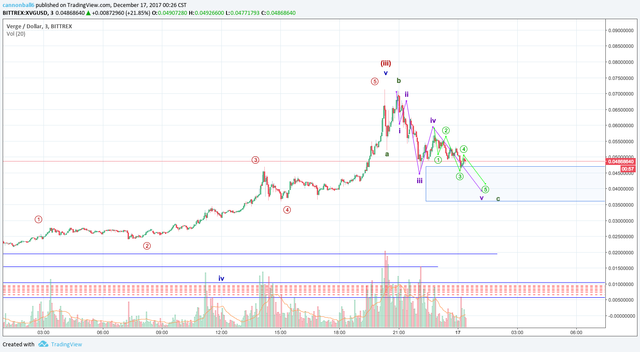 Confirmation on the BTC Chart?