BTC TA (Technical Analysis) - ANALYSTS DAILY SUMMARY - JUNE, 13th
BTC TA ANALYSTS DAILY SUMMARY - JUNE, 13th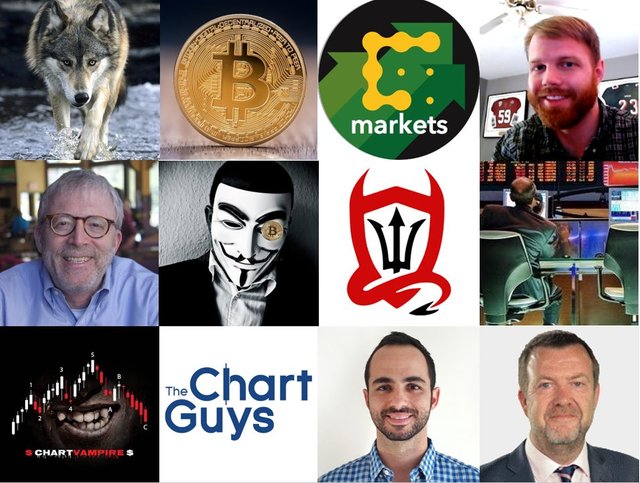 NOTE ABOUT BLOG
The blog is still in it's infancy and I ask that you guys give me feedback on analysts being reviewed, layout etc. I've removed "The Moon" and "Coin Mastery" as analysts. I'm playing around with a few analysts, so 'bear' with me. Also, I've changed the sentiment summary to an overall 'bearish', 'bullish' or mixed sentiment.
Overall Sentiment Summary

Detailed Summaries:
JD Marshall
Type of Trader: Medium/Long Term Trader
[Macro argument is that BTC is consolodating at these levels and building steam for higher highs in the FUTURE is still his macro perspective. In his opinion we're not seeing BTC reaching all time high any time soon. BTC next big resistance is the top of $9990. Since Feb. BTC's seen 3 major bottoms around the 6k-7k level. Which is an indication of forming higher lows and confirms a macro bullish trend (Green Line on Chart). Patience will be the key word for medium/long term investors in the BTC Market]
BTC broke uptrend and downtrend line, showing the severity of the correction and the selling pressure. Last time we had this volume of selling (chart below - pink line) BTC broke through the downtrend with conviction. This was not the case this time around, indicating lower prices ahead. If we break the $6.4k expect $6k. Marshall does not believe $6k will hold. $6k is a very weak support.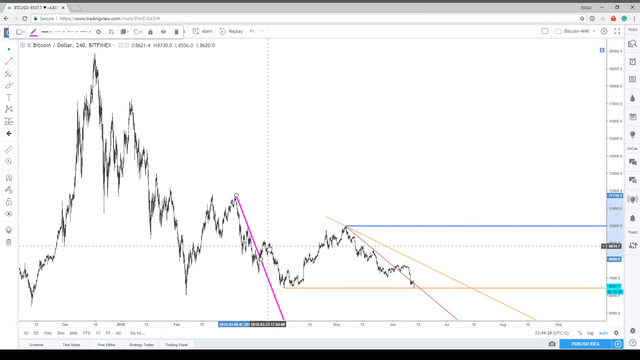 Type of Trader: Short Term Trader
MACRO TREND: Because of the dramatic sell-off and the RSI is oversold, we might see BTC recover and, before a dramatic bear break to below $6k. Expect bounces along the way to a lower low, to cool off the RSI levels.
On the shorter term (15-min chart) BTC is unable to break the 12 period exponential resistance, so watch this significant resistance. THE EMA's are brilliant guides to follow. The bears are clearly in control as long as BTC remains below the EMA's.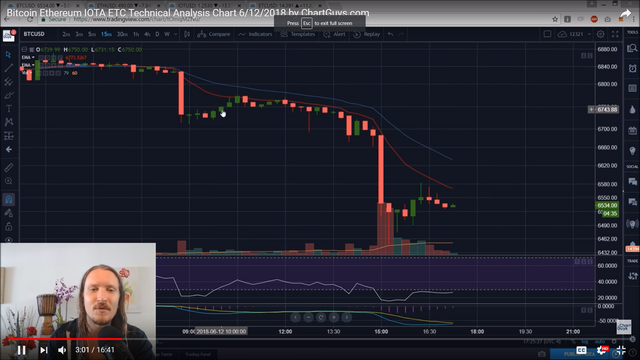 Type of Trader: Short Term Trader/ Day Trader / E.W. Analyst
New Primary (Bullish) Count: BTC just finished the 5th wave of an ABC and the 5th wave also converged with an important algo target. Also, April's low is still not breached and technically the recent low can be counted as 'unusually deep' 2nd wave (which is a characteristic of BTC - 2nd waves seem to a-typical), with a third wave going up from here. If April's low does not hold, the 'bullish' count will be invalidated.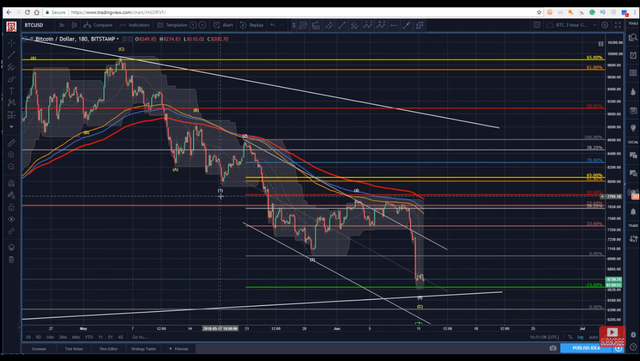 Going forward from here: We might see a forth wave going up from recent lows and then going further down from there. If the count is valid and we're going to see a low 5th wave, going long on BTC might be an option. As of now @tradedevil is not buying.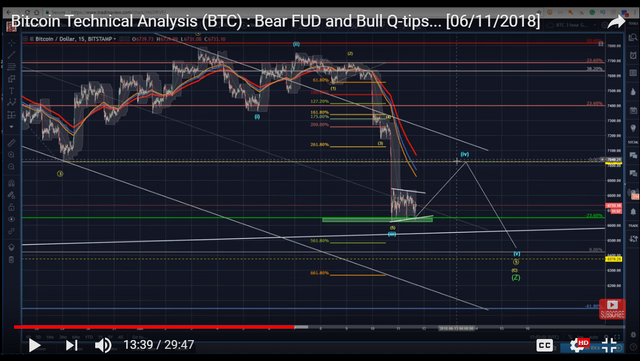 chris L $ChartVampire$
Type of Trader: Short Term Trader/ Day Trader
Warning POSTED already! the RSI is in the oversold Range and he;s looking for a bounce.
Lower your Stop-loss if your in a short to over the 7MA on the 12hr chart he would give it a little more room.
Targets are: 5800-6100 (Below charts for context)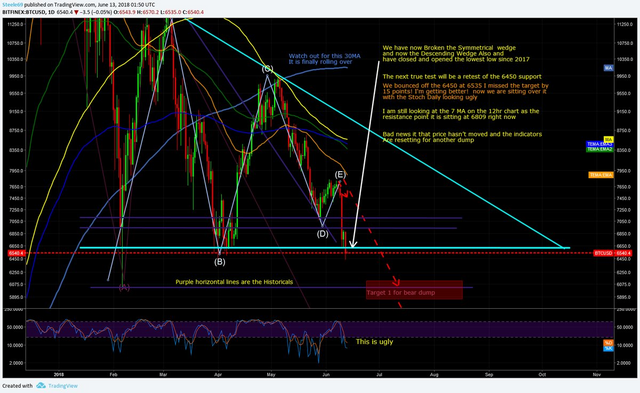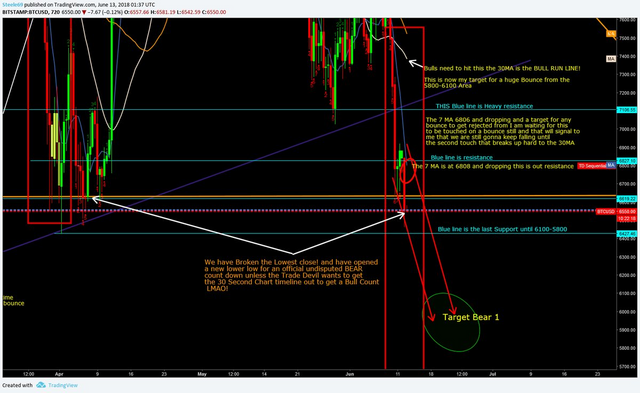 Peter Brandt ** (UPDATES MIGRATING TO BITCOIN.LIVE)
Type of Trader: Short/Medium Term Trader
NO NEW UPDATE: TA WILL MOVE TO BITCOIN.LIVE. I'LL KEEP HIM ON THE LIST FOR A FEW DAYS AND SEE IF HE'LL POST ANYTHING USEFUL OUTSIDE OF BITCOIN. LIVE.
KEEP YOU POSTED
Nick Cawley (NO NEW UPDATE)
Type of Trader: Long Term Trader/Investor
CRYPTOCURRENCY MARKET CRUMBLES – SUPPORT LEVELS TESTED
South Korean cryptocurrency exchange Coinrail revealed that it had been hacked on June 10 and that some of the exchanges cryptocurrency holdings had been stolen. Coinrail said in a statement that 70% of the cryptos it holds are safe, while two-thirds of the stolen tokens – NXPS, NPER and ATX – have been frozen or recovered. The news from this small exchange – Coinrail just makes it into the top 100 crypto-exchanges by volume traded – sent the marketplace spiraling lower with double-digit losses commonplace.
The move over the weekend may have been exacerbated by thin trading volumes but the fact that a small crypto-exchange hack produced such a large move shows how fragile the marketplace is.
The weekend falls tested many important technical support levels with mixed results. Bitcoin (BTC) rebounded just ahead of a support cluster made in late April and looks likely to re-test the $7052 double-low made on May 28/29. A re-test of the $6,438 cluster would open the way to further losses with the February 6 low at $5,932 the first target.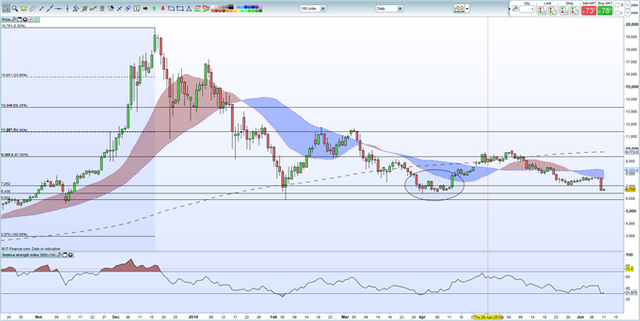 Trading Room
Type of Trader: Short Term Trader
4600-5400 is the most probable bottom with 80% probability to hold, may dip to 3200-3600 but reversal will be instant. Current Support 6450 which may offer some bounce.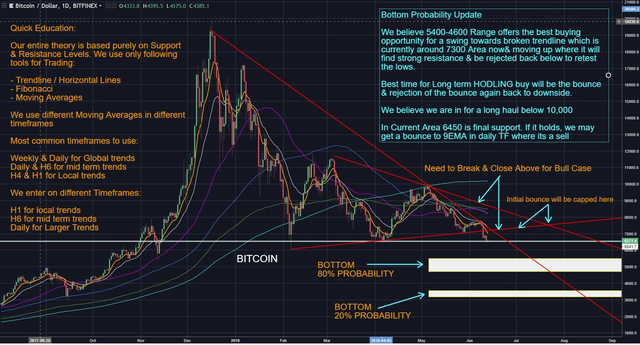 If you are SHORT, Keep an eye on 6450 Support. If #bitcoin holds that, expect a rocket to 6900 Area! Keep you SHORT Stop Loss tight. And be on guards for Longs!
Next Support is trendline. Break below TL will continue Downside otherwise pause for upside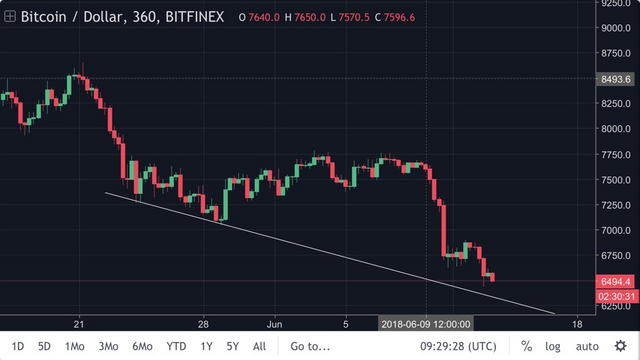 Crypto Guru (NO NEW UPDATE)
Type of Trader: Short Term Trader
The lower support/trend line of the massive wedge broke as an immediate dump subsequently followed. He's surprised that BTC is back in the 6k range; He suggests adding possitions to the ALT COIN space, as many coins are very cheap with the recent down move in BTC. See chart for the next levels of support in BTC.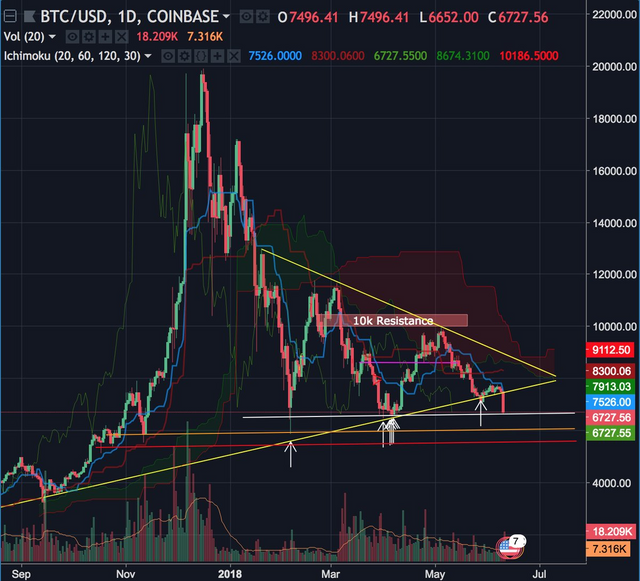 Coindesk Markets **
Type of Trader: Short Term Trader
OUTLOOK: Bearish
Eyes $6K
Might hold $6,425 (April 1 low) for a couple of days as daily RSI is oversold.
But RSI on weekly and monthly chart remains bearish - show a lot of space to the downside.
So, corrective rally will likely be transient.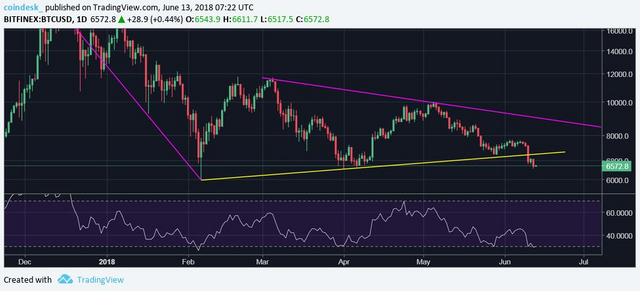 Crypto Wolf (NO NEW UDPATE)
Type of Trader: Short/Medium Term Trader
BTC broke consolidation triangle, we failed to break above weekly MA50. But if bulls manage to defend the higher low we could see a reversal as weekly RSI screaming bullish divergence.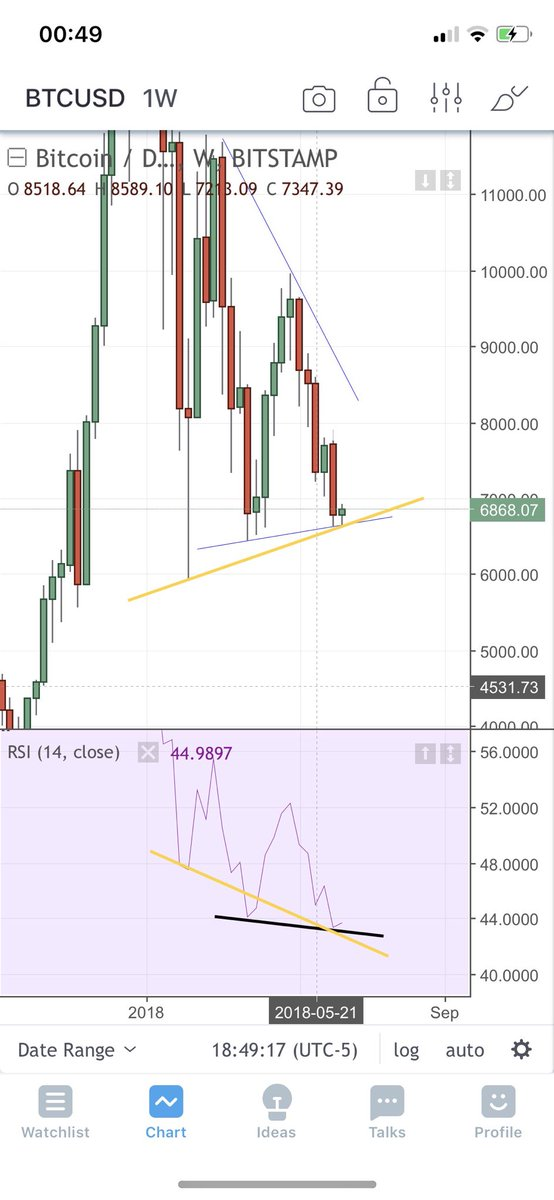 Inverted #hs on the 4 h RSI. Likely a retest of the previous triangle support for BTC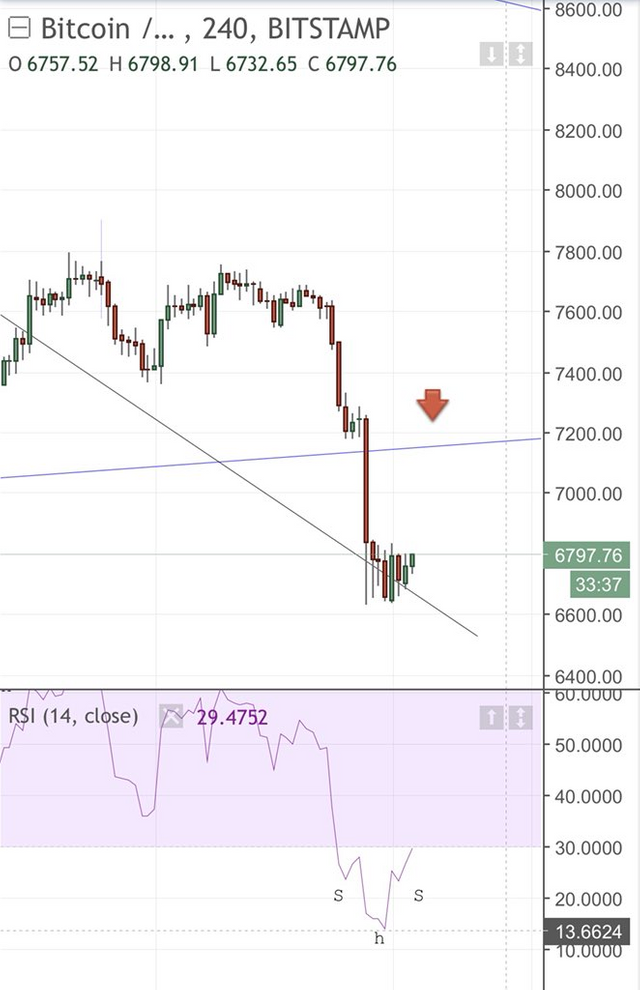 Lord Ray
Type of Trader: Short/Medium Term Trader
BTC/USD SHORTS (4 hr chart). An absolutely textbook rounding bottom has occurred. Momentum of the shorts has taken over and we are breaking above a critical area of resistance, The RSI is currently 86 with the all time record at 90.
Also, a shout out to @famunger for his daily Analyst Summaries.