This will be a detailed, step-by-step guide on how to earn some cryptocurrency, specifically about DeepOnion. This crypto has many ambitious goals with lots of achievements in their first year. They are very active with news almost every day and their developer's activity at GitHub is consistent.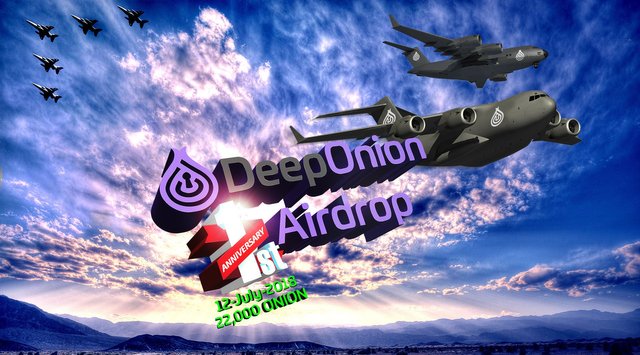 One of the achievements of DeepOnion is the successful launch of VoteCentral, where members discuss and vote on ideas to further improve DeepOnion. VoteCentral is also used to monitor the activity of members and reward them with VoteCentral's Airdrop. Rewards are distributed every two weeks according to each member earned DeepPoints.
Since VoteCentral registration was open to the public, many members joined to help promote DeepOnion and to earn extra at the same time. Here are the requirements for anyone to participate and earn some ONION.
1} A DeepOnion Address.
2} At least 50 ONION in your balance.
3} Join the DeepOnion community.
4} Join VoteCentral.
5} Perform tasks to earn DeepPoints for rewards.
If you feel that the previous requirements are easy, you are welcome to join us. If you need some help, here is a step-by-step guide that will help you join VoteCentral and will teach you how to complete tasks to accumulate DeepPoints and be part of the VoteCentral airdrop.
1} Visit https://deeponion.org and download the Windows, Mac or Android wallet.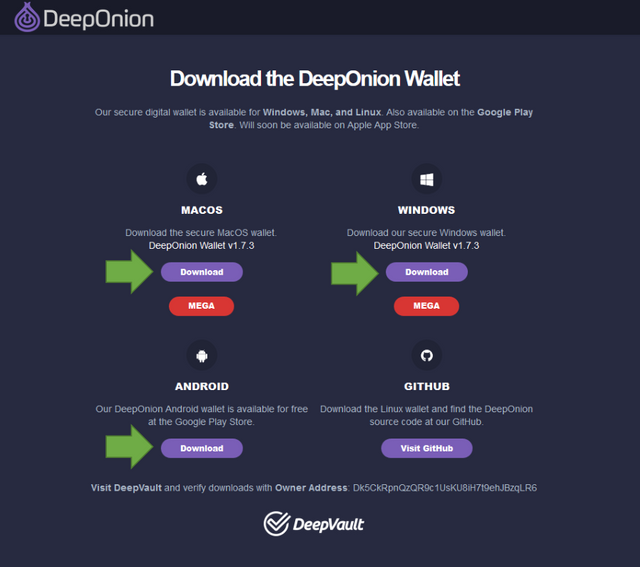 Tip: Use DeepVault from within the downloaded wallet to verify that it the downloaded file is the original file from the developers.
When the download is complete. Run the wallet, there isn't any installation. Wait for the wallet to start and click on "Receive Coins". Here you will find an address created for you. You can change the label and you can create more addresses if you need. These addresses are used to receive ONION cryptocurrency. If you share this address with someone, they can send you instant payments. Right-click to copy this address.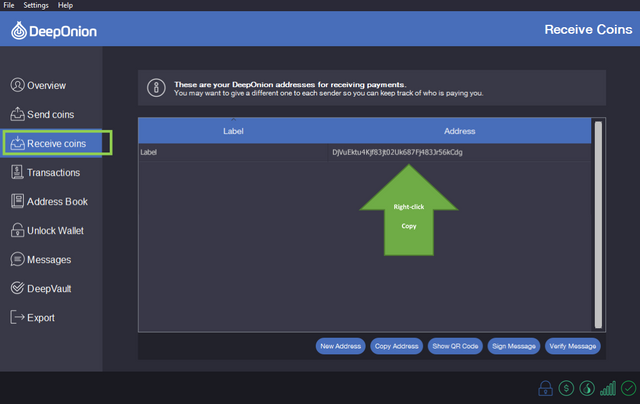 2} Get at least 50 ONION into your wallet address.
This is a requirement to prevent abuse of VoteCentral by spammers. There are many way to get 50 ONION into your balance.
3} Join the DeepOnion.org community.
Visit the following website: https://deeponion.org/community and click on "Create FREE Account!". A new section will appear at the top. Enter your email, select "No, create an account now" and click on "Sign up".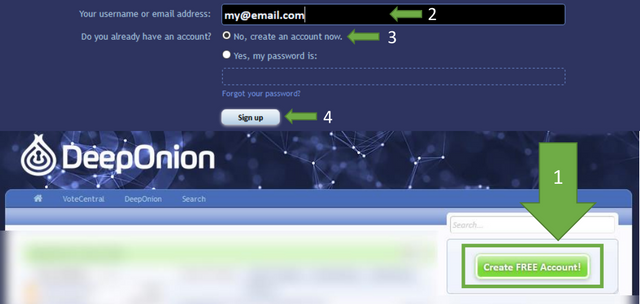 The next page will have some text fields for your information.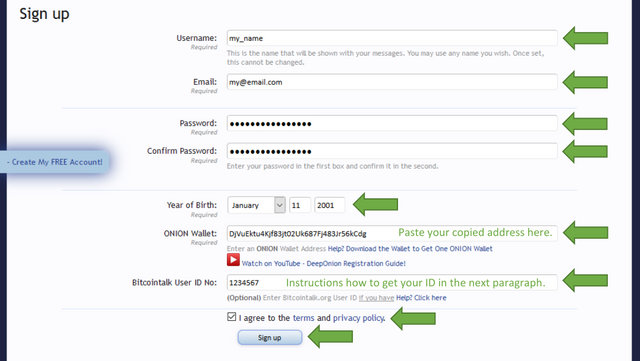 The "Bitcointalk User ID No." is required to join VoteCentral, so now would be a good time to get it. If you don't have an account at www.bitcointalk.org, visit this link and create an account for yourself. Once your account is ready, follow these steps to find your "Bitcointalk User ID":
Log in to your bitcointalk account, click on "Profile" then click on "Account Related Settings".
You will see your Bitcointalk User ID in the URL, copy it over to complete your registration.

4} Join VoteCentral.
After you log into the DeepOnion community, visit VoteCentral or click this direct link: https://deeponion.org/votecentral/

Click "REGISTER" to start your VoteCentral registration process.

Most of your details will be ready. You need to sign a message using your DeepOnion Wallet as a proof that you are the owner of this wallet address. Some users feel that this step is difficult, so it will be explained thoroughly.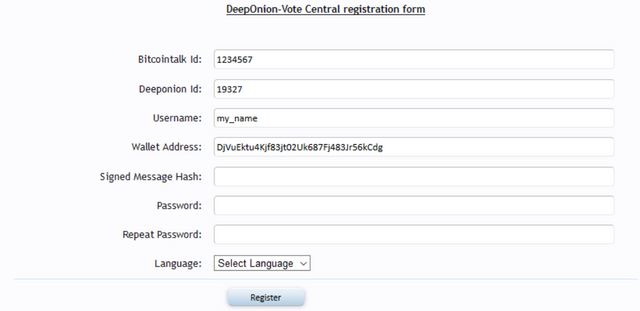 Start the DeepOnion Wallet, go to "Receive Coins", right-click your address and copy it.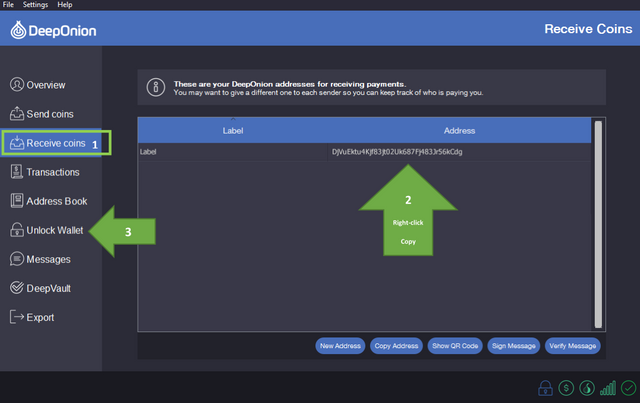 Now, if your wallet is locked, you must unlock your wallet first before proceeding to the next step. If you still didn't lock your wallet yet, you can skip this part and continue with the Debug Window.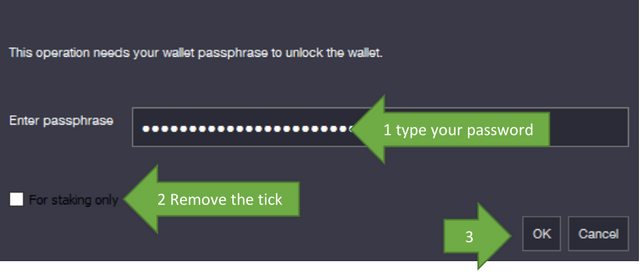 Click on the "Help" menu and select "Debug window".

Click on the "Console" tab and type the following:
signmessage <your_wallet_address> VOTE
Replace <your_wallet_address> with your own DeepOnion Wallet Address. You don't have to type your address, you already copied it so all you have to do is right-click paste. Hit Enter to get the output result.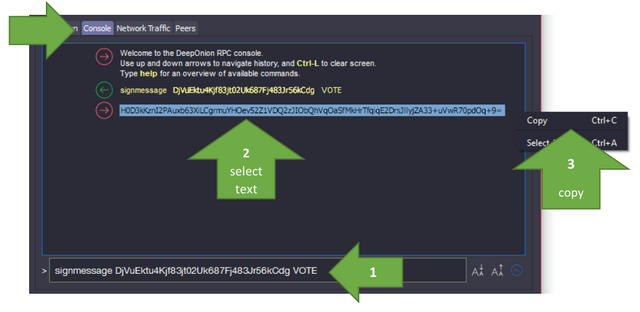 Copy the output result to VoteCentral's registration.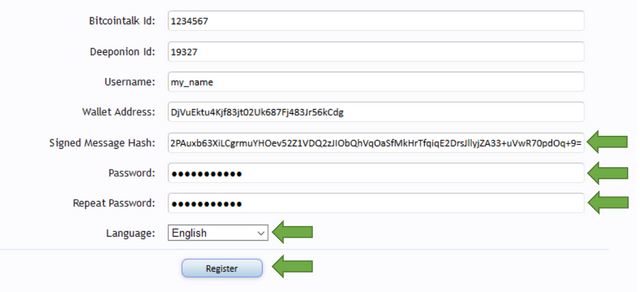 Pick a password, select your preferred language and click "Register".
Tip: For your security, use a different password for each website and make sure that the password is difficult to guess.
If you are still having difficulties, ask for help at the DeepOnion community. When your registration is done, you'll need to wait until one of the moderators to verify and accept you as a member of VoteCentral. We are a community crypto and the mods are very busy so please allow an adequate time for your registration at VoteCentral to be approved. After 48 hours, if your registration is still not approved, you can create a "Support Ticket" and one of the mods will assist you.
Once your registration at VoteCentral is approved, log into your account and start doing tasks by clicking "Your Assigned Tasks" on the left menu.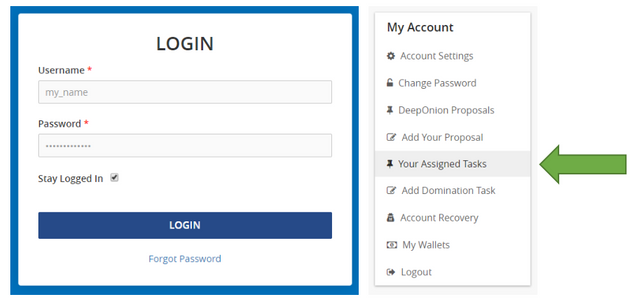 Each task has instructions. Make sure to read the instructions before doing tasks.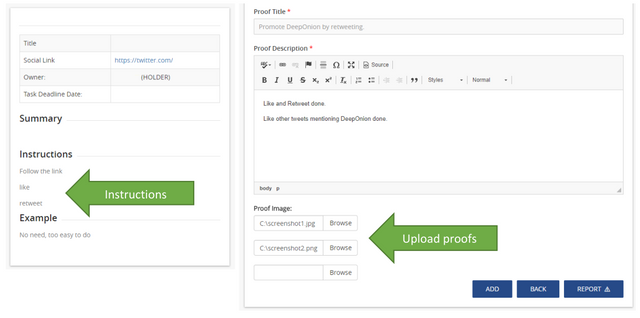 Once you are done, take the necessary screenshots and upload them to the task as proof. You can upload up to 3 screenshots. The screenshots must show some proof about your identity such as your profile picture, your name in the URL or any other indication that will help moderators confirm that the task was successfully done by you. Full-screen proofs are not a requirement but make sure not to heavily crop the picture because it may not be approved as a proof. Spamming is not allowed. Multiple violations will lead to a ban.
Every completed task, if approved, will earn you 1 DeepPoint. You can check your total accumulated DeepPoints by visiting your "Account Settings".

Your account page will contain a lot of information and statistics about VoteCentral.
 
Some information about VoteCentral.
DeepOnion is built on transparency and trust. As a community crypto it was necessary to gain strong supporters that believe in the project.
There are three kinds VoteCentral members:
Founders: are users that supported DeepOnion in the first 9 months, showing commitment and devotion when the project started young without many features to show.
Holders: are users that hold 50 ONION or more in their balance.
VIPs: are users that proved their devotion to DeepOnion by participating and contributing quality effort and work.
Founders are rewarded 10% extra DeepPoints. VIPs are rewarded (x2) because they are assigned more difficult with requirements and a deadline. Holders reward is the standard reward.
Every two weeks, accumulated DeepPoints will be converted to ONION and distributed to VoteCentral members via airdrop. The total amount of airdrop pool is determined by the total number of users that participated in the previous airdrop. For example, if we have 100 users, of which 10 are Founders, 10 are VIPs and 10 are both Founders and VIPs, if each user did one task and earned 1 DeepPoint, this is the outcome:
10 Founders: 10 x 1 task = 10 + 10% = 11 DeepPoints.
10 VIPs: 10 x 1 task = 10 x 2 = 20 DeepPoints.
10 Founder and VIP: 10 x 1 task = 10 + (10%) = 11 x 2 = 22 DeepPoints.
70 Holders: 70 x 1 task = 70 DeepPoints.
Total accumulated DeepPoints by all members is 123 DeepPoints. If 100 members participated in the last VoteCentral airdrop, then the airdrop pool is 100 x 10 = 1000 ONION will be distributed to these members according to each member DeepPoints. In this example, 1 DeepPoint should equal to: 1000 / 123 = 8 ONION.
You don't have to worry about these calculations, it's all automatic. All you need to do to earn some ONION is to participate in VoteCentral by completing tasks.
Enjoy your time. Happy rewards.