Staker Token Development Update and News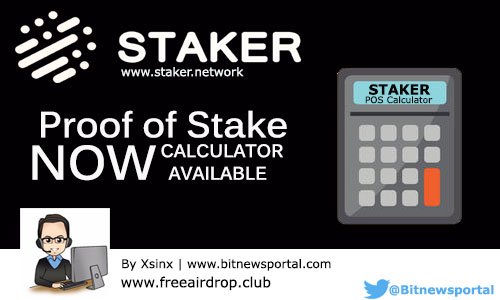 ORIGINAL ARTICLE
http://bitnewsportal.com/staker-token-development-update-and-news
JOIN STAKER AIRDROP
https://freeairdrop.club/staker-token-airdrop
Hello everyone! its been 2 days since i posted an article about Staker token and now i bring you something new about the staker project development and some important news about the project.
Staker Development team never failed to amaze its community. After the successful coding of a brandnew and improve smart contract from last week now they bring out another developmental milestone for the community. Today they announce the launch of the proof of stake calculator of staker token.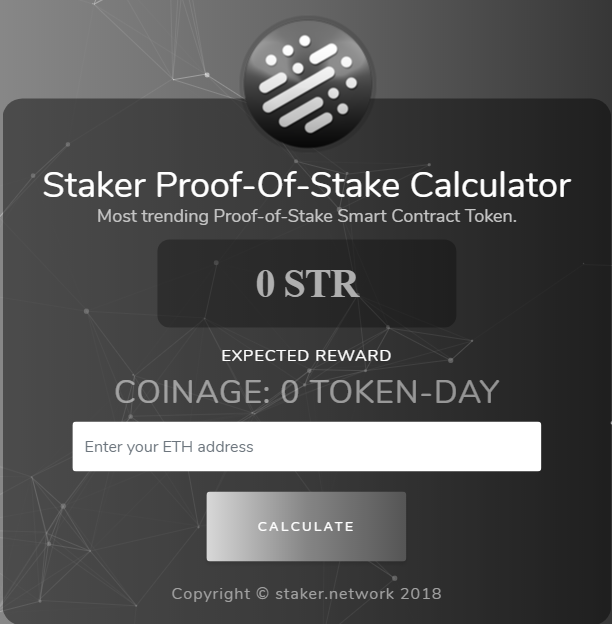 This POS calculator can query the approximate Token Age and The corresnponding Mint Rewards if you initiate and stake/mint function of the coin.
Staker POS Calculator offers a userfriendly interface and direct to the point instruction.
Simply put your ETH address with staker token balance and click on CALCULATE and you will the possible rewards you will get if you initiate mint/stake functions.
TRY THE STAKER POS CALCULATOR NOW
https://calculator.staker.network
Don't forget that the validation of all airdrop participants will commence soon, Make sure you all follow the rules and completed all the requirements. Also take advantage of the generous contest and giveaway of Staker DEV Team that give's out hundreds of STR tokens Daily. Build up your STR portfolio and prepared for the future HODLERS Airdrop.
Currently Staker Token are available on
CREX24
https://crex24.com/exchange/STR-BTC
FORKDELTA
TOKENJAR
Help STAKER Token get listed on FATBTC
Follow FAT BTC Twitter Account
https://twitter.com/FatBTC
Like & Retweet FAT BTC Tweet
https://twitter.com/FatBTC/status/1015485041026191360
Comment Staker twitter handle @StakerToken and add your best comment for staker token project.
Always remember that STR Token is still a brandnew community project and we can expect more community development and news along the way. The whole staker Development team are working very hard to give us a great opportunity and to make a difference in the whole crypto currency market.
That's all for this day and stay tuned for our daily news about STAKER project and Don't Forget to Re-Tweet, Like and share the article in different Social Media Channel a simple task but will have a great impact on STAKER Crypto Awareness Campaign.
FOLLOW ME ON TWITTER!
https://twitter.com/BitNewsPortal