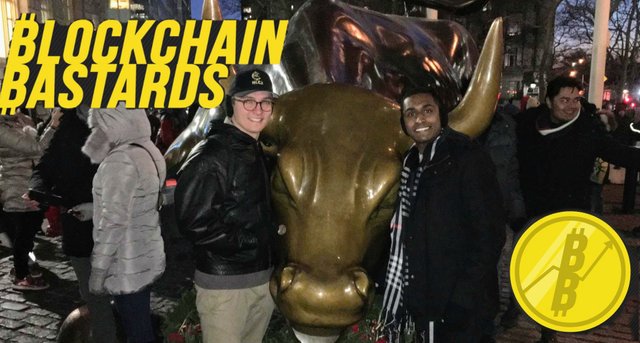 What a fantastic 2018 it has been for these Bastards.
A mere four months since we started our journey to #DecentralizeEverything and yet it feels like a lifetime.
After recklessly quitting our jobs/dropping out of school at the peak of the market, we have slept on countless floors, missed about 45% of our flights, and generally experienced homelessness in every corner of this great nation.
Among our destinations: NYC, Washington D.C., Seattle, Miami, Los Angeles, and most recently, Puerto Rico.
Washington D.C.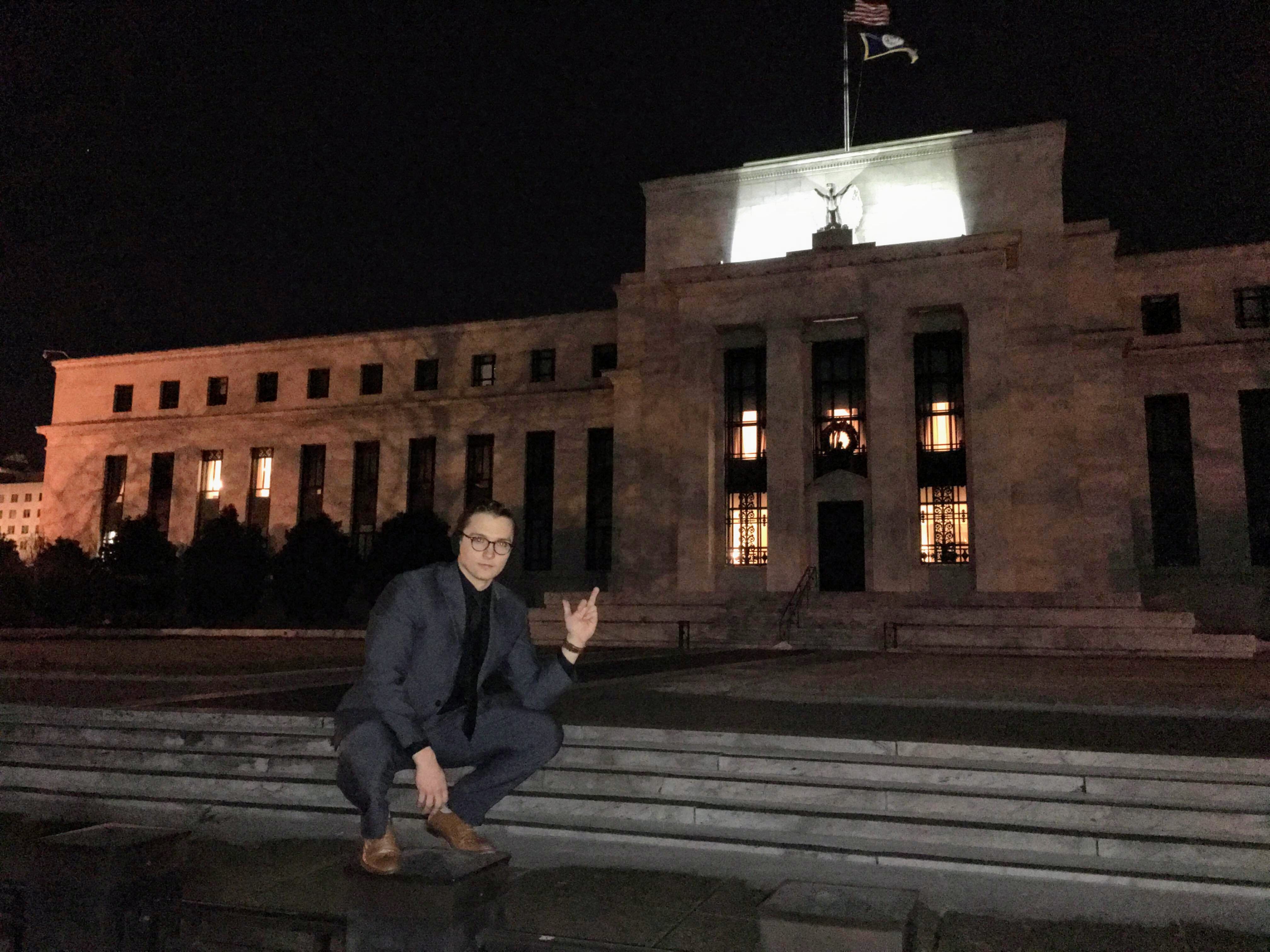 After experiencing the coldest NYE ball drop in a 100 years, we were treated to a monstrous winter storm that shut down the airport minutes before our flight. Not being an easily derailed group, we caught a train south to a functional airport.
This act of God allowed us to snag a lovely pic in front of our favorite malevolent central bank. Sorry, Janet Yellen!
Seattle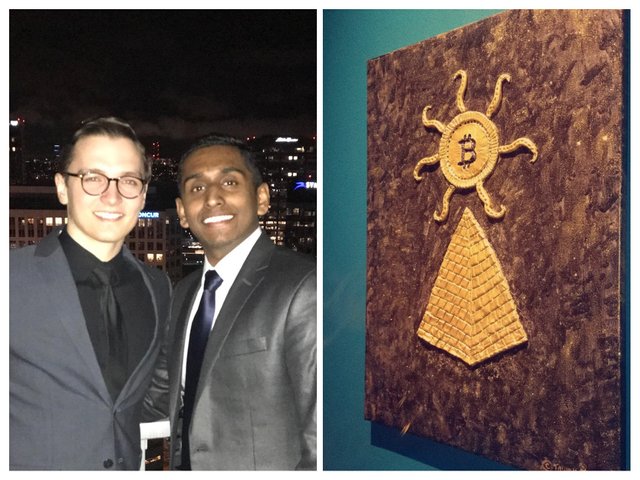 By no small miracle, we were able to make to Seattle for the official Futurocoin (a crypto alternative to Facebook) ICO launch party.
This was an especially joyous occasion as it coincided with the implosion of USITech. We celebrated the fall of this notorious pyramid scheme with a nice view of the Seattle skyline.
Las Vegas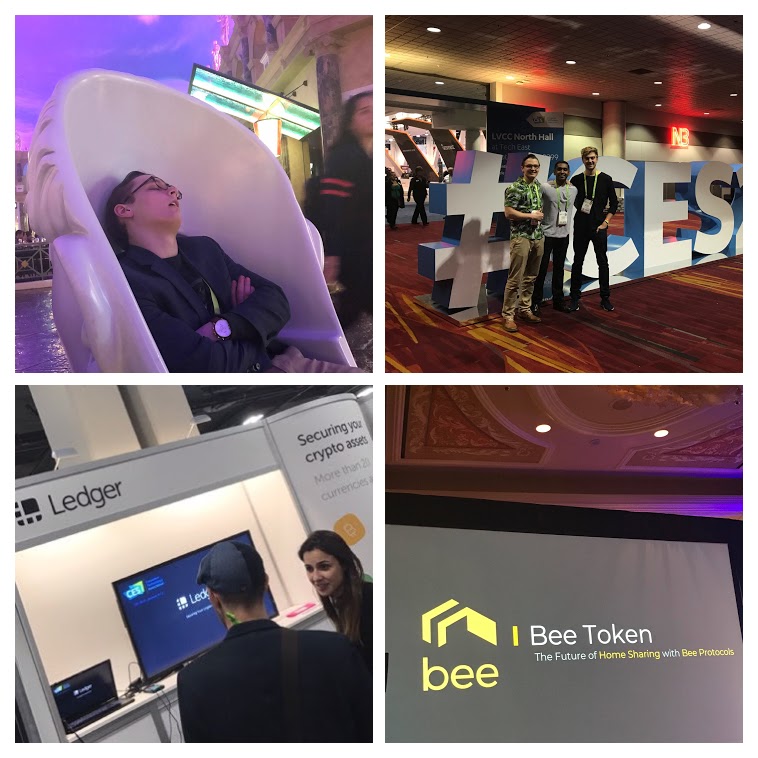 Vegas related mishaps included but are not limited to:
-Sleeping for a full day in the Portland airport after realizing our tickets were for a flight that left 24 hrs previous
-Having our AirBNB bail on us during Vegas' busiest hotel week of the year
-Being forced to pay for a Best Western penthouse 40 minutes outside of the city to avoid sleeping on the streets
-Sleeping on the streets
Needless to say, our first conference trip went flawlessly.
CES 2018 made it all worth it by charging an additional $200 to attend their blockchain specific forum.
There we shilled our bags to a variety of development teams and industry members. Our favorite ICO was without a doubt the blockchain replacement for Airbnb, Bee Token. For obvious reasons, we are looking forward to having our sleeping arrangements secured by smart contract.
We were able to catch up with the VibeHub team the day after their Binance listing. Having just gone from 2 cents to 2 dollars, they were in a very good mood and even featured one our bastards in the tweet below:
Here's a user expereincing the @VibeHubVR platform at C.E.S. He shares his feedback on VR/AR and cryptocurrency. For more information visit https://t.co/kQ2ttzjXUy #vibe #vibehub #crypto $vibe pic.twitter.com/Mh4uguvnOZ

— VIBEHub.io (@VibeHubVR) March 3, 2018
The Ledger team was also in attendance and allowed us to snag a few black-market/sold out on Amazon hardware wallets.
Miami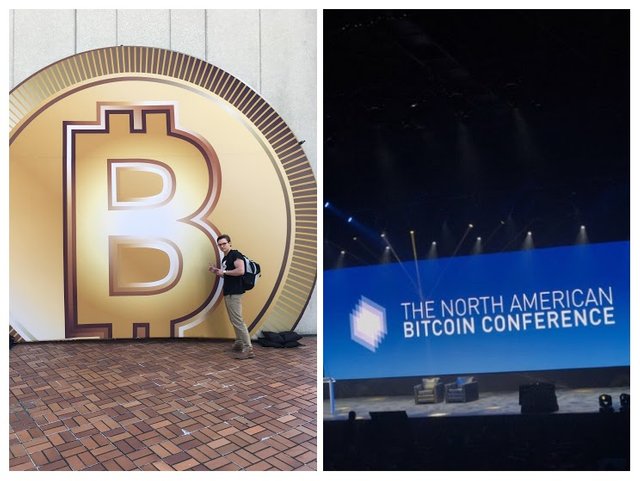 BTC Miami was a wild time.
After being unable to find tickets/spending the first-day inspecting event security measures, we were able to get one of our bastards inside to investigate.
Besides the HODLer Lambos parked outside the hotel, event highlights included:
-Watching Tai Lopez hop the rope into VIP at the after party
-Letting @crypt0 's squad rip fat clouds off of our vape
-@JeffBerwick simultaneously pounding his chest and lighting up a cig after we informed him he turned us into libertarians
Los Angeles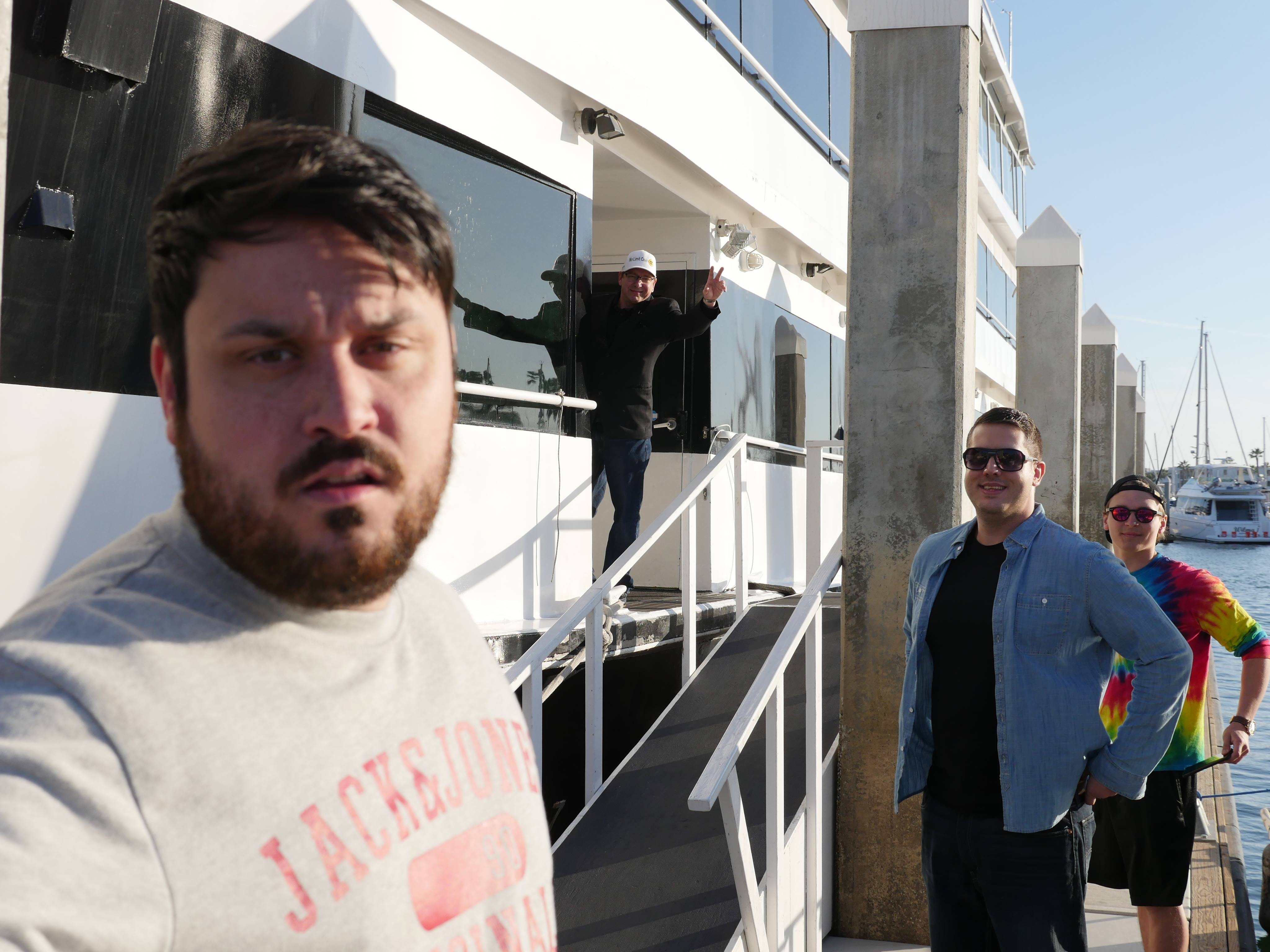 Next we stopped by Venice beach for a crypto meet up with some of our favorite influencers.
Many laughs were had with @CryptoDaily, NLC2 CEO Rafael Groswirt, Nicholas Live and They Call Me Dan (@dhenz).
We even toured a boat to potentially rent for the next crypto meetup, fingers crossed!
NYC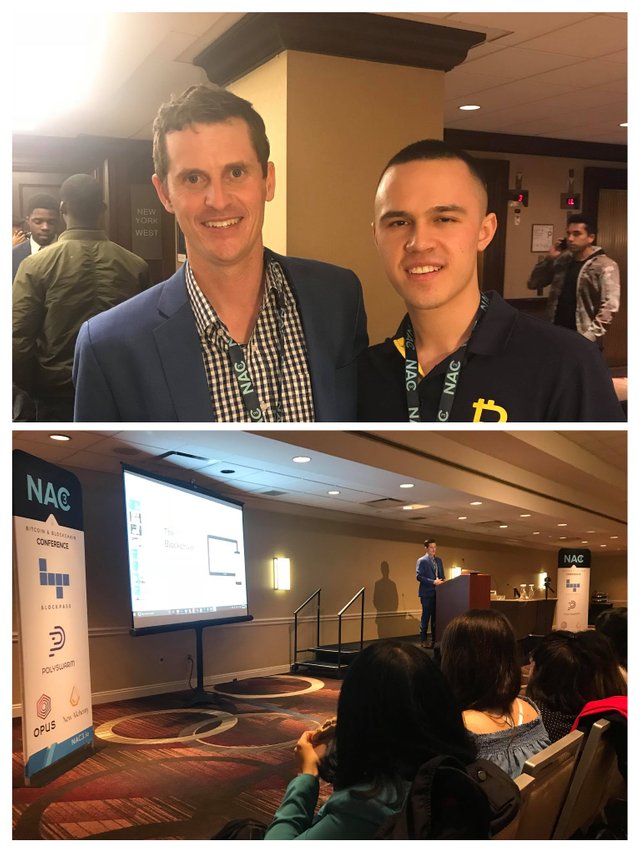 NYC was slightly warmer the second time around, which isn't saying much. Luckily the networking at the NAC3 conference was hot, hot, hot.
At the after-party, we had the pleasure of getting to know @Davidhay (Crypto Riot) a little better. We discussed NLC2's crypto fantasy investing platform, the dynamics of anarchy and his experiences at Burning Man.
Puerto Rico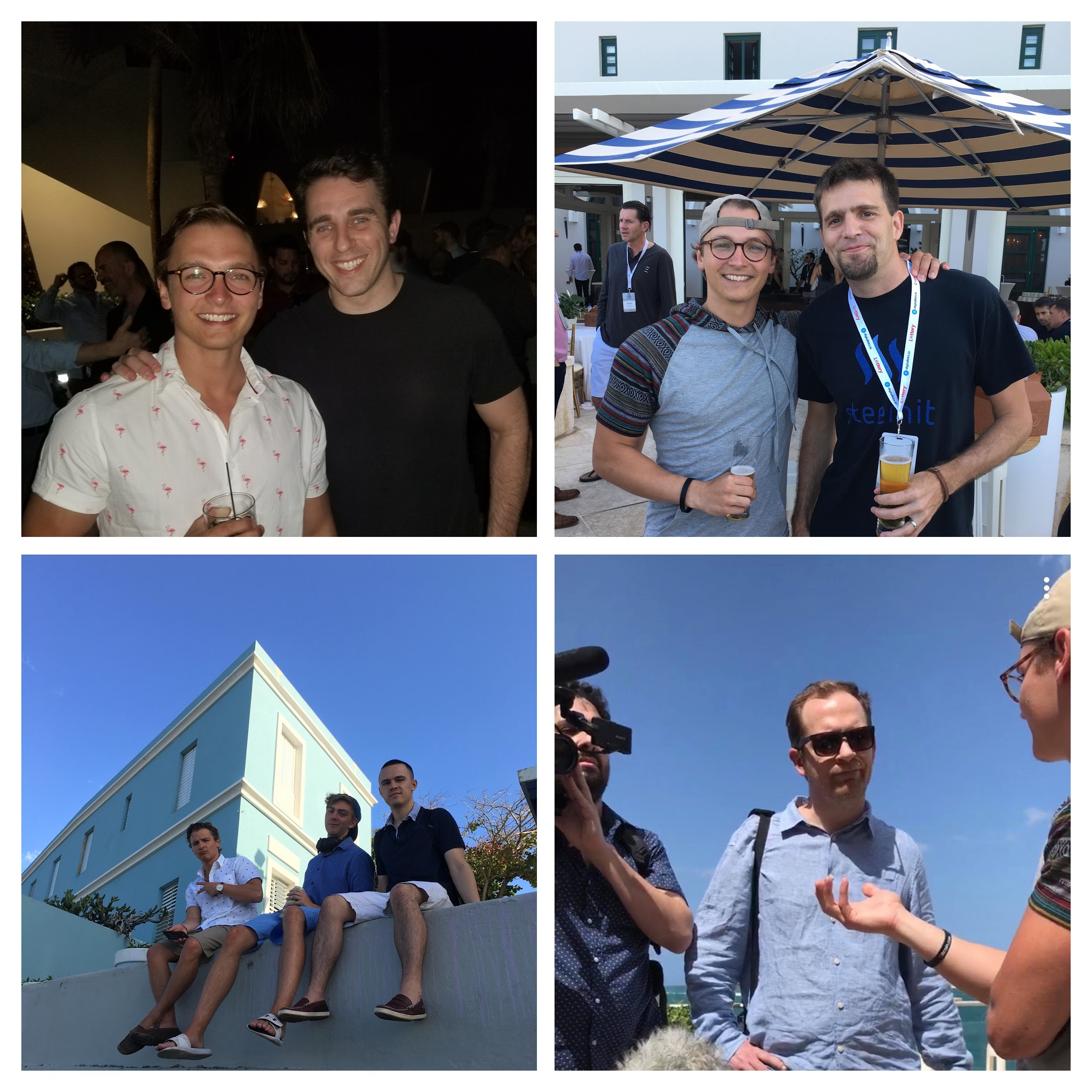 Puerto Rico was without a doubt our favorite stop, only partly because NLC2 was kind enough to sponsor us (thanks guys).
As paid shills, we went to work doing what we do best: pumping our bags (industry networking)
(Disclaimer: NLC2 is actually an amazing company with a great product, read our last article for the details)
The SparkNotes of our networking escapades include:
-Getting crypto twitter god Anthony Pompliano (@APompliano) to give us a follow (hopefully, he'll RT this article)
-Getting #9 Steem witness @LukeStokes to follow us on Steemit (hopefully, he resteems this article)
-Getting in contact with a fellow U of M grad who happens to be a Puerto Rican crypto lawyer (hopefully, he gets us
out of capital gains tax)
-Getting interviewed for a documentary on the Puerto Rican crypto scene (hopefully, we weren't too tipsy from the open bar)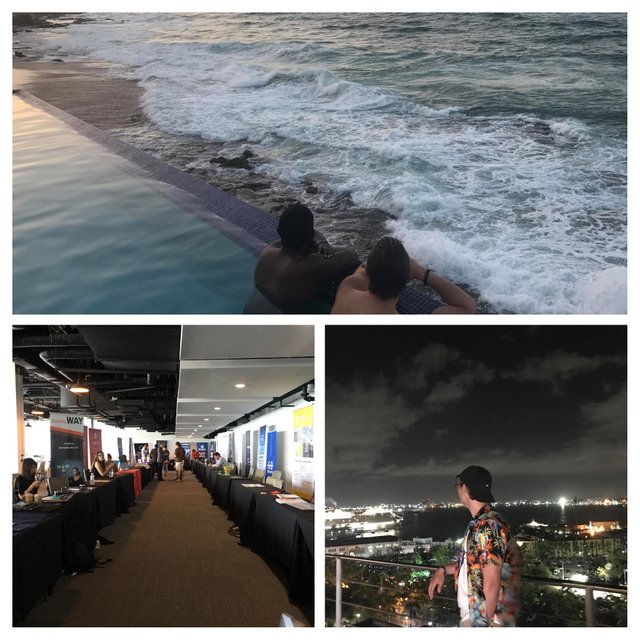 When we weren't sneaking into the event hotel's infinity pool, we were enjoying the views from the top of EOS team member Brock Pierce's house (which happens to be a 19th-century Masonic lodge).
In addition to the $1,000,000,000 that Brock donated, his other gifts to Puerto Rico include "Great Gatsby"-ing out his place every night for industry event after-parties. Here we were treated to fresh sushi prepared by a retired Olympic athlete, 200-year-old plumbing and Brock's unique taste in art.
For those interested, the passwords required for entry to these parties included: "ducks fly together," "she sells seashells", "Unicorn" and "pony boy."
By attending the Blockchain Unbound and Coinagenda events, we were exposed to the many exciting things underway on the island. We believe that the crypto utopia being created will not only be good for blockchain but will bring badly needed assistance to PR's hurricane-battered communities.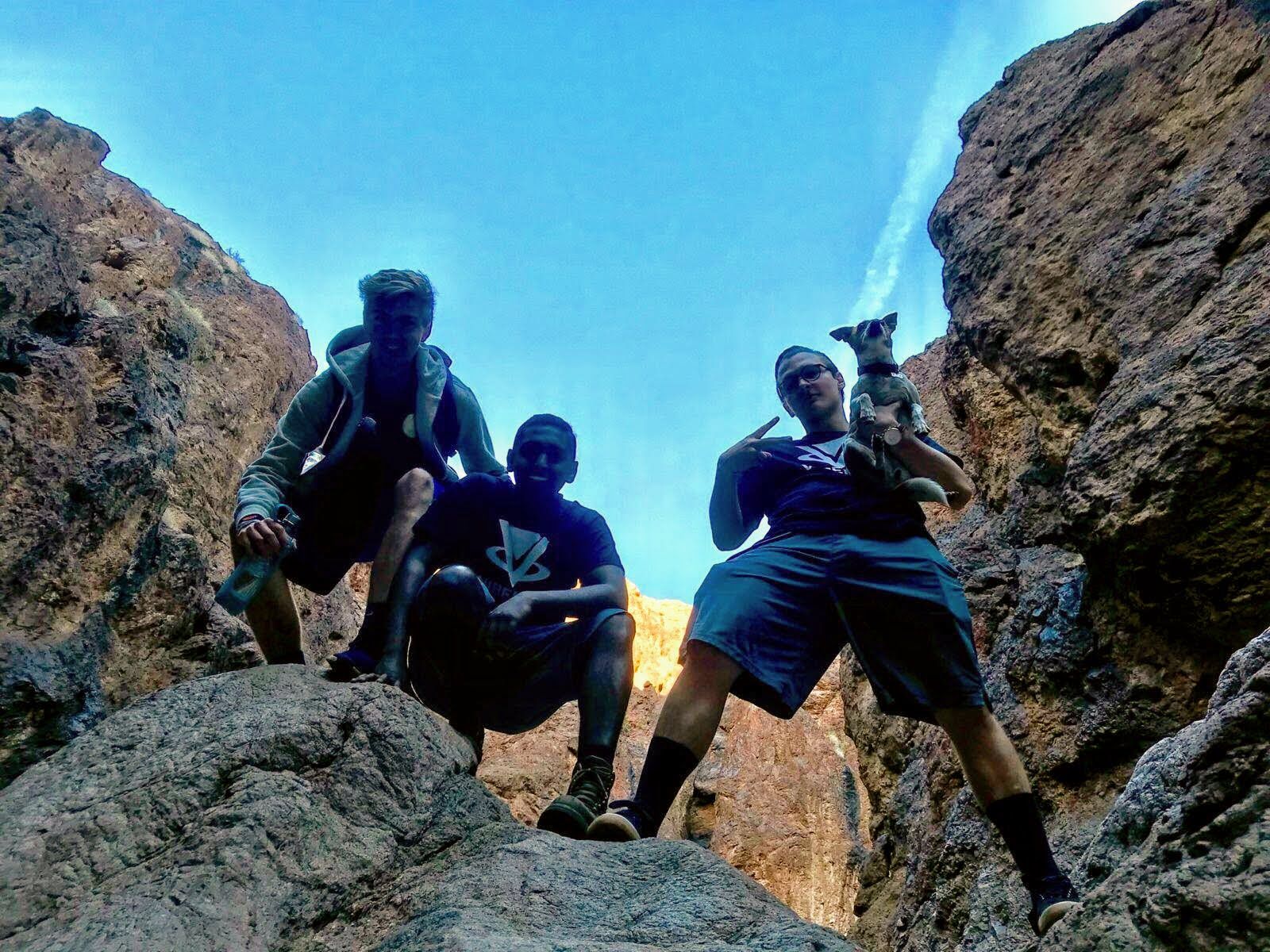 Well, that about covers our travels so far. At this point, we would just like to express how grateful we are to be apart of this community.
Among the scam ICO's, pumpNdumps, and Bitconnects is a group of the most creative, empathetic, and determined freedom fighters the world has ever seen.
On our journey, we found projects revolutionizing just about every industry you can think of.
From money to medicine, to social media, it is clear that blockchain technology will help solve many of the problems that plague our centralized society.
See y'all next month at Consensus!
Peace, Love, Anarchy,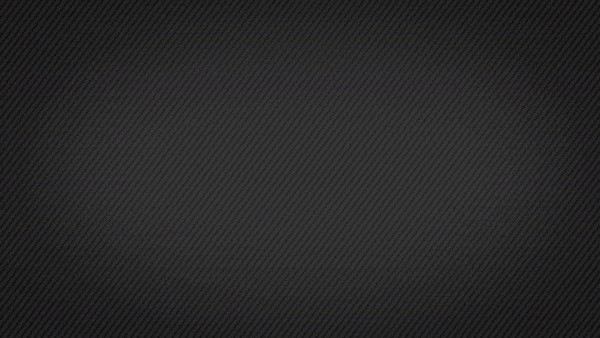 #DecenetralizeEverything
Dtube: https://d.tube/#!/c/bchainbastards
Twitter: @BchainBastards
Instagram: @BlockchainBastards https://www.instagram.com/blockchainbastards/?hl=en
Youtube: @BlockchainBastardsTeam
Email/Gmail: @BlockchainBastardsTeam