CRYPTO BASE SCANNER SIGNALS FOR PROFIT WITH ZIGNALY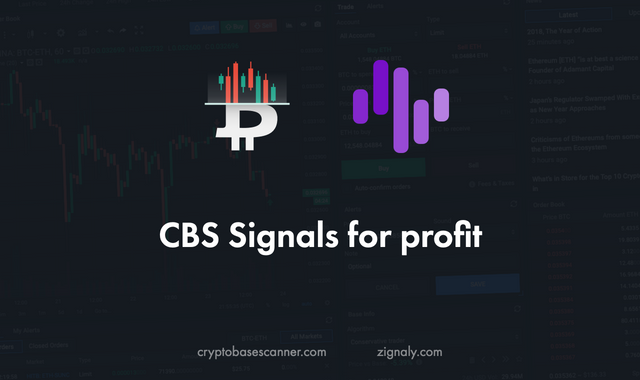 The cryptocurrency sphere is constantly growing at a speedy pace. This fact is recognized by the developers of both Crypto Base Scanner and Zignaly as they decide to team up for more efficient digital coin trading and better investment growth. With this new collaboration, investors and traders can take advantage of the smart technological features of the two applications such as in determining entry positions thru the use of signals and identifying close positions by setting up rules for trailing stops.
If you want to know how Crypto Base Scanner and Zignaly peform, just take a look at these statistics generated by Zignaly.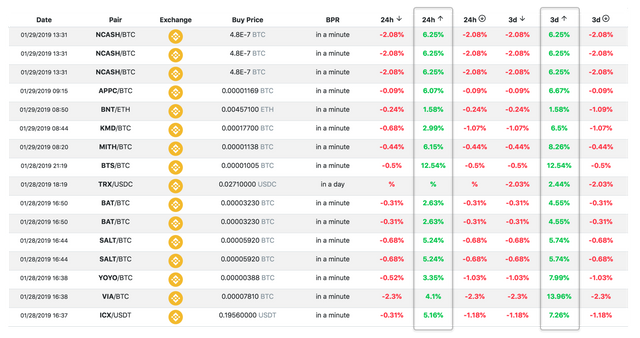 Crypto Base Scanner sign up and Zignaly sign up
How did it start
Since the launch of Crypto Base Scanner in December of 2017, we have seen hundreds of users benefit from the simplification of the process of QFL trading. By providing an automatic analysis of crypto prices and by offering notifications for profitable levels of entry in the market, CBS has significantly helped traders make better sense of the complex information that is found in their chosen cryptocurrency exchange platforms.
Crypto Base Scanner did not stop evolving to respond to the needs of traders. Its developers continually listened to the feedback provided by their subscribers and worked hard to improve Crypto Base Scanner's interface, system performances, filter functions, and algorithms, among others. Partnerships with other players in the blockchain technology and cryptocurrency industries have also been formed to keep progress in internal operations, extend reach in services, and intensify confidence levels among users.
The most recent partnership that has been forged was between Crypto Base Scanner and Zignaly. This collaboration is considered to be another step forward in making crypto trading a lot more convenient and accessible to busy professionals and even to the neophytes in the crypto world.
As Henry Ford once said, "Coming together is a beginning, staying together is progress, and working together is success." Crypto Base Scanner and Zignaly's partnership definitely does not characterize weakness of either of the two technological inventions. Instead, it recognizes the potential of using both applications to improve the existing arena of crypto trading. By coming together, both CBS and Zignaly envision to see more people enter the crypto space and experience the exciting adventure of growing their assets day after day.
How can the collaboration between these two technological players level up your trading game? Why would Crypto Base Scanner users need Zignaly? And alternately, why would Zignaly subscribers want to have the CBS features?
On one hand, Crypto Base Scanner is a trading tool that uses smart and innovative technology to provide real-time analysis of cryptocurrency markets and to identify respected support levels. It uses unique algorithms to notify traders when a specific coin market has reached a percentage drop from the base level which could serve as their basis for buying or selling coins at a profitable margin.
On the other hand, Zignaly is basically a platform for day trading cryptocurrencies. It is more commonly known as a crypto trading bot in the blockchain sphere. If you are new to the crypto world, you have to know that trading bots have been developed with an aim to ease the burden of traders in seeing patterns and understanding extremely complicated chart movements. Trading bots also use intricate algorithms in order to process the entry and exit of particular trades based on a set of programmed rules and strategies.
Zignaly offers a position-based trading terminal where you can set your own trading strategies based on your profit targets, your own trailing stop loss percentage, and your other desired options. One of its best features is your ability to connect the Zignaly's TradingView account with external signal providers.
Indeed, Crypto Base Scanner and Zignaly complement each other's operations and features. CBS is merely an application that presents an insightful analysis of market prices and clear evaluations of profitable entry positions according to your preferred drop percentage from base levels. However, the action of getting into the market is not provided by CBS. Actual trading has to be done manually with CBS only acting as your guide.
If Crypto Base Scanner gives you an easily perceptible insight about what is happening in the market, Zignaly then offers you a chance to take part in a profitable venture by working on the trades for you even during your deepest slumber. As a trading bot, it gives you a convenient way of playing with your digital assets without compromising your daily responsibilities. It gives you the power to control your own time while allowing the bots to respond to signals and other technical indicators that you have carefully set at the beginning.
How does it work
Since you can connect your Zignaly's account with an external signal provider, then you can definitely connect your own CBS account with Zignaly. Once you have set it up, Crypto Base Scanner will be automatically configured to send signals to Zignaly once a specific coin market has broken a support level with a percentage that is equal to the median drop level.
If you are still perplexed and woefully wondering how these two applications work together, then consider this scenario:
If the BTC-USD price drops 4% below a support level, then Zignaly will receive the first signal at 4% below the support level. If the ETH-USD price drops 5% below a support level, then Zignaly will receive the first signal at 5% below the support level.
What's good with Zignaly is that you can also set some extra percentage drop so that you would only buy when it drops a certain percentage below the median drop percentage. You could also set your Zignaly account to accept sell signals on auto mode so that your close positions can work according to the set algorithms.
With Zignaly and Crypto Base Scanner, you are given a chance to take advantage of scientifically designed technologies that can grow your crypto coins from day trading. Both companies promise to only offer extensive help to crypto traders and investors by lifting up the burden of manually evaluating market movements and joining particular trades. With these applications, you get the power of time and knowledge that would ultimately make your crypto trading venture a success.
If you are ready to ignite the fire of your cryptocurrency trading adventure, then sign up for a Free 30 Days Trial. Together, we will keep the flames burning!