INTRODUCTION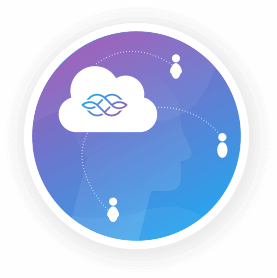 First of all, Cloud computing is not some mystery science that is out of scope for any learned man because most of the activities we love to do everyday relies on it to function in a way that is expected and these activities range from sending an email online , streaming videos or playing music online or even playing games with your friends or sharing pictures with them online. Cloud computing is the technology that is making all these things possible behind the scenes.
However, the benefits extends beyond that as the call for businesses to manage and secure their data gets some new dimension with the little resources at their disposal, cloud computing seems to be answer to all their numerous concerns of how, where and who will manage their data in a safe and secure manner at a minimal cost.
Many companies such as Google, Amazon and some few others have proved themselves to be equal to the task of providing a stable cloud service platform to their customers but the public is asking for more including individuals and SME. So, why are they asking for more.
To answer this question properly, lets take a look at a company that is bringing a new perspective to the cloud business, One of the few company is IAGON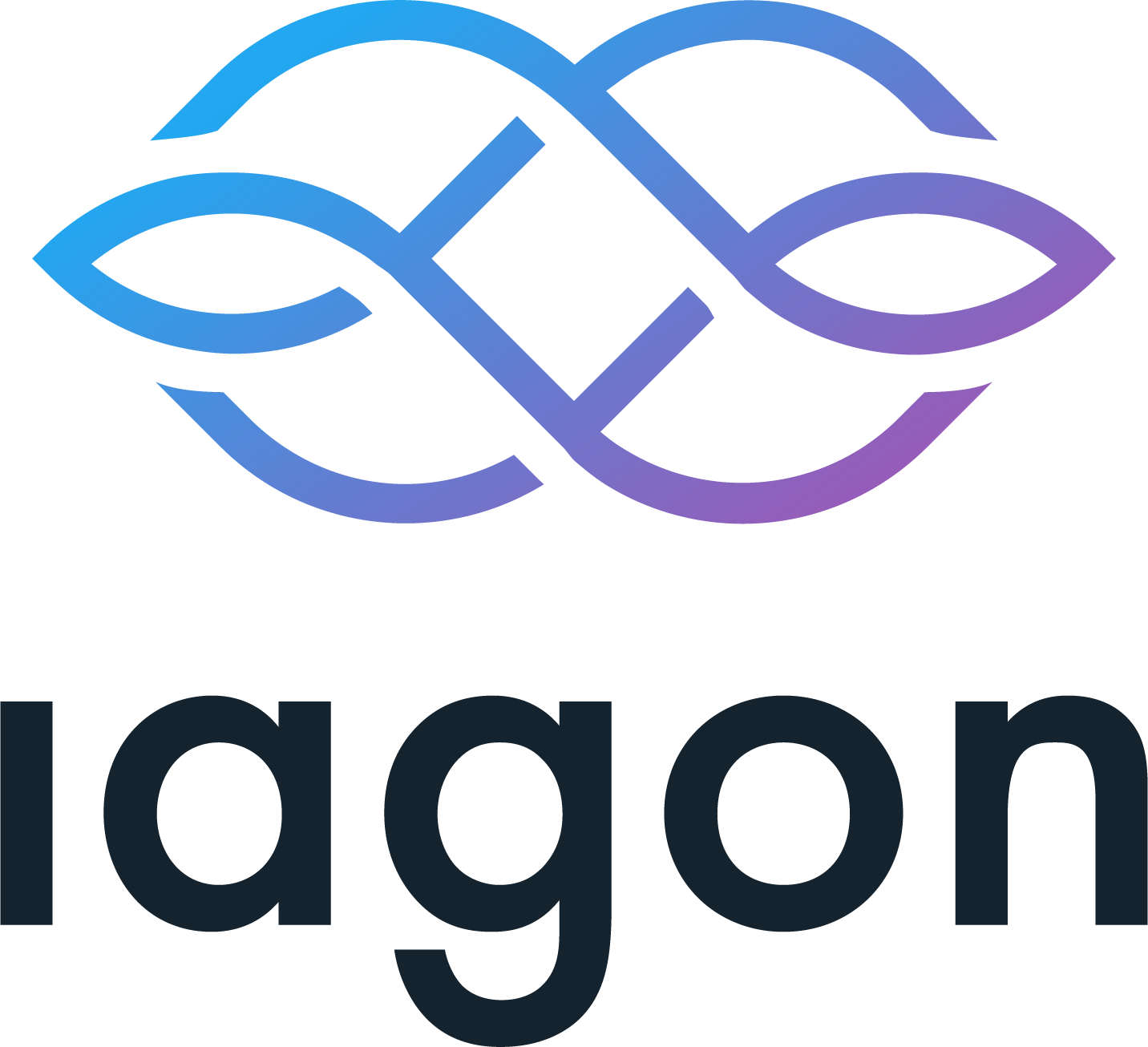 WHO IS IAGON??

IAGON is a decentralized open-sourced computing and storage service platform that take advantage of the storage capacities and processing power of multiple computers via a decentralized blockchain network.
This network of distributed computers will be made to work as supercomputer that has the ability to compute and analyze a vast number of data that is powered by artificial intelligence and blockchain technology.
WHAT IS THEIR AIM?
Their major aim is to provide small companies and individuals with efficient storage capability and ability to process services at a cheaper and affordable rate while offering better security.

THE STATUS QUO
DEMAND VS SUPPLY IN CLOUD BUSINESS
From elementary economics, we know that when demand is more than supply, the price of a commodity goes high ineveitably and that is why today because of the oligopolistic nature of competitors in the cloud service industry has create a large gap between the pricing system and the quality of service provided.
IAGON platform will offer support for companies and individuals to do large scale research especially in the field of Artificial Intelligence and Big Data Analytics. This will ultimately encourage more room for innovation while maintaining a healthy competition.; invariably the cost of managing your data reduces considerably because there is capacity to build it on their own
THE CALL FOR BETTER SECURITY
Everyday we hear of a security breach calls for a better method to ensure the security of our data. IAGON knows that to achieve this we need to adopt a system that is intelligent and makes his own decision on its own, decentralized; meaning no single point of control while implementing the SHA256 encryption protocol.
So, IAGON system are made to undergo an active learning process to optimize its decision making process. This is known as Reinforcement learning.
To explain further, the IAGON secure lake architecture based on the unbreakable blockchain technology ensures the security of its user by slicing files into smaller bits and storing them at different points on the blockchain. Hackers have a hell of work cracking it and even if the information system is breached; IAGON's technology ensures that your data and files cannot be accessed, deleted or modified in anyway.
IAGON is building a system that support all of these functionalities.
Apart from this Iagon will provide the users with flexibility and freedom of choice

THE IAGON FRAMEWORK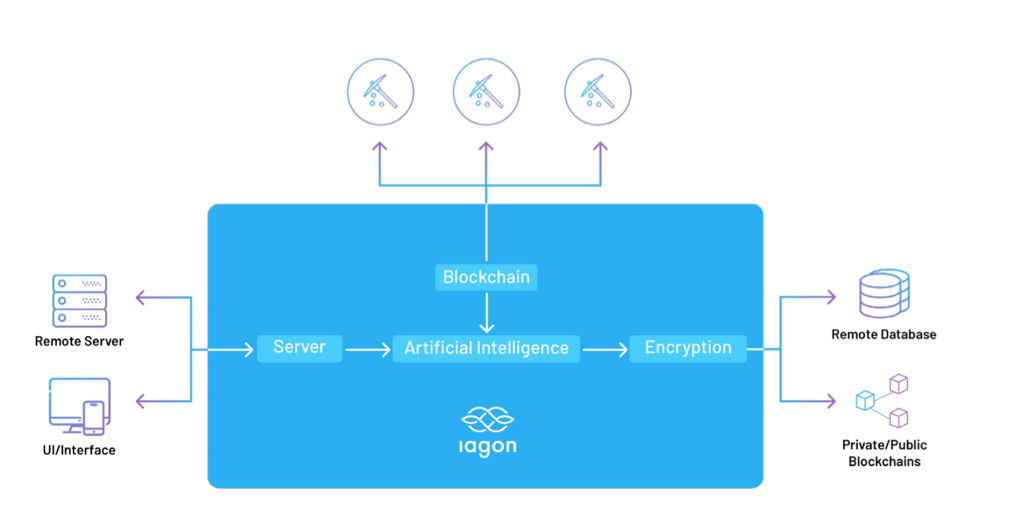 The 3 main player in the IAGON framework is
The IAGON blockchain itself

The Miners

The Users
THE IAGON BLOCKCHAIN
The AI-tracker sits at the center of the IAGON Smart computing grid and it helps in the allocation of resources to different nodes on the blockchain. It collects historical data on each nodes; based on this it allocates resources differently based on CPU processing power and available memory.
THE MINERS
On IAGON Platform, Miners have a choice to choose between ethereum or tangle in processing computational task, secure and store their files or pay and receive Iagon tokens for cloud services.
IAGON offers multiple blockchain support.
Meanwhile, Iagon reward miners based on proof of variance, which means that the more the data they processed, the bigger their incentive.
THE USERS
The contributors are rewarded in IAGON tokens while the users trying to use the Iagon platform can buy the Iagon token since they plan on running a token economy.

USE CASES
IAGON can serve as a one stop solution for the following reasons
· As a cheap, secure and decentralized-cloud storage facility
· A platform for smart contract creation
· Offer support for research in Artificial Intelligence and Big Data Analytics

HOW IT WORKS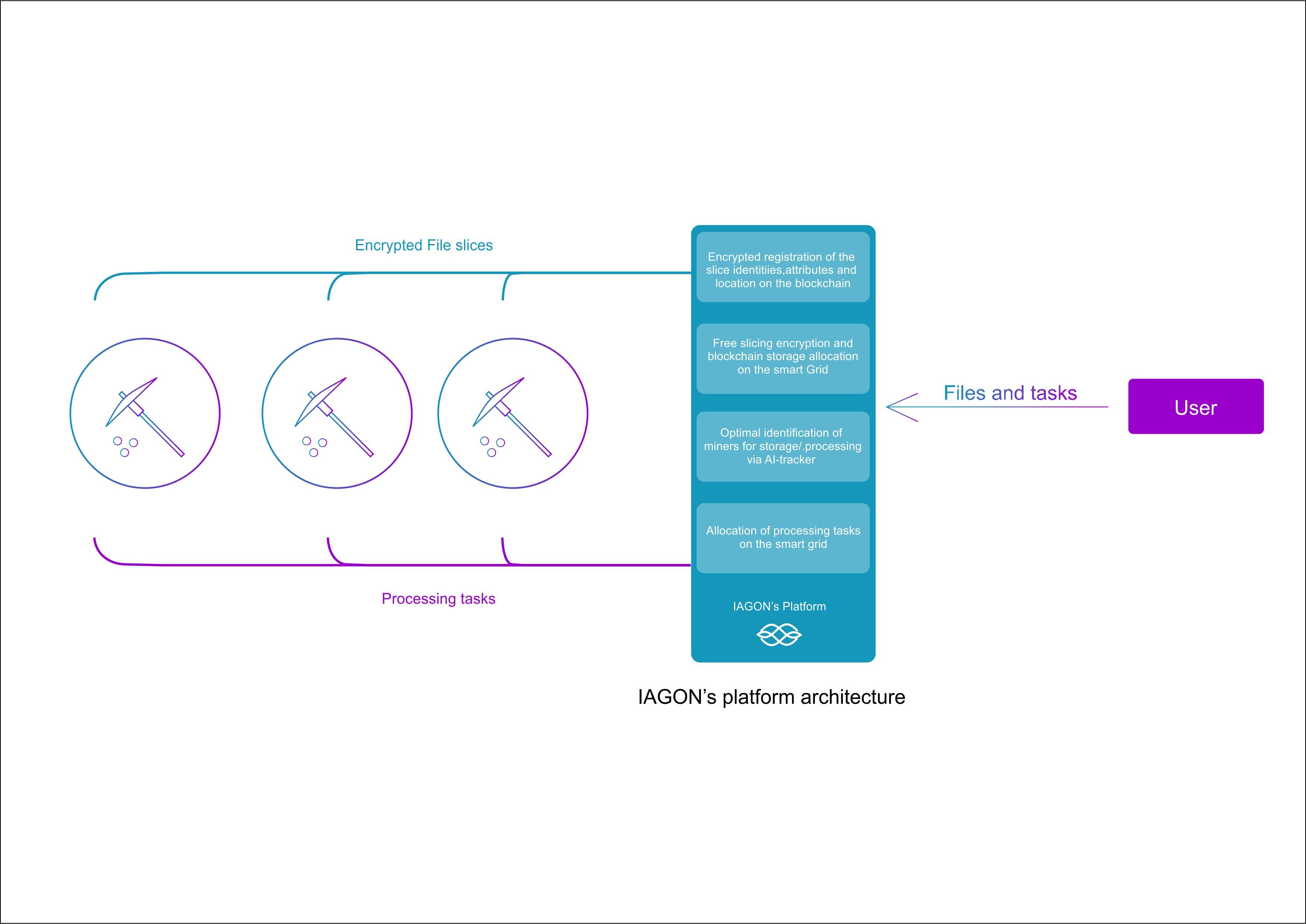 IAGON operates an open token economy. Transfer of value will be in the form of the IAG tokens
Four simple steps
Computer owners, miners and data center owners shares the capabilities of their machines with IAGON.

They receive free IAG tokens in return if approved which can be exchanged to fiat.

Users buy IAG tokens to use the IAGONS platform services making the best decision via the help of the AI-tracker user interface.

IAGONS distribute rewards based on Proof of Utilitarian Work (PoUW) to the service providers.

TOKEN METRICS
Ticker Symbol : IAG
Total Supply : 1 000 000 000 tokens
Token price : 0.12 USD per IAG at 50% DISCOUNT offer
Total Crowdsale Supply : 500 000 000 tokens
Crowdsale started on July 7th and will last for 30-60 days

MEET THE TEAM

CONCLUSION
Past records of attack reveals that there may still be some loophole in the present system. It ia just a matter time before they begin to show up. Therefore the question is should we keep exposing our data to more risk?
Obviously you dont want to wait for such to happen, so why not act today and put your data on a technology that offers two layers of protection for your data.
IAGON through the help of AI technology is assembling a machine that can actively identify attacks and quickly prevent it from stealing or modifying our data.

USEFUL RESOURCES

PARTNERS

USEFUL LINKS
Link to Contest

All images are gotten from IAGON Website and IAGON Whitepaper

Link to my twitter post
iagon2018