Meet StepChainStepChain will reward you for every step you make, sounds exciting isn't it?
Let us tell you how it works, all you have to do is Install StepChain on your mobile device
Walk Few steps
Check your wallet

FOR EVERY
LIFESTYLE StepChain is for EVERYONE.
Even if you go for a small jog or you're simply doing your daily activities like heading to the gym or walking to work.
WE REWARD YOU!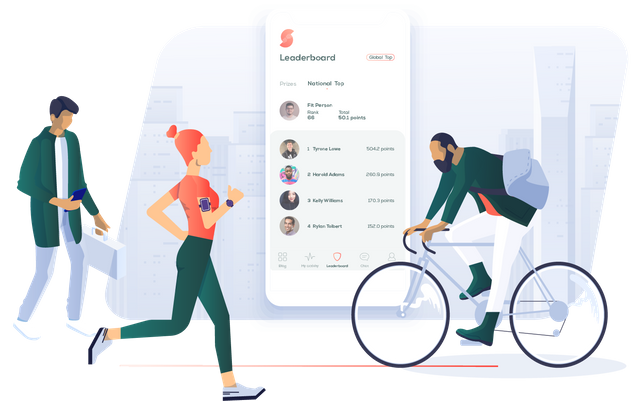 WHY StepChain ?
The technology behind StepChain
StepChain is a fitness initiative from all around the world powered by the blockchain, built on the blockchain and funded by active "activists" in the blockchain community who happen to share the same interests as us, empowering fitness by using technology.


STEP- a new crypto currency
We reward you with STEP coins, since the application is built on the blockchain and the blockchain has given us a crypto
currency system that is working well, we can now reward any StepChain user instantly without the difficulty of transfers
and paperwork. It works automatically due to a digital smart contract that is EASY, RELIABLE and SECURE.
Our reward system consists of calculating the steps you make and the calories you burn even if it is a simple activity such as walking to work.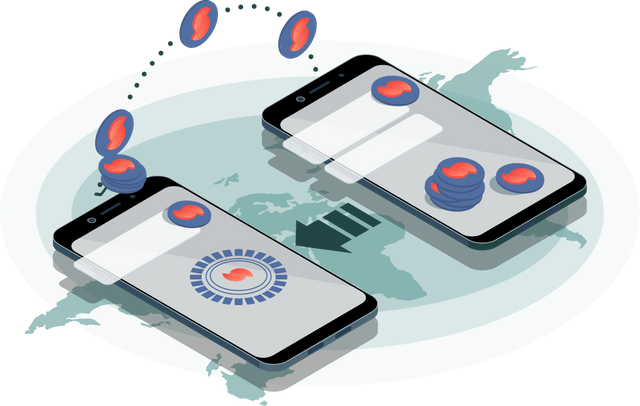 Anticipated Features
Donations
Give away your STEP coins and help reduce obesity around the world – Q4 2019
Prize Exchange Center
An enhanced way for everyone to exchange their STEP coins for items
Challenges
Challenge your friends & win additional STEP coins – Q1 2020
IOT
5G adaptation - Q1 2021
APP FEATURES FUNCTIONALITIES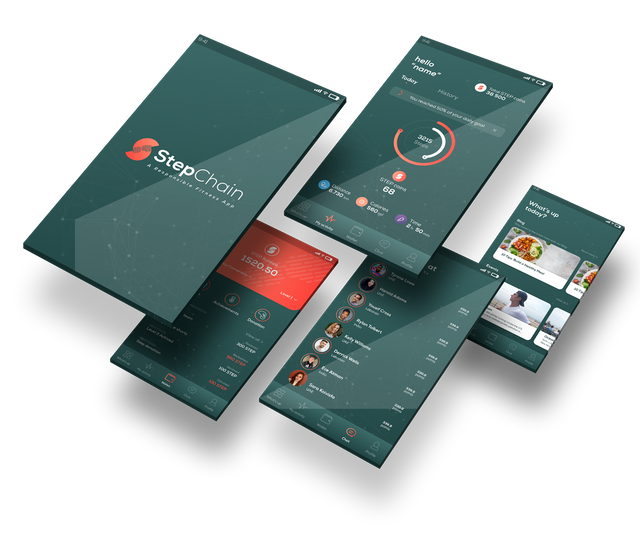 Instant Rewards Walk and Earn STEP coins
Activity LogTrack your progress, and how StepChain is improving your activity
Wallet
Check your balance and manage your STEP coins
Competition
See how you compete against the StepChain community
Native Integrations
App can be linked to Google Fit and Apple Health for better tracking
Socialize
Join the StepChain Community, chat, share stories and encourage each other
StepChain MODELS Fremium and Premium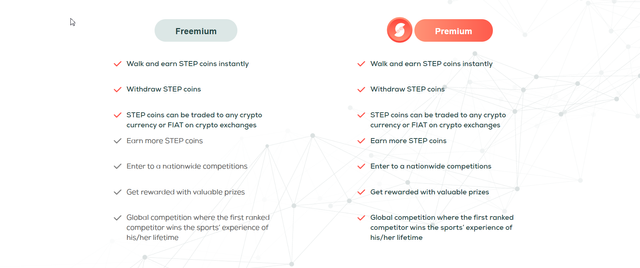 Freemium
Walk and earn STEP coins instantly
Withdraw STEP coins
STEP coins can be traded to any crypto
currency or FIAT on crypto exchanges
Premium
Walk and earn STEP coins instantly
Withdraw STEP coins
STEP coins can be traded to any crypto currency or FIAT on crypto exchanges
Earn more STEP coins
Enter to a nationwide competitions
Get rewarded with valuable prizes
Global competition where the first ranked competitor wins the sports' experience of his/her lifetime
Premium users EARN STEP COINS FASTER
Automatically, the Premium user in StepChain earns; double STEP coins for the same activity, in addition we will be
introducing a bonus scheme to encourage additional activity and incentivize our Premium users to enhance their fitness level. Eventually, the Elite of our competition system can earn up to 1 STEP coin per step of activity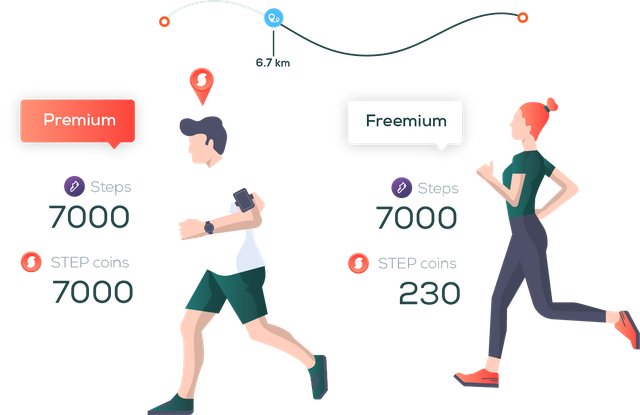 ![qTVKpK9c.png(

)
Another advantage of becoming a PREMIUM subscriber is participation to StepChain PRIZE POOL The prize
pool contains many attractive items and experiences, supplied by our sponsors or from the StepChain
ecosystem.
Team Execution
Having offices in Dubai, Beirut, London and New York and with the support of the smart and
creative execution team who took over all the tactical details from writers, editors, graphic
designers, developers, marketing managers, marketing coordinators and specialists. They are team players.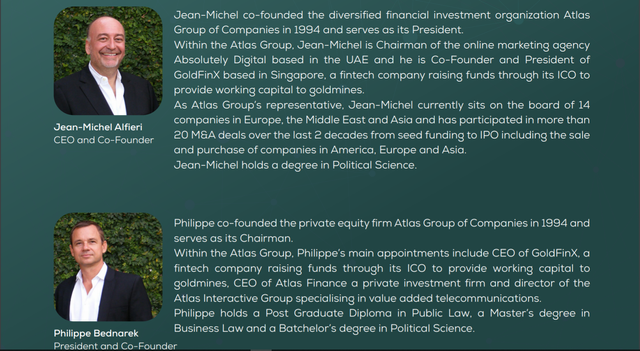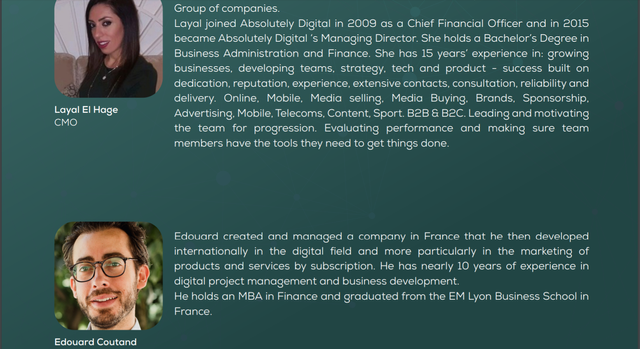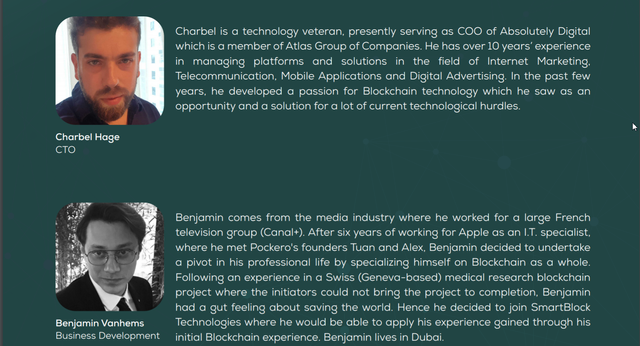 RISK FACTORS GENERAL STATEMENT
Early Buyers in any operation are usually motivated to buy the cryptocurrencies with the hope the project becomes successful after it launches, which could in turn translate to a higher cryptocurrencies value than the original value they purchased them for.
Before acquiring StepChain, it is recommended
that each participant carefully weighs all the information and risks detailed in whitepaper
WITE PAPPER - https://stepchain.net/images/whitepaper.pdf
Official company links!
https://stepchain.net/
https://t.me/stepchain
https://www.facebook.com/StepChainapp/
https://www.linkedin.com/company/stepchain/
https://www.instagram.com/stepchain_app/
https://www.youtube.com/channel/UCpBMzhJQ2pPglpyoGZvpieg
https://steemit.com/@stepchain/
https://medium.com/@stepchain
https://friendster.io/StepChain
https://www.reddit.com/r/StepChain/