Gemini exchange (Gemini Trust Company' LLC) which is based out in US allows customers to buy/sell and store digital currency. This exchange is founded by Winklevoss brothers (Cameron and Tyler winklevoss). It's the first licensed exchange in US in which users can buy currency through fiat currency and other Cryptocurrency as well.
This exchange is operational in Singapore and I did trading through SGD currency. I deposited sgd currency after conversion and it takes one wokring days to process the credit and exchange don't charge for deposit and withdrawal.
Earlier they were offering trading for BTC (bitcoin) and ETH (ethereum) and Zcash but now they have added obe more digital Litecoin.
Trading for litecoin started from 16 oct 2018 and they sent an email as well to notify.
below is the screenshot of the email I received. since its one the biggest and reputed exchange so Litecoin listing might give an spike to its price.
image source- email received from gemini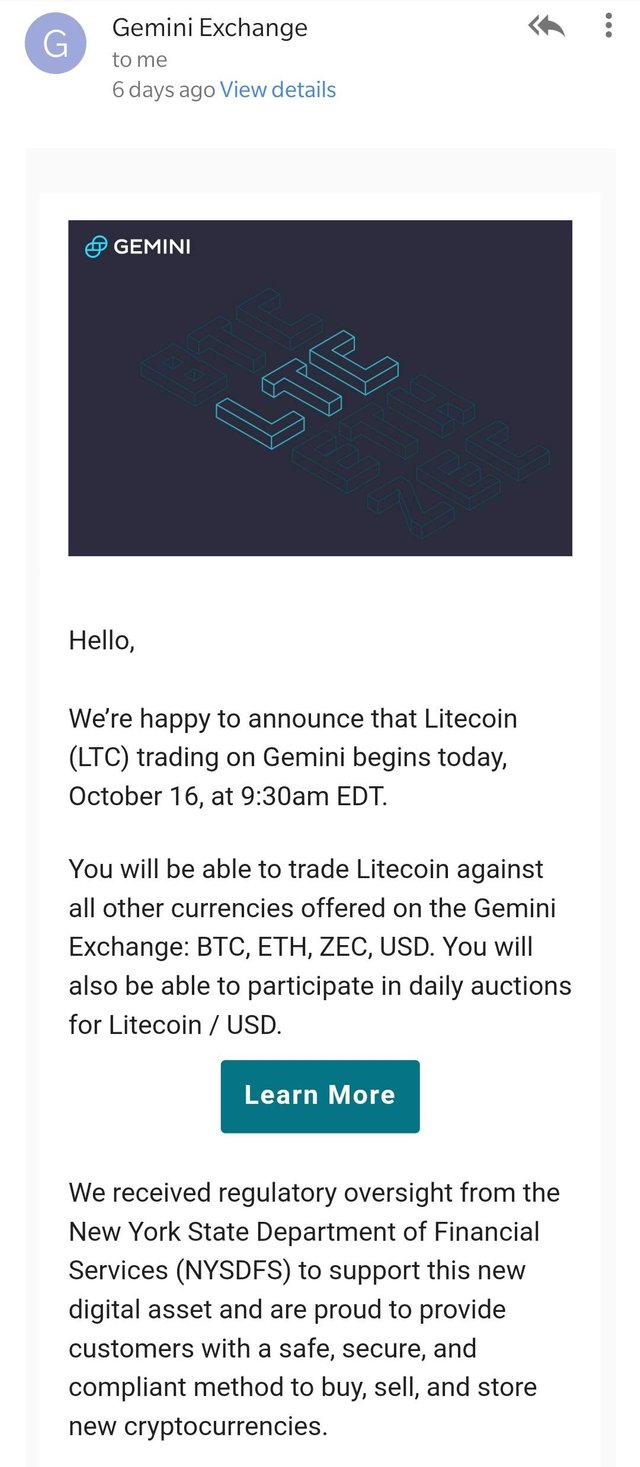 I hold few Litecoin which I purchased at a very high price as comlare to the current price so I keep an eye on its price. Hope in future we can see price hike in this. couple of months back litepay was introduced but it was failure and currently i am not sure if its working or not. Many people had predicted that after litepay we can see huge growth in this but it didn't happen.
hope to see some good and positive news for litecoin if Charlie the founder do something then we could make some money out of it.
HODL until then.
thanks for your time.
have a great time.
Posted using Partiko Android