GOLDILOCK: Offering a faster , more secure and efficient digital storage system.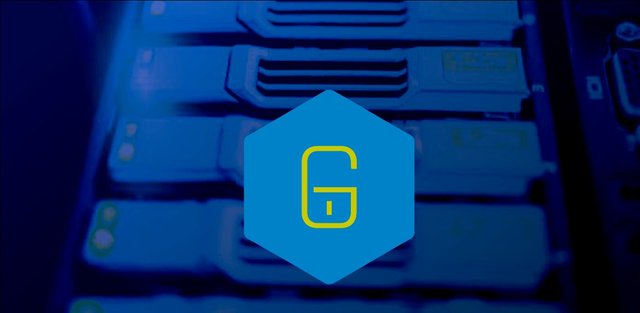 INTRODUCTION
Decentralized economy, blockchains, smart contracts, cryptocurrency are basically the "happening thing" now in major economies around the world. The economy is becoming digitized making it easier for transactions to be carried out securely.
Just like our fiat currency, the digital currency and assets of this new modern day economy needs a means of storage. They are of value after all. The wallets were designed to hold these assets on various platforms.
COLD AND HOT STORAGE


The cold storage (wallet) is basically a reserve to keep very large amount of sensitive digital assets. The current platform who use #HOT storage (wallet), have their accounts connected to the Internet which make them susceptible to cyber attacks. Cold storages are not connected to the internet. The assets are stored on memory sticks , thumb drives , paper or etched on a coin. This makes it impossible for hackers to get access to the assets because they are not in any servers.
Consider the cold wallet as a steel reinforced concrete vault that holds most of your life's savings and the hot wallet as an online account with funds for basic transactions. Hot or cold is up to the user to decide. But that does not take away the fact that both systems are flawed. * cold storage may offer security but does so at the expense of accessibility. When keys are randomly dispersed on storage media these media can be stolen, misplaced, or in the case where there are too many media containing fragments of the key, getting access would be difficult.*
Cryptosystems are here to stay and this means a more reliable and efficient and secure system must designed. This where GOLDILOCK comes in.



According to astronomers , the earth as a planet is in the #goldilock zone and this means that the planet is neither too hot nor too cold , it is just right!!! (That is before global warming though)
With this trivia in mind we have a concise view of what the GOLDILOCK platform is all about. Its a new blockchain platform that will change the way digital assets are stored copying the lines from the movie BLADE: "It is combining the strengths of the current storage systems and none of their weaknesses."

THE PROBLEM
Prior to the advent of GOLDILOCK, users had to choose between too "evils" : a cold storage that will be secure but expensive and difficult to access; or the hot storage which hackers can steal from. But with GOLDILOCK, its all going to change.

THE SOLUTIONS


The technology of GOLDILOCK is to ensure that even as they will be offering secure and efficient storage system for digital assets, there will be no trade-offs. They will deliver a unique key custody and data storage solution like no other.
Solution premise:
Users need to access their data or assets quickly and occasionally.
keys will be isolated from physical errors and human contact
The private keys will be readily accessible.

WHO IS GOLDILOCK FOR?
The services of GOLDILOCK is offered to both institutions, firms and individuals.
Consumers who seek a more secure platform with high accessibility to their private keys.
Institutions who are seeking to upgrade significantly their ability to provide a more secure and unique data storage solutions.
IMAPCT OF GOLDILOCK SOLUTIONS
CONSUMERS:
The individual will enjoy security like never before. A purely encrypted channel will be used to store and access the data to /from the data center. In the event that the user needs to gain access , he does this over a private switching telephone network (PSTN). GOLDILOCK does not have any access to the users's storage.

INSTITUTIONS:
Crypto Exchange:
Usually keys on the blockchain are handled by centralized exchange platforms but the system is flawed. The security approach employed by these platforms may not be sufficient to prevent or even contain breaches and this cab result to huge losses. The on-line-on-demand environment ensures that trabsactions are done faster.
Wallet Operators:
Cold wallet operstors cab still take advantage of the GOLDILOCK platform. The strengths of the cold wallet will be integrated in the GOLDILOCK platform. This is to ensure that as they offer scurit very commendable accessibility rate, the connections are remotely done.
Data Storage and Digital Asset Security:
Data centers, governments, warehouses cab integrate their systems with GOLDILOCK and provide users with a secure means of storing sensitive data ranging from financial records, medical records legal records etc.

AIRGAP TECHNOLOGY
GOLDILOCK in order to achieve a very secure and reliably storage system will b usin air gap technology. It is a security measure that invloves the isolating a computers and preventing it from establishing external communication or connection. Sensitive data such as stock trades, military information are systems that uses the #airgap technology. The facilities are usually built with Faraday's cage to insulate it from electromagnetic and electronic attacks. The software defined parameter is a method of ensuring that access to internal infrastructure will be only be done by authorized systems. Upon authentication, the system requesting access will be able to view the air gap IP address. If the user wants to access his wallet on GOLDILOCK, he has to request for it using a "non-IP mechanism".

NEO PLATFORM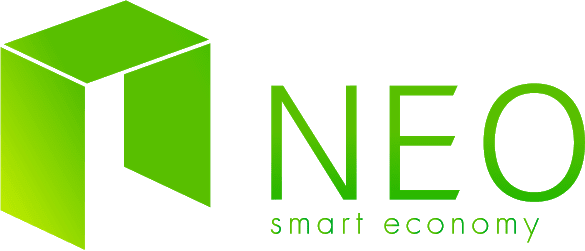 source
Like I stated earlier, the economy is now being digitized. On NEO, it is no different and they also manage their assets automatically using smart contracts. " NEO is the platform to offer s feature set focused on enabling a regulatory compiant smart economy ."
Aims for regulatory compliance:
Identity and verification is essential in the matters of blockchain. As a government institution or firm that wants to operate a blockchain, you must be able to identify and verify tour digital assets. GOLDILOCK is using this feature of NEO to issue and confirm digital identities.
Faster Transaction:
GOLDILOCK does not use proof of work(PoW) so no mining of blocks have to take place. Transactions will be faster , 10,000 transaction per second to be exact.
Consensus:
The blockchain , a ledger system comprises of actors that decide the state of the ledger. When majority of these actors make a decision, then they have reached a consensus. But there are times some of the actors would not play by the rules thus creating faulty processes in the system. GOLDILOCK is not using the PoW or PoS approach to achieve consensus they will be using Delegated Byzantine Fault Tolerance. The token holders can vote a delegate who must reach a consensus on a n acceptable transaction.

Security is key in blockchain transactions and GOLDILOCK understands this very well. That is why on their wallets:
i. Wallets will run on secure socket layer (SSL) web browser.
ii. The keys will be unique, fragmented and encrypted in the offline hardware waller devices.
iii. Each wallet has a personal assigned URL
iv. Closing the wallet disconnects the hardware wallet device from the internet.
The cool thing about the API is that it will allow for other digital wallets solution improve their security. So for existing companies that provide wallet solutions, there is no barrier. If it is security you want , securit you will get.
Services can also be #on-premises, #co-location and #clouds. Raking the in-premise instance, the API can be integrated to the firm or institution right there on their local site. And accessibility is almost limitless with cloud services.

The issue of security in blockchain and digital economy can not be over emphasized. The European Union (EU) General Data Protection Regulation (GDPR) threatens to fine 20 million Euros should there be any short comings on providing data security. Considering what GOLDILOCK is offering, that is 20 million reasons why GOLDILOCK would be greatly adopted and accepted. It is the only platform providing the EU kind of data security.
Adpoting a more secure and expensive platform for storing digital assets is more ideal than dealing with losses that accompany security breaches. The money will be los and the reputation also.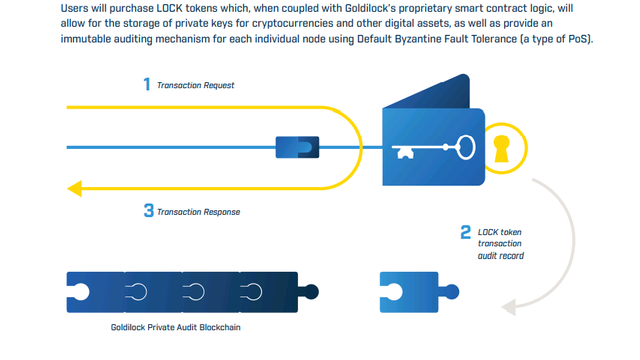 The token for the GOLDILOCK platform will be LOCK. It will be an #NEP-5 assset in the NEO blockchain. The tokens will be used together with smart contract logic to allow for storage of digital asset. The token also allows for tracking of node activity without leaking personal user information.

USE CASE 1
Adams is a diabetic patient who loves to travel a lot. On one of his holidays to the Bahamas, he left his medical records at home. He has one of his attacks and upon reaching the hospital he is required to provide some sort of medical report to enable them proceed with whatever shots.
Adam is a cold wallet user who believes in storing everything offline. I guess if the machines will take over the world they would start with all things connected to the web . But now he is In a tough spot.
The Nurse Jane offered him the GOLDILOCK services and clearly tells him that he can actually save his medical data offline and still have that very fast response and accessibility found in hot wallet systems.

Why adoption of GOLDILOCK won't be a problem.
Users of the blockchain are always clamoring for a better secure system that they can trade on. Now Goldilock is here.
No other platform is offering a security level as they are doing now. There are no tradeoffs in ensuring that they serve their customers well.
It is not restricted to just crypto currency. It supports a large range of other digital files. Platforms like Medibloc who store medical data on the blockchain online can integrate the services of Goldilock.

ROADMAP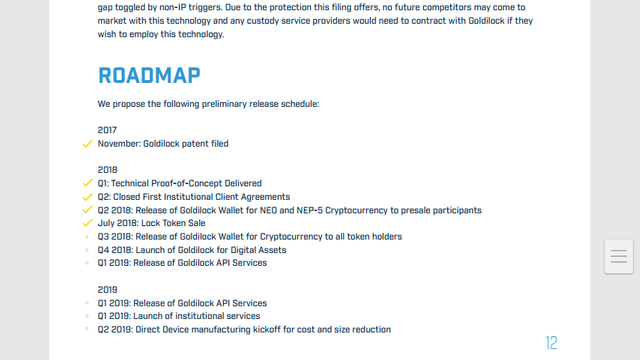 THE TEAM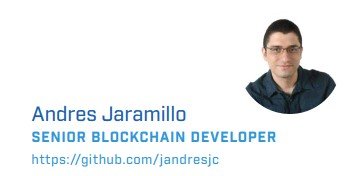 GOLDILOCK INFORMATIVE VIDEO

CONCLUSION
When you have considered how the flaws of the current storage system makes it very difficult for someone new to the blockchain, you would quite appreciate the beauty of the GOLDILOCK platform. They offer to users the most secure and efficient storage services for digital assets combining all the strengths of the current system and ridding themselves of the weaknesses.
IT IS NOT HOT; IT IS NOT COLD; ITS JUST THE RIGHT KIND OF STORAGE PLATFORM.
ANIMATION
HERE IS MY ANIMATION DESCRIBING THE GOLDILOCK PLATFORM.
To know more about the GOLDILOCK platform please visit:
This contest was organized by @originalworks visit here for more info.
https://mobile.twitter.com/oghenerahl/status/1026620368927248384)
goldilocktwitter


goldilock2018