Future of cryptos + New Apocalyptical hypothesis !!! Descending triangle for BTC & LTC
Here we are maybe near another Armaggedon like type of correction for BTC and LTC. Check my previous post if you want the kind version of apocalypse, my 'prediction' was not far to what happened this days though :-D
So we could also be in a descending triangle scenario. That would be really bullish for the next months, but really worrying if you hodl BTC or LTC. Don't be, news could be great in the following weeks, and wathever happens, profits can be made from now to the end of the year. So here BTC :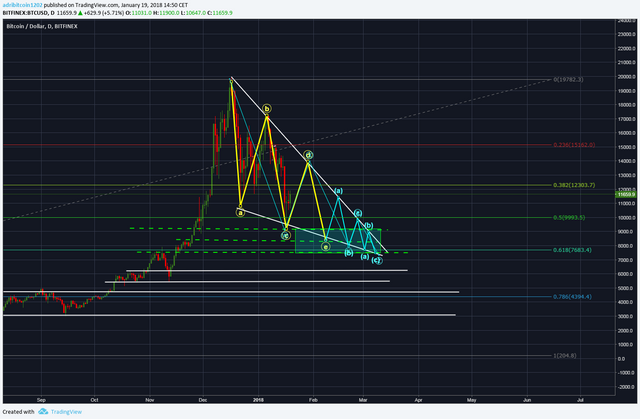 I put an abcde type of correction in yellow AND THEN another blue line that continues the triangle. In EW an abcde is just standard, a triangle can have up to 9 or 11 bounce in theory even if never seen before (it's in the book :-) ). Note that reaching the Fibonnaci .618 level for a correction is pretty standard, so this could be a primary count (I do not really have primary or secondary, just some counts :-) )
In the case of more than 5 bounces, BTC will be back to 8k$ or less, so a huge support from the end of last year. Now think a bit, TA is not about news or fundamentals, but we know that BTC and others crypto are really volatile and that it prevents them to be used on large international shopping websites like Amazon. The videogame platform Steam has used some BTC for a while then stopped it because of volatility, WHAT IS IMPORTANT TO UNDERSTAND HERE IS THAT A STABLE BTC PRICE WILL MAKE THEM MORE CONFIDENT IN ACCEPTING IT.
Ok, so now back to TA, so BTC makes his triangle, bounce back slowly and begin some impulse of 5 waves to get back to 15-20k$, would be the first wave of a major 5 waves impulse (blue in the chart below), then correct to about 15k$ (wave 2 of the blue one). Since price will be more stable, it will not take long for first standard investors to come in, then huge companies as Amazon to follow. THAT wil bring the BTC price to the moon. That's the funny thing in it, they will come in because of low volatility and they will provoke huge bounces that will correct/consolidate, so in other words create volatility !!!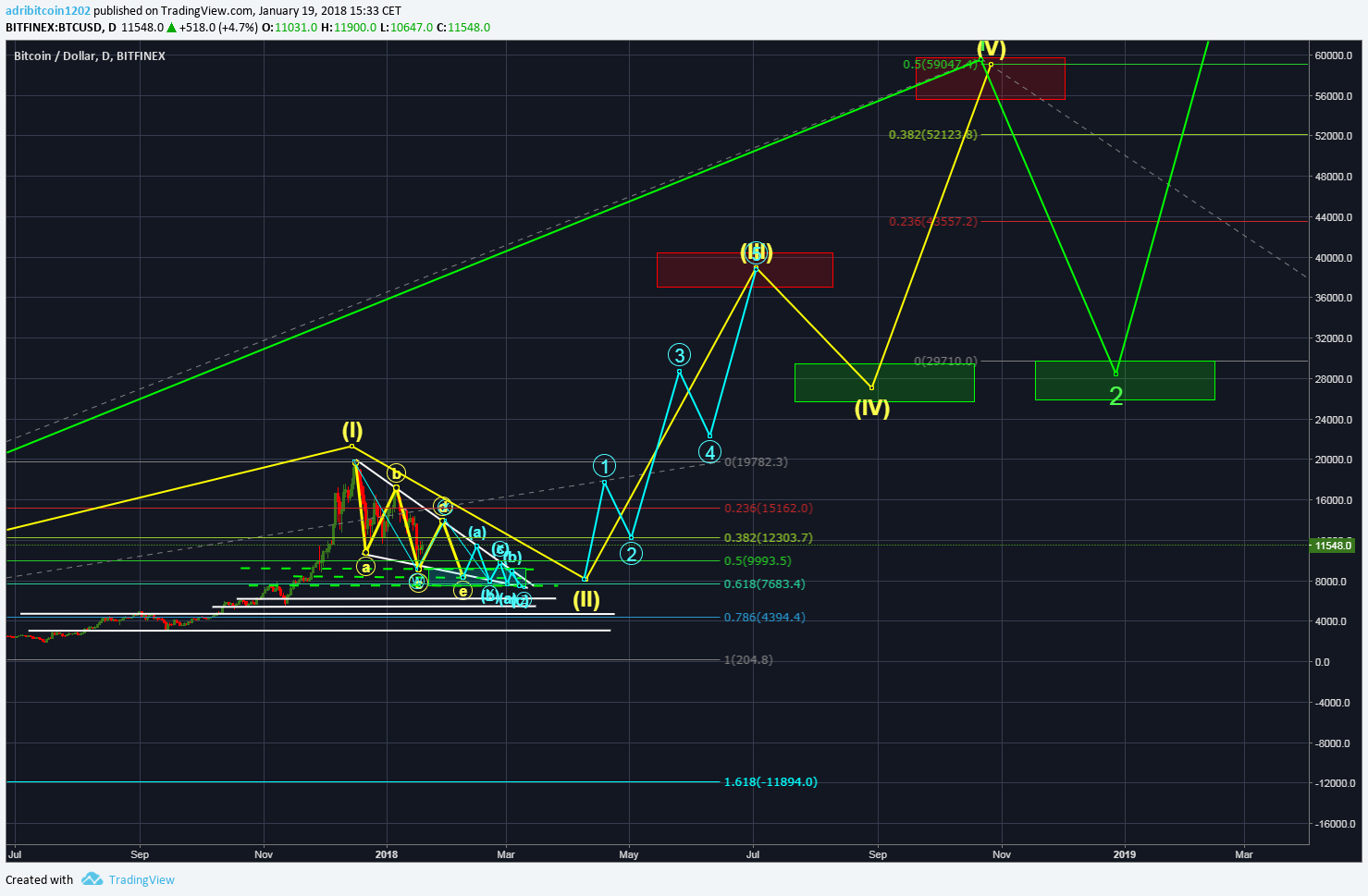 Things could happen all in one this year or maybe more realisticaly the next 2 years. Maybe after wave 1, investors of the NYSE/Nasdaq alone will come, increasing the price to let's say 50-100k$, then a huge correction will occur (same kind that these weeks but with larger price), we will have a huge consolidation AND THEN, for the same reason fearfull investors have been coming, giants of shopping like Amazon will begin to accept crypto, maybe even creating one, and the price will again spikes and correct. All in one this could lead us to a 50k$ - 500k$ range of price for BTC. Just look at this chart with really conservative Fibonnacci levels :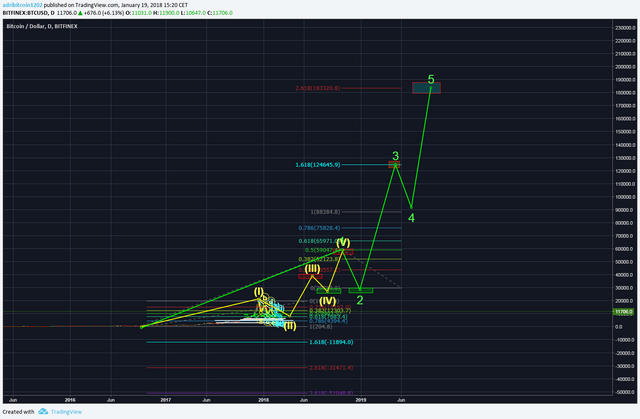 Could be great for hodlers :-)
Ok, now let's go to LTC with a huuuuge descending triangle, here the .618 level is already reached, so a triangle would take us even lower, remember it's an Apocalyptic hypothesis, waiting the lowest point to buy can lead to nowhere :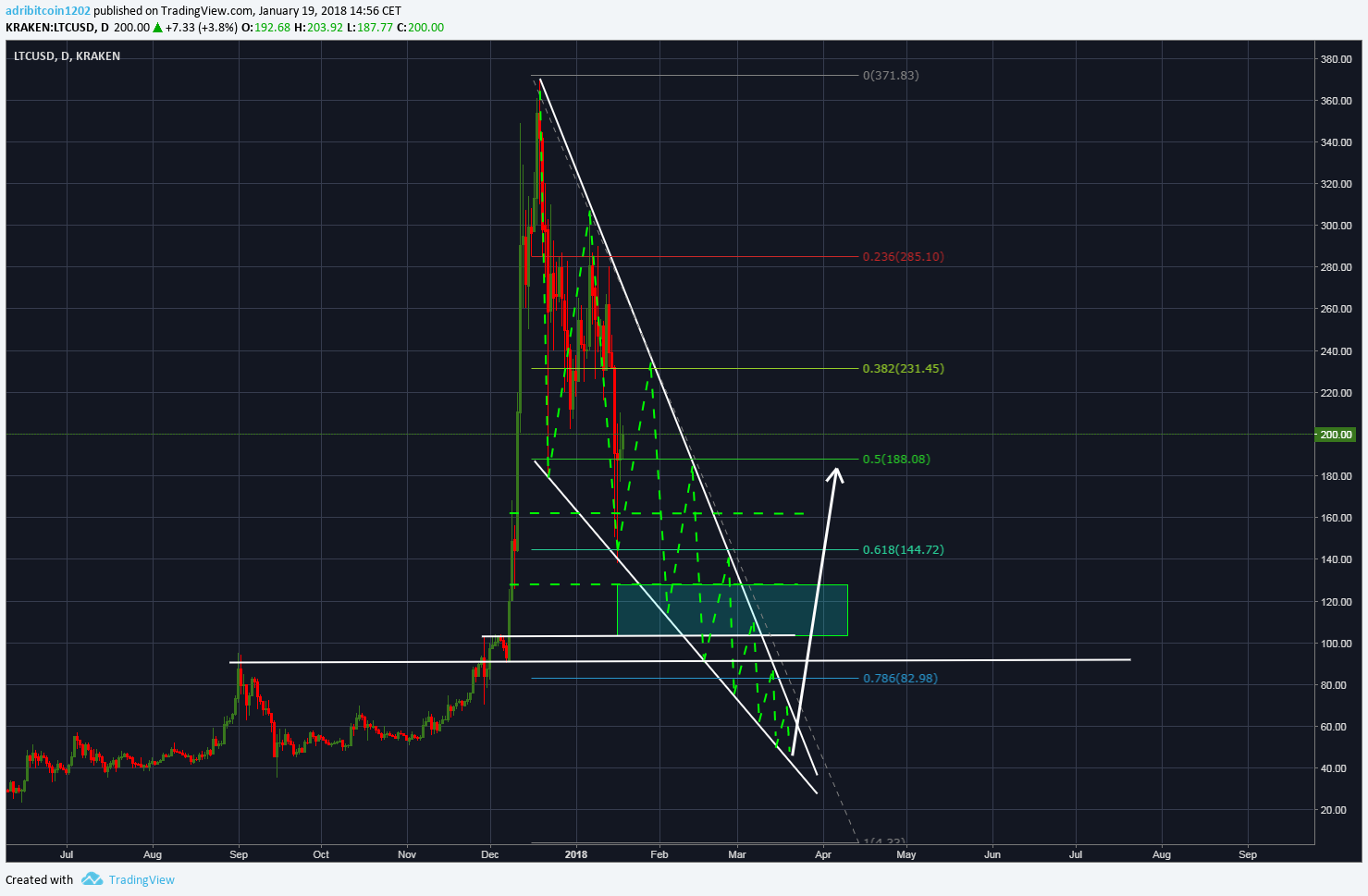 Hope you enjoyed this post, this is not financial advice, I'm not a professional, just learning TA, so if you plan to buy/sell, remember YOU ARE the one who pulls the trigger, so do not blame (or congrats :-) )anyone else than yourself.