The ICO space has become something like the wild wild west, flooded with both legit projects and probably even more altcoin scams and pie-in-the-sky dreamers attempting to cash in on the crypto trend. Navigating the choppy waters to separate the diamonds from the duds is not always easy.
And sometimes, first impressions aren't everything.
Sometimes, there are gems to be found that require a bit more digging to unearth just what substance is beneath the surface of first appearances.
And my goodness, did I ever just find something that caught my attention: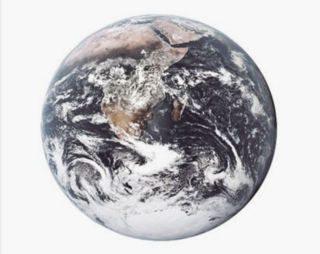 I stumbled across it linked in an aquaintence's Facebook post about Bitcoin, and glanced over the website... not entirely impressed.
The general intention is honorable, for sure: developing an ecosystem prioritizing sustainable development, protecting the earth, basic income, all that feel-good stuff about healing the planet. Though perhaps I've grown initially skeptical of crypto projects, and the professionalism of the home page didn't look as polished as that of a properly legit professional venture. Nor was I inspired by the content on their social media profiles, which seemed to have a bit of the usual marketing-motivational hype and not as much detail as I'd hope from a top-level venture.
But... the first impression might have been misleading.
Continuing on, there was a video of a presentation by the founder. And again, my skepticism kicked in - it coming from the "Federation Of World Peace And Love" conference, which might sound just like some hippie-dippie airy-fairy stuff. But then came one sentence that jumped out and got my attention:
"The indigenous people have pledged 3.2 TRILLION dollars in assets to back (the) currency..."
Triple-take.
at 3:16
Now, I'm not sure on the actual legal arrangement to back this statement and how it's setup - though the basic gyst, one would guess, is that they've secured the value of multiple aboriginal tribes/bands' lands and gotten onboard to give that security as backing for this Earth Dollar cryptocurrency and surrounding ecosystem.
$3.2 TRILLION. And that's just the start, with only a dozen soverign nations.
So, back to the website to have a more thorough look. And the overview is going like this: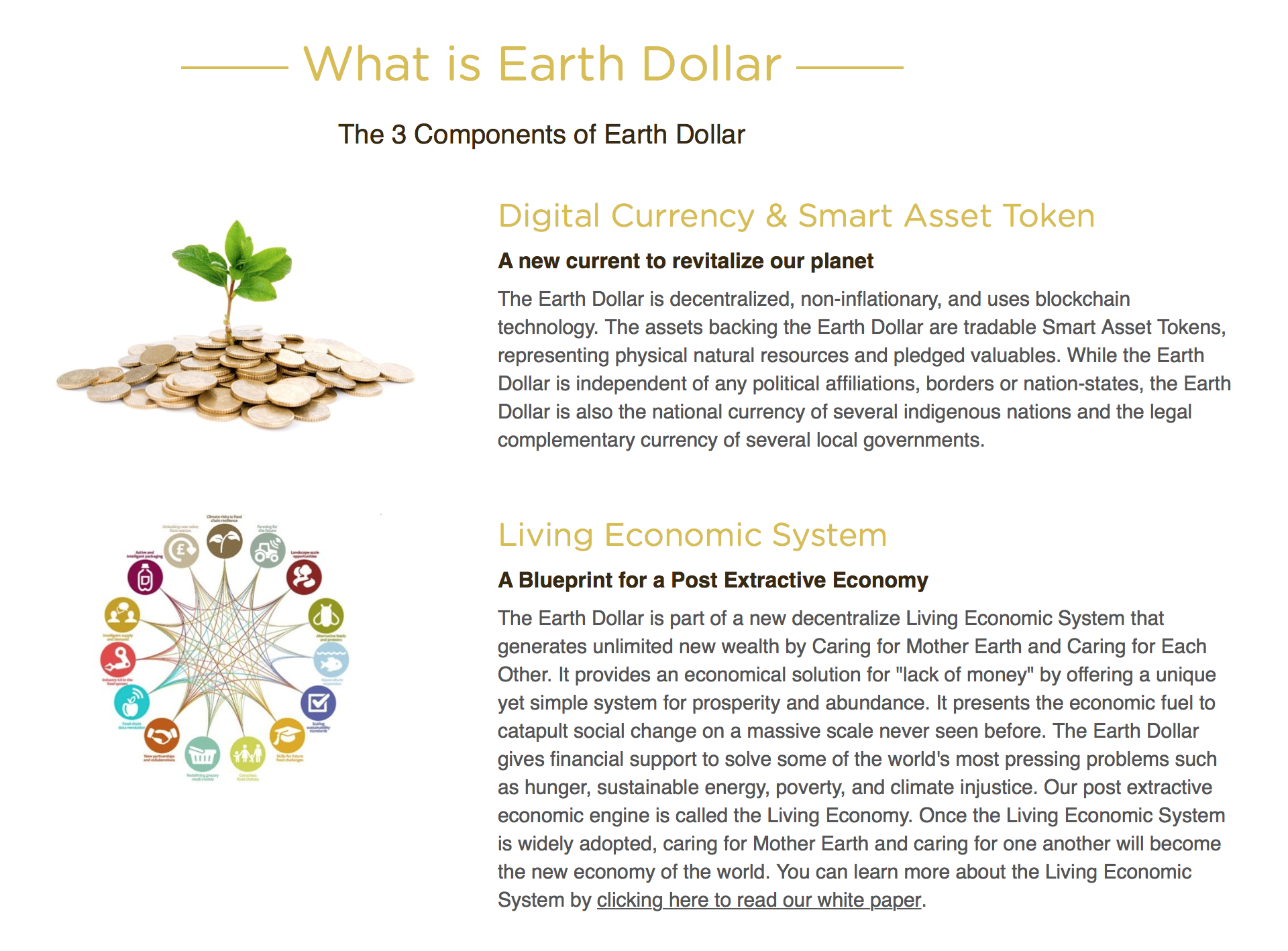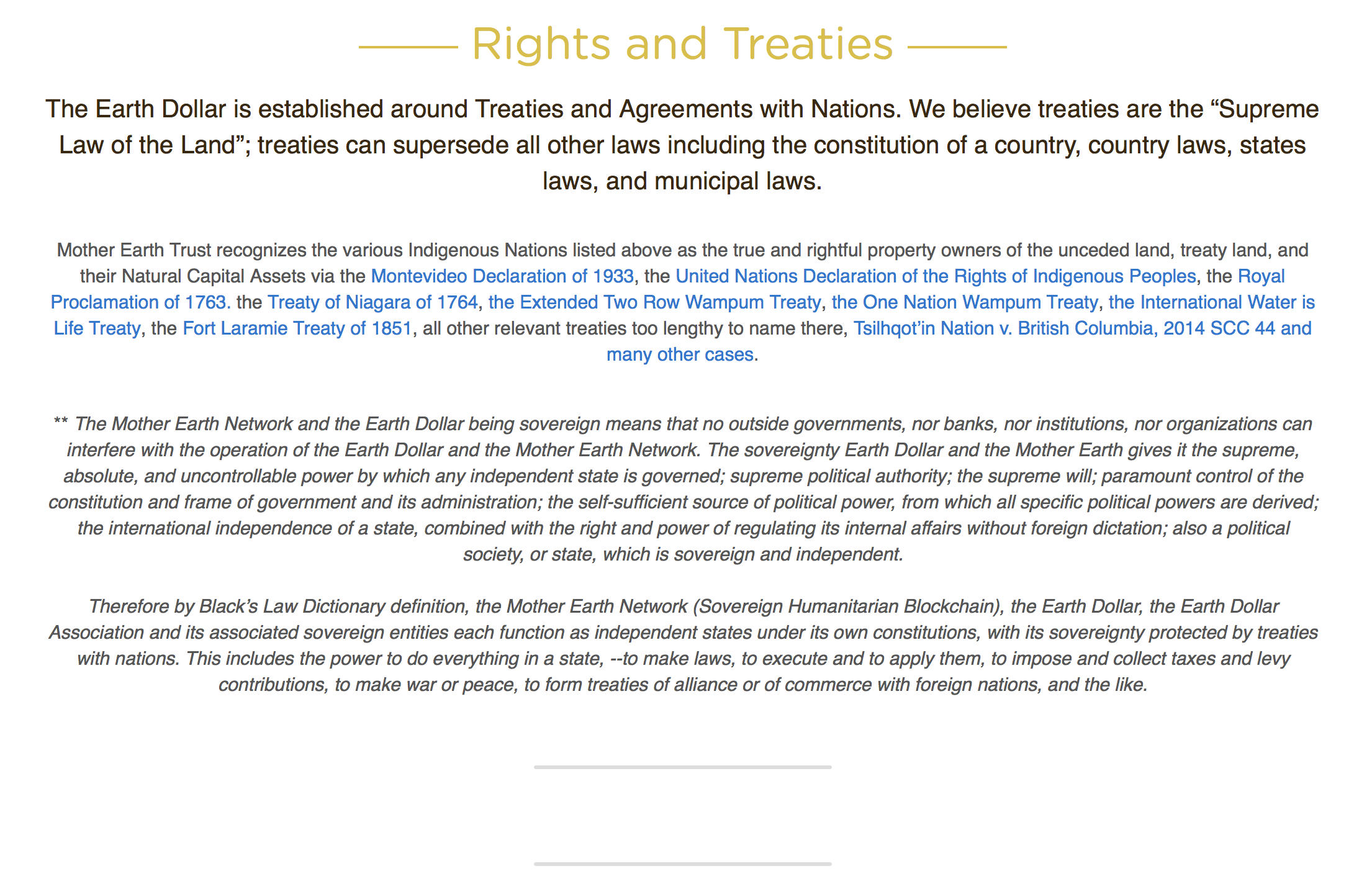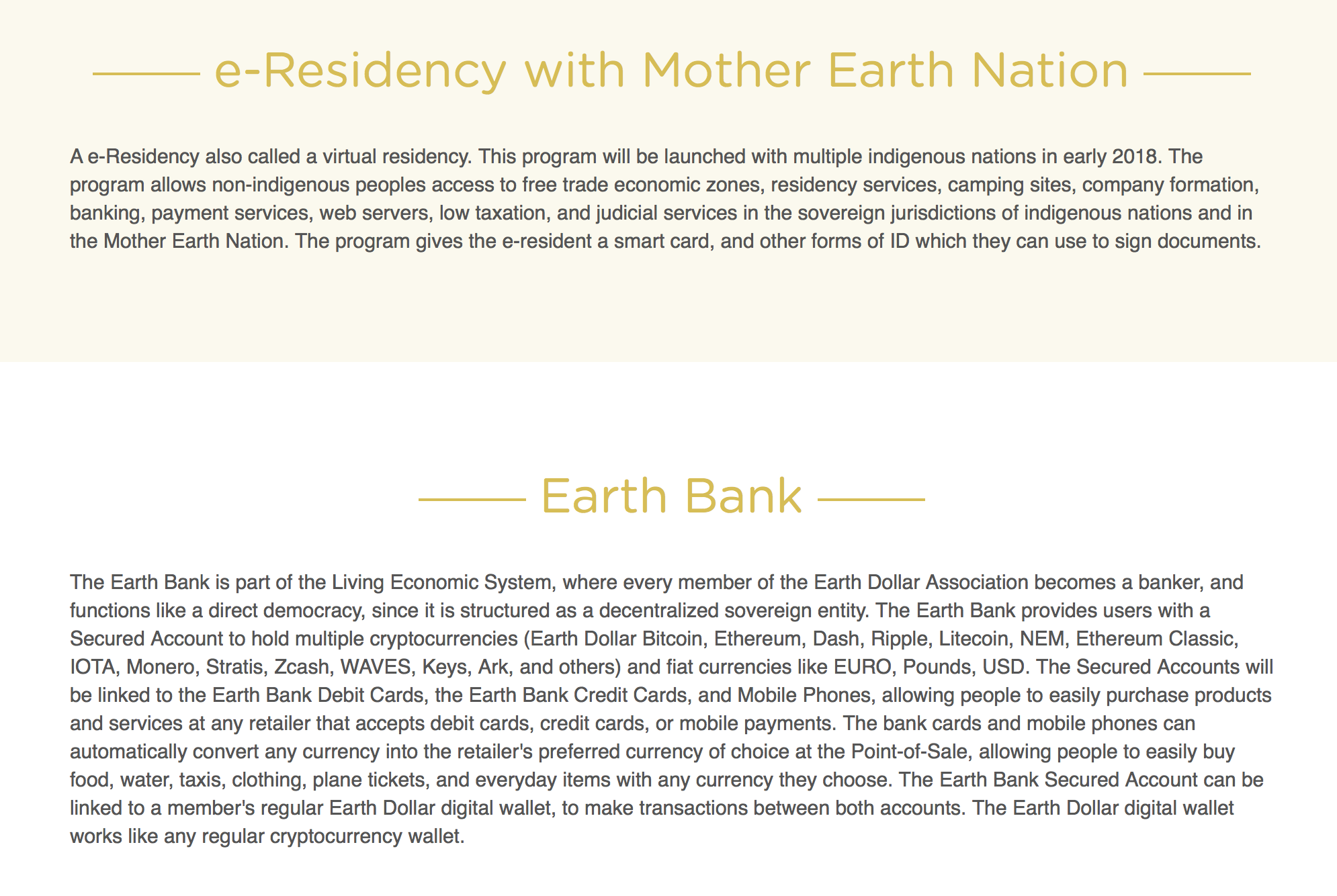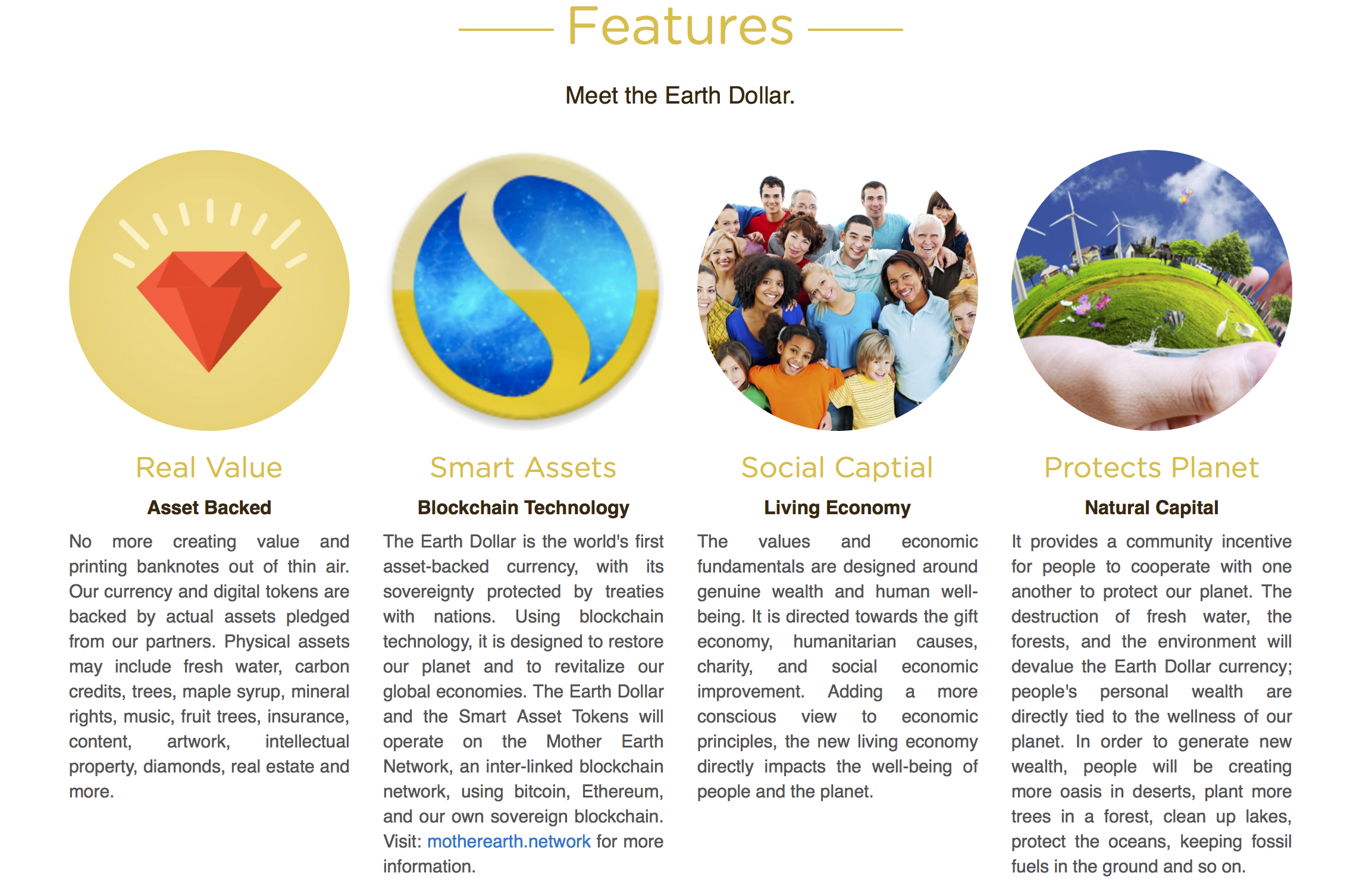 As well, one large component of the project is a Basic Income model.
Basic Income - the concept of providing all citizens a monthly payment to cover their basic living expenses - has been growing in popularity lately, even winning the support of industry leaders such as Elon Musk, Mark Zuckerberg, and Richard Branson.
Paired with the financial-backing of natural assets value as determined through the World Bank's Natural Capital Accounting System, this particular approach to testing and growing a Basic Income program could be particularly interesting.
A full 42-page presentation is available at: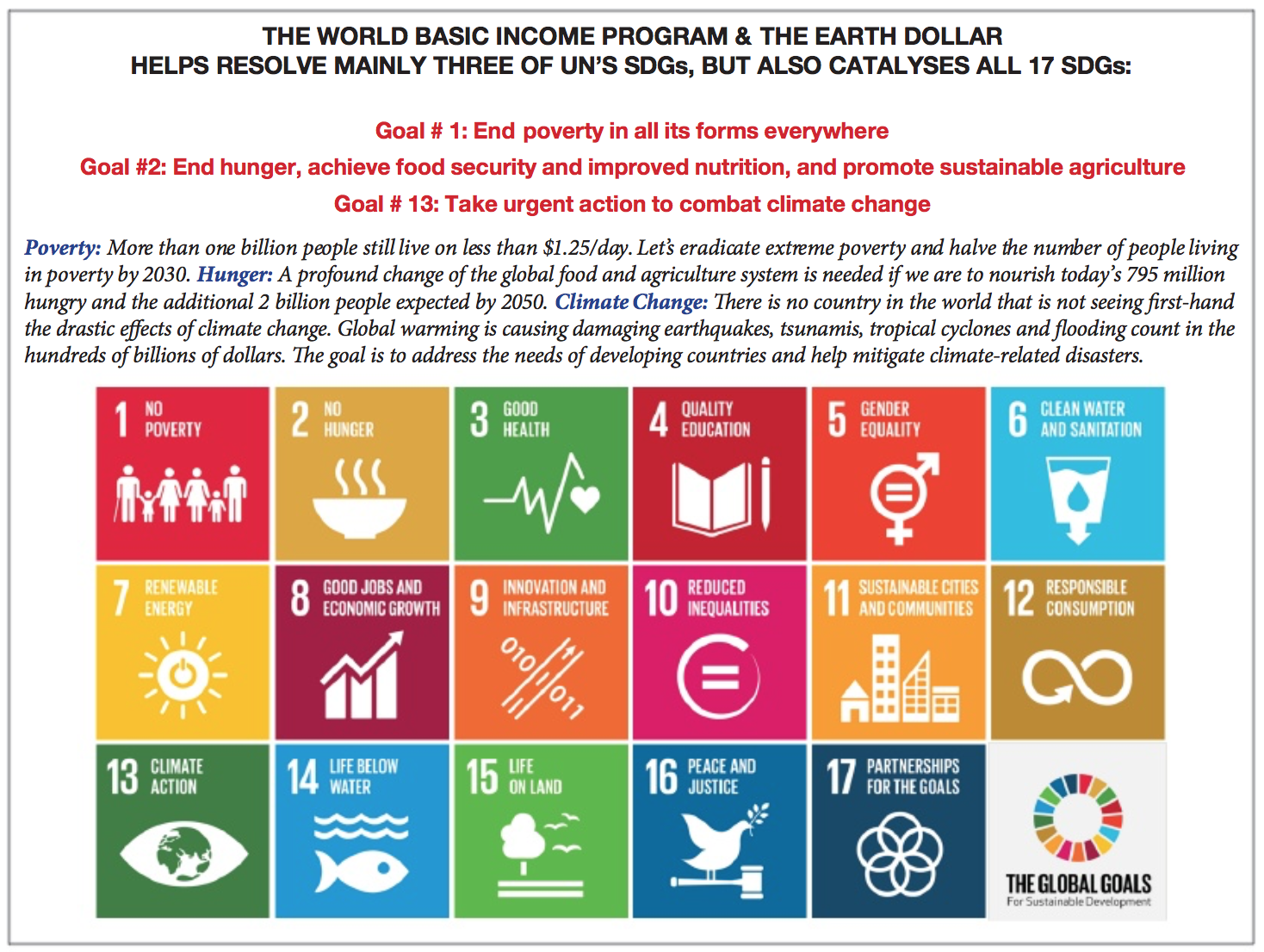 All sounds good.
But still not totally convinced. I mean, there's been alot of different websites for organizations that have similar high-hopes of changing and saving the world. But words are cheap, and it's easy to throw them around like a flashing neon positivity sign - while there's not always the structured, organized, diligently, detail-rich strategic roadmaps and substance to back up the claims of amazing intentions found especially in the crypto-bubble space.
Though, it carries on...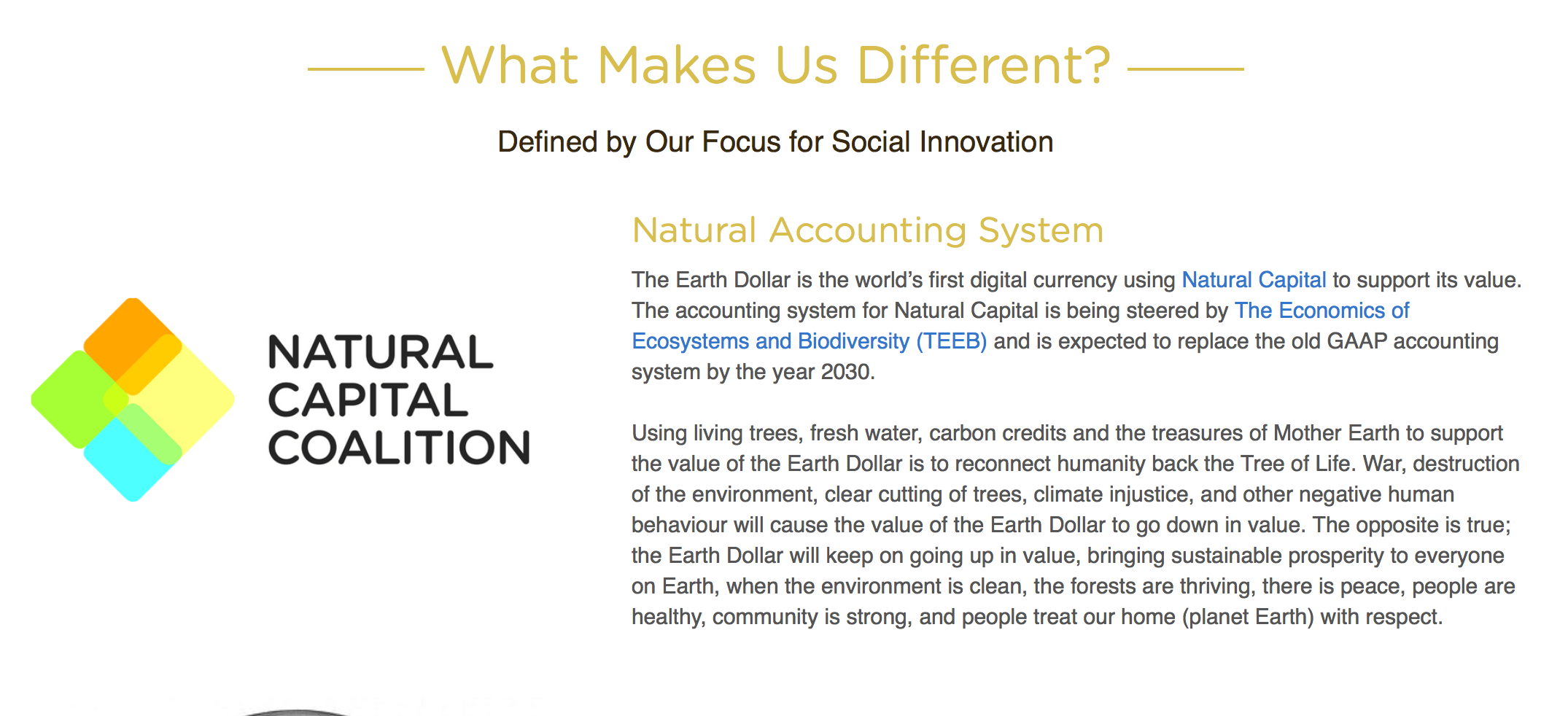 That's right. This project is using natural capital - "the world's stock of natural resources, which includes geology, soils, air, water and all living organisms" - to back its cryptocurrency.
And, it's using a new accounting system designed by the World Bank "being steered by The Economics of Ecosystems and Biodiversity (TEEB) and is expected to replace the old GAAP accounting system by the year 2030.
Ok. The World Bank... not small players. And who are these TEEB guys?
Digging deeper, take a look at their partners list: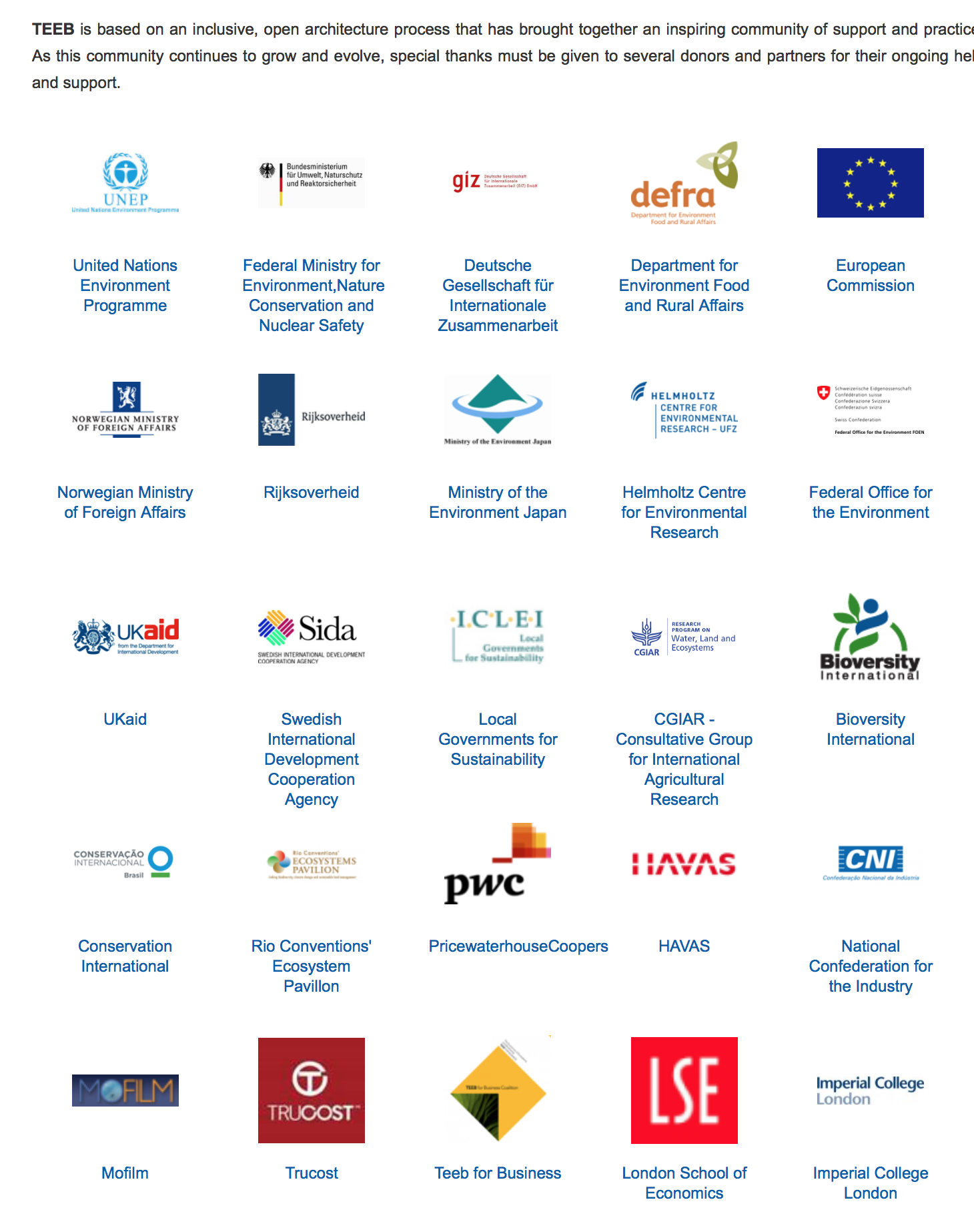 And Advisory Board: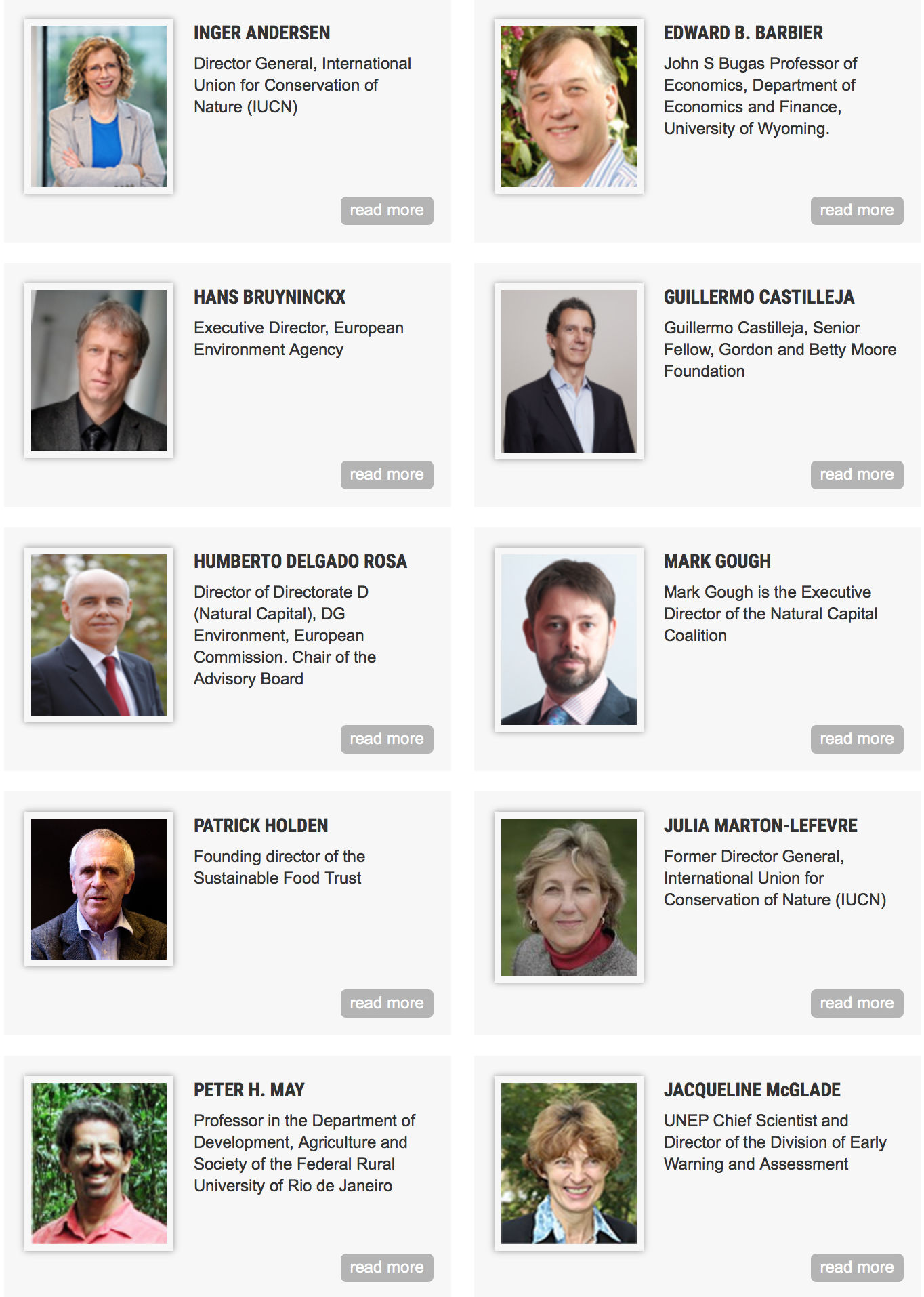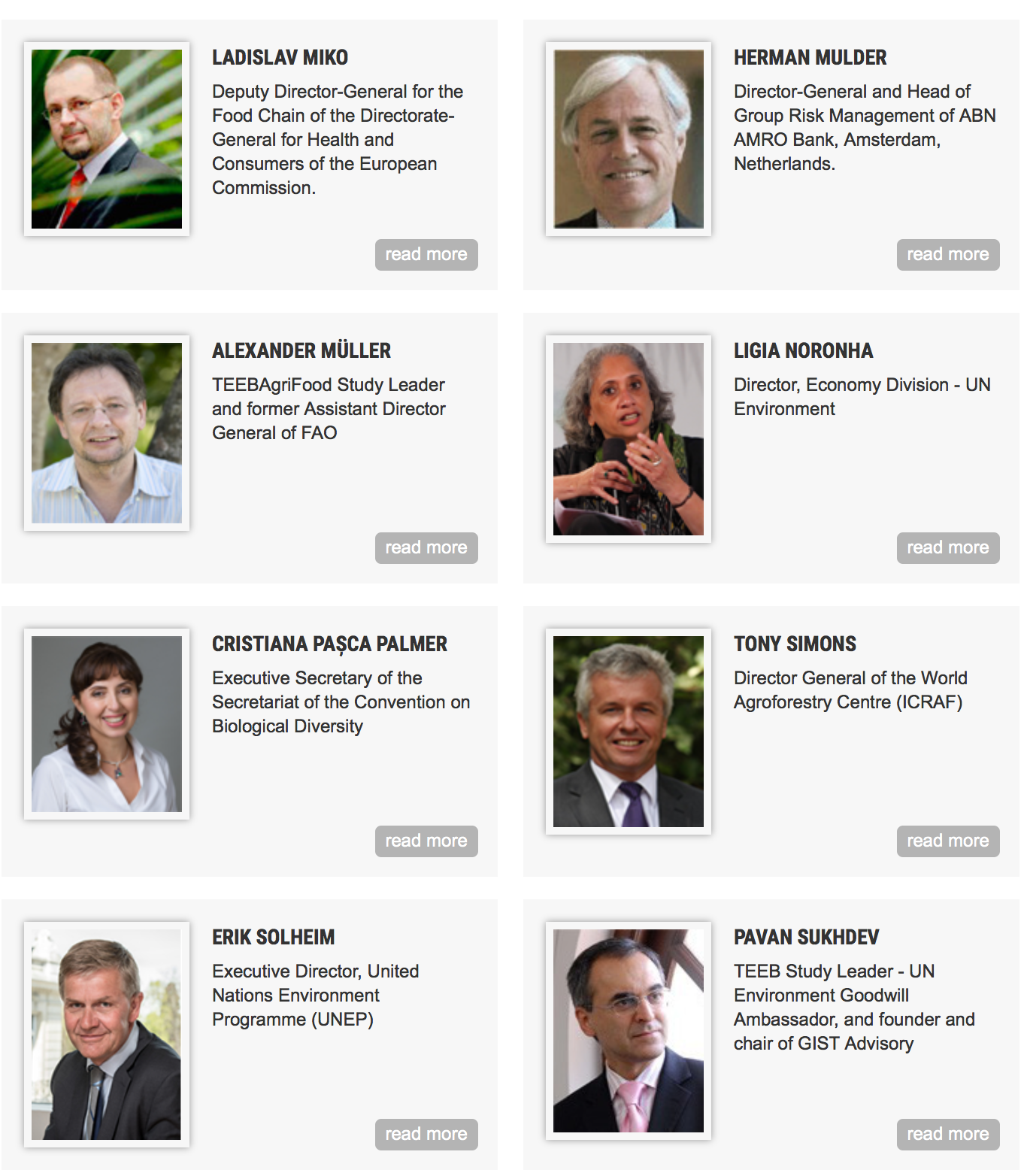 And if you check out their Initiative, in consideration of the level of players involved... well, things are starting to look like there might be more to this than just another happy-sounding idea.
It took quite a bit of jumping around and piecing things together to see the full scope of all this.
And I confess, that through the first parts of the research, I was skeptical and unexcited by the presentation. The first impression of pieces like this left me questioning how much substance there was to the project, or whether it was all just a mashup of buzzwords: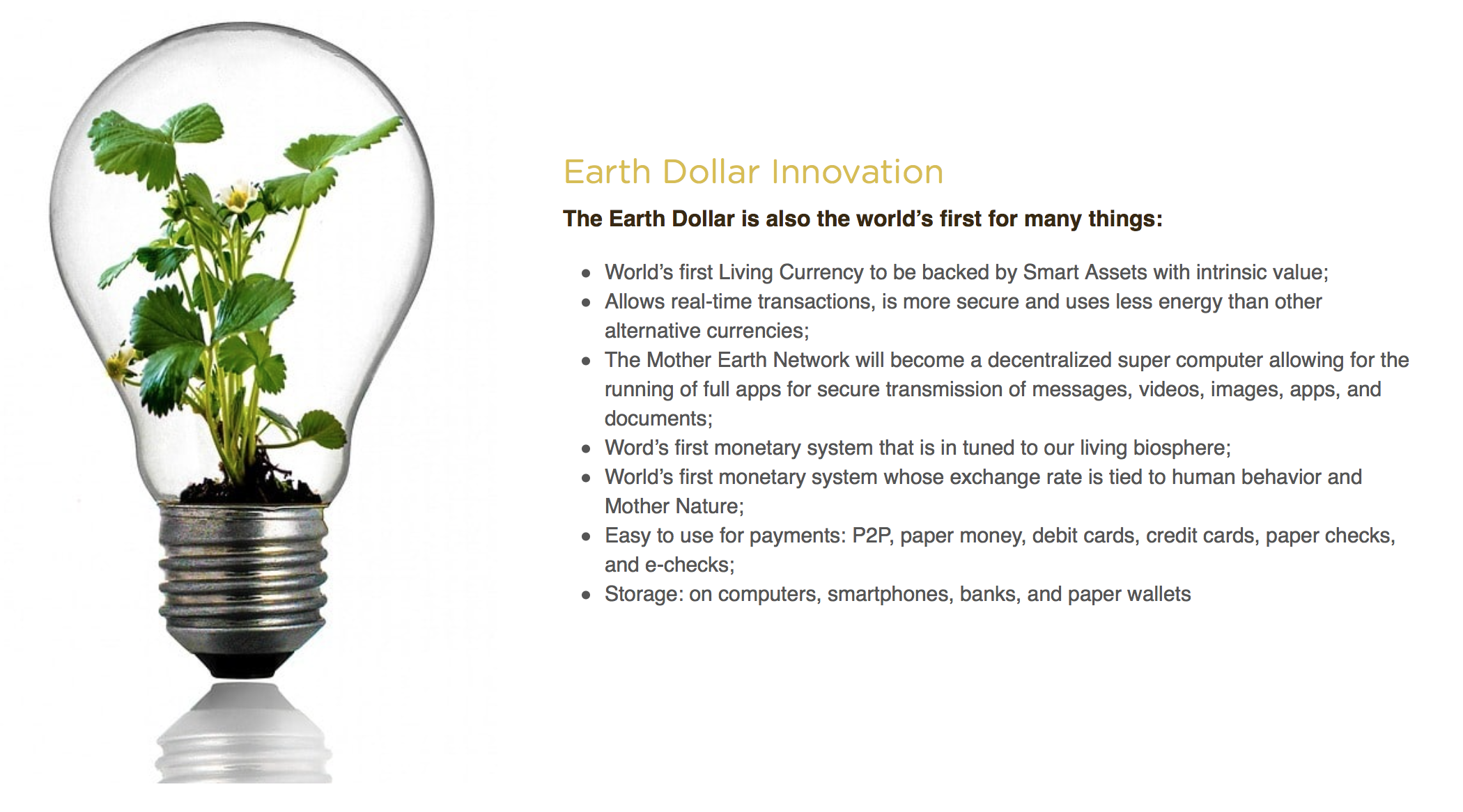 Maybe I've gotten numb to the amount of claims and standard rhetoric and general basics thrown around by ICOs, that somehow I was still immune to being lured into thinking such a vague, generic, idealized summary. Also, I'd checked out their Bitcoin Talk thread which started two years ago - and didn't instill confidence, given it was more of the fluffy idealism talk, with not much else showing over the last two years of the conversation.
Well, I judged to quickly - as one may have to digest the entire bigger picture attempted to be shared throughout this two-part story.
Yes, their Values are on point, though it still wasn't that which turned my head yet: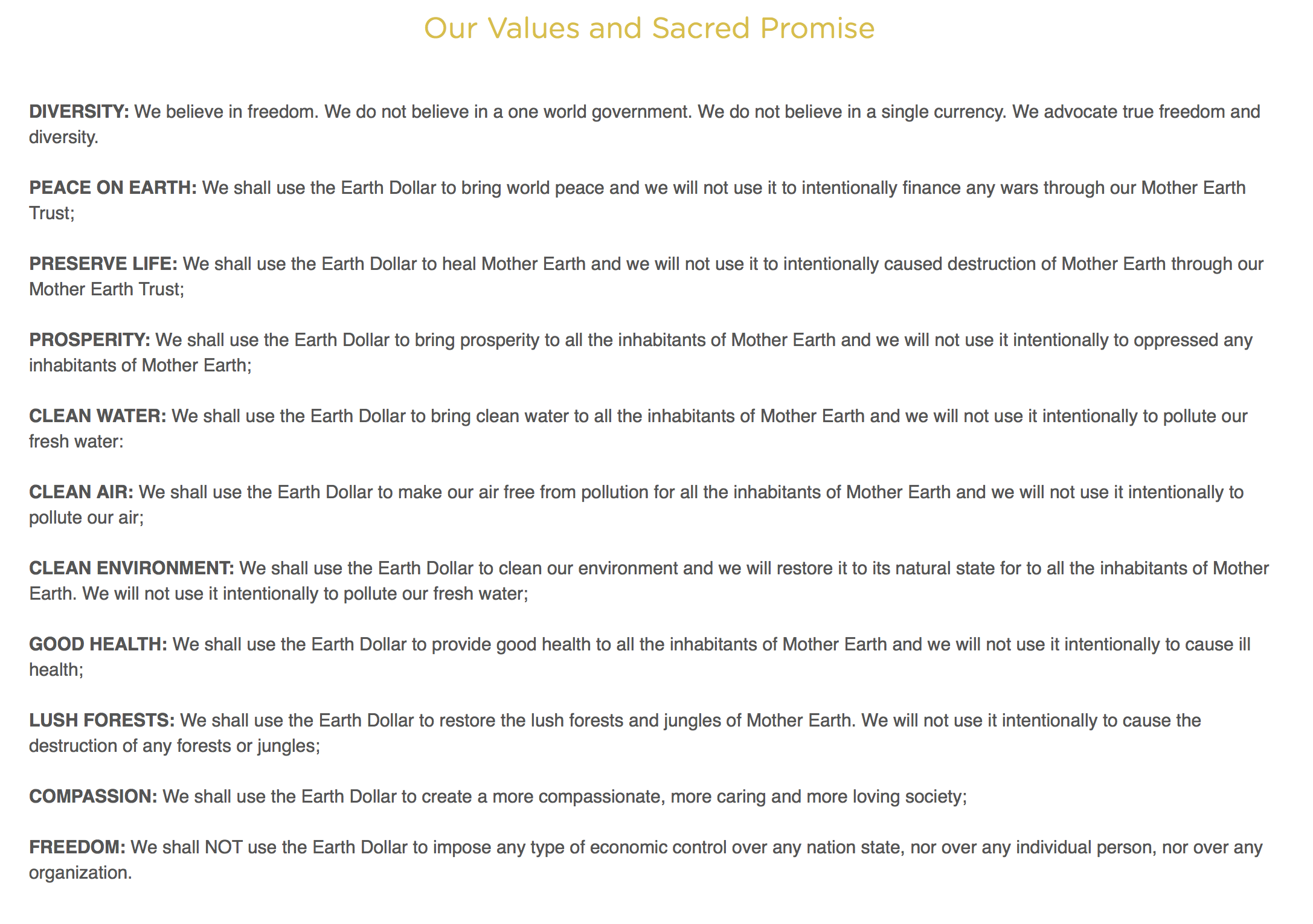 Yes, that all sounds great. As does $3.2 TRILLION in backing natural assets. As does the World Bank's Natural Capital Accounting System. As does Basic Income.
But as with any ICO project, there is the key question: who is behind the project? Who's on the team?
Well, the founder, David Kam, first struck me as a bit of an interesting character in the above-linked YouTube presentation. Though having also come across this overview of his vision, it seems his intentions are in the right place, at the least:
Of course, if looking into any investment, it may be wise to dig deeper to find out exactly what a person's background entails. And upon doing so, it appears that Kam has run into some complications with the law a few years back - although that particular case sounds questionable, as though he potentially could have been the target of corporate & governmental forces who were attempting to supress his previous attempts of advancing a "green stock market" type project conflicting with the status quo and big business, rather than solid evidence presented that Kam actually did anything illegal or wrong.
One other unsettling Google response from www.newagefraud.org addresses his involvement with the Indigenous Peoples United Nations and a few other people of questionable character. The outlook therein is potentially-offputting with implications and/or insinuations that Kam ain't the best guy. However, no real concrete evidence seems to have been provided to back up any concerns as they were published two years ago.
And if Kam and his team at Earth Dollar, Earth Bank are able to provide detailed information prior to the official token launch in a couple weeks - and it has been said there will be some important news released next week - then all such previous controversy might be proven irrelevant, should sufficient evidence be publicized showing the results of their efforts in the last couple years that backs up their claims of what's been in the works.
Of course, results speak for themselves. And despite what controversy might exist in the troll-ridden realms of internet forums, it does seem as though Kam has been hard at work behind-the-scenes building the team and foundations to really get this off the ground.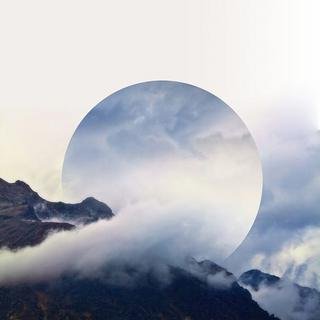 *Splitting this story up for easier digestibility, we'll be carrying on shortly with Part TWO to take a closer look at the team and a few more key details to this project.
And in the meantime, if you're interested in more information, there's a wealth of details in the "Living Economy" section of their website worth exploring for a more thorough look at everything.