What is Stratis and 4 Reasons Why It's Exceptional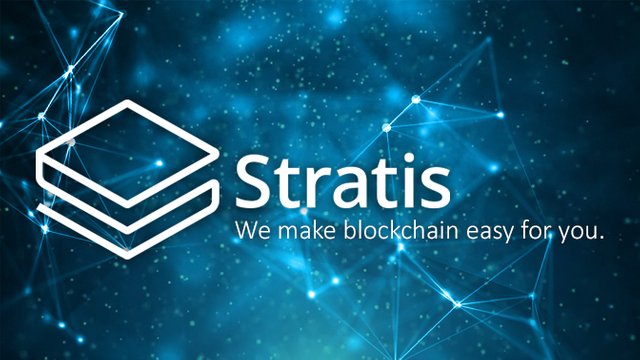 Success is not a zero sum game. 
I want you guys to understand the significance of Stratis. It's very easy to get swamped by the cryptocurrency wave and frantically look for the next big thing. Stratis is a platform and not just some digital coin that you can invest in. We all know that the blockchain technology will fundamentally change the way we interact in this world. Stratis attempts to bridge the blockchain domain with the corporate sphere. It has an ambitious team with a great goal. Now let's move onto some specs and more information.
1. Built For .NET framework and With C#
.NET is a software framework that was built by Microsoft and provides the groundwork for many applications
C# is an elegant and type-safe object-oriented language that enables developers to build a variety of secure and robust applications that run on the .NET Framework.
As a result, Stratis has the ability to hook into business software and have a real use case for businesses. If you're reading this then you've probably used or at least know about a computer that had Windows on it. Even on my Mac, I have Windows Office, Excel, etc. 
Wouldn't it be nice if you could enable your company on the blockchain while using a programming language that many are familiar with? Well Stratis allows for easy integration with businesses that rely on Microsoft's .Net platform and its C# language
2. Frequent Flow of Updates/Project Breeze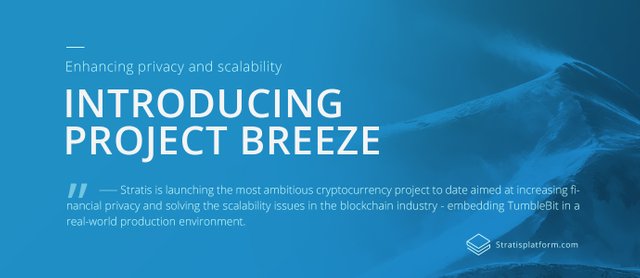 Project Breeze was announced recently. It's an update to the Stratis protocol that implements TumbleBit. TumbleBit makes transactions completely private and unlinkable. This is great for businesses who wish to engage in guaranteed private transactions. It's also compatible with the bitcoin protocol and thus can build upon Bitcoin's already established infrastructure. 
You can also check out their GitHub and trust that the developers are working non-stop. In addition to the new Breeze Wallet, Stratis also has many upcoming updates that you'll want to follow. Here's the Roadmap.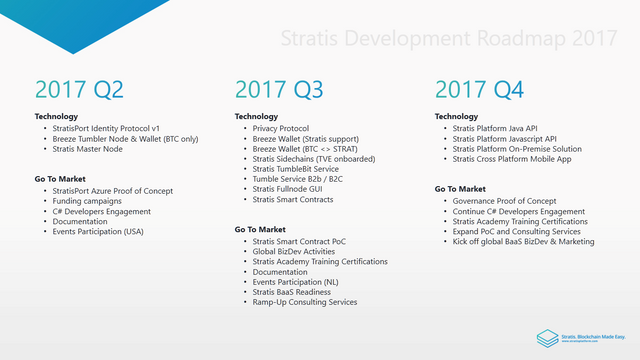 3.  Stratis Army/Slack (Community)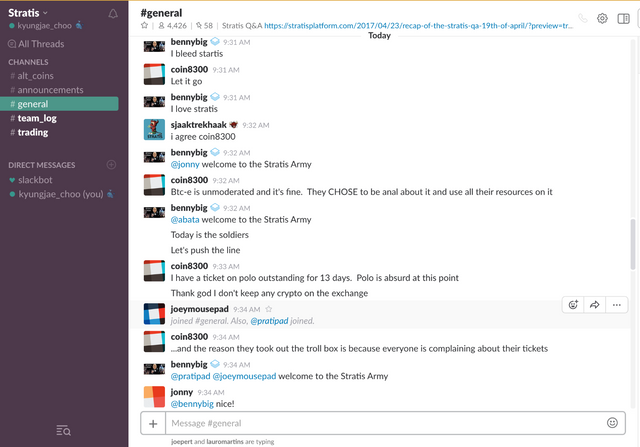 A coin may be extraordinary as a result of its technology, but what really brings it to life is the community that it's built around. More exposure to the coin means more questions and maybe even problems. I recently joined the community's slack channel and they are a very happy bunch. They call themselves the "Stratis Army" and they're willing to support anyone who comes. Whether you have a question about the technology itself or just want to chat, the Stratis Army is there for you. 
Not many people give credit to the team members in a cryptocurrency slack. They're the ones who interact with others in real time. The community is what brings great demand to the supply. It's a blessing to witness a growing community. 
4. Frothy Market Potential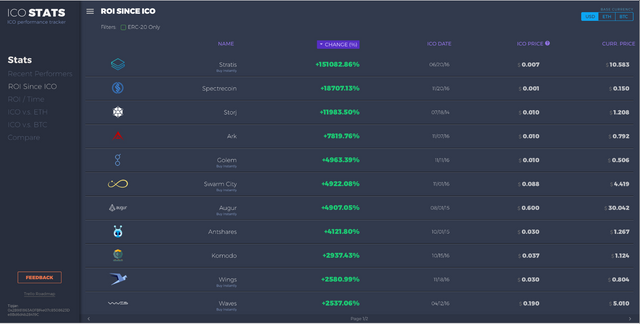 Not only is the technology exceptional, but the possible returns on Stratis will be massive. I remember when Ethereum was just $5 earlier this year. I decided to buy some at $20 and sold all my coins at $40. Now it's $250. Okay, I also bought some more at $50. In any case, you don't want to miss out.
Stratis is often compared to Ethereum. One of the predominant similarities is that they both have smart contracts. Aside from Stratis being .NET and C# compatible which makes very enticing, one crucial difference is that Stratis has side chains which allow for smart contracts that don't bloat the network. To elaborate, this keeps data on separate chains so that the main chain is clean. Stratis is a one-stop shop that works for all applications for businesses. Seeing as how cryptocurrencies are moving, I think it has the potential to reach ETH's current market cap within the next year.
The price of Stratis is rapidly rising and for a good reason. Stratis is rank #8 on coinmarketcap.com, but you may soon find it at #7. Expect a breakout soon. There's a steady stream of announcements coming up and the price is rising healthily. Stratis is extraordinarily promising. 
Summary
Here's an FAQ page for Stratis and a TL:DR video:
Sources: BreezeWallet/TumblerBit, Stratis Wiki, Stratis Website
If you like what I've written and thought it was informative then feel free to follow me at @kyungjaechoo and leave a comment if you'd like.