The Future of Crypto: It Is the Next Strong Social Network, 'Not Facebook'
The Future of Crypto according to one of the "billionaire bitcoin investors"...
...Cameron Winklevoss, who is one of the twin founders of Gemini Trust Company, a "licensed digital asset exchange and custodian," stated the following:
'Money is the oldest social network and arguably the strongest; And crypto is one of the strongest networks of value in the world'
Source
He made this comment "on their controversial stand with Facebook." Even though the twins have had their past differences with Facebook, this is a great perspective if you're on the bandwagon of knowing the future is going digital. Gold, money, and other tradable assets in the past have been the primary reason for others to socially network and provide for their families. If you think about it, trade and barter have allowed the world to go round. If you happen to think that fiat currency is still going to fly, you might want to consider that your physical wallet will be also something to crash and burn and become a past item. USA Today pointed out the following:
Your phone, after all, increasingly provides the utility in digital form for the many reasons you schlep a Costanza-sized billfold in the first place, from showing off pictures to making mobile payments...

It may not be long before you can use your phone as your corporate ID as well, something Apple employees already do at the company's Apple Park headquarters.

And yes, more and more of you are letting your smartphone sub for cash, debit and credit cards, through the likes of Apple Pay, Google Pay, Samsung Pay, Cash App, Venmo, PayPal and other payment services.

'We're nearing the point where that pendulum is shifting to the preference for digital forms of payment (and) identity,' says Tiffany Conway, director of field marketing for government programs at Gemalto, a global digital security company that produces digital driver's licenses.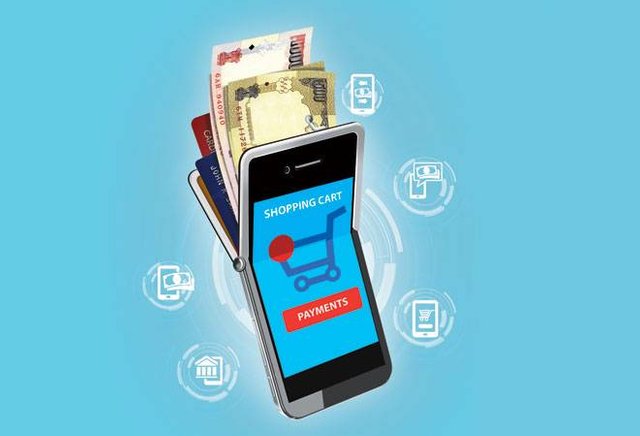 Source
Physical wallets can be stolen easily and have their disadvantages just like centralized fiat currency. More and more people are finding the convenience and security of using digital wallets and technology. This is just another reason crypto will be the new "social network" and way of life. Another reason crypto will be the next strong social network in the future is because of its quick transaction times and ease of access. However, Bitcoin is still not as efficient as the world needs, it does not provide the stability or security and therefore will not be the top option before long. This is where GODcoin has stepped in and will become the future of cryptocurrency. GODcoin's white paper sums it up well:
GODcoin has the edge in security, because unlike other cryptocurrencies, it is backed by Gold and Silver, which will ensure stability. This carries additional incentives, such as lower fees, faster transaction times, and energy efficiency.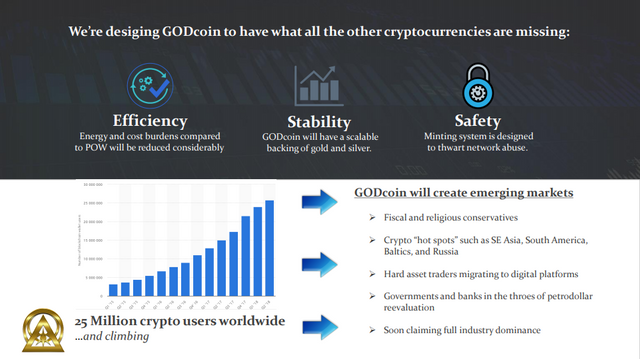 Instead of having to carry around physical gold and silver, or having to carry a wallet around with fiat currency that will be rendered useless in the near future, GODcoin will provide the means to get all you need to get done efficiently, safely, and with ease while providing stability by being backed by gold, silver, and Christ. Crypto is the next strong social network, and GODcoin is the next new an improved Bitcoin which will be here to pave your future and one in the New Kingdom.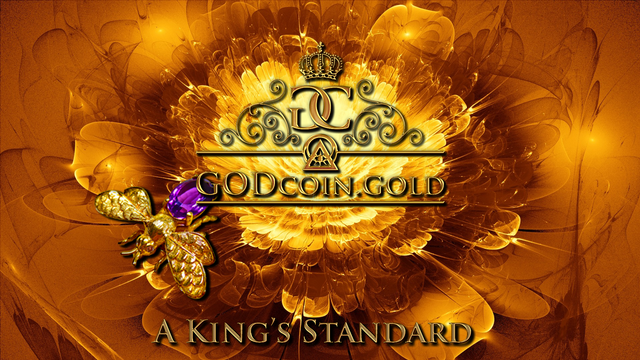 #ChristIsBack #HeIsHere #MondayMotivation #Christian #Christianity #Religion #Religious #Catholic #Gnostic #Abrahamic #Judaism #Isa #Moshiach #Messiah #Jesus #Krishna #EndTimes #ReligiousFreedom #Vatican #King #Kingdom #God #Faith #GODcoin #RayEl
---
This article was authored by Judith Monte, @belovebelight
There are many advantages to GODcoin especially since it is one of the few coins that will be backed by gold and silver. Not only does GODcoin offer the illuminated path towards a prosperous future, but very soon, it will be the global currency. To learn more, visit the following links:

View the history leading up to the white paper

View the white paper
---
All information provided is available on the official website at https://godcoin.gold
PREPARE TO INVEST WHILE YOU CAN
Social
https://www.facebook.com/GOD.coin.gold/
https://twitter.com/GodCoinGold
https://plus.google.com/110351809386138038654
https://www.linkedin.com/company/GodCoin/
https://www.youtube.com/channel/UCRmsiytZnbMg-O_b2zBNuTg
https://vk.com/god.coin