Tezos, the generic self amending crypto-ledger
What is Tezos?
Tezos is a generic technology which it's developers claim can intatiate any blockchain ledger. The developers claim that it can represent Bitcoin, Ethereum, Cryptonote and perhaps more. How does it accomplish this? It appears to have a modular design and is totally programmable. Tezos could be a next generation blockchain technology to compete with Tauchain and it is worth taking a very close look at.
Some details on how Tezos works
Tezos uses purely functional programming (Ocaml to be specific) and in terms of governing it takes a similar approach to Tauchain. A quote from the whitepaper states:
Most importantly, Tezos supports meta upgrades: the protocols can evolve by amending their own code. To achieve this, Tezos begins with a seed protocol defining a procedure for stakeholders to approve amendments to the protocol, including amendments to the voting procedure itself. This is not unlike philosopher Peter Suber's Nomic[4], a game built around a fully introspective set of rules.
This is a very important design decision among others by the Tezos developers. First they went with a functional programming languange but not just any. They chose Ocaml which has strong typing, and is one of the better functional programming languages they could have chosen in terms of security and ease of development. This gives Tezos an immediate advantage over something such as Ethereum with Solidity but there is also another critical design decision which is they put a focus on long term evolvability by putting in place a Nomic style of governance.
The under appreciated benefits of the choice of a Nomic layer
Tauchain will also be using this Nomic style of governance and one of the major practical benefits to this is that it's entirely self defining yet has the potential to be stable. The way a Nomic style governance system works is that the initial participants decide on the rules for making rules, and through that there can be a process which can lead to future design decisions and or governance.
Rationalia is a basis for governance recently popularized by Neil Degrasse Tyson with this statement:
"All policy shall be based on the weight of evidence"
To reiterate, another way of saying this might be that all policy must be evidence based. This is an example of an initial rule for making rules. This one rule could be the initial rule in a Nomic style governance structure. In order for developers to claim for example that a lower block size is a protection against DDOS vulnerabilities the developers would have to supply some data which can prove their claim or at least provide evidence which can be quantified in a standard risk/benefit analysis.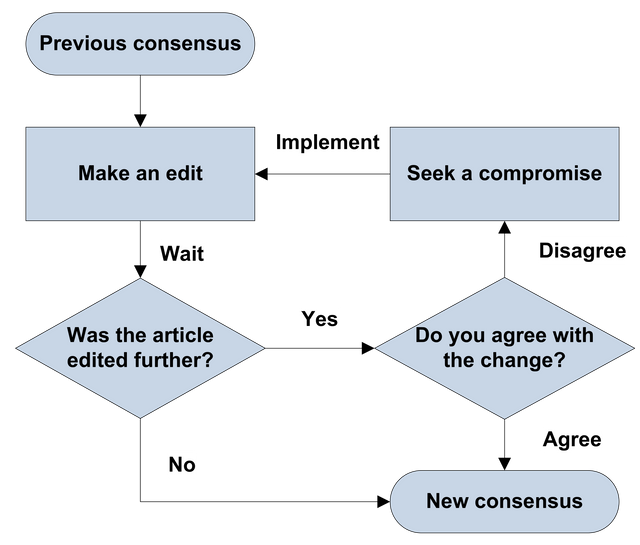 This Nomic layer combined with the initial rule of "evidence based policy only" would allow for an evolving consensus which is aligned with reason, science, and ideals from the Enlightenment era. At the same time this consensus would also lead to evidence based design so that changes (edits) are not made unless there is data to show from some source that the consequences would be aligned with expectations. Of course this is not perfect but the point is to use Rationalia as an example of a primary rule in the rule tree which shapes the evolution of all other rules and edits to consensus.
Tezos is abstract and has a novel Proof of Stake mechanism
Code can also be amended with Tezos using a very modular design. This is made possibly based on the fact that Tezos is an abstraction which mathematically models the blockchain as described in this quote:
A blockchain protocol can be decomposed into three distinct protocols:
- The network protocol discovers blocks and broadcasts transactions.
- The transaction protocol specifies what makes a transaction valid.
- The consensus protocol forms consensus around a unique chain. Tezos implements a generic network shell. This shell is agnostic to the transaction protocol and to the consensus protocol. We refer to the transaction protocol and the consensus protocol together as a "blockchain protocol".
Additionally Tezos utilizes Proof of Stake as it's mechanism. The Tezos Proof of Stake algorithm is very novel. We can see a quote below to have an idea:
Each block is mined by a random stakeholder (the miner) and includes multiple signatures of the previous block provided by random stakeholders (the signers). Mining and signing both offer a small reward but also require making a one year safety deposit to be forfeited in the event of a double mining or double signing.
The protocol unfolds in cycles of 2048 blocks. At the beginning of each cycle, a random seed is derived from numbers that block miners chose and committed to in the penultimate cycle, and revealed in the last. Using this random seed, a follow the coin strategy is used to allocatemigning rights and signing rights to a specific addresses for the next cycle.
For more details on how Tezos will work you can watch this interview: