Blinked - A REVOLUTIONARY BLOCKCHAIN-BASED RECOMMENDATION NETWORK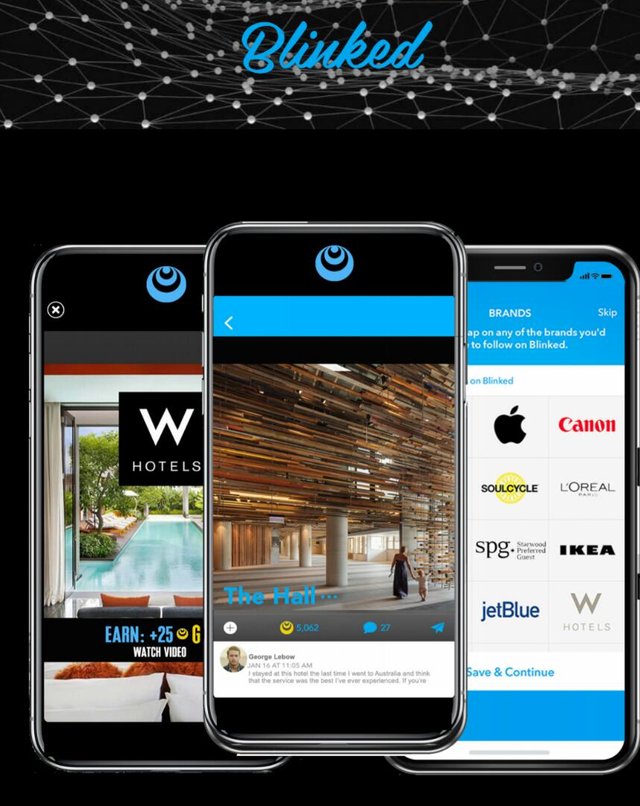 According to Wikipedia Advertising is an audio or visual form of marketing communication that employs an openly sponsored, non-personal message to promote or sell a product, service or idea.And Advertising is differentiated from public relations in that an advertiser pays for and has control over the message but we are in a new age of social media where most people are only typing or giving information about their day to day activities and in the process giving informations or reviews about products they use daily and in the process advertising the product and not getting any reward for it.
Blockchain was created by Satoshi Nakamoto in 2008 and is an immutable, distributed ledger or record of transactions between a network of participants and blockchain technology can benefit advertisements in various ways 
• Blockchain technology can offer greater efficiency, reliable and high-quality data.
* Blockchain technology enhances safety and security for data Since blockchains are decentralized peer-to-peer networks, there is no single point of failure and no single access point for malicious hackers
* transactions potentially at a low cost.
* blockchain provides a layer of trust and transparency and so much more benefits 
In this article I would be introducing and talking about Blinked  which is a decentralized platform that will revolutionize the advertisement world bring new and innovative change where every user gets reward for their advertisements 
What is Blinked?
Blinked decentralized social media model is already in existence which is built on blockchain innovations by integrating Blinked crypto token (BLKD) which would allow all its users get paid for their recommendations and advertisements for digital ads. Blinked was created as an alternative to Yelp which instead of users reading through reviews, Blinked was created created to make things easier for its user buy choosing who to follow having the same functionality as any other social media network .
Some Problems Advertisers Encounter
* Users contribute valuable content to social media platforms everyday without getting paid
* Centralized social media networks share no revenue with the very users who make their platform successful 
* Users are losing trust in centralized social media platforms due to data breach issues 
* Advertisers must rely on social media platforms themselves and use pricey third party platforms for analytics 
* There are no trusted social media recommendation platforms
Blinked Is The Innovative Solution
* Users are paid for their recommendations and content on Blinked - the users on Blinked would earn the Blinked Gold (BGZD)for their recommendations on Blinked and the more activity on each recommendation( comments, likes etc) the more the user would earn for that particular recommendation.
* Blinked is a social media platform for recommendations where users shares in up to 90 percent of Advertising Revenue 
* Blinked integrity is secured by the Blockchain - Since blockchains are decentralized peer-to-peer networks, there is no single point of failure and no single access point for malicious hacker and on the Blinked platform A.I algorithm will automatically match advertisers and views based on users own activity , so users can Monetize their own data
* Blinked with Blockchain provides Advertisers with full transparency on effectiveness of their Ads
* Blinked is a true and pure Recommendation platform 
Project Team and Roadmap
Team: Blinked project has a team of 10 professionals from different fields. The team is led by Julie Benlevi-Little and Bernard Benlevi, who are both the founders of this project.
The experience history and expertise of this team is stated fully in the Blinked WHITEPAPER.
Roadmap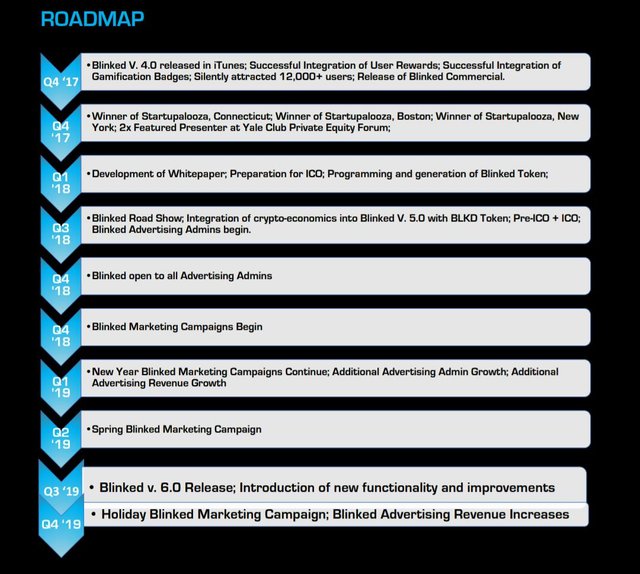 Conclusion
The Blinked platform is one that is equally innovative and revolutionary, and it is also a platform that is needed in order for their users to earn some income instead unlike other platforms that monetize users contributions. 
Blinked is full and pure recommendation platform with infinite number of items in dozens of categories including but not limited to fashion,beauty,food, dinning, television, travel and more.
Official Contacts
Website: http://www.blinked.live
Whitepaper: https://static1.squarespace.com/static/5aa115bf7e3c3ae292046820/t/5b6ed2ea575d1febd1f16862/1533989631460/BlinkedWhitePaper-FinalAugust2018.pdf
Contact me on bitcointalk >>
My Bitcointalk profile:
https://bitcointalk.org/index.php?action=profile;u=2227129
If you like this article kindly Upvote, drop your comment or question in the section below.
Thanks for reading.