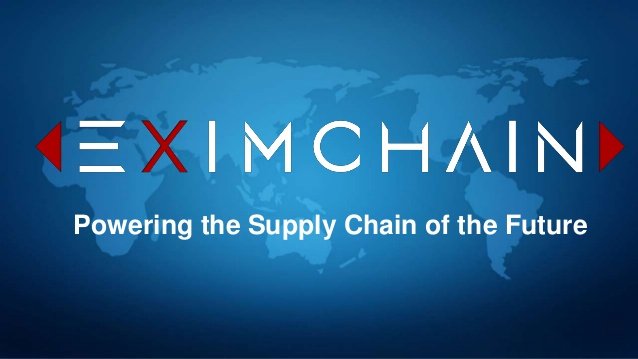 Remember when I shilled Populous?:
https://steemit.com/cryptocurrency/@dawidrams/there-is-an-ico-that-might-sell-out-in-presale-and-you-probably-haven-t-heard-about-it
If you want to catch another rocket like PPT listen to me.
It's Exim Chain
Do you remember when I was shilling IOT? Well Exim is another IOT project but much more advanced.
Powering the Supply Chain of the Future
Eximchain enables businesses to connect, transact, and share information more efficiently and securely. Using blockchain technology, Eximchain eliminates traditional supply chain barriers and integrates actors big and small into an inclusive, transparent, and secure global network.
Supply Chain Finance
Eximchain Smart Contracts allow banks to verify the validity of orders placed with all upstream partners and suppliers and provide the necessary financing.
Sourcing
Eximchain's SourceAssist application securely records historical data and transactions allowing suppliers to prove their reliability to buyers and rating institutions.
Inventory Management
Eximchain tools enable partners to seamlessly share demand and inventory information across a common ledger.
Populous was just about invoices. Exim is aiming for a 10 times bigger market.
Join Whitelist:
Why it will moon?:
First class team. Hope Liu and Can Kisagun begin work on Eximchain at MIT Media Lab.

It's aiming in niche like Populous PPT but much more lucrative (supply chains and connecting B2B without a middle man).

Tiny cap, 20m with 15m placid to STRONG HANDS in the presale - WITH NO BONUSES!!! And 5m being sold to the public in ICO. Private sale will conclude this Friday. KYC and whitelisting will happen so stay tuned.

Roadmap:

Join Whitelist:
and of course their telegram:
Other links:
💻 Website: https://www.eximchain.com/
📅 Token Sale: March 2018 https://www.eximchain.com/token-sale.html
📝 Whitelist is Open! https://www.eximchain.com/whitelist.html
📄 Whitepaper: https://www.eximchain.com/EXIMCHAIN-Whitepaper.pdf
Follow Us on Other Channels: